发表期刊:LANGMUIR

论文题目:Self-Assembly of Amphiphilic Copper Nanoclusters Driven by Cationic Surfactants
论文作者:Jin Yuan, Zhuoran Liu, Minghui Dong, Ling Wang, Shuli Dong, and Jingcheng Hao
发表日期:June 8, 2021
论文摘要:Amphiphilicity is an excellent physicochemical property, which is yet to be explored from traditional surfactants to nanoparticles. This article shows that the amphiphilicity of copper nanoclusters (CuNCs) can be readily tuned by electrostatic interactions with cationic surfactants and cetyltrimethylammonium cations (CTA+) with counterions Br–, Cl–, and C7H8O3S–. Due to the role of surface ligands, the complexes of glutathione-capped CuNCs (GSH-CuNCs) and the surfactants exhibit good amphiphilicity, which enables them to self-assemble like a molecular amphiphile. This could significantly increase the utility of metal nanoclusters in basic and applied research. As the concentration of the surfactant changes, the aggregates change from nanoparticles to network-like structures. After the formation of supramolecular self-assemblies by hydrophobic interactions, the enhancement of fluorescence intensity was observed, which can be ascribed to the suppression of intramolecular vibrations based on aggregation-induced emission (AIE) and combined with the compactness of GSH-CuNCs in self-assemblies. Our study provides a facile way to generate solid fluorescent materials with excellent fluorescence performance, which may find applications in light-emitting diodes (LEDs).
发表期刊:Nano Letters

论文题目:Cellulose Nanocrystals Facilitate Needle-like Ice Crystal Growth and Modulate Molecular Targeted Ice Crystal Nucleation
论文作者:Yi Hou, Xuyang Sun, Mengjia Dou, Chennan Lu, Jing Liu, and Wei Rao
发表日期:June 9, 2021
论文摘要:Ice nucleators are of crucial and important implications in various fields including chemistry, climate, agriculture, and cryobiology. However, the complicated extract and biocompatibility of ice nucleators remain unresolved, and the mechanism of ice nucleation remains largely unknown. Herein, we show that natural nanocrystalline cellulose materials possess special properties to enhance ice nucleation and facilitate needle-like ice crystal growth. We reveal the molecular level mechanism that the efficient exposure of cellulose hydroxyl groups on (−110) surface leads to faster nucleation of water. We further design chitosan-decorated cellulose nanocrystals to accomplish molecular cryoablation in CD 44 high-expression cells; the cell viability shows more than ~10 times decrease compared to cryoablation alone and does not show evident systematic toxicity. Collectively, our findings also offer improved knowledge in molecular level ice nucleation, which may benefit multiple research communities and disciplines.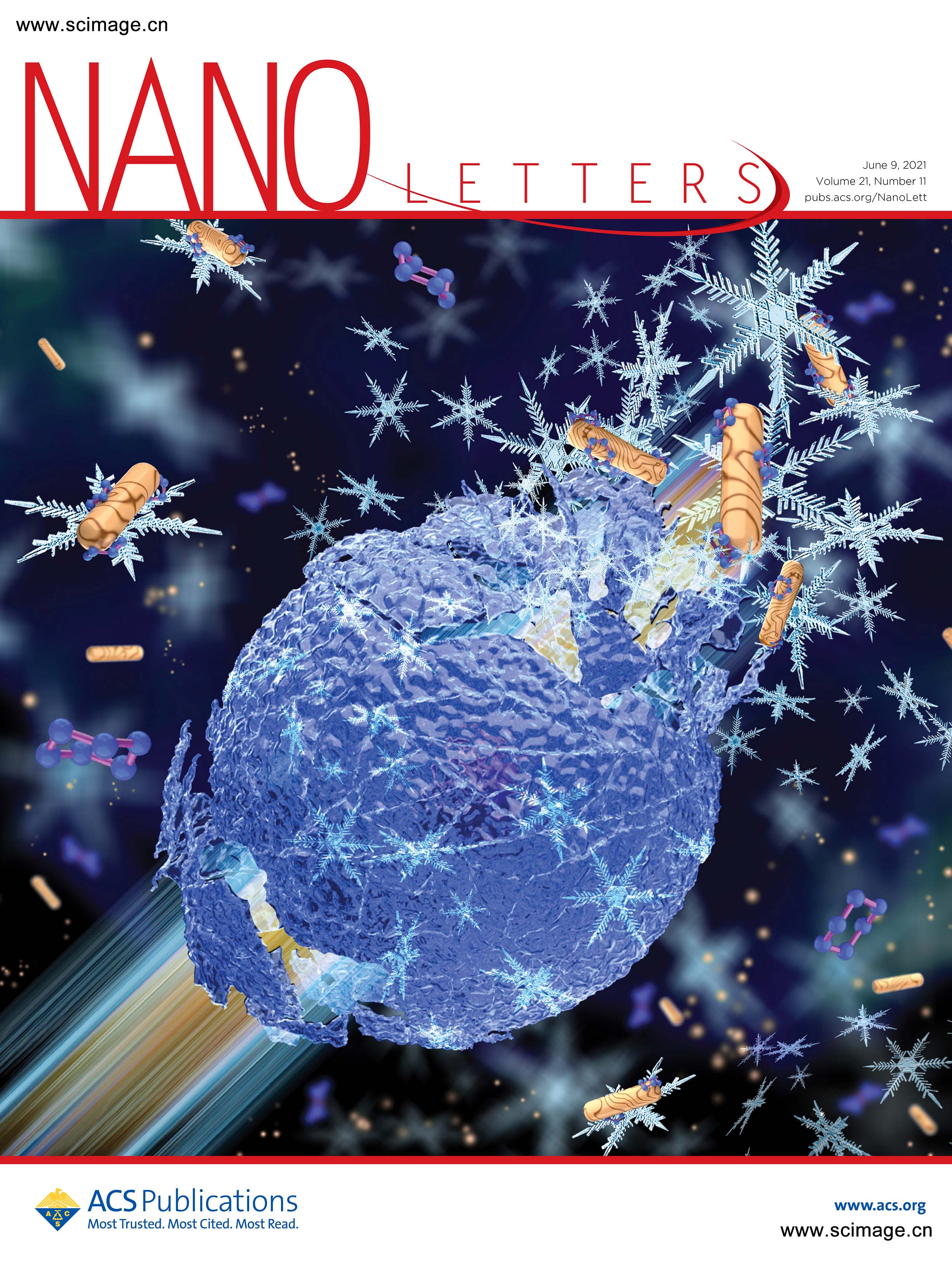 发表期刊:ACS Applied Energy Materials

论文题目:One-Step Spray-Coated All-Inorganic CsPbI2Br Perovskite Solar Cells
论文作者:Yu-Tien Yu, Shun-Hsiang Yang, Li-Hui Chou, Itaru Osaka, Xiao-Feng Wang, and Cheng-Liang Liu
发表日期:June 28, 2021
论文摘要:Here, we report a scalable ultrasonic spray deposition under ambient conditions to fabricate a CsPbI2Br-based all-inorganic perovskite thin film for photovoltaic applications. With the cooperated aid of vacuum extraction of the as-fabricated perovskite film and the incorporation of lead(II) acetate (Pb(Ac)2) additive to the precursor solution, the quality of the perovskite film dramatically improved from the filled pinholes between the crystal grain with enhanced perovskite crystallinity. We found that the champion device for the 5% Pb(Ac)2-doped CsPbI2Br perovskite film combined with vacuum extraction achieved the best power conversion efficiency (PCE) of 10.06%, arising from the efficient defect dissipation within the film and the reduction in the charge recombination loss. Simultaneously, the thermal stability was boosted with the incorporation of Pb(Ac)2 after aging at 85 °C for 10 days. We believe that the spray-coating process combined with the optimization of the all-inorganic perovskite film will help in the fabrication of a photoabsorbing layer for the future industrial upscaling of perovskite solar cells.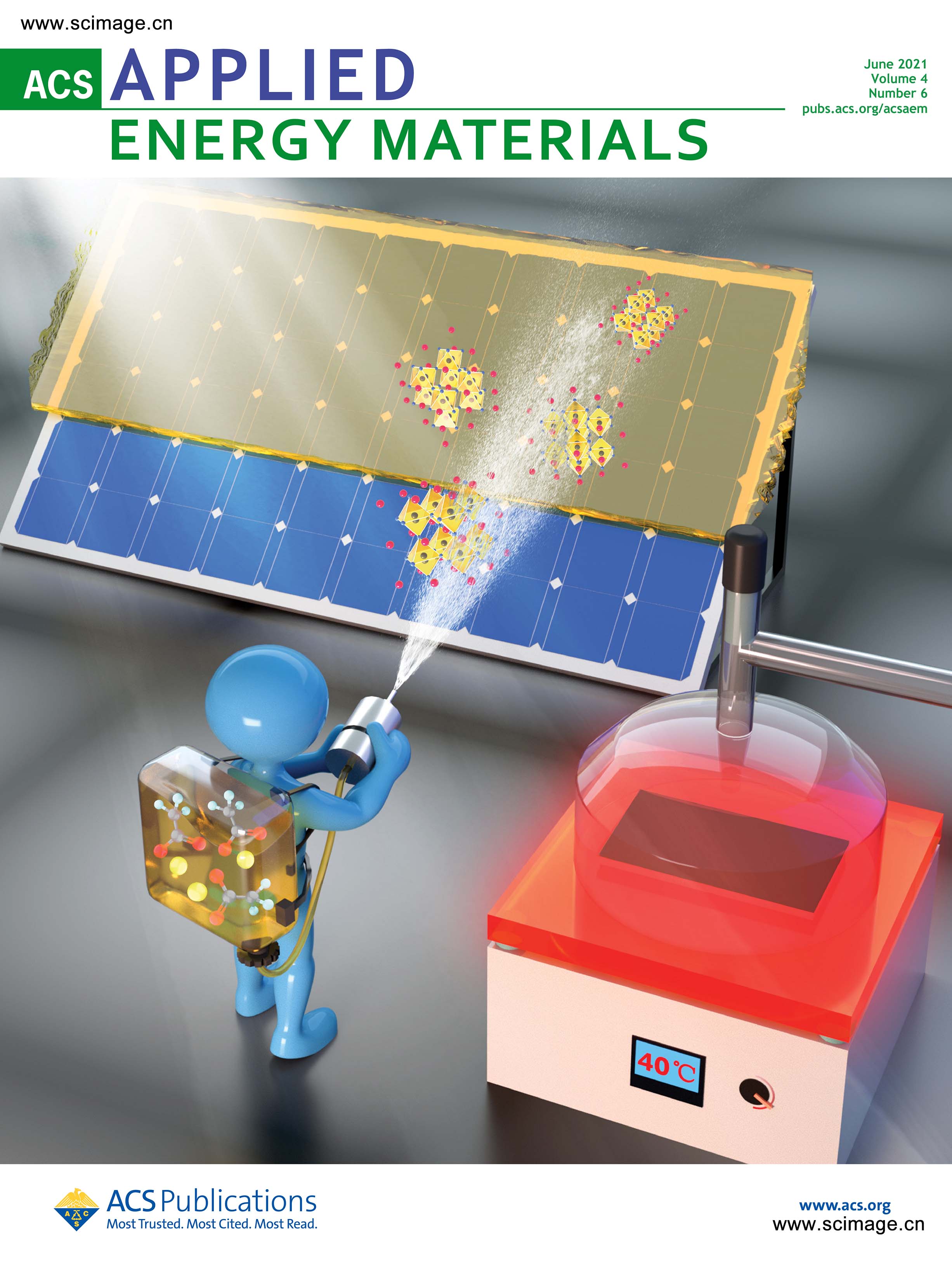 发表期刊:ACS applied polymer materials

论文题目:Emulsion-Based Organohydrogels with Switchable Wettability and Underwater Adhesion toward Durable and Ecofriendly Marine Antifouling Coatings
论文作者:Zhuo Zhang, Luxuan Guo, and Jingcheng Hao
发表日期:June 11, 2021
论文摘要:Marine biofouling has become an extensive problem, resulting in severe harm to marine facilities and maritime operations. Extensive efforts have been carried out to develop effective antifouling strategies for practical applications. Nevertheless, durable and renewable antifouling surfaces with broad-spectrum fouling resistance are in pressing need. Here, antifouling charged organohydrogels (COHGs) possessing amphiphilic and zwitterionic heteronetworks are fabricated by facile emulsion polymerization. The synergistic collaboration of covalent linkages, electrostatic interaction, and hydrogen bonding endow the COHGs with excellent mechanical properties, including stretchability, compressibility, and recoverability. Owing to the spatial restraints between hydrophilic and oleophilic chains in interpenetrating heteronetworks, the COHGs exhibited significantly low-swellable behavior whether in water or in oil, beneficial to durable applications without impairment of intrinsic performances. The amphiphilic heteronetworks could experience structure rearrangement in response to the surrounding solvents (water or hexadecane), leading to switchable surface wettability. Moreover, the COHGs possess strong wet adhesion to various organic and inorganic surfaces due to synergetic interactions existing at the interface between COHGs and operational substrates, including the hydrophobic effect, electrostatic interaction, and nonswelling behavior, which greatly avoid tedious operation processes during practical application. As for the relationships between the structure and antifouling performances, the elastic surfaces combined with amphiphilic and zwitterionic features reveal remarkable fouling resistance (Navicula sp. and Dunaliella tertiolecta) and recyclable utilization. The COHGs may provide an approach to develop high-performance and ecofriendly antifouling materials.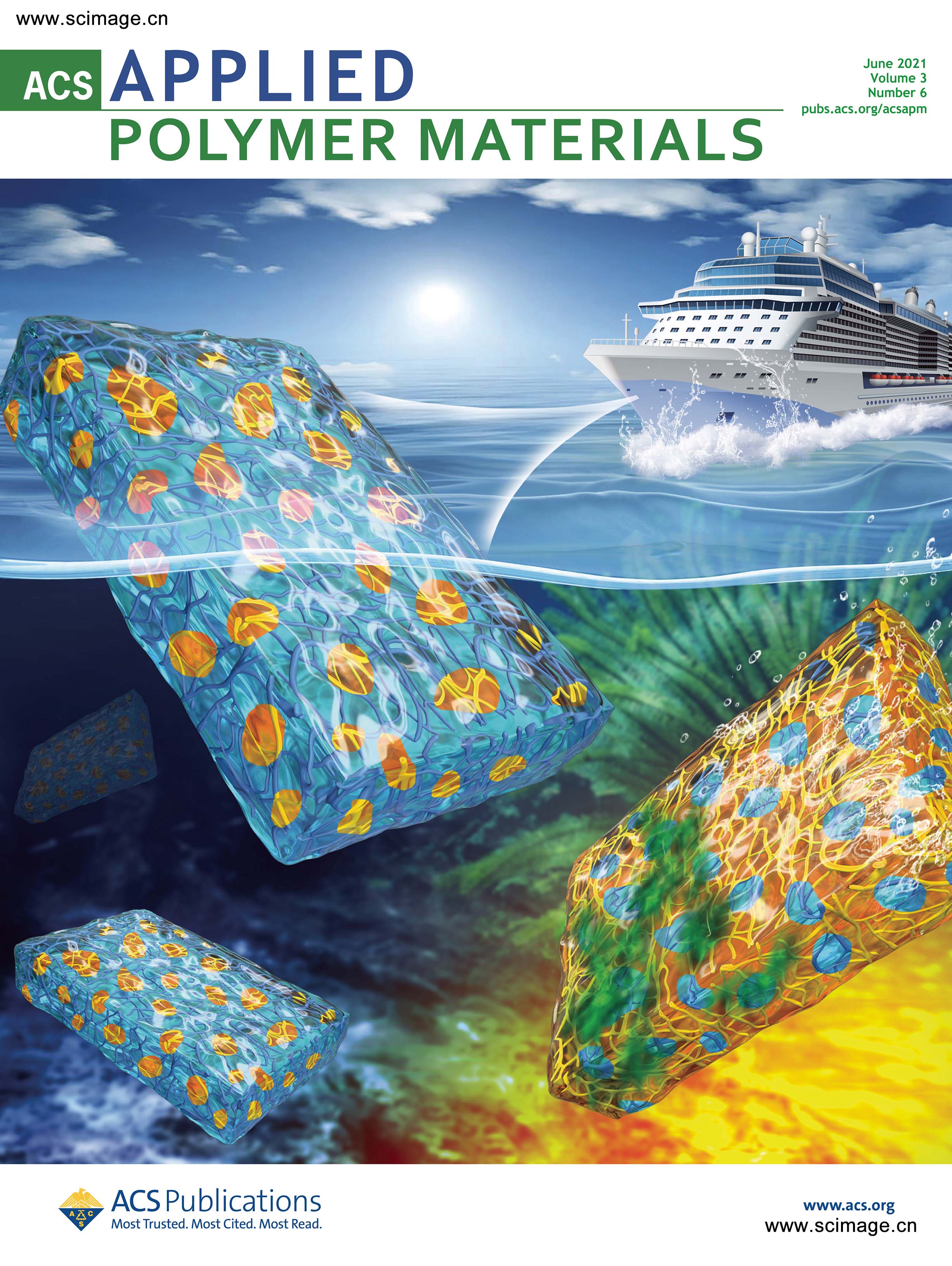 发表期刊:Nature Immunology
论文题目:Metabolic reprogramming of terminally exhausted CD8+ T cells by IL-10 enhances anti-tumor immunity
论文作者:
Yugang Guo, YuQing Xie, Min Gao, Yang Zhao, Fabien Franco, Mathias Wenes, Imran Siddiqui, Alessio Bevilacqua, Haiping Wang, Hanshuo Yang, Bing Feng, Xin Xie, Catherine M. Sabatel, Benjamin Tschumi, Amphun Chaiboonchoe, Yuxi Wang, Weimin Li, Weihua Xiao, Werner Held, Pedro Romero, Ping-Chih Ho & Li Tang
发表日期:June , 2021
论文摘要:T cell exhaustion presents one of the major hurdles to cancer immunotherapy. Among exhausted CD8+ tumor-infiltrating lymphocytes, the terminally exhausted subset contributes directly to tumor cell killing owing to its cytotoxic effector function. However, this subset does not respond to immune checkpoint blockades and is difficult to be reinvigorated with restored proliferative capacity. Here, we show that a half-life-extended interleukin-10–Fc fusion protein directly and potently enhanced expansion and effector function of terminally exhausted CD8+ tumor-infiltrating lymphocytes by promoting oxidative phosphorylation, a process that was independent of the progenitor exhausted T cells. Interleukin-10–Fc was a safe and highly efficient metabolic intervention that synergized with adoptive T cell transfer immunotherapy, leading to eradication of established solid tumors and durable cures in the majority of treated mice. These findings show that metabolic reprogramming by upregulating mitochondrial pyruvate carrier-dependent oxidative phosphorylation can revitalize terminally exhausted T cells and enhance the response to cancer immunotherapy.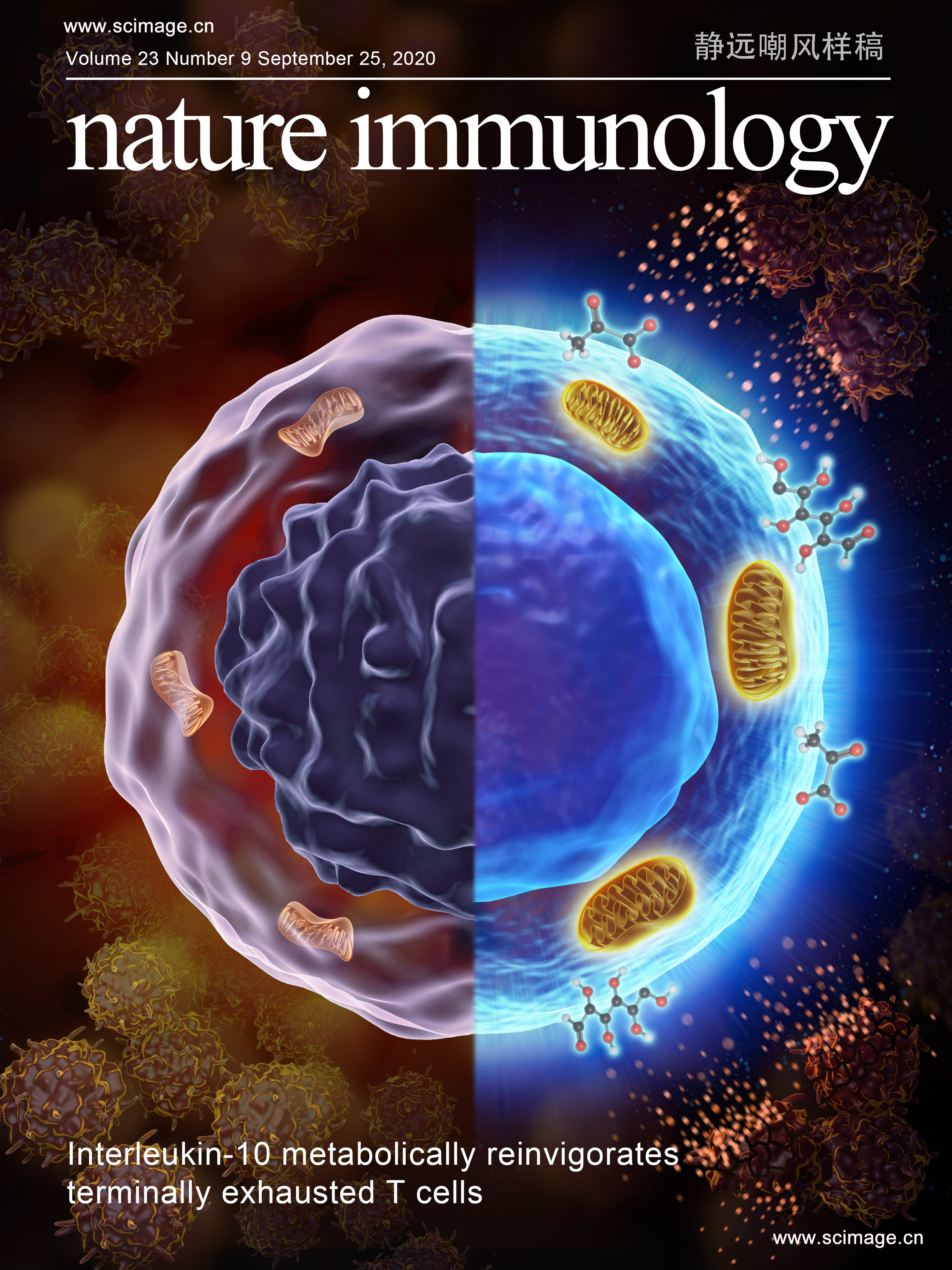 静远嘲风(SCimage)是专注于学术研究领域的艺术创作机构,用唯美的艺术诠释科研是嘲风的目标。公司主要提供论文封面设计、论文配图设计、科研动画开发设计及科研产品深度包装等服务;主要服务对象为中国科学院,中国军事科学院,中国医学科学院,中国农业科学院,以及国内外各大高校科研机构,科技型研发企业以及从事学术研究和高等教育的研究人员。静远嘲风,创立于2007年,以多学科背景为出发点,以独到的切入点深入探索科研领域的艺术表达方式,是国内科研可视化的资深践行者与领头羊,多年来为生物学、微生物学、化学、化工、医学、环境学等研究方向完成数千幅专业作品,协助上千名科研工作者完成封面论文发表。
https://wap.sciencenet.cn/blog-575129-1302095.html
上一篇:
2021年6月嘲风作品集(一)
下一篇:
2021年7月嘲风作品集(一)