发表期刊:Lab on a Chip

论文题目:NanoPADs and nanoFACEs: an optically transparent nanopaper-based device for biomedical applications
论文作者:Binbin Ying, Siwan Park, Longyan Chen, Xianke Dong, Edmond W. K. Young, Xinyu Liu
发表日期:September 21, 2020
论文摘要:Paper has been a popular material of choice for biomedical applications including for bioanalysis and cell biology studies. Regular cellulose paper-based devices, however, have several key limitations including slow fluid flow; large sample retention in the paper matrix for microfluidic paper-based analytical device (μPAD) application; serious solvent evaporation issues, and contamination and poor control of experimental conditions for cell culture. Here, we describe the development of two novel platforms, nanopaper-based analytical devices (nanoPADs) and nanofibrillated adherent cell-culture platforms (nanoFACEs), that use nanofibrillated cellulose (NFC) paper, simply called nanopaper, as the substrate material to create transparent, pump-free and hollow-channel paper-based microfluidic devices. Due to the natural hydrophilicity and nanoscale pore size of nanopaper, the hollow-channel microfluidic devices can realize a totally pump-free flow without any complicated surface chemical functionalization on the nanopaper. Experimental results showed that within a certain range, larger hollow channel size leads to faster pump-free flows. Different from previous designs of paper-based hollow-channel microfluidic devices, the high transparency of the nanopaper substrate enabled the integration of various optical sensing and imaging technologies together with the nanoPADs and nanoFACEs. As proof-of-concept demonstrations, we demonstrated the use of nanoPADs for colorimetric sensing of glucose and surface-enhanced Raman spectroscopy (SERS)-based detection of environmental pollutants and applied the nanoFACEs to the culture of human umbilical vein endothelial cells (HUVECs). These demonstrations show the great promise of nanoPADs and nanoFACEs for biomedical applications such as chemical/bioanalysis and cell biology studies.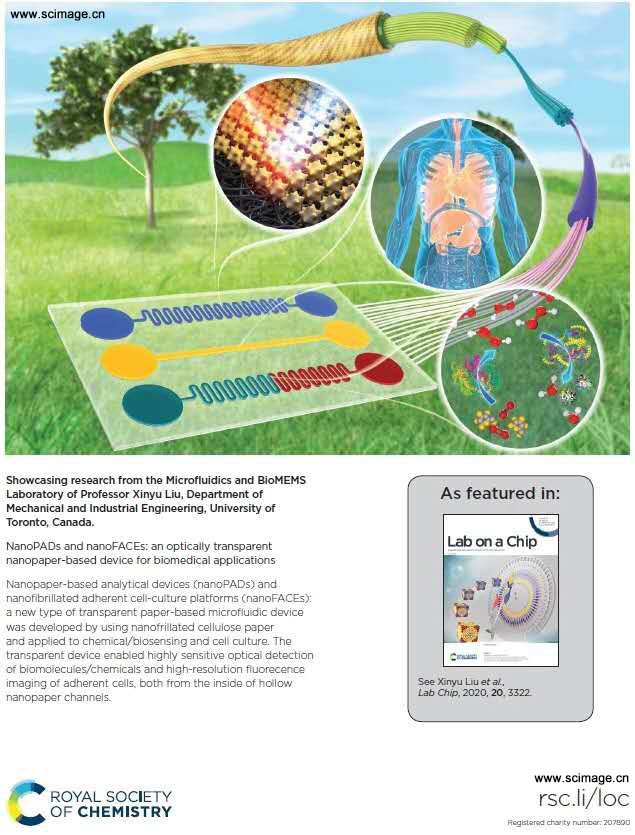 发表期刊:Chem

论文题目:Ion-Solvent Chemistry-Inspired Cation-Additive Strategy to Stabilize Electrolytes for Sodium-Metal Batteries
论文作者:Xiang Chen, Xin Shen, Ting-Zheng Hou, Rui Zhang, Hong-Jie Peng, Qiang Zhang
发表日期:September 10, 2020
论文摘要:Building stable electrolytes is one of the key technologies for sodium (Na)-metal batteries as the reactive nature and the dendritic growth of Na-metal anodes. Herein, a paradigmatic and rational strategy of cation additive was proposed to stabilize electrolytes for Na metal batteries. Three principles, including the electrode potential of introduced cations, the lowest unoccupied molecular orbital energy level decrease of solvents after coordinating with cations, and the interaction strength between cations and solvents, were proved through first-principles calculations and molecular dynamics simulations. Li+ was predicted to be a good cation additive candidate for Na metal batteries. Finite element method simulations, in situ optical microscopic observations, and electrochemical tests further validated the resisted Na dendritic growth due to the electrostatic shield effect and enhanced electrolyte stability after introducing Li+ additives. The proven cation additive strategy affords emerging chances for rational electrolyte design for stable and safe Na metal batteries.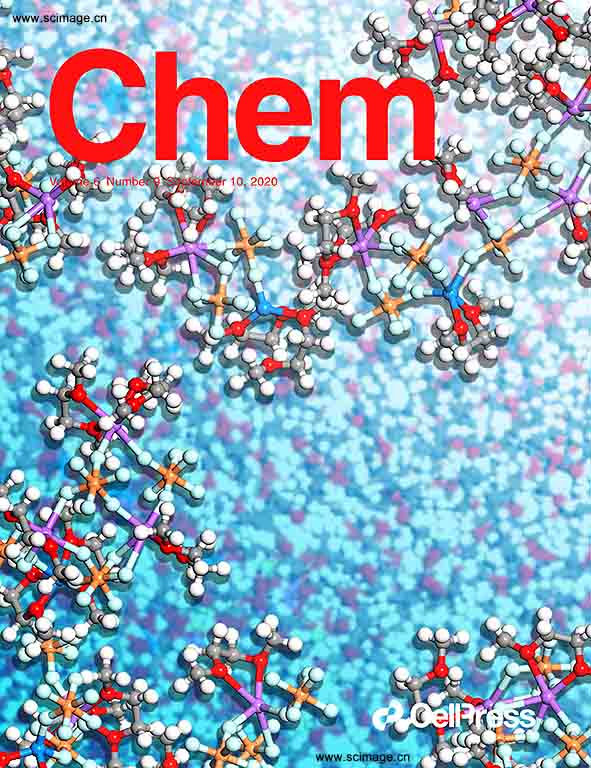 发表期刊:Small

论文题目:Virus Detection: Nanopore Targeted Sequencing for the Accurate and Comprehensive Detection of SARS‐CoV‐2 and Other Respiratory Viruses
论文作者:Ming Wang, Aisi Fu, Ben Hu, Yongqing Tong, Ran Liu, Zhen Liu, Jiashuang Gu, Bin Xiang, Jianghao Liu, Wen Jiang, Gaigai Shen, Wanxu Zhao, Dong Men, Zixin Deng, Lilei Yu, Wu Wei, Yan Li, Tiangang Liu
发表日期:August 13, 2020
论文摘要:In article number 2002169, Wu Wei, Yan Li, Tiangang Liu, and co‐workers develop a novel detection technology, nanopore targeted sequencing (NTS), for the accurate and comprehensive detection of SARS‐CoV‐2 and other respiratory viruses. This detection technology is suitable for the identification of suspected COVID‐19 cases and can also monitor mutations in the virus and the type of virus.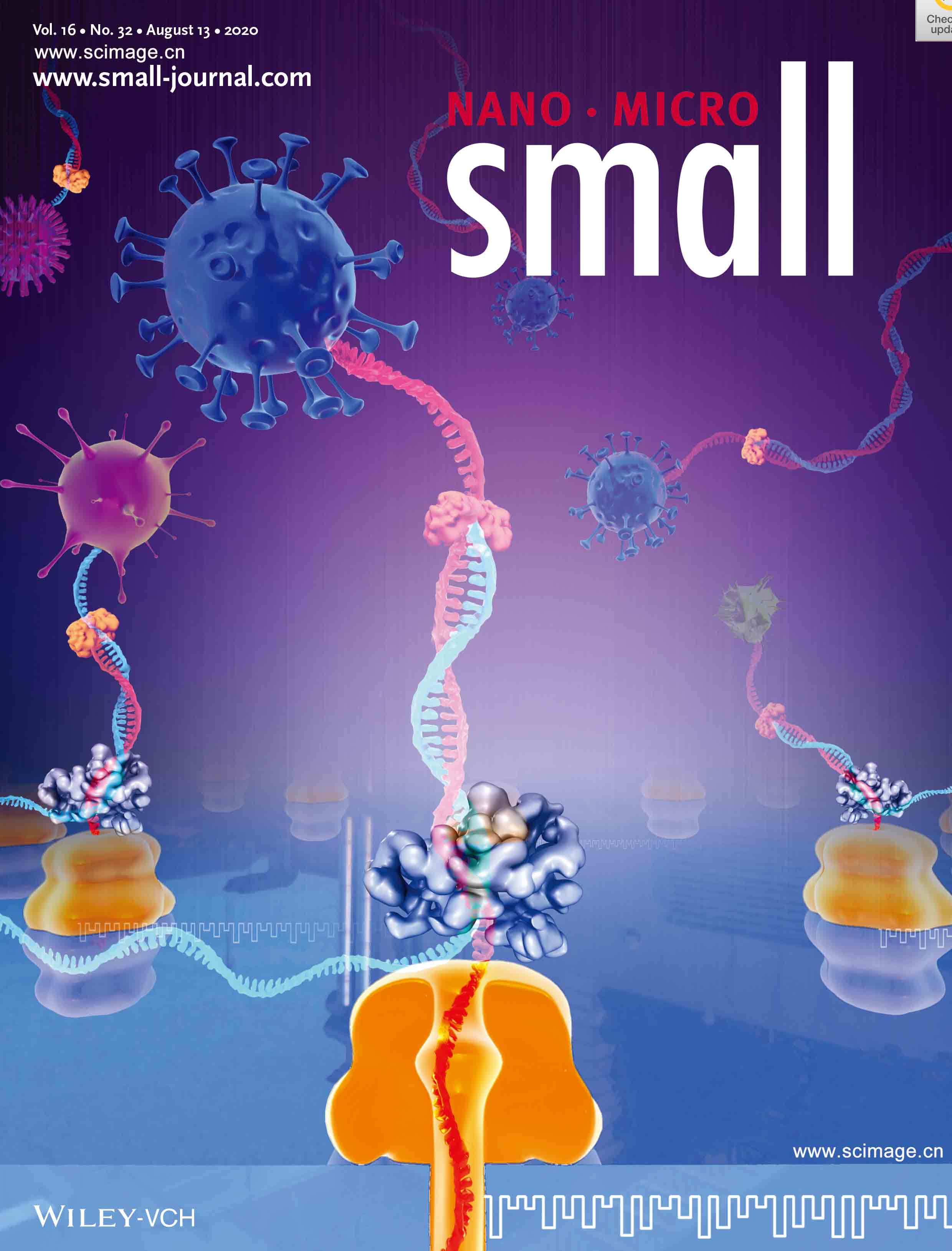 发表期刊:Advanced Science

论文题目:Cell‐Free Protein Synthesis: A Cell‐Free Platform Based on Nisin Biosynthesis for Discovering Novel Lanthipeptides and Guiding their Overproduction In Vivo
论文作者:Ran Liu, Yuchen Zhang, Guoqing Zhai, Shuai Fu, Yao Xia, Ben Hu, Xuan Cai, Yan Zhang, Yan Li, Zixin Deng, Tiangang Liu
发表日期:September 09, 2020
论文摘要:In article number 2001616, Tiangang Liu and co‐workers develop a cell‐free protein synthesis (CFPS) platform that enables rapid discovery of novel lanthipeptides and guides lanthipeptide overproduction in vivo. This study extends the use of cell‐free systems to address the issue facing lanthipeptide research, while providing the possibility for developing CFPS platforms for other ribosomally synthesized and post‐translationally modified peptides studies.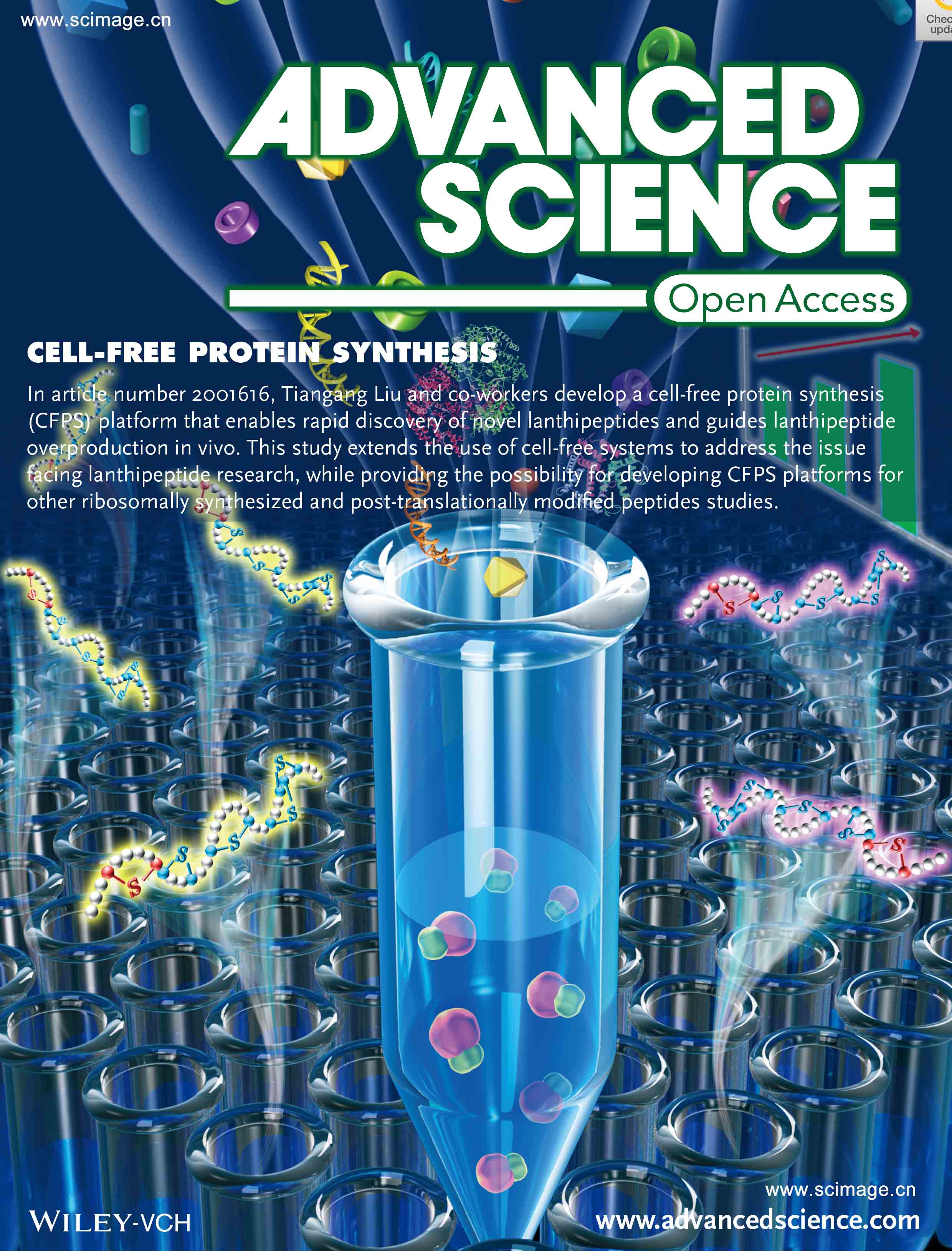 发表期刊:Journal of Materials Chemistry B

论文题目:Identification of eight pathogenic microorganisms by single concentration-dependent multicolor carbon dots
论文作者:Shujun Wang, Yongqiang Zhang, Peng Zhuo, Qiushi Hu, Zhenqiang Chen, Lei Zhou
发表日期:July 21, 2020
论文摘要:The identification of pathogenic microorganisms is crucial to human health and industrial development, however, traditional culture-based methods are laborious and time consuming. We developed a novel method for the identification of pathogenic microorganisms based on single concentration-dependent carbon dots (CDs). The CDs were synthesized using a microwave heating approach without any complicated purification processes and the PL emission wavelength of the CDs could be tuned only by changing the concentration of the solution. The concentration-dependent CDs were applied for multicolor bioimaging and identification of eight kinds of microorganisms within minutes using different fluorescence spectra. This work provides a new approach for the detection of multiplex targets in real samples and lays a foundation for food safety monitoring.
发表期刊:Angewandte Chemie

论文题目:Room‐Temperature Formation Pathway for CdTeSe Alloy Magic‐Size Clusters
论文作者:Hai Zhang, Chaoran Luan, Dong Gao, Meng Zhang, Nelson Rowell, Maureen Willis, Meng Chen, Jianrong Zeng, Hongsong Fan, Wen Huang, Xiaoqin Chen, Kui Yu
发表日期:September 21, 2020
论文摘要:CdTeSe alloy magic‐size clusters have been synthesized, but the formation mechanism of their precursor compounds (which can transform into CdTeSe magic‐size clusters) was unknown. As reported by X. Chen, K. Yu, and co‐workers in their Research Article on page 16943, CdTeSe precursor compounds were formed through a substitution reaction: CdTe precursor compound + CdSe monomer/fragment → CdTeSe precursor compound + CdTe monomer/fragment.
静远嘲风(SCimage)是专注于学术研究领域的艺术创作机构,用唯美的艺术诠释科研是嘲风的目标。公司主要提供论文封面设计、论文配图设计、科研动画开发设计及科研产品深度包装等服务;主要服务对象为中国科学院,中国军事科学院,中国医学科学院,中国农业科学院,以及国内外各大高校科研机构,科技型研发企业以及从事学术研究和高等教育的研究人员。静远嘲风,创立于2007年,以多学科背景为出发点,以独到的切入点深入探索科研领域的艺术表达方式,是国内科研可视化的资深践行者与领头羊,多年来为生物学、微生物学、化学、化工、医学、环境学等研究方向完成数千幅专业作品,协助上千名科研工作者完成封面论文发表。
http://wap.sciencenet.cn/blog-575129-1262699.html
上一篇:
[转载]【热点关注】"科学•创意+" 栖霞区第一届科学艺术视觉展正式开展!
下一篇:
2020年10月嘲风作品集(二)