发表期刊:Chemistry A European Journal

论文题目:Gold Redox Catalysis with a Selenium Cation as a Mild Oxidant
论文作者:Jin Wang, Chiyu Wei, Xuming Li, Pengyi Zhao, Chuan Shan, Lukasz Wojtas, Hao Chen, Xiaodong Shi
发表日期:May 12, 2020
论文摘要:Diselenide is demonstrated to function as a mild oxidant in gold‐catalyzed alkyne diselenation reactions, which overcome the daunting high AuI/III redox potential (1.4 eV) depicted in the cover image as a 'golden roller coaster'. Excellent trans‐ regioselectivity and good to excellent yields were achieved with a wide range of alkynes and allenes. Mechanistic investigation revealed the formation of a vinyl gold(I) intermediate followed by an intermolecular selenium cation migration, confirming a gold (I/III) redox process. More information can be found in the Communication by X. Shi et al. on page 5946.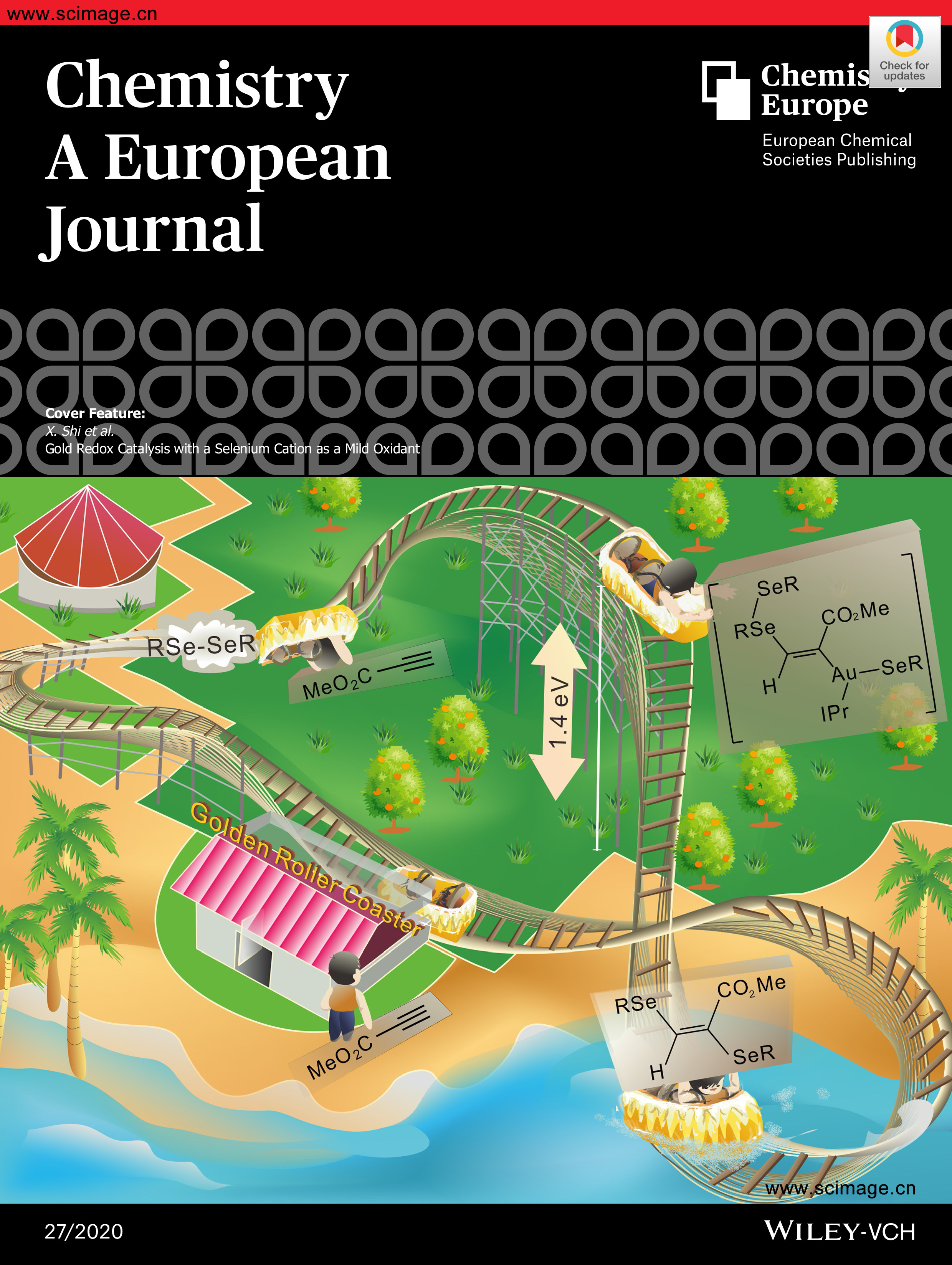 发表期刊:Chemistry A European Journal

论文题目:Stimuli‐Responsive Fluorescent Nanoswitches: Solvent‐Induced Emission Enhancement of Copper Nanoclusters
论文作者:Jin Yuan, Ling Wang, Yitong Wang, Jingcheng Hao
发表日期:March 18, 2020
论文摘要:Glutathione‐capped CuNCs (GSH‐CuNCs) were used in this work to form fluorescent assemblies. This simple approach occurs by introducing organic solvents. Multicolor fluorescence emission assemblies with excellent reversibility were constructed based on aggregation‐induced emission and the solvent effect of GSH‐CuNCs. A possible mechanism, which is based on the size of assemblies and electron transfer, was explored to explain the solvent effects of GSH‐CuNCs. Stimuli‐responsive nanoswitches with excellent reversibility can be controlled by changing the types of organic solvents and the ratio of organic solvent to GSH‐CuNCs aqueous solution. As the CuNCs assemblies exhibit strong, stable, and color‐tunable fluorescence, they are employed as the color conversion materials for recognizing different organic solvents. More information can be found in the Full Paper by J. Hao et al. on page 3545.
发表期刊:Small

论文题目:Virus Detection: Volume‐Enhanced Raman Scattering Detection of Viruses
论文作者:Xingang Zhang, Xiaolei Zhang, Changliang Luo, Zhengqi Liu, Yiyun Chen, Shilian Dong, Changzhong Jiang, Shikuan Yang, Fubing Wang, Xiangheng Xiao
发表日期:March 15, 2019
论文摘要:In article 1805516, Shikuan Yang, Fubing Wang, Xiangheng Xiao, and co‐workers develop a volume‐enhanced Raman scattering substrate composed of hollow nanocones at the bottom of microbowls for the detection of viruses. The viruses captured by the nanocones are completely surrounded by the strong electromagnetic field, and greatly improved Raman signals of single viruses are demonstrated. This achievement possesses great potential in disease diagnostics and monitoring.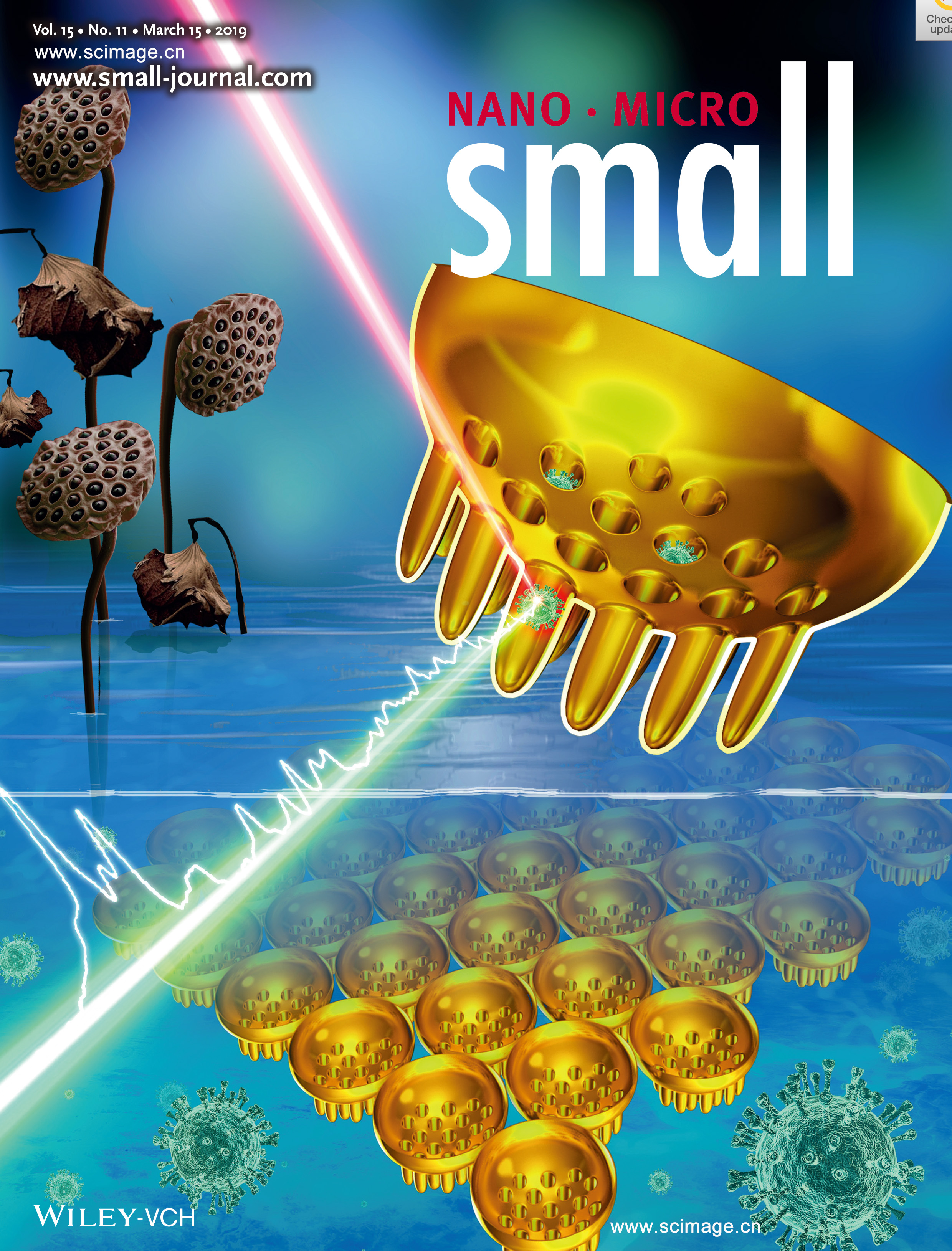 发表期刊:Small

论文题目:Flexible Sensors: Bioinspired Flexible Volatile Organic Compounds Sensor Based on Dynamic Surface Wrinkling with Dual‐Signal Response
论文作者:Chunyan Qu, Shuqi Wang, Lin Liu, Yuanyuan Bai, Lianhui Li, Fuqin Sun, Mingming Hao, Tie Li, Qifeng Lu, Lili Li, Sujie Qin, Ting Zhang
发表日期:April 26, 2019
论文摘要:In article number 1900216, Ting Zhang and co‐workers propose a dual‐signal responsive flexible volatile organic compound sensor based on surface wrinkles with both dynamic visual feedback and a quantitative electrical signal. Tunable sensitivity and selectivity are well‐controlled, and the high selectivity toward ethanol vapor is explained by a proximity mechanism. This platform can provide a novel approach for developing smart flexible electronics.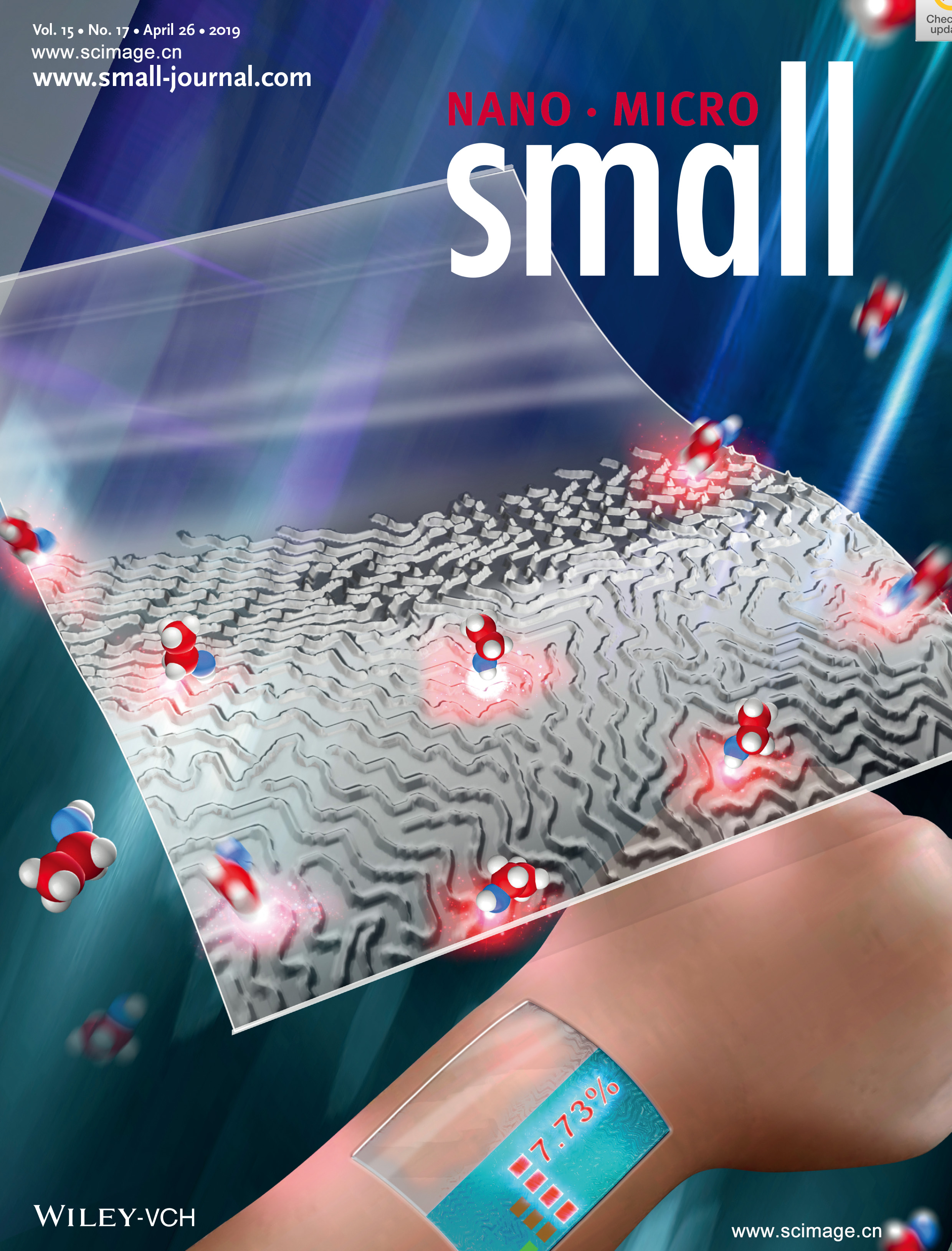 发表期刊:Nano Letters

论文题目:Stable Thiophosphate-Based All-Solid-State Lithium Batteries through Conformally Interfacial Nanocoating
论文作者:Daxian Cao, Yubin Zhang, Adelaide M. Nolan, Xiao Sun, Chao Liu, Jinzhi Sheng, Yifei Mo, Yan Wang, Hongli Zhu
发表日期:March 11, 2020
论文摘要:All-solid-state lithium batteries (ASLBs) are promising for the next generation energy storage system with critical safety. Among various candidates, thiophosphate-based electrolytes have shown great promise because of their high ionic conductivity. However, the narrow operation voltage and poor compatibility with high voltage cathode materials impede their application in the development of high energy ASLBs. In this work, we studied the failure mechanism of Li6PS5Cl at high voltage through in situ Raman spectra and investigated the stability with high-voltage LiNi1/3Mn1/3Co1/3O2 (NMC) cathode. With a facile wet chemical approach, we coated a thin layer of amorphous Li0.35La0.5Sr0.05TiO3 (LLSTO) with 15–20 nm at the interface between NMC and Li6PS5Cl. We studied different coating parameters and optimized the coating thickness of the interface layers. Meanwhile, we studied the effect of NMC dimension to the ASLBs performance. We further conducted the first-principles thermodynamic calculations to understand the electrochemical stability between Li6PS5Cl and carbon, NMC, LLSTO, NMC/LLSTO. Attributed to the high stability of Li6PS5Cl with NMC/LLSTO and outstanding ionic conductivity of the LLSTO and Li6PS5Cl, at room temperature, the ASLBs exhibit outstanding capacity of 107 mAh g–1 and keep stable for 850 cycles with a high capacity retention of 91.5% at C/3 and voltage window 2.5–4.0 V (vs Li–In).
发表期刊:HEPATOLOGY

论文题目:Targeting Histone Deacetylase 6 Reprograms Interleukin‐17‐Producing Helper T Cell Pathogenicity and Facilitates Immunotherapies for Hepatocellular Carcinoma
论文作者:Weinan Qiu, Bin Wang, Yanan Gao, Yuan Tian, Meijie Tian, Yuanying Chen, Li Xu Tso‐Pang Yao, Peng Li, Pengyuan Yang
发表日期:June 2020
论文摘要:
Background and Aims
Hepatocellular carcinoma (HCC) is often accompanied by resistance to immunotherapies despite the presence of tumor‐infiltrating lymphocytes. We report that histone deacetylase 6 (HDAC6) represses interleukin‐17 (IL‐17)–producing helper T (TH17) cell pathogenicity and the antitumor immune response, dependent on its deacetylase activity.
Approach and Results
Adoptive transfer of HDAC6‐deficient TH17 cells impedes HCC growth, dependent on elevated IL‐17A, by enhancing the production of antitumor cytokine and cluster of differentiation 8–positive (CD8+) T cell–mediated antitumor responses. Intriguingly, HDAC6‐depleted T cells trigger programmed cell death protein 1 (PD‐1)–PD‐1 ligand 1 expression to achieve a strong synergistic effect to sensitize advanced HCC to an immune checkpoint blocker, while blockade of IL‐17A partially suppresses it. Mechanistically, HDAC6 limits TH17 pathogenicity and the antitumor effect through regulating forkhead box protein O1 (FoxO1). HDAC6 binds and deacetylates cytosolic FoxO1 at K242, which is required for its nuclear translocation and stabilization to repress retinoic acid–related orphan receptor gamma (RoRγt), the transcription factor of TH17 cell. This regulation of HDAC6 for murine and human TH17 cell is highly conserved.
Conclusions
These results demonstrate that targeting the cytosolic HDAC6–FoxO1 axis reprograms the pathogenicity and antitumor response of TH17 cells in HCC, with a pathogenicity‐driven responsiveness to facilitate immunotherapies
静远嘲风(SCimage)是专注于学术研究领域的艺术创作机构,用唯美的艺术诠释科研是嘲风的目标。公司主要提供论文封面设计、论文配图设计、科研动画开发设计及科研产品深度包装等服务;主要服务对象为中国科学院,中国军事科学院,中国医学科学院,中国农业科学院,以及国内外各大高校科研机构,科技型研发企业以及从事学术研究和高等教育的研究人员。静远嘲风,创立于2007年,以多学科背景为出发点,以独到的切入点深入探索科研领域的艺术表达方式,是国内科研可视化的资深践行者与领头羊,多年来为生物学、微生物学、化学、化工、医学、环境学等研究方向完成数千幅专业作品,协助上千名科研工作者完成封面论文发表。
https://wap.sciencenet.cn/blog-575129-1244223.html
上一篇:
2020年6月嘲风作品集(一)
下一篇:
2020年7月嘲风作品集(一)