发表期刊:Soft Matter
论文题目:Al-assisted high frequency self-powered oscillations of liquid metal droplets
论文作者:Sen Chen, Xiaohu Yang, Hongzhang Wang, Ronghang Wang, Jing Liu
发表日期:November 28, 2019
论文摘要:It is of great scientific and practical significance to explore and imitate the rhythmic oscillating behaviors. Achieving oscillating behaviours via liquid metal is regarded as an excellent strategy and the "mercury beating heart" is a well-known representative. However, the oscillating behaviours achieved over the past few decades either require external power supply or exhibit low frequency. Here, intriguing Al-assisted high frequency self-powered oscillations of liquid metal droplets were discovered and the general mechanisms were interpreted. For this dynamic process, Al is added into the liquid metal for generating gas and activating liquid metal by forming countless tiny galvanic cells and an iron plate is used to passivate the liquid metal via electrochemical oxidation. Therefore, the high frequency self-fueled oscillations can be achieved due to the synergistic effect of these two factors. Furthermore, we predict and confirm that the oscillating behaviors can also be achieved on other eligible substrates (e.g., Ni plate) based on the proposed universal mechanism. The ability to achieve high frequency oscillations of liquid metal droplets promises rich opportunities in developing self-powered soft oscillators.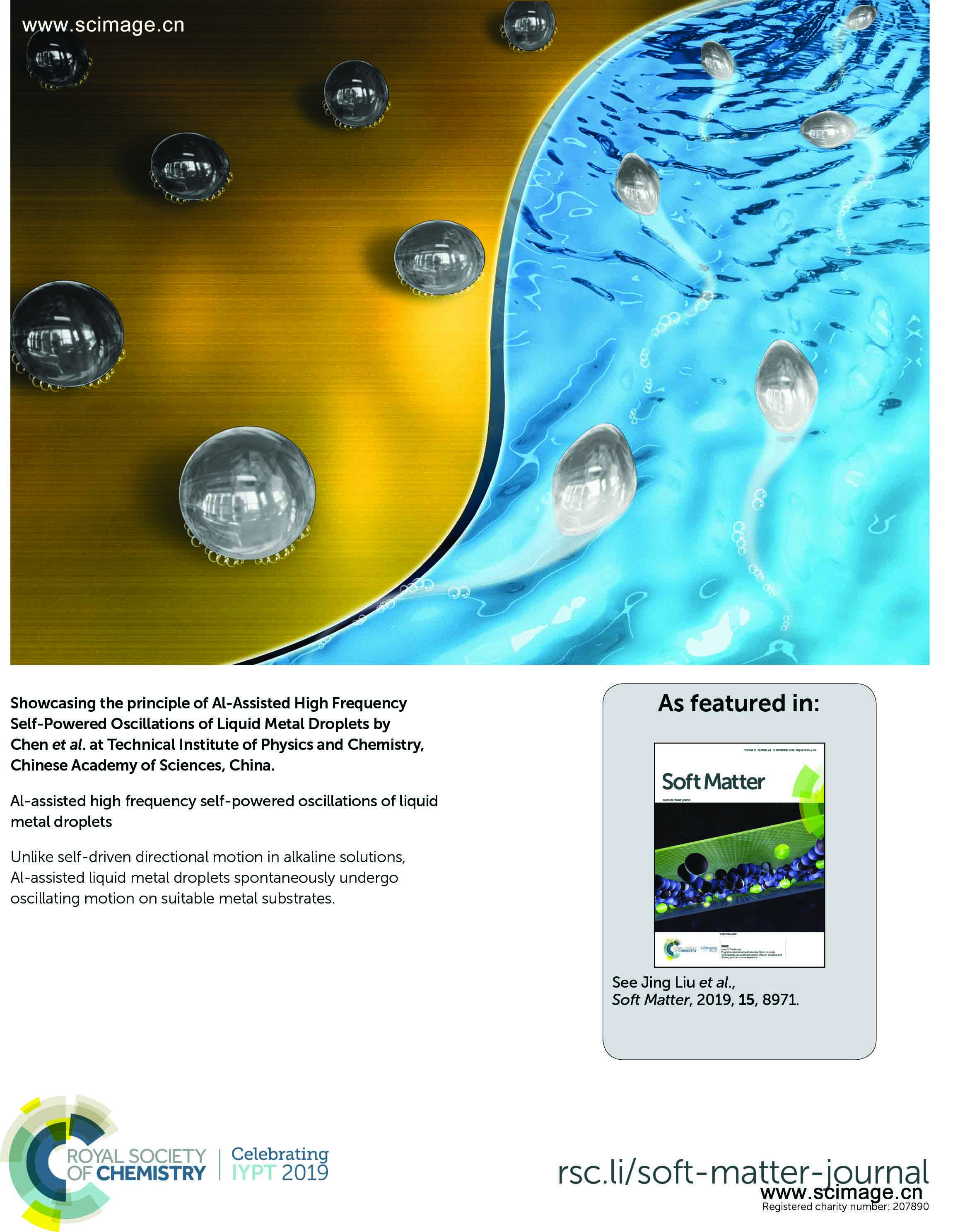 发表期刊:Materials Horizons
论文题目:Generalized way to make temperature tunable conductor–insulator transition liquid metal composites in a diverse range
论文作者:Sen Chen, Hong-Zhang Wang, Xu-Yang Sun, Qian Wang, Xiang-Jiang Wang, Liu-Biao Chen, Lun-Jia Zhang, Rui Gou, Jing Liu
发表日期:November 01, 2019
论文摘要:Liquid materials with the ability to transit between conductor and insulator are of great scientific and practical significance. However, achieving the conduction of a liquid metal droplet network is still a challenge. To solve these problems, a generalized method is proposed to fabricate temperature tunable liquid conductor–insulator transition composites, which is achieved firstly via freezing and thawing liquid metal droplets dispersed in dimethicone. Such composites also impart conductivity to the dispersed liquid metal droplet network. To illustrate the typical application of the thus realized materials, a visualized circuit is constructed based on the relationship between the color and the conduction. In addition, reconfigurable and repairable circuits are fabricated depending on the inherent liquid properties of these materials. Furthermore, this universal mechanism has been revealed via the abnormal volume expansion ratio of the liquid metal droplets during the phase change. By calculating the volume change ratio of all metals, we speculate and confirm that gallium-based alloys and bismuth-based alloys can be used to prepare such conductive transition materials. Accordingly, we identify more eligible materials with suitable phase transition points, which significantly extends the transition temperature from insulator to conductor. The liquid material preparation strategy proposed here provides a novel paradigm for achieving the conductor–insulator transition at a wide temperature range and offers promising potential for future applications.
发表期刊:Nanoscale
论文题目:Dual pH-triggered catalytic selective Mn clusters for cancer radiosensitization and radioprotection
论文作者:Shuxin Lv, Wei Long, Junchi Chen, Qinjuan Ren, Junying Wang, Xiaoyu Mu, Haile Liu, Xiao-Dong Zhang, Ruiping Zhang
发表日期:January 14, 2020
论文摘要:Hypoxia is known to be a common feature within many types of solid tumors, which is closely related to the limited efficacy of radiotherapy. Meanwhile, due to the non-discriminatory killing effect of both normal and cancer cells during the radiation process, traditional radiosensitizers could bring severe non-negligible side-effects to the whole body. In this work, stable and atomically precise Mn clusters which possess efficient pH-triggered catalytic selective capacity are developed rationally. Mn clusters could efficiently catalyze oxygen production in an acidic tumor microenvironment, while exhibiting strong reducibility and free radical scavenging ability in neutral circumstances. In vivo experiments show that Mn clusters are able to enhance the radiotherapy effect in the mouse model of 4T1 tumors and protect normal tissues from radiation at the same time. Thus, the present work provides a novel dual-functional strategy to enhance radiotherapy-induced tumor treatment by improving tumor oxygenation and protect normal tissues from radiation simultaneously.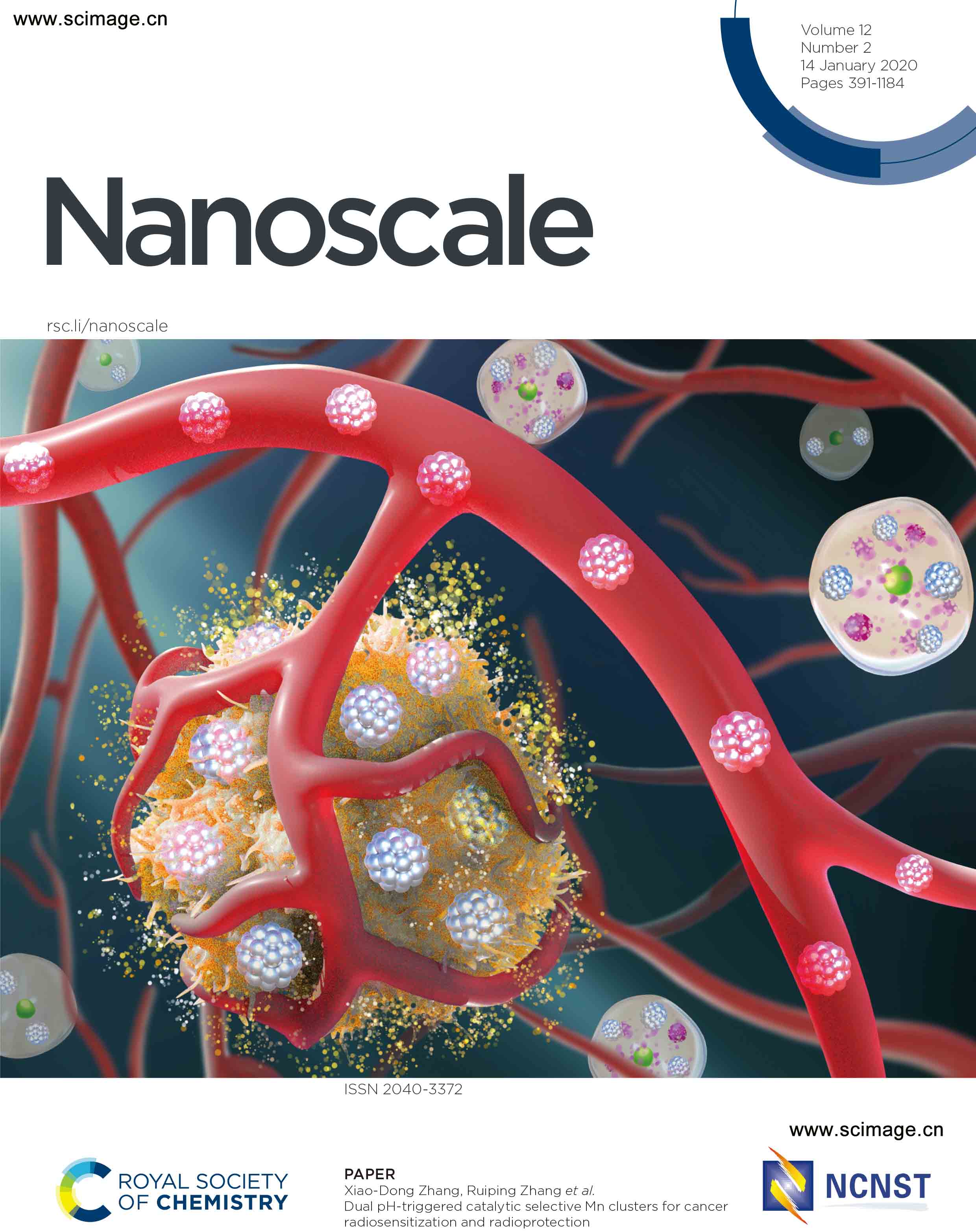 发表期刊:Materials Chemistry Frontiers
论文题目:Drastic photoluminescence modulation of an organic molecular crystal with high pressure
论文作者:junjie Guan, Chunfang Zhang, Dexiang Gao, Xingyu Tang, Xiao Dong, Xiaohuan Lin, Yajie Wang, Xinxin Wang, Lin Wang, Hyun Hwi Lee, Jialiang Xu, Haiyan Zheng, Kuo Lib, Ho-kwang Maob
发表日期:August 01, 2019
论文摘要:high-pressure IR spectra and synchrotron X-ray diffraction (XRD) analyses suggest a phase transition from the α- to the γ-phase (newly identified) at around 3 GPa, accompanied by the phenyl unit in DPFO converting from perpendicular to parallel packing. Theoretical calculations show that the enhanced π⋯π interactions and the overlap of the molecular orbitals in the γ-phase are responsible for such a tremendous redshift in the PL spectra. Our work highlights the large redshift phenomenon in the DPFO system under high pressure, which may have potential photonic device applications. Furthermore, this work reveals the clear structure-property relation, providing deep insight into the tailoring of the optical characteristics of molecular materials.
发表期刊:Chem Comm
论文题目:A fluorogenic probe for tracking GSH flux in developing neurons
论文作者:Haichao Zong, Jiayi Peng, Xiao-Rong Li, Meng Liu, Yongzhou Hu, Jia Li, Yi Zang, Xin Li, Tony D. James
发表日期:January 14, 2020
论文摘要:Understanding GSH flux in developing neurons is prerequisite to reveal its role in neuronal development but necessiates an ultrasensitive assay. By systematically exploring key structural factors determing probe sensitivity in live cells, we developed a fluorogenic probe capable of imaging subtle GSH fluctuations in developing neurons.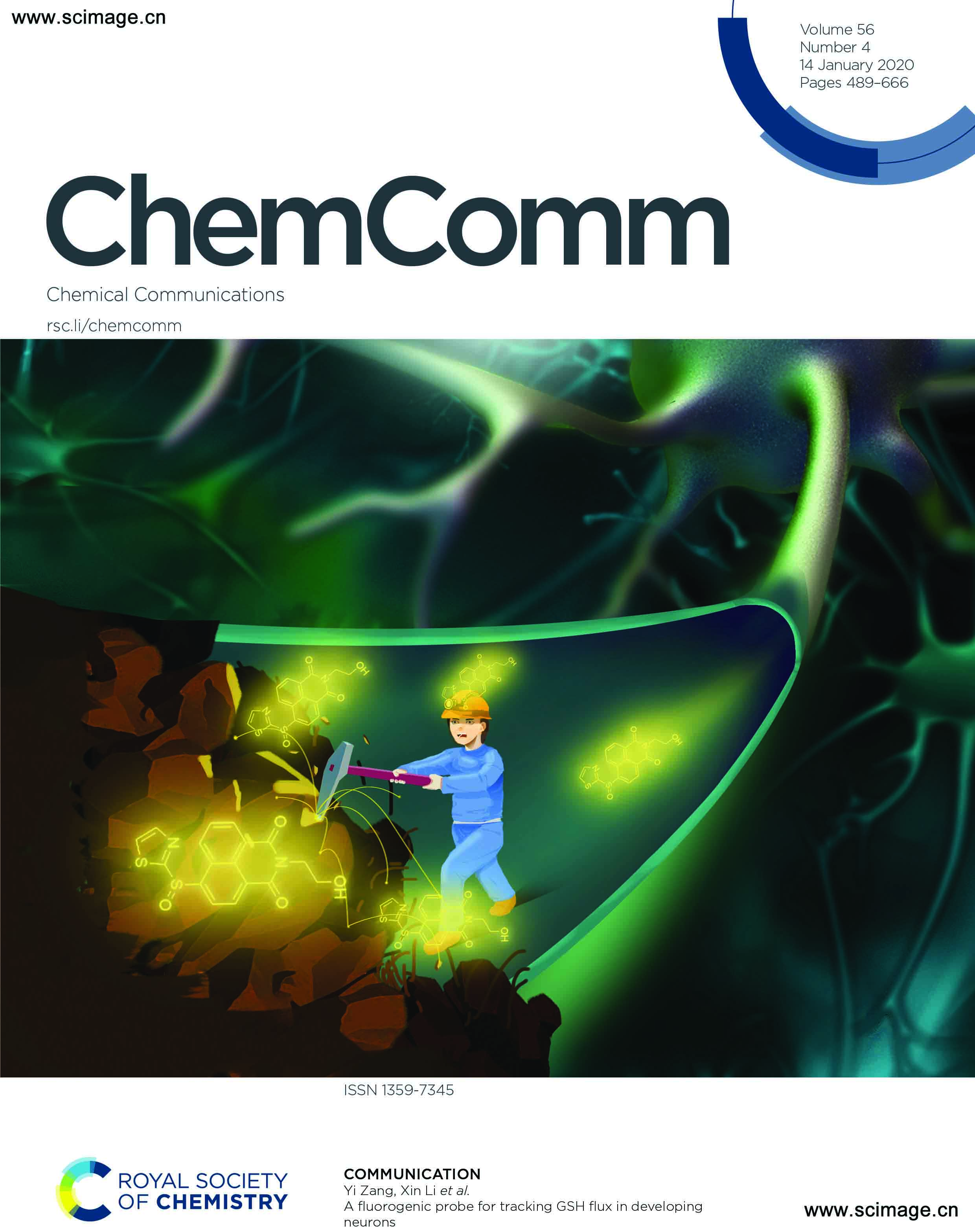 发表期刊:Analyst

论文题目:Matrix-assisted nanoelectrospray mass spectrometry for soft ionization of metal(i)–protein complexes
论文作者:Jin Li, Yajun Zheng, Jia Zhao, Daniel E. Austin, Zhiping Zhang
发表日期:March 07, 2020
论文摘要:Metal ions play significant roles in biological processes, and investigation of metal–protein interactions provides a basis to understand the functions of metal ions in such systems. In the current study, a novel matrix-assisted nanoelectrospray ionization mass spectrometry (MANESI-MS) method was developed for investigating the interactions between metal ions (i.e., Cu+) and protein molecules (i.e., myoglobin) using Cu nanoparticles as the matrix. The results demonstrated that the present method not only was an efficient strategy for the generation of various complexes with monovalent metal ions, such as Cu+, in which no redox transitions between Cu+ and Cu2+ were observed, but also allowed a softer ionization of the generated Cu+–myoglobin complexes compared to that of myoglobin molecules with conventional nanoESI. Several parameters (i.e., the mixing mode of the myoglobin sample and Cu nanoparticle solution, size of the Cu particle, oxidation state of the Cu species, and acidity of the myoglobin solution) were found to be crucial in determining the ionization efficiency of the MANESI method. First loading a Cu nanoparticle solution into the electrospray tip followed by a myoglobin solution resulted in a favorable interaction between the generated Cu+ ions and myoglobin molecules, in which a smaller size of the Cu particle and a lower oxidation state of the metal species (Cu > Cu2O > CuO) gave a lower average charge state and hence a softer ionization of the resulting Cu+–myoglobin complexes, possibly due to the reduced denaturing effects of the Cu+ complex. The MANESI method has also been successfully used to ionize the complexes between Cu+ and other biological molecules such as cytochrome c and angiotension II, although an exception was found for lysozymes, which show an increase in the charge state. Analogous to the study with Cu, a variety of other metal nanoparticles (Ni, Fe, W, Ag, Al, Zn and Co) were explored to study their interactions with myoglobin, but only Zn and Co could produce monovalent metal ions (i.e., Zn+ and Co+) followed by a favorable interaction with myoglobin, and a soft ionization of the resulting complexes.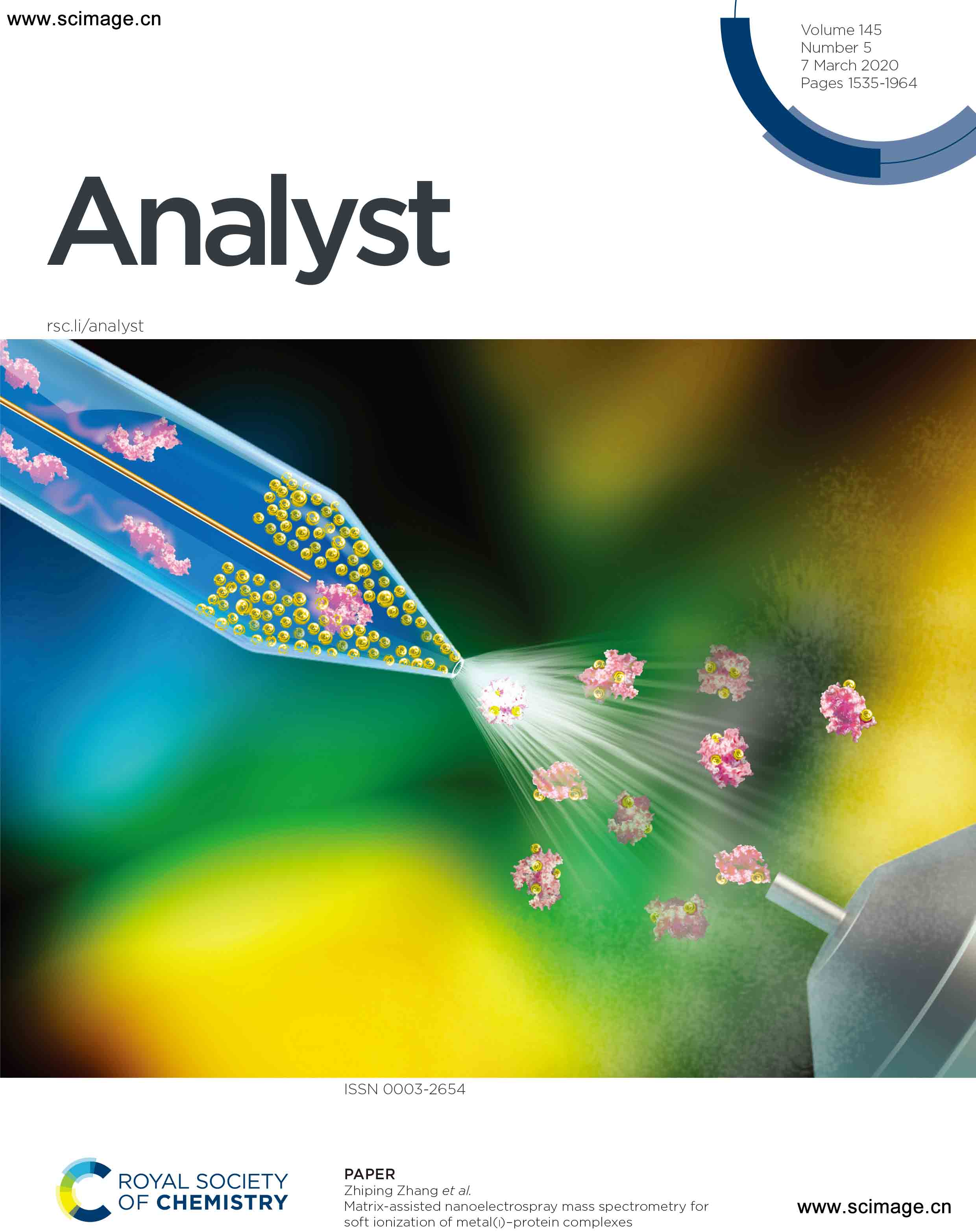 静远嘲风(SCimage)是专注于学术研究领域的艺术创作机构,用唯美的艺术诠释科研是嘲风的目标。公司主要提供论文封面设计、论文配图设计、科研动画开发设计及科研产品深度包装等服务;主要服务对象为中国科学院,中国军事科学院,中国医学科学院,中国农业科学院,以及国内外各大高校科研机构,科技型研发企业以及从事学术研究和高等教育的研究人员。静远嘲风,创立于2007年,以多学科背景为出发点,以独到的切入点深入探索科研领域的艺术表达方式,是国内科研可视化的资深践行者与领头羊,多年来为生物学、微生物学、化学、化工、医学、环境学等研究方向完成数千幅专业作品,协助上千名科研工作者完成封面论文发表。
https://wap.sciencenet.cn/blog-575129-1235516.html
上一篇:
2020年4月嘲风作品集(一)
下一篇:
2020年5月嘲风作品集(一)