发表期刊:Chemical Reviews
论文题目:Interface Engineering in Organic Field-Effect Transistors: Principles, Applications, and Perspectives
论文作者:Hongliang Chen, Weining Zhang, Mingliang Li, Gen He, Xuefeng Guo
发表日期:March 11, 2020
论文摘要:Heterogeneous interfaces that are ubiquitous in optoelectronic devices play a key role in the device performance and have led to the prosperity of today's microelectronics. Interface engineering provides an effective and promising approach to enhancing the device performance of organic field-effect transistors (OFETs) and even developing new functions. In fact, researchers from different disciplines have devoted considerable attention to this concept, which has started to evolve from simple improvement of the device performance to sophisticated construction of novel functionalities, indicating great potential for further applications in broad areas ranging from integrated circuits and energy conversion to catalysis and chemical/biological sensors. In this review article, we provide a timely and comprehensive overview of current efficient approaches developed for building various delicate functional interfaces in OFETs, including interfaces within the semiconductor layers, semiconductor/electrode interfaces, semiconductor/dielectric interfaces, and semiconductor/environment interfaces. We also highlight the major contributions and new concepts of integrating molecular functionalities into electrical circuits, which have been neglected in most previous reviews. This review will provide a fundamental understanding of the interplay between the molecular structure, assembly, and emergent functions at the molecular level and consequently offer novel insights into designing a new generation of multifunctional integrated circuits and sensors toward practical applications.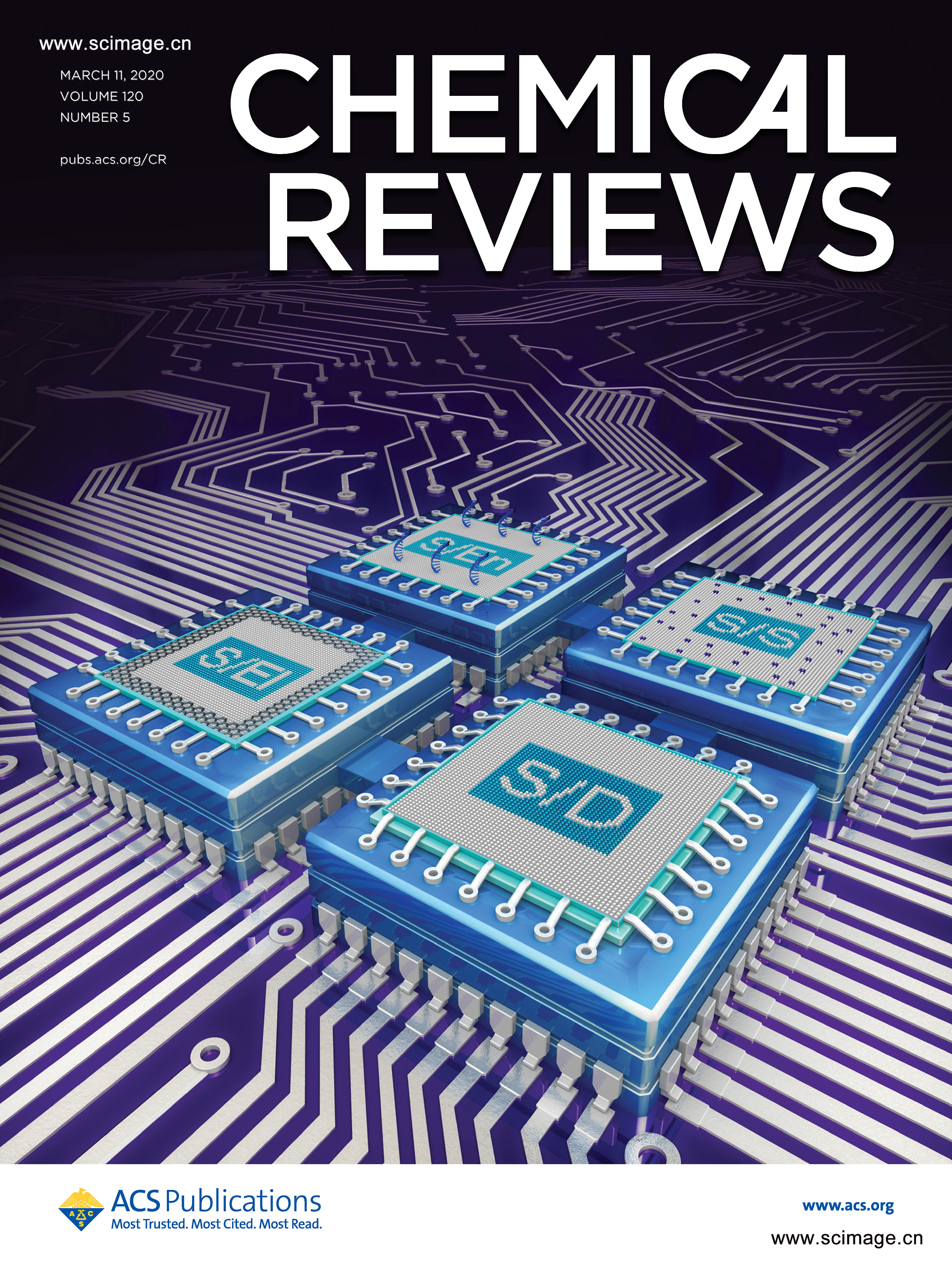 发表期刊:Chemical Reviews
论文题目:Property–Activity Relationship of Black Phosphorus at the Nano–Bio Interface: From Molecules to Organisms
论文作者:Guangbo Qu, Tian Xia, Wenhua Zhou, Xue Zhang, Haiyan Zhang, Ligang Hu, Jianbo Shi, Xue-Feng Yu, Guibin Jiang
发表日期:February 26 , 2020
论文摘要:As a novel member of the two-dimensional nanomaterial family, mono- or few-layer black phosphorus (BP) with direct bandgap and high charge carrier mobility is promising in many applications such as microelectronic devices, photoelectronic devices, energy technologies, and catalysis agents. Due to its benign elemental composition (phosphorus), large surface area, electronic/photonic performances, and chemical/biological activities, BP has also demonstrated a great potential in biomedical applications including biosensing, photothermal/photodynamic therapies, controlled drug releases, and antibacterial uses. The nature of the BP–bio interface is comprised of dynamic contacts between nanomaterials (NMs) and biological systems, where BP and the biological system interact. The physicochemical interactions at the nano–bio interface play a critical role in the biological effects of NMs. In this review, we discuss the interface in the context of BP as a nanomaterial and its unique physicochemical properties that may affect its biological effects. Herein, we comprehensively reviewed the recent studies on the interactions between BP and biomolecules, cells, and animals and summarized various cellular responses, inflammatory/immunological effects, as well as other biological outcomes of BP depending on its own physical properties, exposure routes, and biodistribution. In addition, we also discussed the environmental behaviors and potential risks on environmental organisms of BP. Based on accumulating knowledge on the BP–bio interfaces, this review also summarizes various safer-by-design strategies to change the physicochemical properties including chemical stability and nano–bio interactions, which are critical in tuning the biological behaviors of BP. The better understanding of the biological activity of BP at BP–bio interfaces and corresponding methods to overcome the challenges would promote its future exploration in terms of bringing this new nanomaterial to practical applications.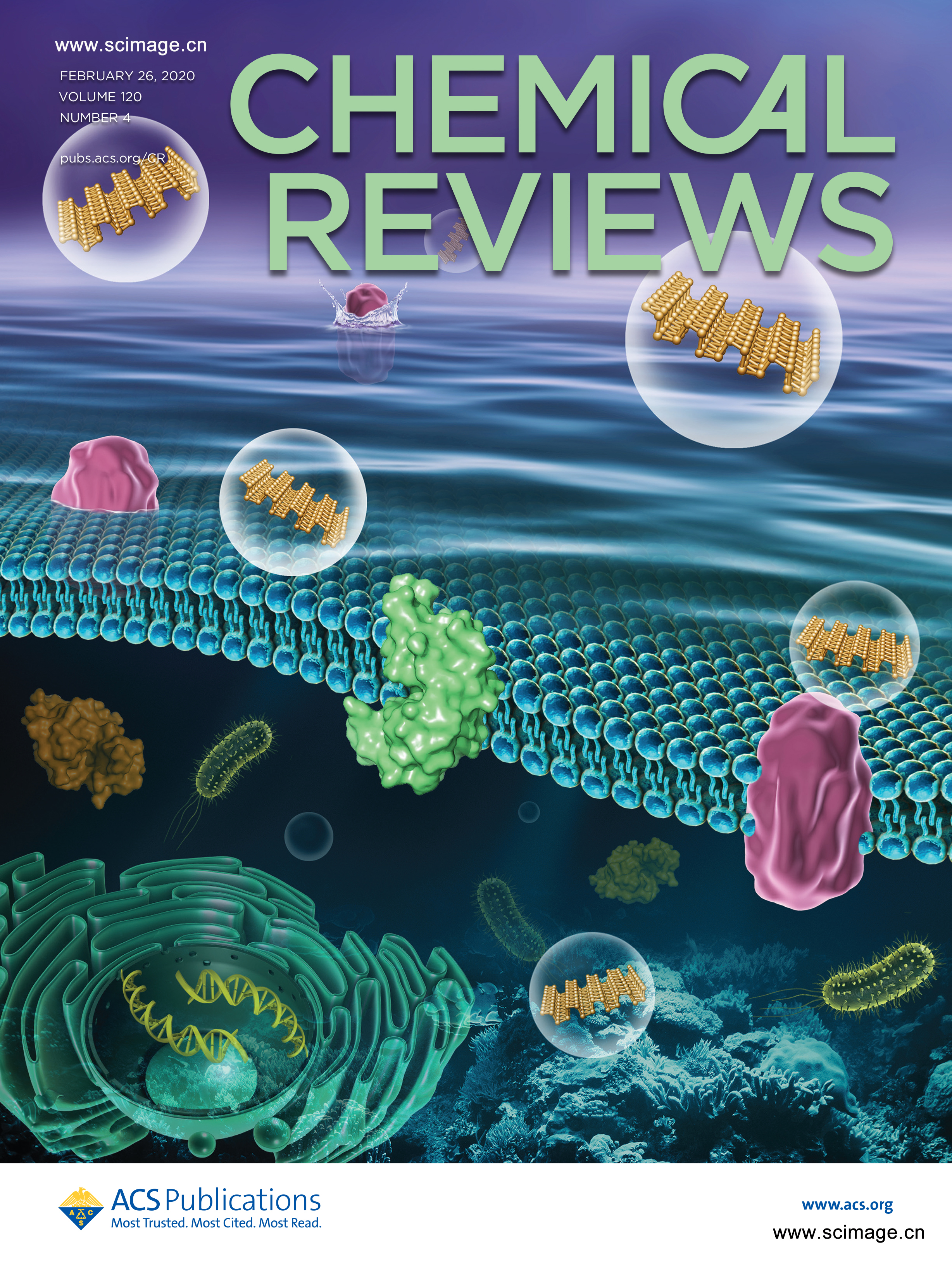 发表期刊:Accounts of chemical research
论文题目:Single-Molecule Electrical Detection: A Promising Route toward the Fundamental Limits of Chemistry and Life Science
论文作者:Yu Li, Chen Yang, Xuefeng Guo
发表日期:January 21, 2020
论文摘要:The ultimate limit of analytical chemistry is single-molecule detection, which allows one to visualize the dynamic processes of chemical/biological interactions with single-molecule or single-event sensitivity and hence enables the study of stochastic fluctuations under equilibrium conditions and the observation of time trajectories and reaction pathways of individual species in nonequilibrated systems. In addition, such studies may also allow the direct observation of novel microscopic quantum effects and fundamental discoveries of underlying molecular mechanisms in organic reactions and biological processes that are not accessible in ensemble experiments, thus providing unique opportunities to solve the key problems of physical, chemical, and life sciences. Consequently, the field of single-molecule detection has received considerable attention and has witnessed tremendous advances in different directions in combination with other disciplines. This Account describes our ongoing work on the development of groundbreaking methods (termed "single-molecule electrical approaches") of translating the detailed processes of chemical reactions or biological functions into detectable electrical signals at the single-event level on the platform of single-molecule electronic devices, with a particular focus on graphene–molecule–graphene single-molecule junctions (GMG-SMJs) and silicon-nanowire-based single-molecule electrical nanocircuits. These nanocircuit-based architectures are complementary to conventional optical or mechanical techniques but exhibit obvious advantages such as the absence of problems associated with bleaching and fluorescent labeling.
Dash-line lithography (DLL) is an efficient lithographic method of cutting graphene and forming carboxylic-acid-functionalized nanogapped graphene point contact arrays developed to address the formidable challenges of molecular device fabrication difficulty and poor stability. Molecules of interest terminated by amines on both ends can be covalently sandwiched between graphene point contacts to create high-throughput robust GMG-SMJs containing only one molecule as the conductive element. In conjunction with the ease of device fabrication and device stability, this feature distinguishes GMG-SMJs as a new testbed platform for single-molecule analysis characterized by high temporal resolution and superior signal-to-noise ratios. By exploiting the DLL method, we have fabricated molecular devices that are sensitive to external stimuli and are capable of transducing chemical/biochemical events into electrical signals at the single-molecule level, with notable examples including host–guest interaction, hydrogen bond dynamics, DNA intercalation, photoinduced conformational transition, carbocation formation, nucleophilic addition, and stereoelectronic effect. In addition to GMG-SMJs and considering compatibility with the silicon-based industry, we have also developed a reliable method of point-functionalizing silicon-nanowire-based nanotransistors to afford single-molecule electrical nanocircuits. This approach proved to be a robust platform for single-molecule electrical analysis capable of probing fast dynamic processes such as single-protein detection, DNA hybridization/polymorphism, and motor rotation dynamics.
The above systematic investigations emphasize the importance and unique advantages of universal single-molecule electrical approaches for realizing direct, label-free, real-time electrical measurements of reaction dynamics with single-event sensitivity. These approaches promise a fascinating mainstream platform to explore the dynamics of stochastic processes in chemical/biological systems as well as gain information in fields ranging from reaction chemistry for elucidating the intrinsic mechanisms to genomics or proteomics for accurate molecular and even point-of-care clinical diagnoses.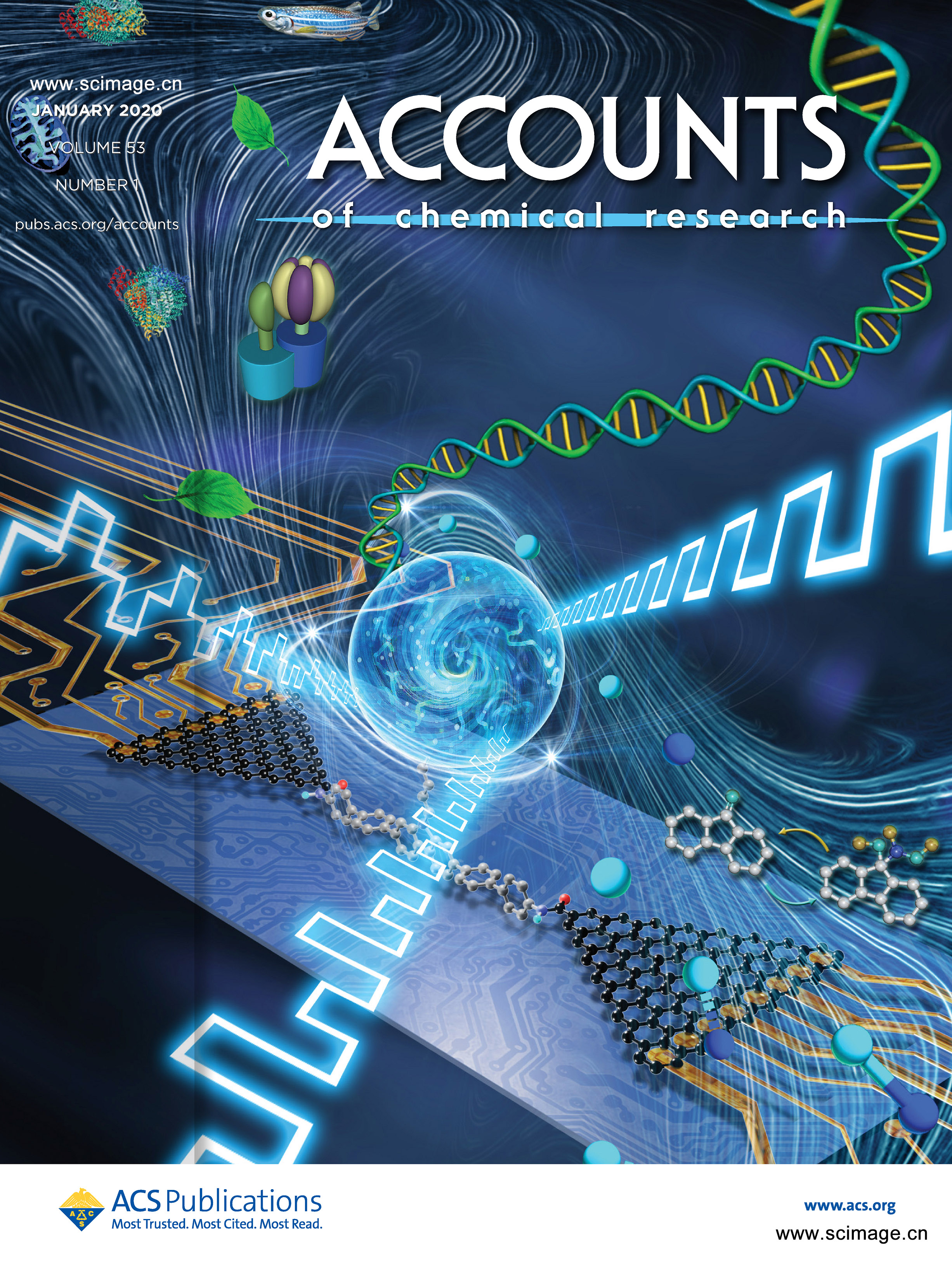 发表期刊:ACS Applied Nano Materials
论文题目:Hydrophobic Silica Nanorod Arrays Vertically Grown on Melamine Foams for Oil/Water Separation
论文作者:Hongqiang Wang, Chen Zhang, Bin Zhou, Zhihua Zhang, Jun Shen, Ai Du
发表日期:February 28, 2020
论文摘要:The development of economic oil absorbents with selective wettability, high absorption rate, and recyclability is of great importance owing to the environmental pollution caused by oil spills. Herein, we present a facile strategy to grow one-dimensional (1D) hydrophobic silica via one-step chemical vapor deposition (CVD) of methyltrimethoxysilane (MTMS), catalyzed by ammonia at 100 °C. The final morphology (nanosphere, nanorod, or nanowire) of 1D silica was affected by the amount of precursor nanodroplet. The formation of 1D silica was attributed to the vapor–liquid–solid mechanism. In addition, the hydrophobic silica nanorods (SNRs) growing on the foam skeletons exhibited a vertical growth direction, contributing to the formation of superhydrophobic surface by constructing the roughness and tuning the surface energy. Therefore, the SNR-modified foams demonstrated ultralow density, superhydrophobicity, excellent fire resistance, and robust mechanical stability. Furthermore, they exhibited an excellent heat-resistant wettability up to 550 °C because of their vertical SNR arrays and hydrophobic methyl groups. Compared with other reported materials, the SNR-modified foams displayed great competitiveness with respect to the oil/water separation performances, including the absorption capacities and recyclability. The facile CVD method used to fabricate 1D silica provides a reference strategy for synthesizing other 1D materials.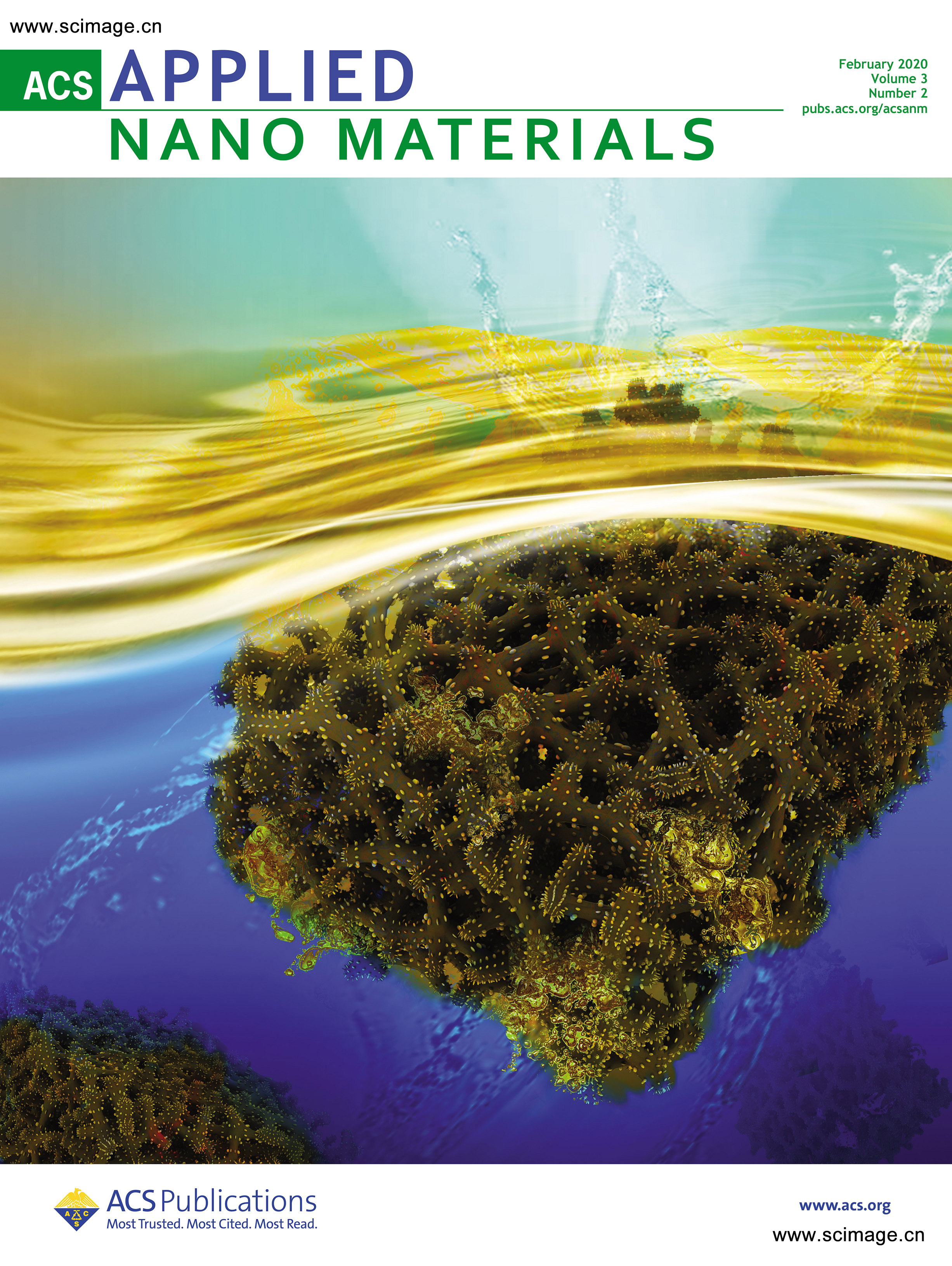 发表期刊:ACS Applied Bio Materials
论文题目:Drug Implants of Hydrogels via Collective Behavior of Microgel Colloids for On-Demand Cancer Therapy
论文作者:Yitong Wang, Ling Wang, Miaomiao Yan, Lei Feng, Shuli Dong, Jingcheng Hao
发表日期:April 15, 2019
论文摘要:In nature, the collective behaviors such as the growth of bacteria and the cooperation of insects possess great superiority and can create functional materials through diversified interactions for accomplishing complex tasks that cannot be performed by a single unit. Here we develop a new protocol for fabricating drug implants of hydrogels via the collective behavior of jagged magnetic microgels constructed by further coating Au nanorod@SiO2 with the thermo- and magnetic-responsive polymer shells, poly(N-isopropylacrylamide-co-magnetic ionic liquids). The magnetism of resultant macroscale hydrogels was enhanced nearly 5-fold because of the self-organization process, presenting new evidence for the essence of magnetism generation at a molecular level. By virtue of using a near-IR laser excitation stimulus, minimal cytotoxicity, and high biocompatibility, the implants of hydrogels not only have the potential to be local drug implants for sustaining drug release over 30 days but also achieve on-demand release for the enhanced therapeutic effect. The formation of microgel colloids provides an unprecedented strategy to rearrange molecular magnets and a unique potential and possibility for magnetism enhancement. This enhancement motivates an improvement of solid tumor therapy and also supplies a force for the real implementation of the on-demand drug treatment.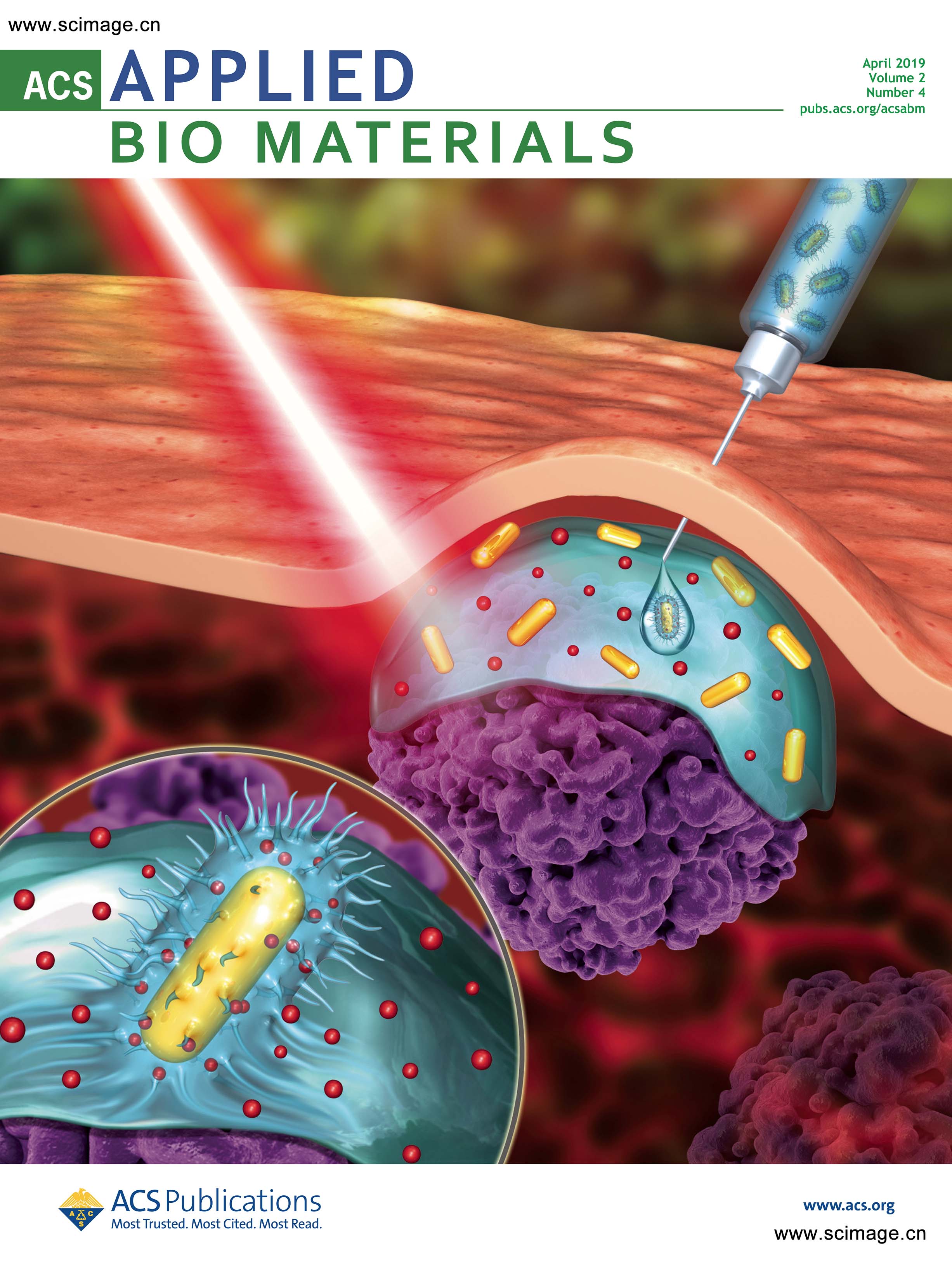 发表期刊:ACS Applied Bio Materials
论文题目:Single-Molecule Nanotechnologies: An Evolution in Biological Dynamics Detection
论文作者:Yu Li, Lihua Zhao, Yuan Yao, Xuefeng Guo
发表日期:January 21, 2020
论文摘要:Single-molecule detection is a rapidly developing area within the analytical chemistry field that requires ultrasensitive technologies to detect a range of molecules. Over the past few decades, various optically-, mechanically-, and electrically-based strategies have been employed for single-molecule detection to uncover information in biological processes. These strategies enable real-time monitoring with single-molecule/single-event sensitivity. In addition, their high temporal resolution enables investigation of the underlying mechanisms of biological functions from static to dynamic, from qualitative to quantitative, and from one to multiple disciplines. In this review, we provide a brief overview of the prominent, real-time single-molecule detection nanotechnologies and their potential applications within the life science fields.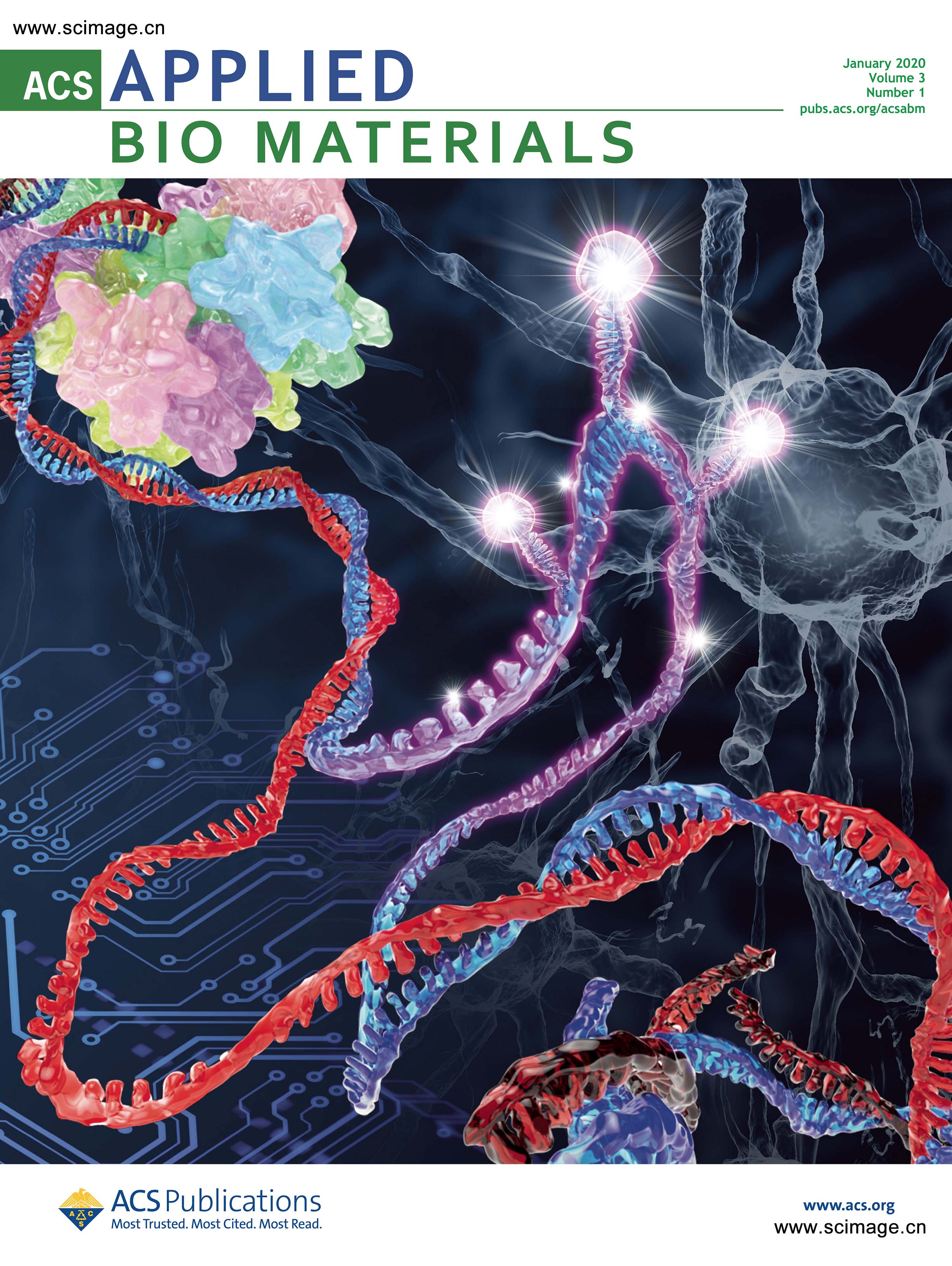 静远嘲风(SCimage)是专注于学术研究领域的艺术创作机构,用唯美的艺术诠释科研是嘲风的目标。公司主要提供论文封面设计、论文配图设计、科研动画开发设计及科研产品深度包装等服务;主要服务对象为中国科学院,中国军事科学院,中国医学科学院,中国农业科学院,以及国内外各大高校科研机构,科技型研发企业以及从事学术研究和高等教育的研究人员。静远嘲风,创立于2007年,以多学科背景为出发点,以独到的切入点深入探索科研领域的艺术表达方式,是国内科研可视化的资深践行者与领头羊,多年来为生物学、微生物学、化学、化工、医学、环境学等研究方向完成数千幅专业作品,协助上千名科研工作者完成封面论文发表。
https://wap.sciencenet.cn/blog-575129-1235017.html
上一篇:
2020年3月嘲风作品集(一)
下一篇:
2020年4月嘲风作品集(一)