发表期刊:Advanced Electronic Materials
论文题目:Semiconductors: Crystal Imperfection Modulation Engineering for Functionalization of Wide Band Gap Semiconductor Radiation Detector
论文作者:Xu Ji, Liang Chen, Mengxuan Xu, Mei Dong, Kun Yan, Shuang Cheng, Xueqian Kong, Tongyao Wang, Jiandang Liu, Bingchuan Gu, Huanhua Wang, Zhiyong Liu, Shuao Wang, Feng Huang, Xiaoping Ouyang
发表日期:12 February 2018
论文摘要:Controllable and repeatable crystal‐imperfection‐modulation engineering (CIME) is important for the development of semiconductor science and technology. A universal and feasible CIME for ZnO based on creative electrochemical doping and strong oxidizing thermodynamic annealing processes is described by Feng Huang, Xiaoping Ouyang, and co‐workers in article number 1700307. Their method could be of major benefit for new wide‐and‐gap semiconductor devices.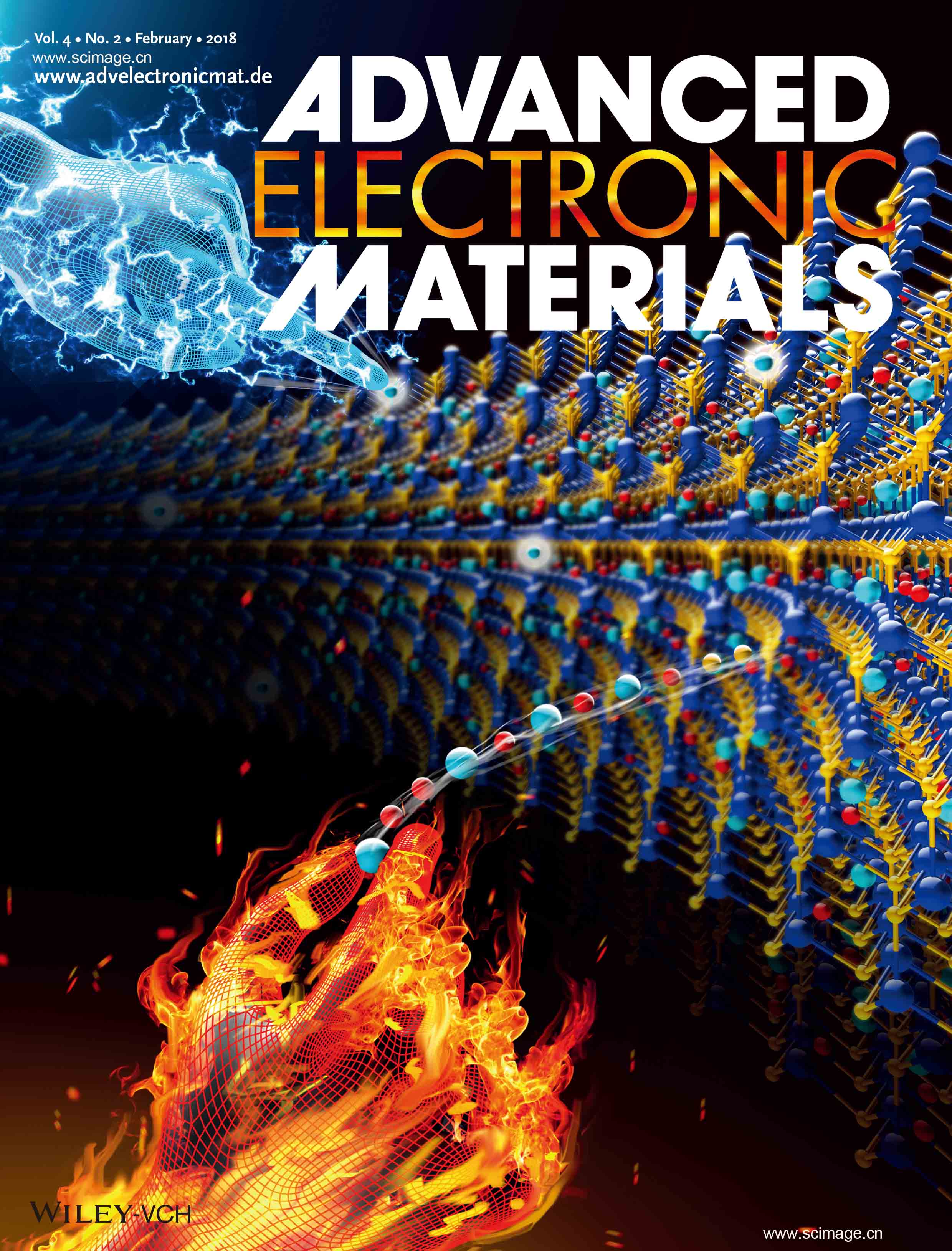 发表期刊:Advanced Materials
论文题目:Organic Optoelectronics: Self‐Suspended Nanomesh Scaffold for Ultrafast Flexible Photodetectors Based on Organic Semiconducting Crystals
论文作者:Lei Zhang, Nadiia Pasthukova, Yifan Yao, Xiaolan Zhong, Egon Pavlica, Gvido Bratina, Emanuele Orgiu, Paolo Samorì
发表日期:09 July 2018
论文摘要:In article number 1801181, Lei Zhang, Emanuele Orgiu, Paolo Samorì, and co‐workers develop an unprecedented device architecture operating as a high‐performance bicrystal photovoltaic detector. In the self‐suspended nanomesh scaffold, supported on a flexible plastic substrate, each semiconductor crystal is preferentially connected to the cathode and anode separately to attain an ultrafast (10 ns) photovoltaic response
发表期刊:Nanoscale
论文题目:In situ synthesis of metal clusters encapsulated within small-pore zeolites via a dry gel conversion method
论文作者:Xiaoli Yang, Qinggang Liu, Yaru Zhang, Xiong Su, Yanqiang Huang, Tao Zhang
发表日期:21 March 2018
论文摘要:This protocol involves a solid phase transformation process for crystallization which occurs without significant deconstruction of the structure of the Pt-containing precursor. High-angle annular dark-field scanning transmission electron microscopy images indicate that most of the Pt clusters are less than 1 nm in size and located in defective channels or voids of MFI. Thanks to the encapsulation role, these Pt clusters are stable against sintering even after calcination at 500 °C and only grow up to ~2.8 nm after calcination at 800 °C. The uniform pore structure of a zeolite endows the Pt@zeolite catalyst with shape-selectivity for hydrogenation and oxidation reactions over size differentiated analog substrates. This synthesis method is attainable for the embedment of stable metal clusters inside the small-pore MFI zeolite.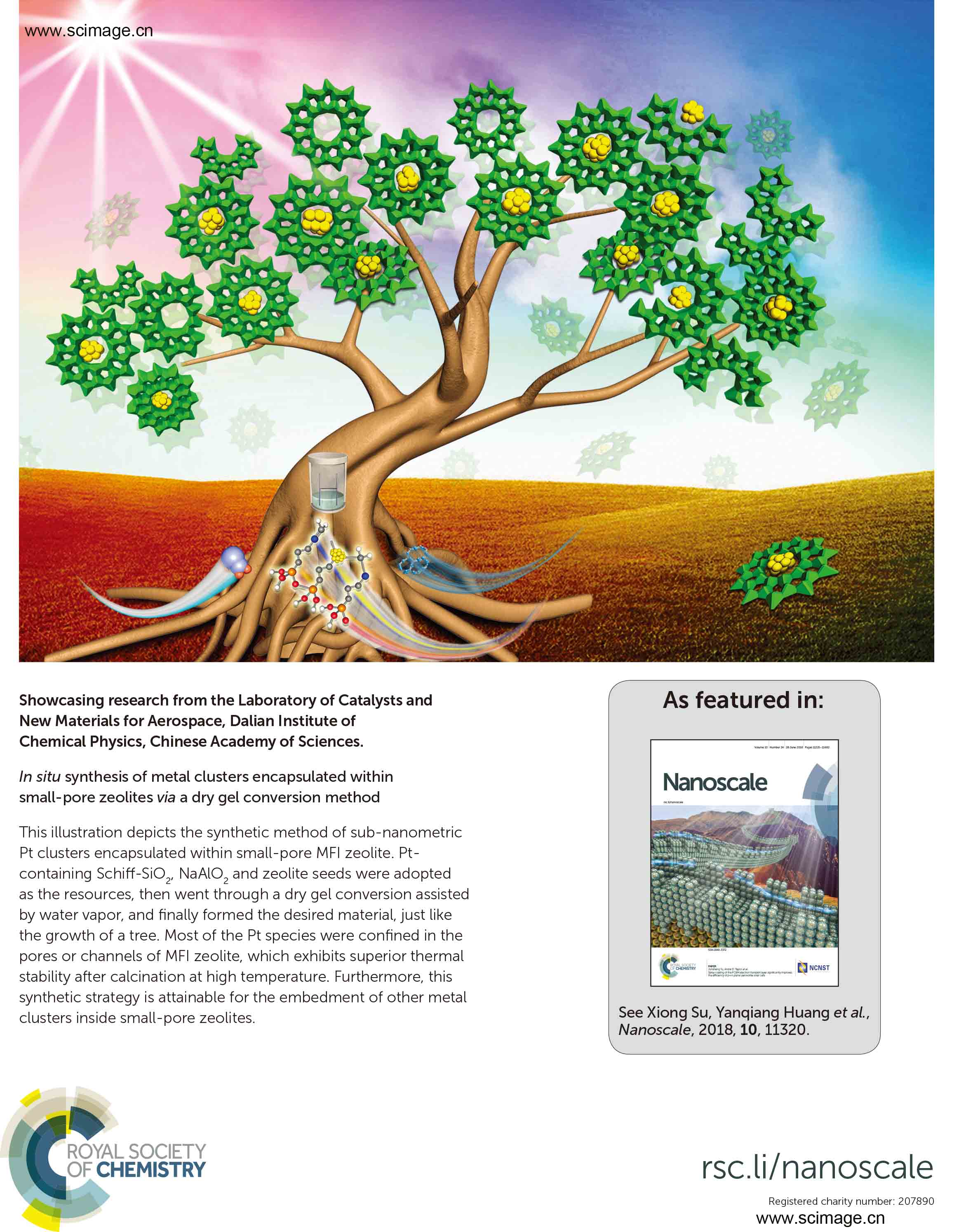 发表期刊:Journal of Materials Chemistry A
论文题目:Fe3O4@Ti3C2 MXene hybrids with ultrahigh volumetric capacity as an anode material for lithium-ion batteries
论文作者:Yesheng Wang, Yanyan Li, Zhipeng Qiu, Xiaozhong Wu, Pengfei Zhou, Tong Zhou, Jinping Zhao, Zhichao Miao, Jin Zhou, Shuping Zhuo
发表日期:28 March 2018
论文摘要:The volumetric capacity of lithium-ion batteries is becoming an increasingly important parameter restricting their practical applications in limited space, such as in portable electronic products and electric vehicles. Therefore, novel electrode materials with high volumetric capacities are urgently desirable. Aiming to pursue such kind of electrode materials, a new Fe3O4@Ti3C2 MXene hybrid is fabricated through a simple ultrasonication of Ti3C2MXene and Fe3O4 nanoparticles. Multi-layered Ti3C2 MXene in the prepared hybrids acts as a superior host to load Fe3O4 nanoparticles due to its open two dimensional structure, favorable electrical conductivity and low Li+diffusion barrier. X-ray diffraction and scanning electron microscopy analysis show that the Ti3C2 MXene could be homogeneously covered by Fe3O4 nanoparticles at a mass ratio of 5 : 2. As an anode material, the Fe3O4@Ti3C2-2:5 hybrid exhibits high reversible capacities of 747.4 mA h g−1 at 1C after 1000 cycles and 278.3 mA h g−1 at 5C after 800 cycles, which indicate its long cycle lifetime and excellent stability. More importantly, the hybrid material possesses an outstanding volumetric capacity up to 2038 mA h cm−3 at 1C due to the high compact density of the electrode of the prepared hybrid. This study provides further insight into the application of transition metal oxides@MXene hybrids as high volumetric performance anode electrodes for lithium-ion batteries.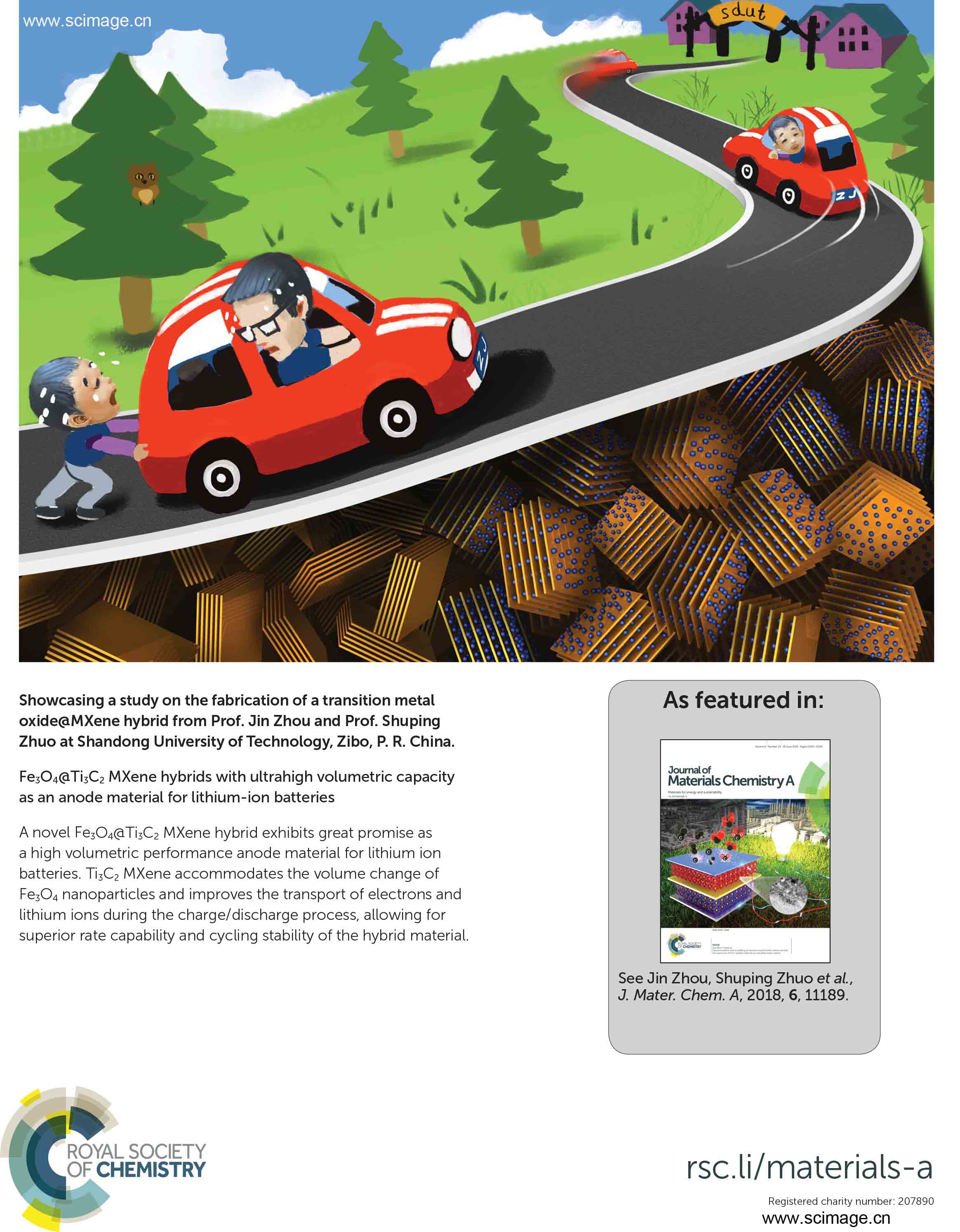 发表期刊:ChemComm
论文题目:Regulating the emission of tetraphenylethenes by changing the alkoxyl linkage length between two neighboring phenyl moieties
论文作者:Dandan Lou, Xiangcheng Lu, Mengxing Zhang, Ming Bai, Jianzhuang Jiang
发表日期:19 April 2018
论文摘要:Alkoxyl linkages with different carbon lengths are employed to link the two neighboring ortho carbons of the two phenyl moieties at the same ethylene carbon of the tetraphenylethene framework, resulting in successful regulation of the molecular conformation and in turn the emission properties.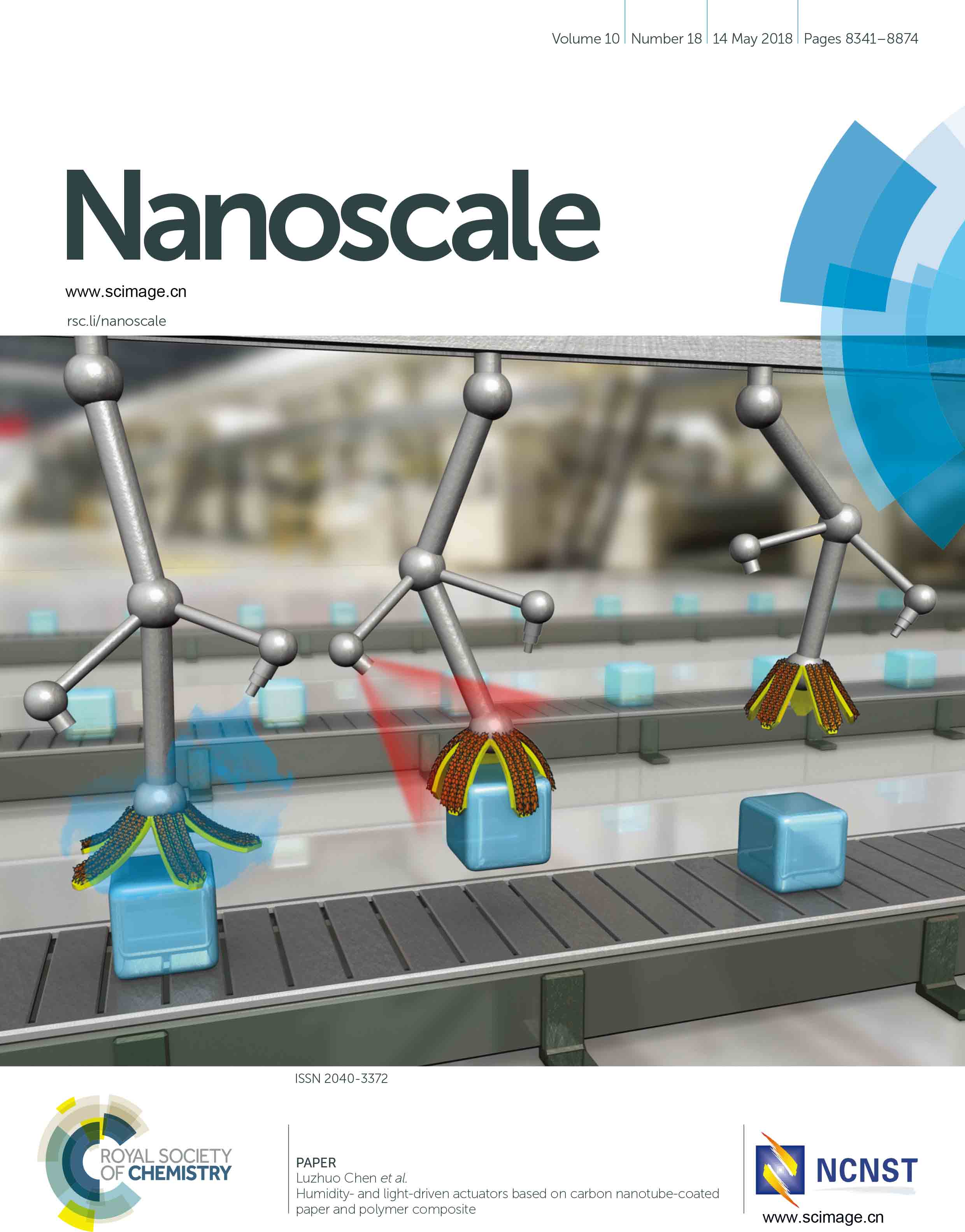 发表期刊:Journal of Materials Chemistry B
论文题目:Timely coordinated phototherapy mediated by mesoporous organosilica coated triangular gold nanoprisms
论文作者:Wenfei Liu, Ying Tian, Yunlei Zhang, Kai Liu, Shuang Zhao, Junjie Zhang, Yunyan Su, Ying Zhao, Yuxia Tang, Jing Sun, Wei Tian, Liang Song, Zhaogang Teng, Shouju Wang, Guangming Lu
发表日期:24 April 2018
论文摘要:A variety of nanocarriers have been designed to deliver photosensitizers (PSs) and promote the clinical applications of photodynamic therapy (PDT). However, most of them suffer from insufficient loading capability, premature leakage, and/or unstable therapeutic efficacy. Herein, we constructed a novel nanocomposite (TGP@MOS) with a benzene-bridged mesoporous organosilica shell and a triangular gold nanoprism core. The TGP@MOS could load model PS molecules, zinc phthalocyanine (ZnPc), with high loading capacity (11.8 wt%) and minimal premature leakage (only 2.6% after incubation in PBS with 10% FBS for 60 h) via π–π stacking interactions and hydrophobic interactions. We demonstrated that the obtained TGP@MOS–ZnPc could realize timely coordinated photodynamic/photothermal therapy upon single irradiation, and thus stabilize and maximize the therapeutic efficacy of phototherapy both in vitro and in vivo. Other advantages of TGP@MOS-ZnPc include excellent water solubility, stability, hemocompatibility and biocompatibility.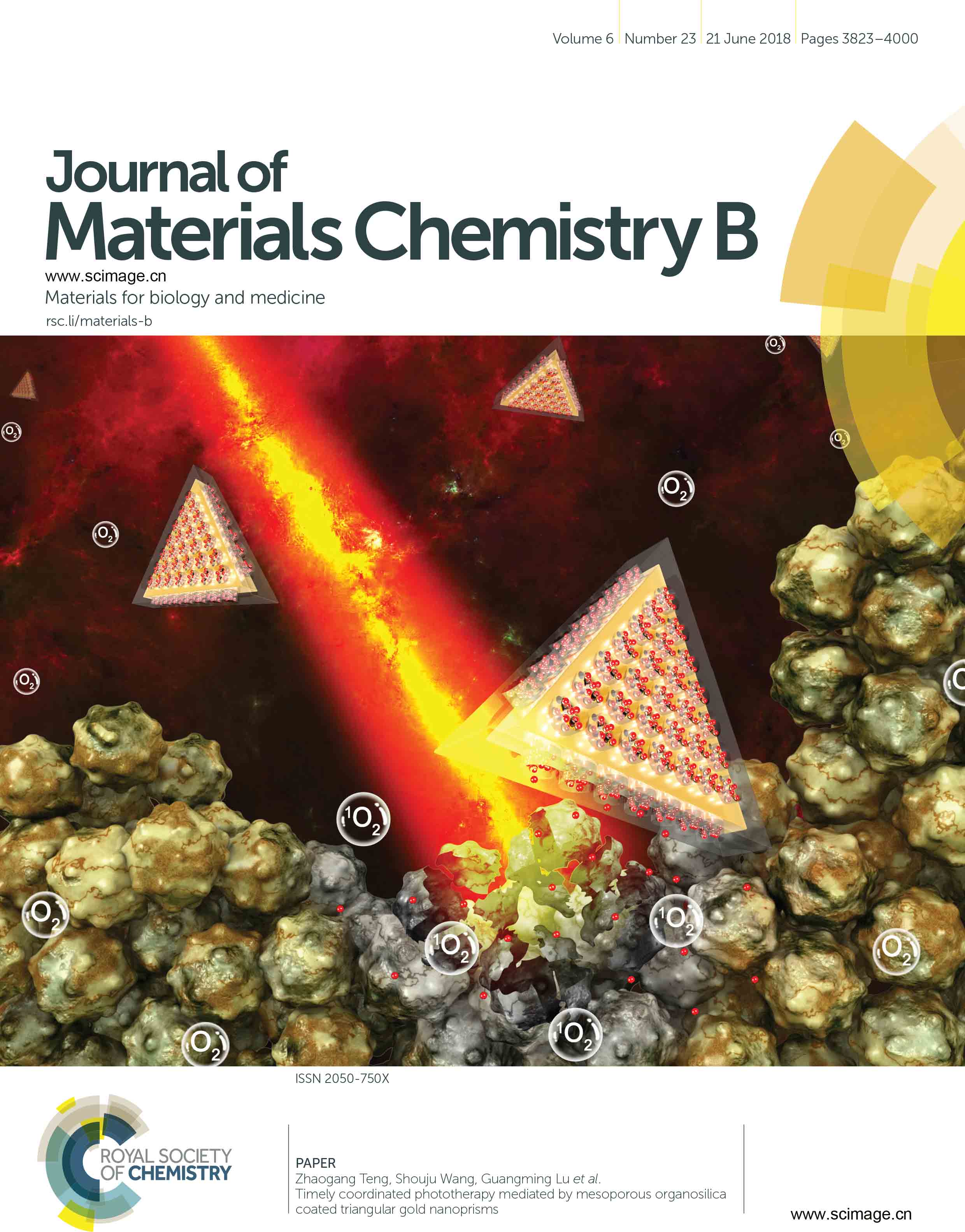 发表期刊:Nature Nanotechnology
论文题目:Stress-free strong carbon bundles
论文作者:Yunxiang Bai, Rufan Zhang, Xuan Ye, Zhenxing Zhu, Huanhuan Xie, Boyuan Shen, Dali Cai, Bofei Liu, Chenxi Zhang, Zhao Jia, Shenli Zhang, Xide Li, Fei Wei
发表日期:7 July 2018
论文摘要:Carbon nanotubes (CNTs) are renowned for their exceptional mechanical properties, and especially for being one of the strongest materials known to date. When assembled in bundles, however, their tensile strength drops significantly below that of single CNTs due to misalignment, defects and impurities. Now, Bai and co-workers have obtained centimetre-long CNT bundles fabricated via a synchronous tightening and relaxing strategy aimed to release the non-uniform initial strains of individual CNTs. The mechanical properties of this CNT-based material show a significant macroscale enhancement with respect to other reported strong fibres as evidenced by a record high tensile strength of 80 GPa. The artist's impression on the cover image shows such an aligned and defect-free ultralong bundle consisting of many individual CNTs.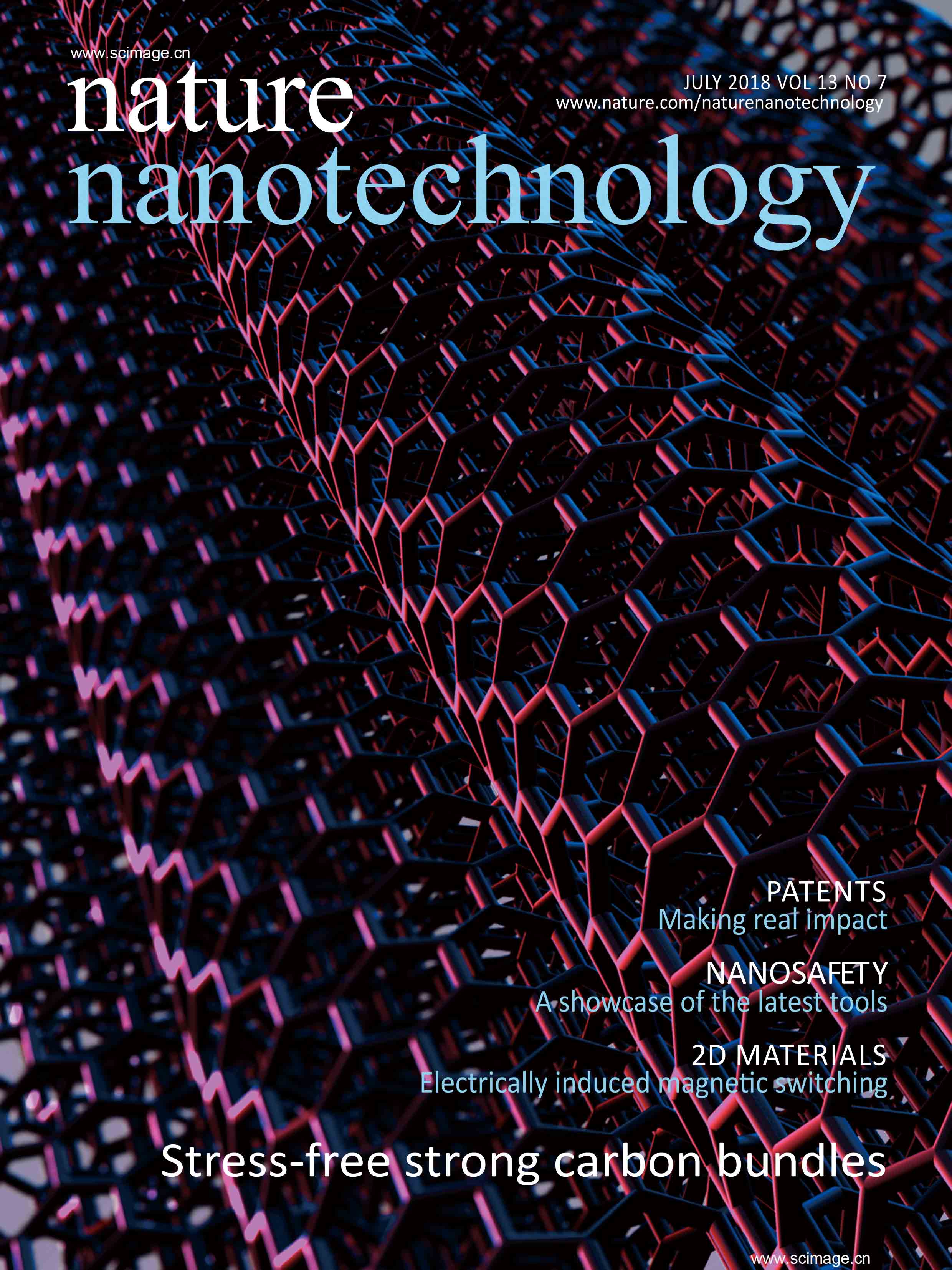 静远嘲风(SCimage)是专注于学术研究领域的艺术创作机构,用唯美的艺术诠释科研是嘲风的目标。公司主要提供论文封面设计、论文配图设计、科研动画开发设计及科研产品深度包装等服务;主要服务对象为中国科学院,中国军事科学院,中国医学科学院,中国农业科学院,以及国内外各大高校科研机构,科技型研发企业以及从事学术研究和高等教育的研究人员。静远嘲风,创立于2007年,以多学科背景为出发点,以独到的切入点深入探索科研领域的艺术表达方式,是国内科研可视化的资深践行者与领头羊,多年来为生物学、微生物学、化学、化工、医学、环境学等研究方向完成上千副专业作品,协助上千名科研工作者完成封面论文发表。

http://wap.sciencenet.cn/blog-575129-1129142.html
上一篇:
2018年7月嘲风作品集(二)
下一篇:
2018年8月嘲风作品集(一)