发表期刊:JACS

论文题目:High Throughput Preparation of UV-Protective Polymers from Essential Oil Extracts via the Biginelli Reaction
论文作者:Tengfei Mao, Guoqiang Liu, Haibo Wu, Yen Wei, Yanzi Gou, Jun Wang, Lei Tao
发表日期:6 June 2018
论文摘要:A high throughput (HTP) system has been developed to exploit new functional polymers. We synthesized 25 monomers in a mini-HTP manner through the tricomponent Biginelli reaction with high yields. The starting materials were five aldehydes extracted from essential oils. The 25 corresponding polymers were conveniently prepared via mini-HTP radical polymerization initially realizing the benefit of HTP methods to quickly fabricate sample libraries. The distinct radical scavenging ability of these Biginelli polymers was evaluated through a HTP measurement to choose the three best radical scavengers. This confirms the superiority of the HTP strategy to rapidly collect and analyze data. The selected polymers have been upgraded and screened according to different requirements for biomaterials and offer water-soluble and biocompatible copolymers that effectively protect cells from the fatal UV damage. This research is a straightforward way to establish new libraries of monomers with abundant diversity. It offers polymers with interesting functionalities. This suggests that a broader study of multicomponent reactions and HTP methods might be useful in many interdisciplinary fields. To the best of our knowledge, this is the first report of a HTP study of the Biginelli reaction to develop a promising polymeric biomaterial, which might have important implications for the organic chemistry and polymer communities.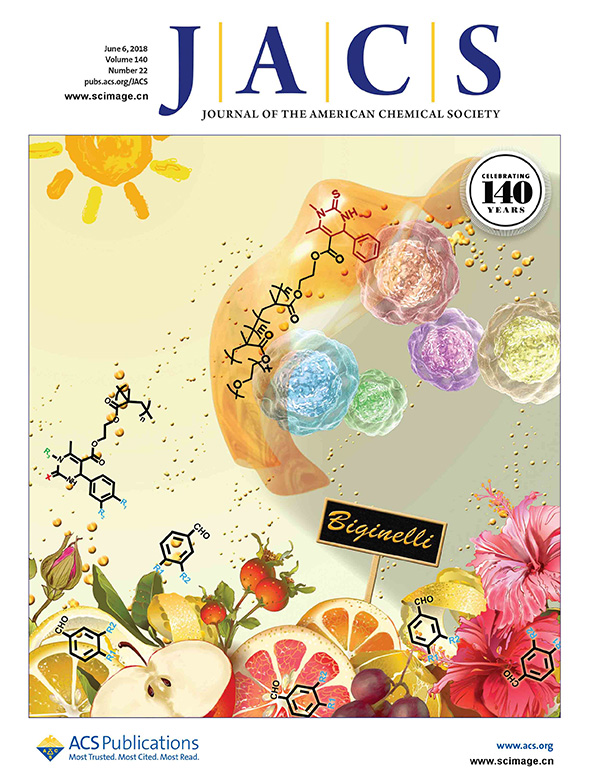 发表期刊:Small Methods
论文题目:Lithium–Sulfur Batteries: A 3D Multifunctional Architecture for Lithium–Sulfur Batteries with High Areal Capacity
论文作者:Shiyong Zhao, Ruopian Fang, Zhenhua Sun, Shaogang Wang, Jean‐Pierre Veder, Martin Saunders, Hui‐Ming Cheng, Chang Liu, San Ping Jiang, Feng Li
发表日期:11 June 2018
论文摘要:A 3D multifunctional integrated and sponge‐like architecture is designed by Chang Liu, San Ping Jiang, Feng Li, and co‐workers as the cathode framework for lithium–sulfur batteries, as described in article number 1800067, providing a favorable balance between high sulfur loading and uncompromised electrochemical performance. With a sulfur loading of 7.7 mg cm−2, high areal capacities up to 8.7 mA h cm−2 are attained together with excellent cycling stability over 500 cycles.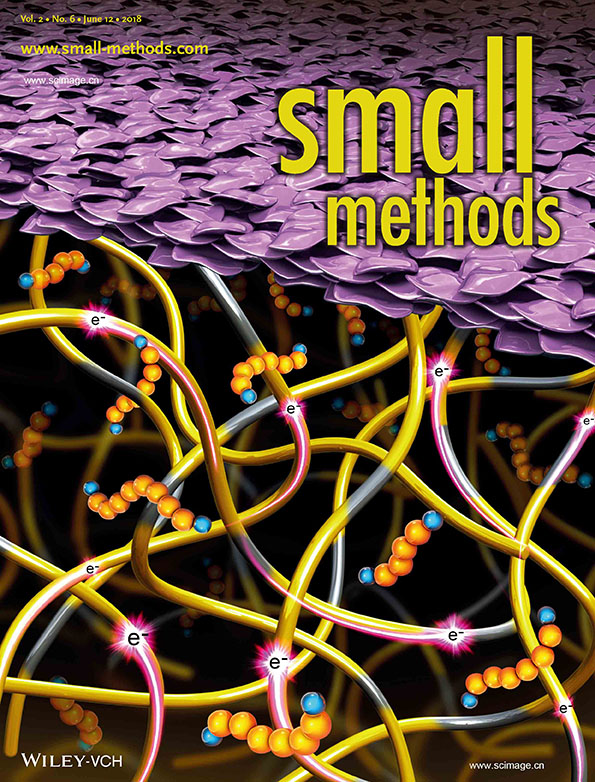 发表期刊:Angewandte Chemie, International Edition
论文题目:Engineering Fast Ion Conduction and Selective Cation Channels for a High‐Rate and High‐Voltage Hybrid Aqueous Battery
论文作者:Chunyi Liu, Xusheng Wang, Wenjun Deng, Chang Li, Jitao Chen, Mianqi Xue, Rui Li, Feng Pan
发表日期:03 May 2018
论文摘要:A hybrid aqueous battery based on two electrode materials with fast ion conduction and selective cation channels is reported by M. Xue, R. Li et al. in their Communication on page 7046 ff. Using this strategy for integrating different electrode materials with unique cation selectivities towards metal ions a high‐voltage rechargeable aqueous battery is realized with a high capacity, remarkable energy density, and considerable capacity retention at high rate.
发表期刊:Angewandte Chemie, International Edition
论文题目:Polyvalent Display of Biomolecules on Live Cells
论文作者:Peng Shi, Nan Zhao, Jinping Lai, James Coyne, Erin R.Gaddes, Yong Wang
发表日期:14 April 2018
论文摘要:Supramolecular engineering of cell surfaces was explored as a means to display polyvalent biomolecules on live cells using branched DNA polymers. In their Communication on page 6800 ff.,Y. Wang et al. show that by using polyvalent surface display of biomolecules, the ability of engineered cells to recognize the microenvironment can be enhanced by at least an order of magnitude.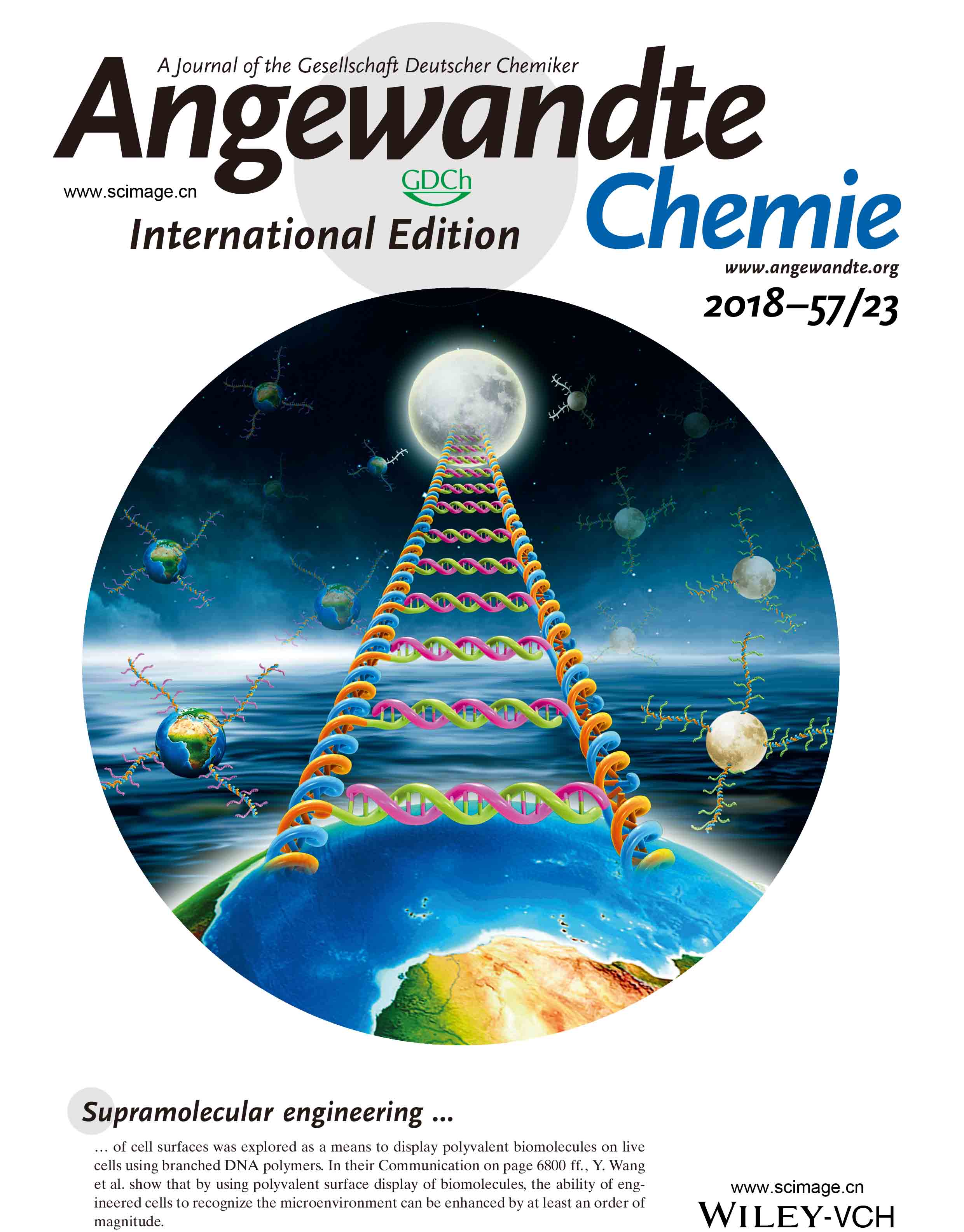 发表期刊:Angewandte Chemie, International Edition
论文题目:Porous Polyelectrolytes: The Interplay of Charge and Pores for New Functionalities
论文作者:Weiyi Zhang, Qiang Zhao, Jiayin Yuan
发表日期:14 April 2018
论文摘要:Porous polyelectrolytes are multifunctional platforms that enable the design and creation of multiscale polymer structures with tailored and adaptive properties. In their Review on Page 6754 ff., W. Zhang, Q. Zhao, and J. Yuan show that porous polyelectrolytes with diverse structures including membranes, particles, scaffolds, and high surface area powders/resins can be formed by a plethora of fabrication methods for applications ranging from energy conversion, nanomedicine.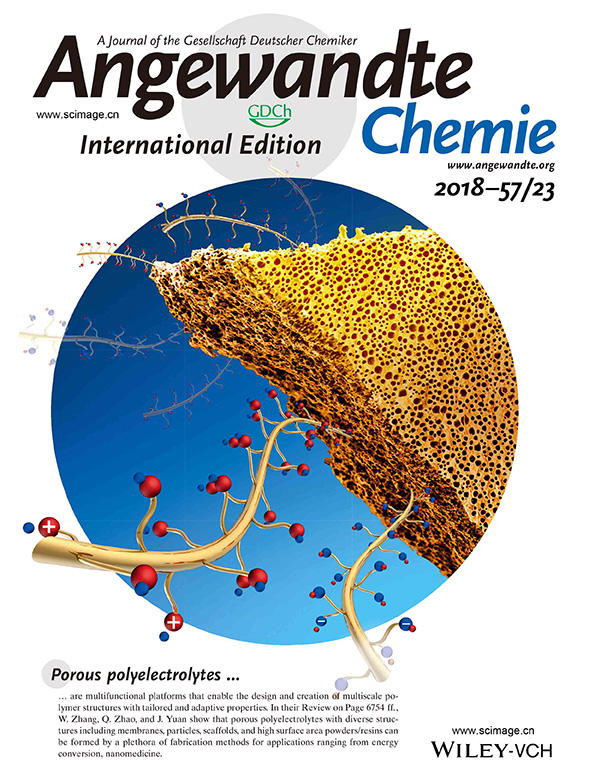 发表期刊:Advanced Functional Materials
论文题目:Sodium‐Ion Batteries: An Integrated Free‐Standing Flexible Electrode with Holey‐Structured 2D Bimetallic Phosphide Nanosheets for Sodium‐Ion Batteries
论文作者:Xiao‐Wei Wang, Hai‐Peng Guo, Ji Liang, Jia‐Feng Zhang, Bao Zhang, Jia‐hao Wang, Wen‐Bin Luo, Hua‐Kun Liu, Shi‐Xue Dou
发表日期:25 June 2018
论文摘要:In article number 1801016, Ji Liang, Jia‐Feng Zhang, Wen‐Bin Luo, and co‐workers fabricate an integrated, free‐standing, and binder‐free flexible anode electrode from numerous holey‐structured, two‐dimensional, nickel‐ased phosphide nanosheets connected with carbon nanotubes. This electrode architecture can not only uniformly disperse the nanosheets throughout the whole electrode to avoid aggregation or detachment, but also provides an ideal sodium‐ion and electrolyte diffusion and penetration network with high electronic conductivity.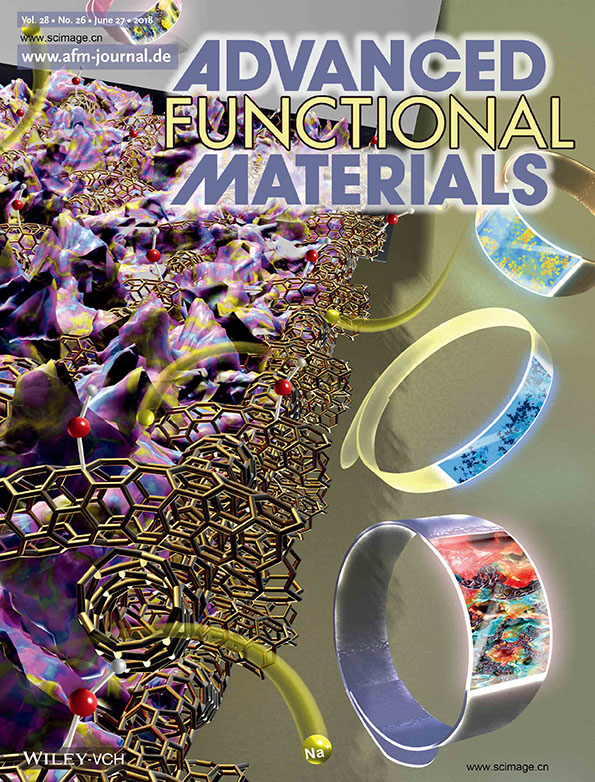 发表期刊:Advanced Materials
论文题目:Silver Nanowires: Aligning Ag Nanowires by a Facile Bioinspired Directional Liquid Transfer: Toward Anisotropic Flexible Conductive Electrodes
论文作者:Lili Meng, Ruixin Bian, Cheng Guo, Bojie Xu, Huan Liu, Lei Jiang
发表日期:15 June 2018
论文摘要:Directional liquid transfer by a conical fiber array provides a facile and low‐cost approach to fabricate highly oriented AgNW‐ased thin films by fine tuning the tri‐phase contact line during wetting and dewetting under directional stress. As described by Huan Liu and co‐workers in article number 1706938, the as‐prepared transparent flexible electrodes (TFEs) show clear anisotropic conductivity with good bending stability and transparency.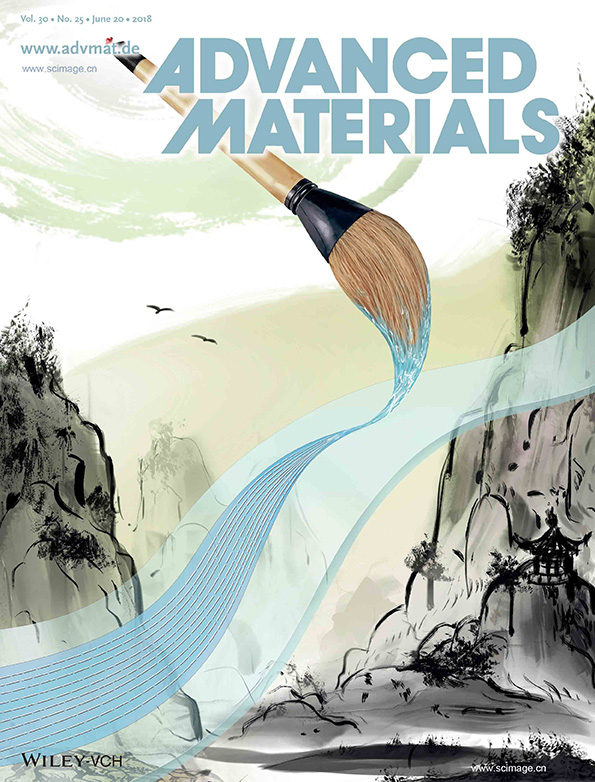 发表期刊:Advanced Materials
论文题目:Porphyrin Organic Frameworks: Porphyrin Organic Framework Hollow Spheres and Their Applications in Lithium–Sulfur Batteries
论文作者:Bo‐Quan Li, Shu‐Yuan Zhang, Long Kong, Hong‐Jie Peng, Qiang Zhang
发表日期: 01 June 2018
论文摘要:In article number 1707483, Qiang Zhang and co‐workers design and prepare porphyrin organic framework hollow spheres with well‐defined chemical structures of the organic frameworks. The as‐obtained hollow spheres serve as a desirable host for the sulfur cathode in lithium–sulfur batteries, enabling high capacity, long‐ erm stability, and excellent rate performance.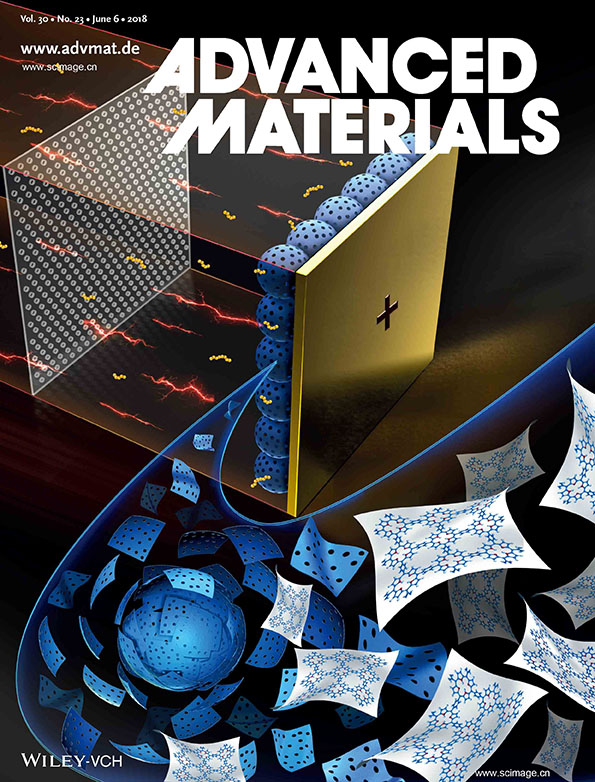 发表期刊:Solar RRL
论文题目:Binary Solvent Additives Treatment Boosts the Efficiency of PTB7:PCBM Polymer Solar Cells to Over 9.5%
论文作者:Yifan Zheng, Gang Wang, Di Huang, Jaemin Kong, TengHooi Goh, Wei Huang, Junsheng Yu, André D. Taylor
发表日期: 06 April 2018
论文摘要:In article number 1700144, Yifan Zheng, Junsheng Yu and co‐workers demonstrate a high efficiency polymer solar cell (PSC) through introducing a novel binary solvent additive combination of DPE:DIO (diphenyl ether und 1,8‐diiodoctane). This binary solvent additive system of DPE:DIO combines the influence of DIO on the PC70BM dispersion together with that of DPE on the PTB7 crystallization. As a result, a significant improvement in power conversion efficiency from 6.96% to over 9.25% has been obtained, which is among the best results reported so far in the literature for PTB7:PC70BM PSCs. It is believed that this approach could have a broad appeal towards improving PSC performance by separately controlling the morphology of donor crystallinity and fullerene dispersion, thus providing an ideal platform for record‐reaking PSCs in the near future.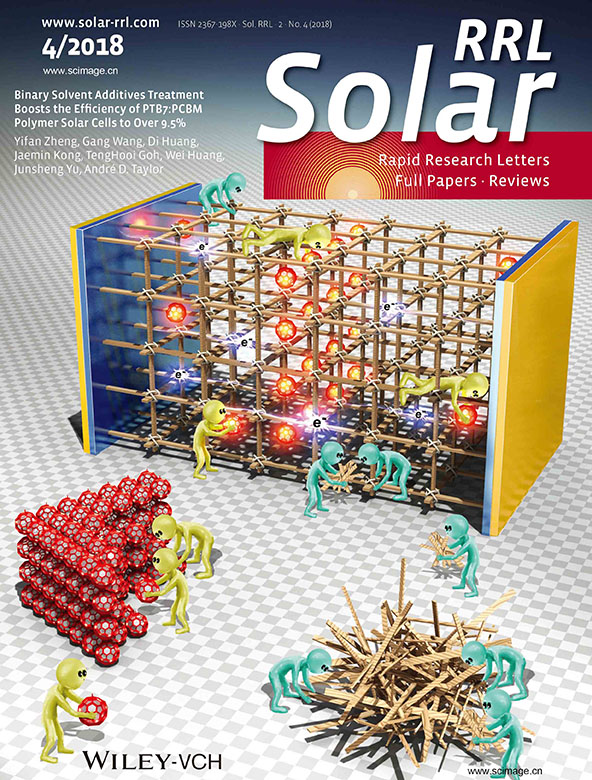 发表期刊:Chemistry - A European Journal
论文题目:Front Cover: Supramolecular Recognition of Three Way Junction DNA by a Cationic Calix[3]carbazole
论文作者:Zhaozheng Yang, Yan Chen, Gang Li, Zhangmin Tian, Liang Zhao, Xi Wu, Qi Ma, Mingzhe Liu, Peng Yang
发表日期: 13 February 2018
论文摘要:Three‐way junctions (TWJ) are ubiquitous DNA structures, but many of their important roles in biological processes are still unknown due to the lack of a fluorescent ligand. A cationic calix[3]carbazole has been synthesized and it could serve as a TWJ‐DNA selective fluorescent probe by binding to its central hydrophobic cavity. More information can be found in the Full Paper by P. Yang et al. on page 6087.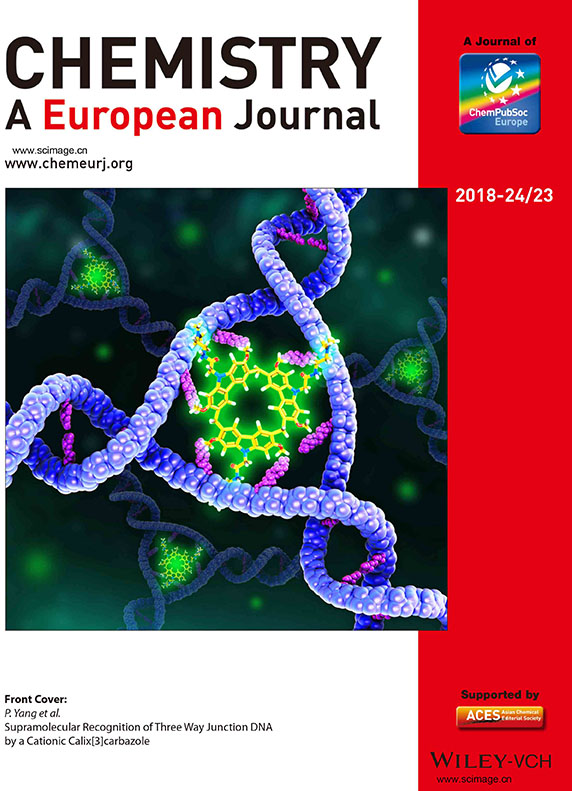 静远嘲风(SCimage)是专注于学术研究领域的艺术创作机构,用唯美的艺术诠释科研是嘲风的目标。公司主要提供论文封面设计、论文配图设计、科研动画开发设计及科研产品深度包装等服务;主要服务对象为中国科学院,中国军事科学院,中国医学科学院,中国农业科学院,以及国内外各大高校科研机构,科技型研发企业以及从事学术研究和高等教育的研究人员。静远嘲风,创立于2007年,以多学科背景为出发点,以独到的切入点深入探索科研领域的艺术表达方式,是国内科研可视化的资深践行者与领头羊,多年来为生物学、微生物学、化学、化工、医学、环境学等研究方向完成上千副专业作品,协助上千名科研工作者完成封面论文发表。

http://wap.sciencenet.cn/blog-575129-1127330.html
上一篇:
2018年6月嘲风作品集(二)
下一篇:
2018年7月嘲风作品集(一)