发表期刊:Angewandte Chemie, International Edition
论文题目:Highly Stable Lithium Metal Batteries Enabled by Regulating the Solvation of Lithium Ions in Nonaqueous Electrolytes
论文作者:Xue‐Qiang Zhang, Xiang Chen, Xin‐Bing Cheng, Bo‐Quan Li, Xin Shen, Chong Yan, Jia‐Qi Huang, Qiang Zhang
发表日期:23 March 2018
论文摘要:The solvation of Li ions in nonaqueous electrolytes is vital for Li batteries. In their Communication on page 5301 ff. Q. Zhang et al. demonstrate that highly stable lithium anodes in pouch cells, and dendrite‐free Li deposition can be achieved by regulating the solvation of Li ions. In the graphic, parachutes represent fluoroethylene carbonate and lithium nitrate, which assist in the uniform and stable deposition of Li ions onto the working electrodes.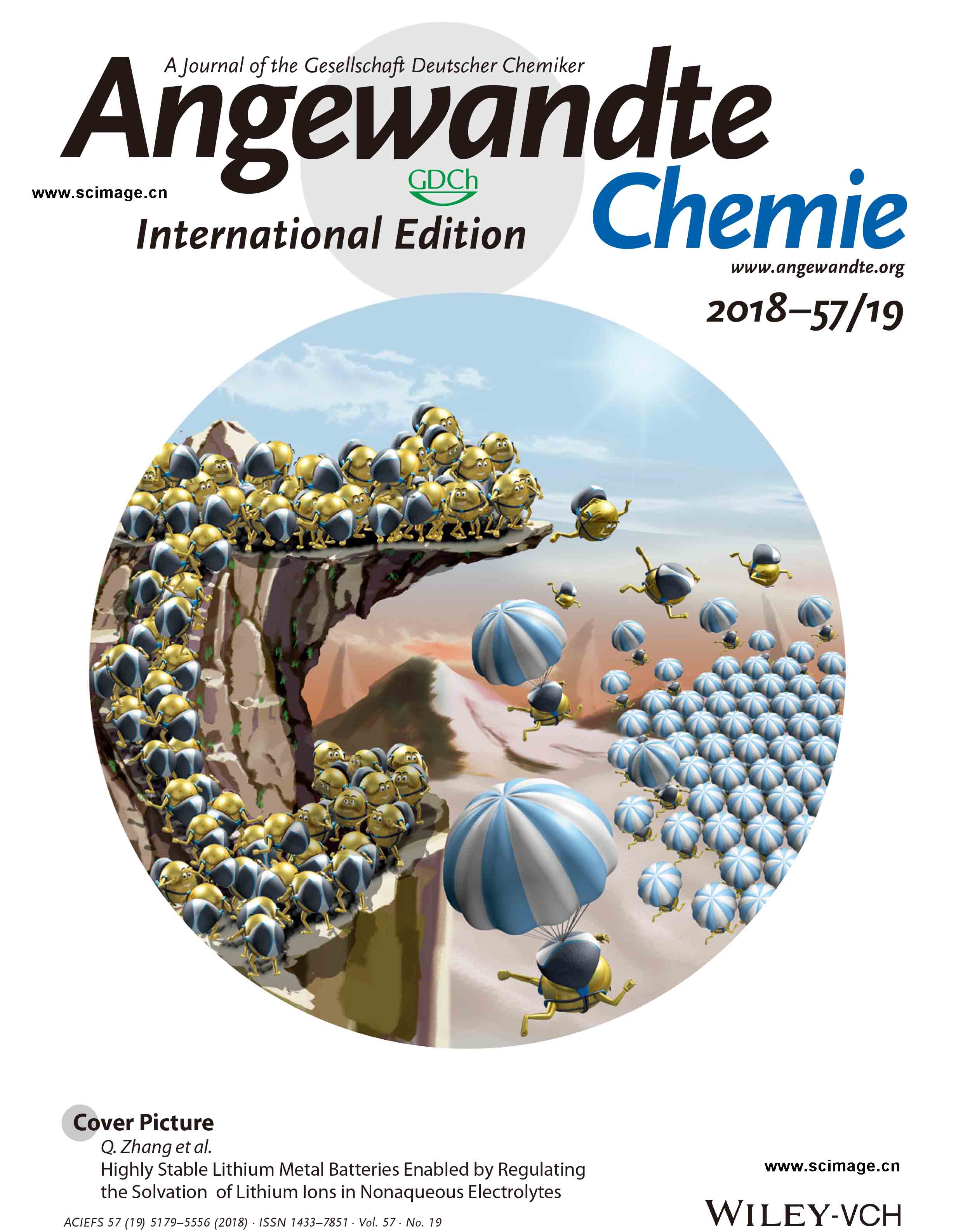 发表期刊:Chemistry - A European Journal
论文题目:Selective Transformation of Well‐Defined Alkenyllithiums to Alkenylmagnesiums via Transmetalation
论文作者:Miaomiao Zhu, Liang Liu, Yongliang Zhang, Hai‐Tao Yu, Wen‐Xiong Zhang, Zhenfeng Xi
发表日期:16 January 2018
论文摘要:Selective transformation of alkenyllithiums to alkenylmagnesiums via simple transmetalation has been achieved. The synthesis, structure, and mutual transformation of three different organomagnesiums by adding Grignard reagent and/or MgCl2 to dilithio reagents are described. These magical transformations triggered by Grignard reagent and/or MgCl2 are similar to the traditional Face‐changing art originating from the Sichuan province of China.
发表期刊:Small
论文题目:Cancer Diagnosis: A Universal Upconversion Sensing Platform for the Sensitive Detection of Tumour‐Related ncRNA through an Exo III‐Assisted Cycling Amplification Strategy
论文作者:Keying Zhang, Lin Yang, Feng Lu, Xingcai Wu, Jun‐Jie Zhu
发表日期:08 March 2018
论文摘要:In article number 1703858, Xingcai Wu, Jun‐Jie Zhu, and co‐workers report a universal and sensitive upconversion sensing nanoplatform for detecting tumor‐ elated non‐coding RNA. The sensitivity of the probe is improved by tuning the number of DNA units on the gold nanoparticles, and an exonuclease III‐assisted target cycling amplification strategy improves the sensitivity and achieves the universality of this sensing nanoplatform. Through this method, the expression level of microRNA‐21 in human breast cancer cell lysate is successfully measured, suggesting its potential in cancer diagnosis.
发表期刊:Advanced Science
论文题目:Thin‐Film Solar Cells: Cation Substitution in Earth‐Abundant Kesterite Photovoltaic Materials
论文作者:Jianjun Li, Dongxiao Wang, Xiuling Li, Yu Zeng, Yi Zhang
发表日期:19 April 2018
论文摘要:Low‐cost and environmentally friendly kesterite structural Cu2ZnSn(S,Se)4 (CZTSSe) thin‐film solar cells have experienced a significant increase in power conversion efficiency from about 5% to a record of 12.6%. To further improve device performance, various cation substitution technologies have been proposed to modify the electronic and optical properties of the kesterite light absorber layer. In article 1700744, Yi Zhang and co‐workers review recent cutting‐edge research focusing on various cation substitution methods.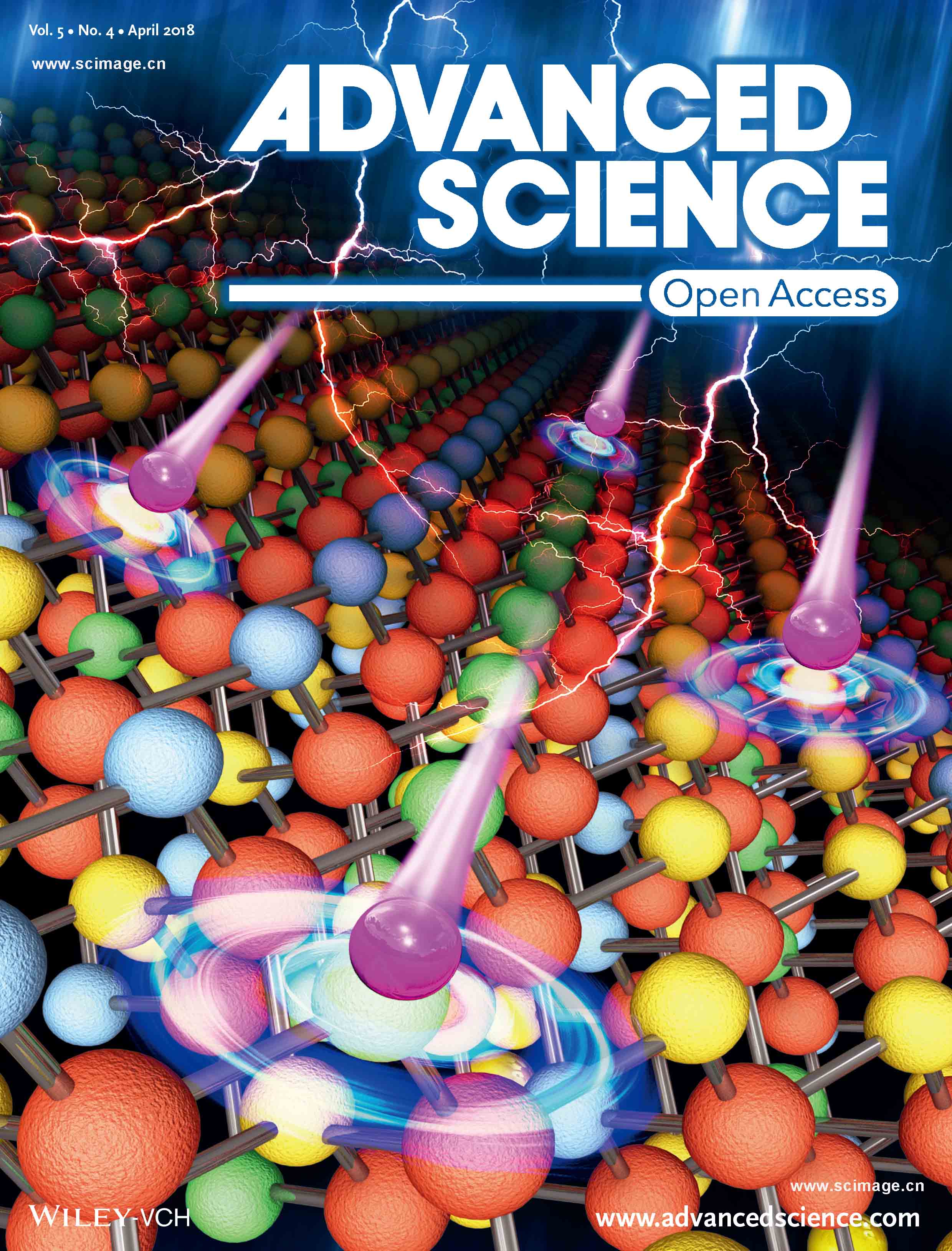 发表期刊:Advanced Functional Materials
论文题目:Carbon Diffusion: Au Catalyzed Carbon Diffusion in Ni: A Case of Lattice Compatibility Stabilized Metastable Intermediates
论文作者:Jian‐Xin Kang, Dong‐Feng Zhang, Gen‐Cai Guo, Hai‐Jun Yu, Li‐Hua Wang, Wei‐Feng Huang, Ru‐hi Wang, Lin Guo, Xiao‐Dong Han
发表日期:22 May 2018
论文摘要:The stabilization of the unstable fcc‐NixC by taking advantage of the epitaxial growth to elevate the structure transformation energy barrier using Au as the substrate is presented for the first time by Donfeng Zhang, Lin Guo, Xiao‐Dong Han, and co‐workers in article number 1706434. The introduction of Au promotes the carbon diffusion in Ni and the thereby graphitic carbon growth.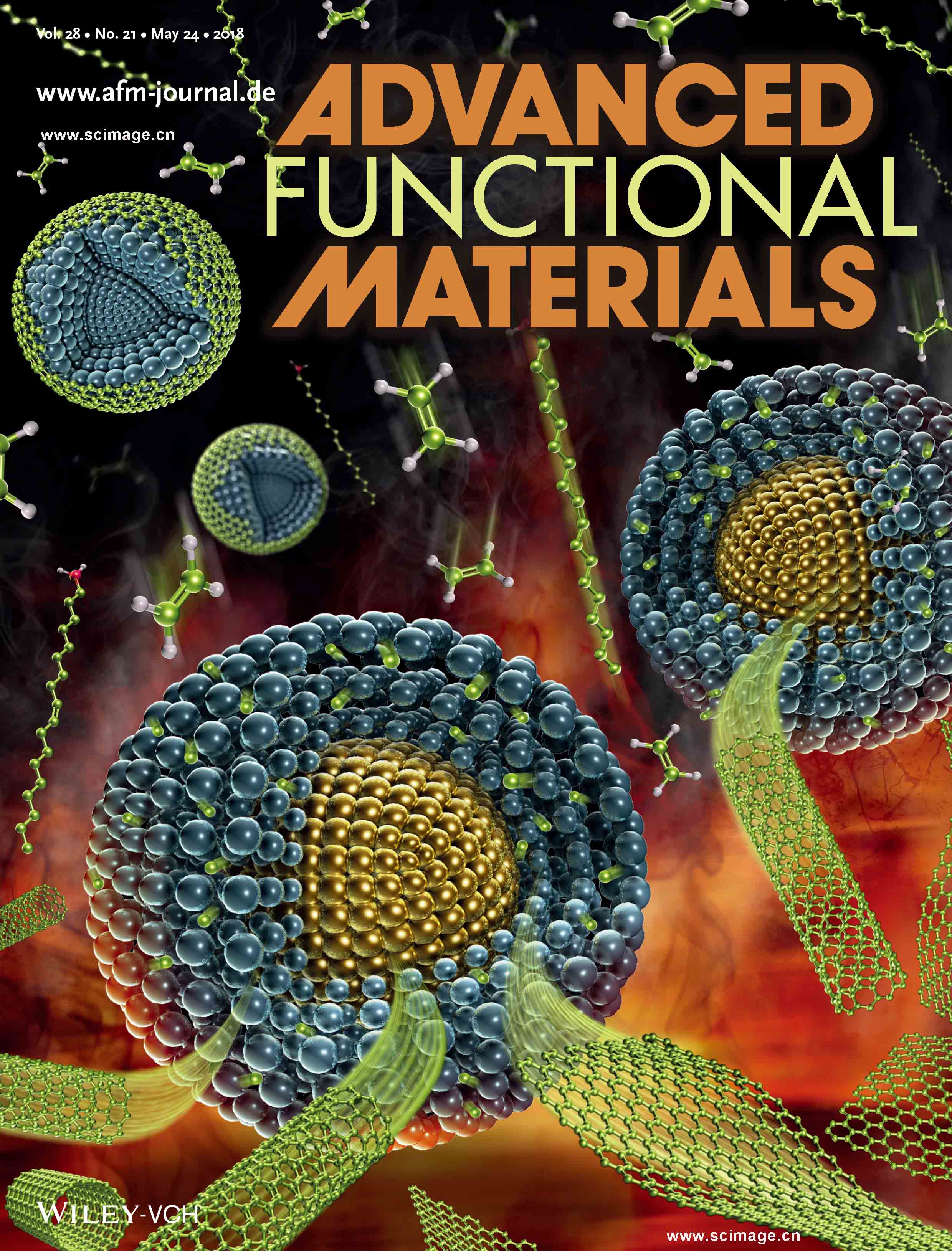 发表期刊:JACS
论文题目:Evidence for Redox Mechanisms in Organometallic Chemisorption and Reactivity on Sulfated Metal Oxides
论文作者:Rachel C. Klet, David M. Kaphan, Cong Liu, Ce Yang, A. Jeremy Kropf, Frédéric A. Perras, Marek Pruski, Adam S. Hock, Massimiliano Delferro
发表日期: 9 April 2018
论文摘要:The chemical and electronic interactions of organometallic species with metal oxide support materials are of fundamental importance for the development of new classes of catalytic materials. Chemisorption of Cp*(PMe3)IrMe2 on sulfated alumina (SA) and sulfated zirconia (SZ) led to an unexpected redox mechanism for deuteration of the ancillary Cp* ligand. Evidence for this oxidative mechanism was provided by studying the analogous homogeneous reactivity of the organometallic precursors toward trityl cation ([Ph3C]+), a Lewis acid known to effect formal hydride abstraction by one-electron oxidation followed by hydrogen abstraction. Organometallic deuterium incorporation was found to be correlated with surface sulfate concentration as well as the extent of dehydration under thermal activation conditions of SA and SZ supports. Surface sulfate concentration dependence, in conjunction with a computational study of surface electron affinity, indicates an electron-deficient pyrosulfate species as the redox-active moiety. These results provide further evidence for the ability of sulfated metal oxides to participate in redox chemistry not only toward organometallic complexes but also in the larger context of their application as catalysts for the transformation of light alkanes.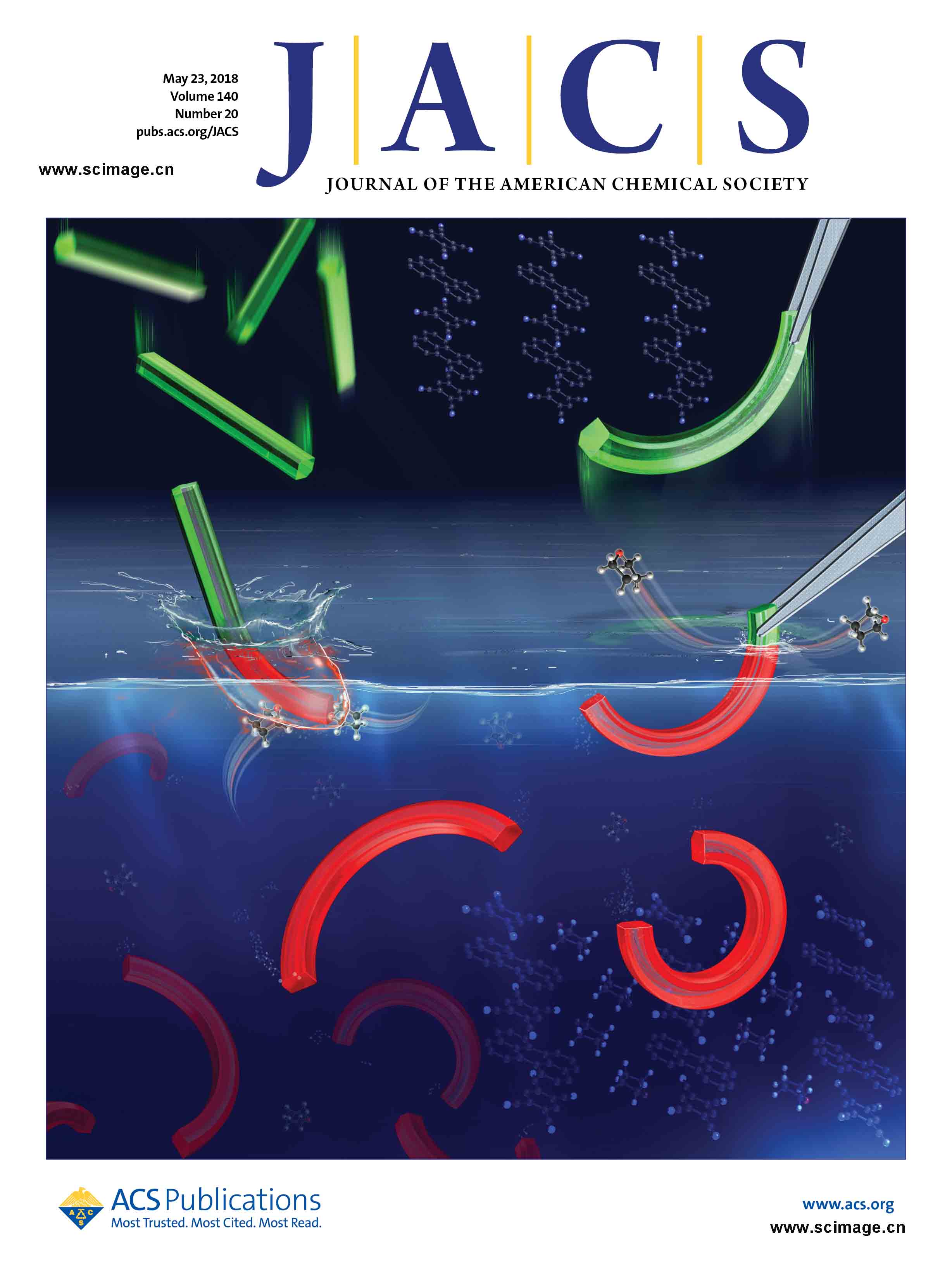 发表期刊:JACS

论文题目:Hierarchical Dehydrogenation Reactions on a Copper Surface
论文作者:Qing Li, Biao Yang, Jonas Björk , Qigang Zhong, Huanxin Ju, Junjie Zhang, Nan Cao, Ziliang Shi , Haiming Zhang, Daniel Ebeling , Andre Schirmeisen, Junfa Zhu , Lifeng Chi
发表日期:15 March 2018
论文摘要:Hierarchical control of chemical reactions is being considered as one of the most ambitious and challenging topics in modern organic chemistry. In this study, we have realized the one-by-one scission of the X–H bonds (X = N and C) of aromatic amines in a controlled fashion on the Cu(111) surface. Each dehydrogenation reaction leads to certain metal–organic supramolecular structures, which were monitored in single-bond resolution via scanning tunneling microscopy and noncontact atomic force microscopy. Moreover, the reaction pathways were elucidated from X-ray photoelectron spectroscopy measurements and density functional theory calculations. Our insights pave the way for connecting molecules into complex structures in a more reliable and predictable manner, utilizing carefully tuned stepwise on-surface synthesis protocols.
发表期刊:ADVANCED THEORY AND SIMULATIONS
论文题目:Analytical Modeling of Organic–Inorganic CH3NH3PbI3 Perovskite Resistive Switching and its Application for Neuromorphic Recognition
论文作者:Yanyun Ren, Valerio Milo, Zhongqiang Wang, Haiyang Xu, Daniele Ielmini, Xiaoning Zhao, Yichun Liu
发表日期:16 April 2018
论文摘要:Analytical models are crucial for building a theoretical basis for optimizing RRAM scheme and implementing its application in neuromorphic computing. In article number 1700035, Zhongqiang Wang, Haiyang Xu, Daniele Ielmini, and co‐workers present an analytical model demonstrating the evolution of resistive switching dynamics for CH3NH3PbI3 perovskite‐ased RRAM. Furthermore, a 2‐layer neuromorphic network with 2‐ ransistor/1‐ esistor synapses is demonstrated. This study paves the way for the use of perovskite‐ased RRAM devices for neuromorphic systems.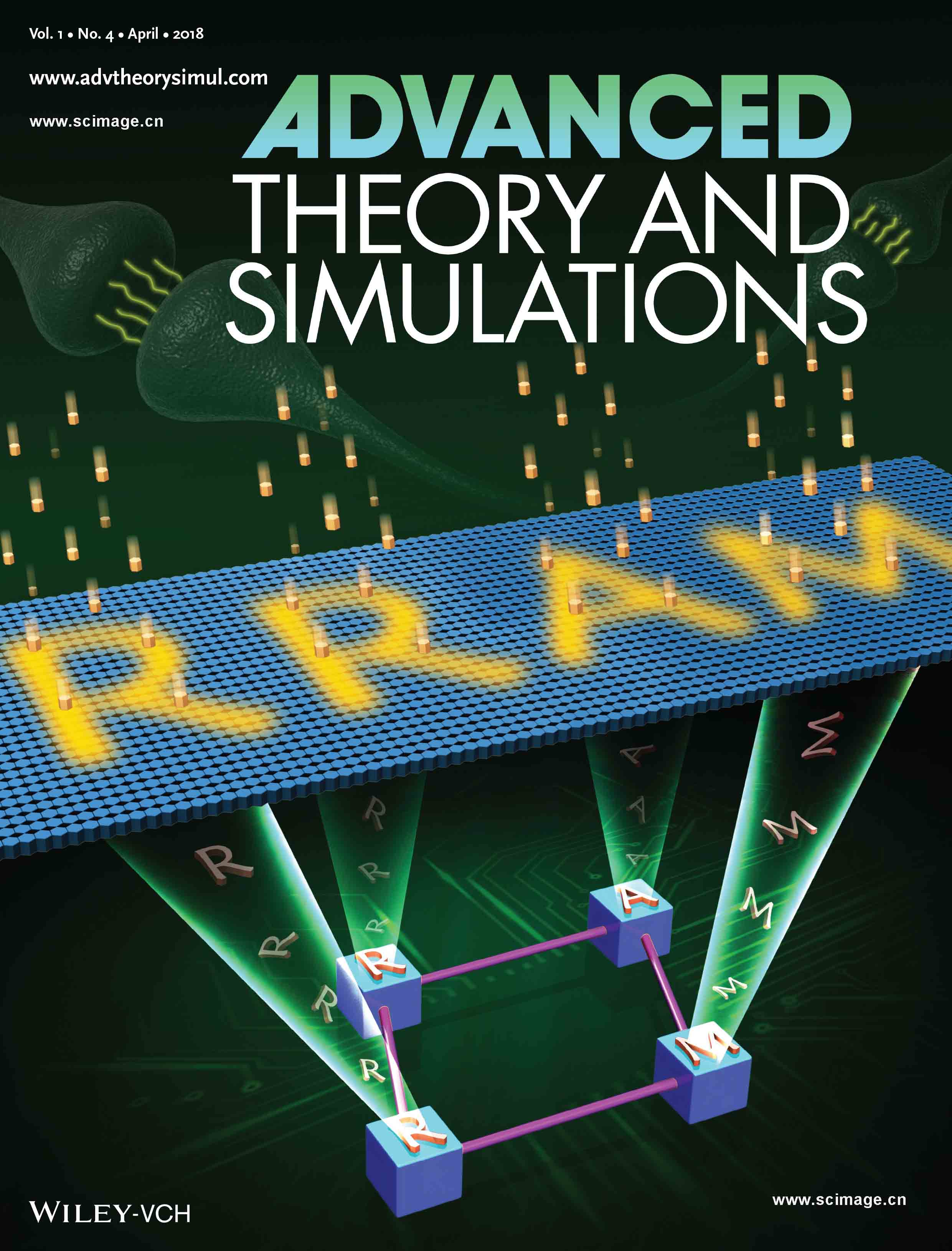 发表期刊:Advanced Functional Materials
论文题目:Graphene Foams: A Bubble‐Derived Strategy to Prepare Multiple Graphene‐Based Porous Materials
论文作者:Rujing Zhang, Ruirui Hu, Xinming Li, Zhen Zhen, Zhenhua Xu, Na Li, Limin He, Hongwei Zhu
发表日期:04 June 2018
论文摘要:In article number 1705879, Limin He, Hongwei Zhu, and co‐workers report a versatile bubble‐derived strategy to fabricate 3D lightweight graphene foams and large‐area 2D graphene porous membranes. Compressive and tensile strain sensors based on the porous materials are demonstrated, exhibiting promising applications in wearable devices for monitoring of human motion.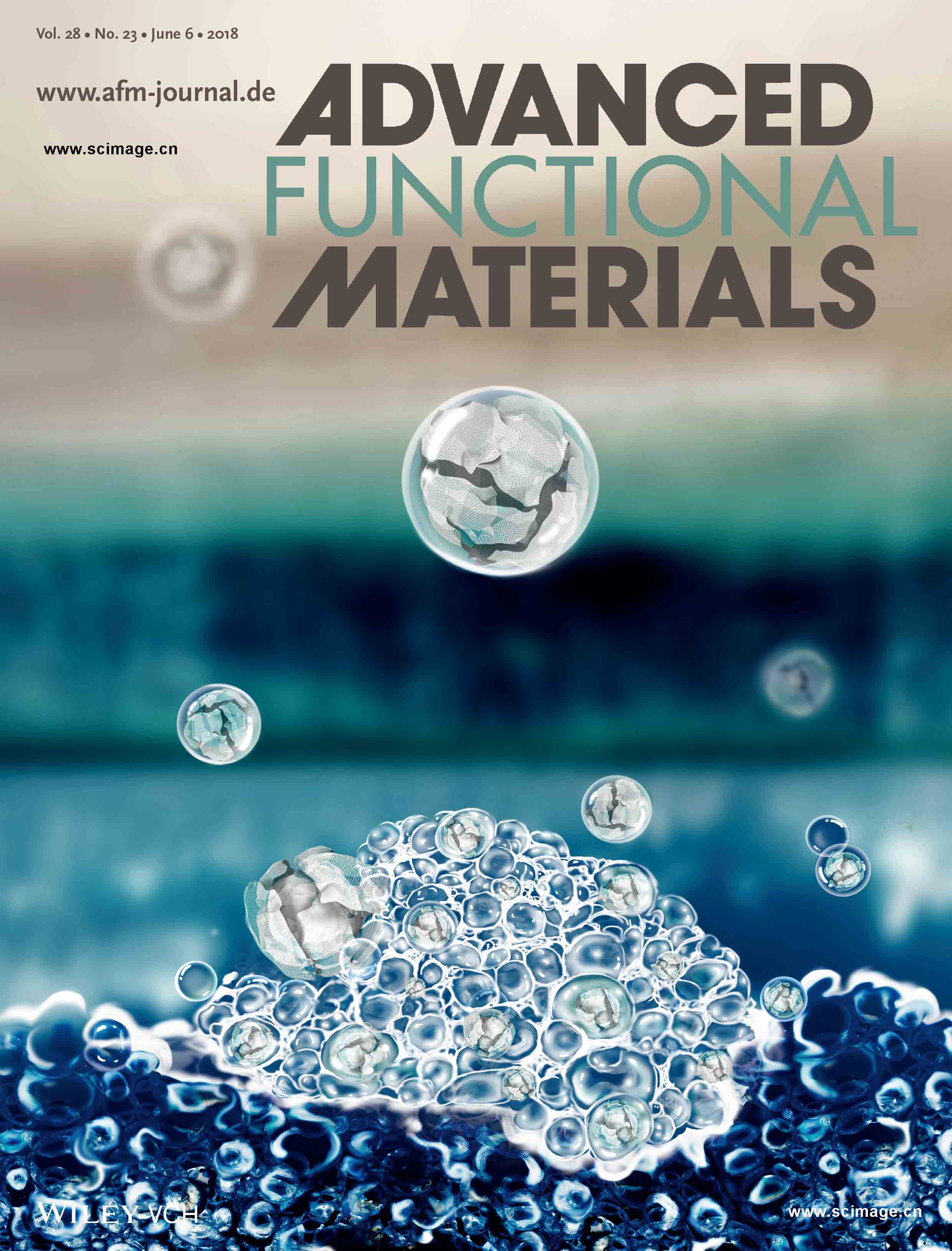 静远嘲风(SCimage)是专注于学术研究领域的艺术创作机构,用唯美的艺术诠释科研是嘲风的目标。公司主要提供论文封面设计、论文配图设计、科研动画开发设计及科研产品深度包装等服务;主要服务对象为中国科学院,中国军事科学院,中国医学科学院,中国农业科学院,以及国内外各大高校科研机构,科技型研发企业以及从事学术研究和高等教育的研究人员。静远嘲风,创立于2007年,以多学科背景为出发点,以独到的切入点深入探索科研领域的艺术表达方式,是国内科研可视化的资深践行者与领头羊,多年来为生物学、微生物学、化学、化工、医学、环境学等研究方向完成上千副专业作品,协助上千名科研工作者完成封面论文发表。

http://wap.sciencenet.cn/blog-575129-1125653.html
上一篇:
2018年5月嘲风作品集(一)
下一篇:
2018年6月嘲风作品集(二)