2021年9月嘲风作品集(二)
发表期刊:ACS Applied Nano Materials
论文题目:Nanoporous Carbon Aerogels for Laser-Printed Wearable Sensors
论文作者:Xiujie Ji, Ying Zhong, Chenyue Li, Junjun Chu, Hongqiang Wang, Zheng Xing, Tingting Niu, Zhihua Zhang, Ai Du
发表日期:July 23, 2021
论文摘要:Laser-induced porous carbon materials have received growing attention as electrodes in micro-supercapacitors, electronics, and biosensors. Herein, resorcinol-formaldehyde (RF) aerogel is used for laser carbonization and activation to produce a nanoporous black conductive surface with high porosity and a specific surface area of 703 m2·g–1 as well as high absorbance to infrared light (~98%). Furthermore, inspired by the photoreception behavior of octopus arms, a "thunder motif" nanoporous carbon aerogel-based resistance-type sensor is able to be laser-printed on paper-reinforced RF aerogel, which shows high integration of temperature (0.19%·°C–1), strain (gauge factor 16.7), humidity, and especially infrared light (0.12%·mW–1, which is not common for a normal on-skin sensor) sensing in one device and better performance than a serpentine layout sensor. With its good flexibility and biodegradability, this multifunctional sensor can serve as an on-skin wearable sensor that can sense gesture changes and breathing.
发表期刊:Journal of Materials Chemistry C

论文题目:Dielectric materials for electrolyte gated transistor applications
论文作者:Wei Huang, Jianhua Chen, Gang Wang, Yao Yao, Xinming Zhuang, Robert M. Pankow, Yuhua Cheng, Tobin J. Marks, Antonio Facchetti
发表日期:14 August 2021
论文摘要:In this review, we summarize the recent progress in developing dielectric materials for electrolyte gated transistors (EGTs). Semiconductors for EGTs have been extensively studied and reviewed since they dominate the key transport properties of these types of transistors. However, the electrolyte dielectric component of these devices is equally important since it provides ionic displacement dominating the device capacitance, driving voltage, and switching times, and determines how to integrate EGTs in/with other device components. Thus, the development of electrolyte dielectrics not only improves the EGT performance but also enables new features and opens up new possibilities for EGTs. Liquid electrolytes are more suitable for integration at the bio-interface and in sensing applications, while solid electrolytes can be printable and are compatible with circuit monolithic integration. Moreover, understanding the mechanism of electrolyte dielectric gating has also accelerated the expansion of emerging electrolyte-based electric double layer transistors (EDLTs) and electrochemical transistors (ECTs). In this review, we first discuss the structure and operation of EDLTs and ECTs, for the latter particularly those based on organic semiconductors (OECTs), since they are the major users of these materials. Next, different types of electrolyte dielectric materials are discussed, driven by relevant applications. We complete this paper with a summary and an outlook of this field.
发表期刊:Journal of Materials Chemistry C

论文题目:Corannulene-based donor–acceptor-type conjugated polymers with electrochromic properties
论文作者:Jing-Ju Huang, Hsing-An Lin, Chi Chen, Po-Wen Tangc, Shyh-Chyang Luo
发表日期:07 July 2021
论文摘要:π-Conjugated polymers have received increasing attention in electrochromic material research because their color change can be altered over a wide range by introducing electron-donor (D) and electron-acceptor (A) moieties. In this study, we have synthesized curved corannulene-based monomers with D and A moieties and applied them to prepare π-conjugated polymers to drive color switching. The absorption and emission properties of our conjugated polymers can be tuned by inserting D and A moieties into the conjugated backbone. Through this study, it has been demonstrated that corannulene-based conjugated polymers exhibit stable electrochromic properties with a high optical contrast ratio. Furthermore, emissions in the solid state and reversible electrofluorescence switching are observed in these polymers. This might be due to the inhibition of aggregation-induced quenching through the incorporation of nonplanar corannulene in the π-conjugated backbone. Based on these results, we consider corannulene-embedded π-conjugated polymers as a new π-conjugated system with versatile and tunable optical properties for application in modern optoelectronic devices.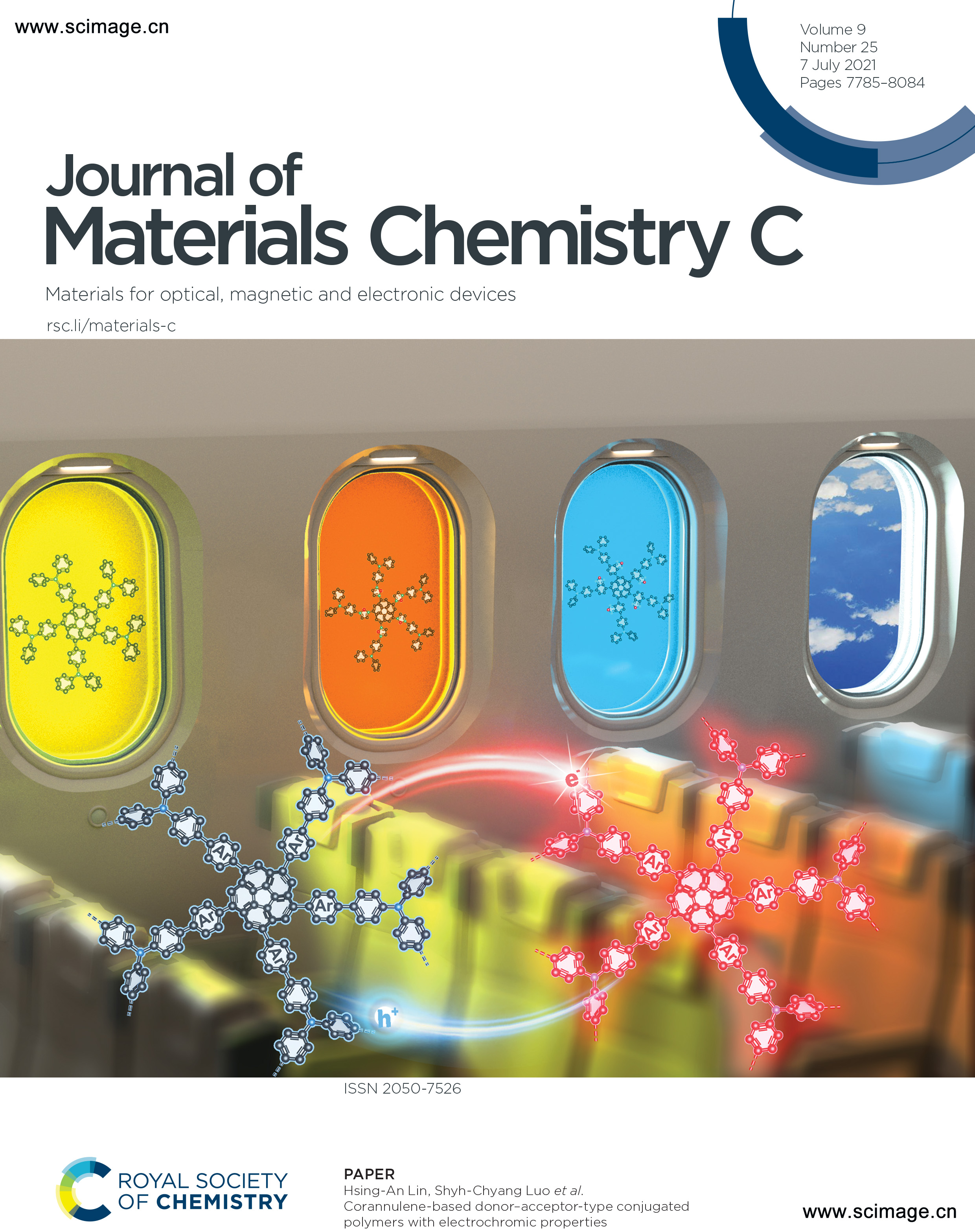 发表期刊:Journal of Materials Chemistry C

论文题目:A molecular design principle towards luminescent polymorphic organic heterostructured architectures
论文作者:Qianqian Zhou, Yilong Lei, Hongbing Fu
发表日期:14 January, 2021
论文摘要:Polymorph-selective synthesis of organic heterostructured architectures represents a tough challenge due to the diversity of organic species and the growth complexity of seed crystals with specific polymorphs as well as complicated epitaxial relationships among diverse constituent materials. Herein, we employ three polymorphic π-conjugated molecules to construct three types of binary organic heterostructures based on a molecular design principle via a solution seeded-mediated strategy, where pre-existing crystals with a specific polymorph serve as seeds to afford epitaxial growth of another organic crystal. As a consequence, the crystal form of the second growth component can be exclusively determined regardless of the synthetic procedures. Indeed, epitaxial growth of these dual-color-emitting organic heterostructures was realized depending on the small lattice mismatch between two specific polymorphs of any two constituent materials, which is determined by their structural compatibility and elaborate selection of the seed crystals. The present work offers a promising platform to understand polymorph-selective synthesis of organic heterostructured microstructures, which may be used to achieve unprecedented photonic and electronic properties.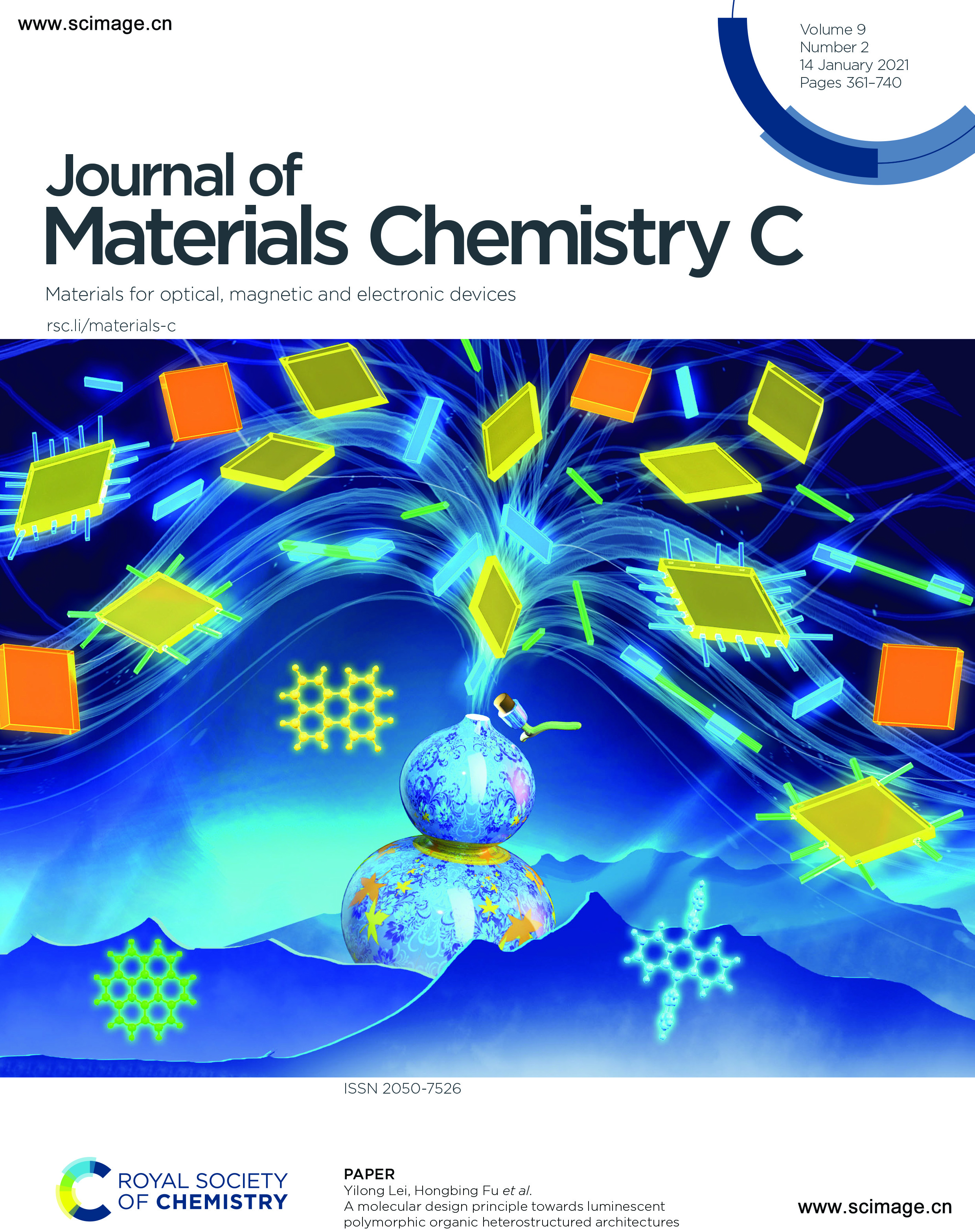 发表期刊:Journal of Materials Chemistry C
论文题目:Fast fabrication of double-layer printed circuits using bismuth-based low-melting alloy beads
论文作者:Pengju Zhang, Yang Yu, Bowei Chen, Wei Wang, Sijian Wei, Wei Rao, Qian Wang
发表日期:June 28, 2021
论文摘要:Low-melting metals are newly emerging functional materials with rather unique physical or chemical properties. This paper introduces a novel way of fast fabricating double-layer printed circuits using bismuth-based low-melting alloy beads. BiInSn printed lines solidify immediately when deposited on a substrate at room temperature, so no additional post-treatment is required after printing. Thus, the method saves the fabrication time of the printed circuits. The implementation of a double-layer circuit based on the BiInSn alloy is rapidly executed in turn by printing, aligning, bonding, drilling, and via-filling. In particular, the via-filling process can be carried out by directly injecting a molten BiInSn alloy under differential pressure. In this way, the connection between the vias and the printed lines devastatingly fits with the same printing material. The minimum width of the printed line can achieve 33 μm, resulting in the highest resolution printing technique to date with a bismuth-based alloy. This new method offers more simplicity, practicability, and functional diversity in electronic fabrication and benefits to efficiently realize stable double-layer circuit boards with more straightforward steps. Therefore, it has the potential to promote the development and application of low-melting metals in the field of printed electronics.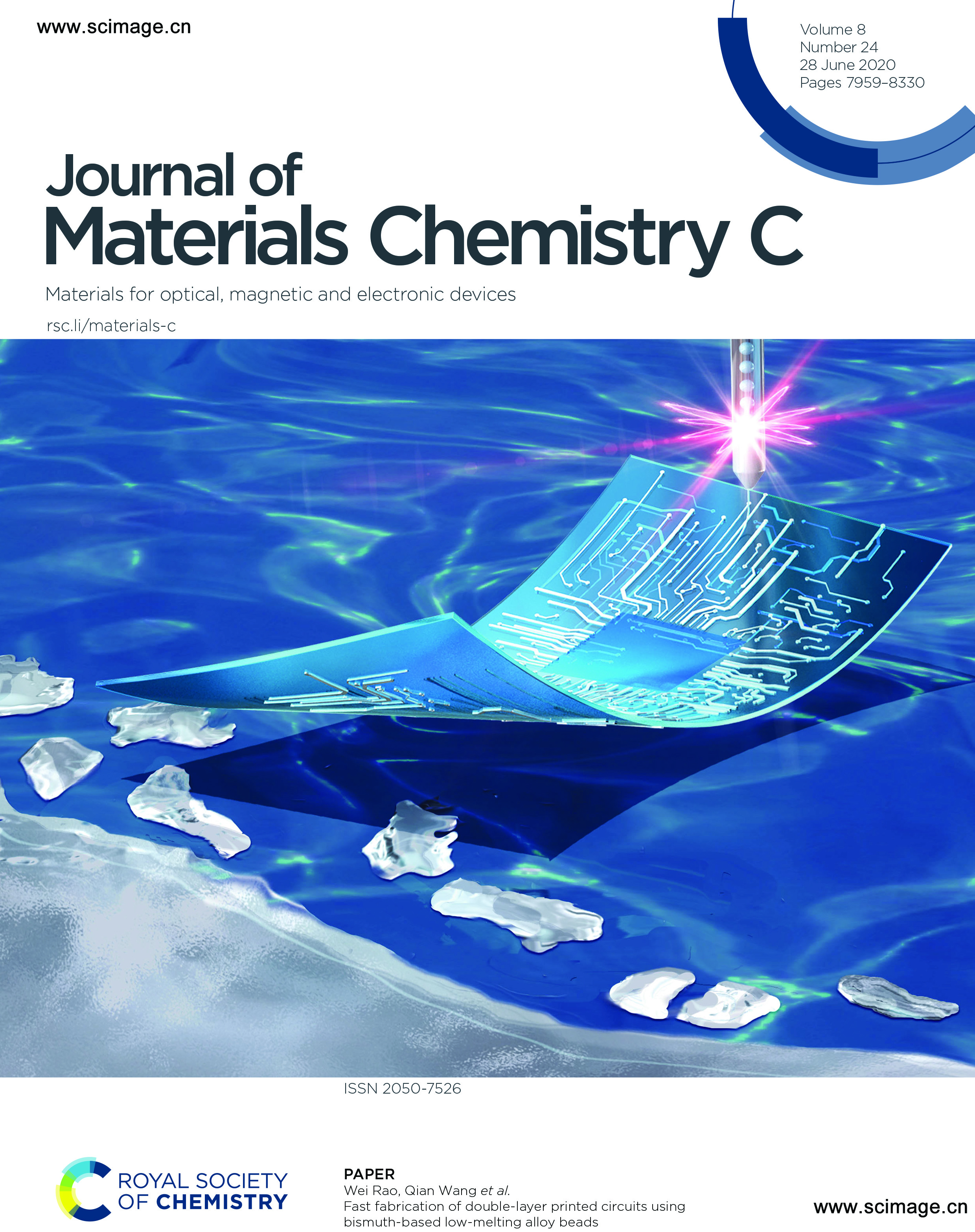 静远嘲风(SCimage)是专注于学术研究领域的艺术创作机构,用唯美的艺术诠释科研是嘲风的目标。公司主要提供论文封面设计、论文配图设计、科研动画开发设计及科研产品深度包装等服务;主要服务对象为中国科学院,中国军事科学院,中国医学科学院,中国农业科学院,以及国内外各大高校科研机构,科技型研发企业以及从事学术研究和高等教育的研究人员。静远嘲风,创立于2007年,以多学科背景为出发点,以独到的切入点深入探索科研领域的艺术表达方式,是国内科研可视化的资深践行者与领头羊,多年来为生物学、微生物学、化学、化工、医学、环境学等研究方向完成数千幅专业作品,协助上千名科研工作者完成封面论文发表。
转载本文请联系原作者获取授权,同时请注明本文来自嘲风科技动漫科学网博客。
链接地址:https://wap.sciencenet.cn/blog-575129-1309716.html?mobile=1
收藏
推荐到博客首页