发表期刊:Analyst

论文题目:Direct analysis in real time coupled with quadrupole-Orbitrap high-resolution mass spectrometry for rapid analysis of pyrethroid preservatives in wooden food contact materials
论文作者:Xianshuang Meng, Yueguang Lv, Qing Lv, Yulin Deng, Hua Baia, Qiang Ma
发表日期:April 21, 2020
论文摘要:A methodology is presented for the determination of four pyrethroid (PYR) preservatives in wooden food contact materials (FCMs) using direct analysis in real time (DART) coupled with quadrupole-Orbitrap high-resolution mass spectrometry (Q-Orbitrap HRMS). The sampling mode and critical parameters of the DART-Q-Orbitrap HRMS protocol were systematically investigated. Good linearity was achieved for the four analytes with correlation coefficients all greater than 0.99. The limits of detection (LODs) and limits of quantitation (LOQs) of the method were in the range of 0.04–0.20 mg kg−1 and 0.10–0.50 mg kg−1, respectively. The mean recoveries ranged from 72.1% to 82.7% with relative standard deviations (RSDs) from 5.2% to 11.8% at three spiked levels. The developed method was proved to be suitable for rapid screening of PYRs in complex wooden FCM samples to ensure product safety and consumer health.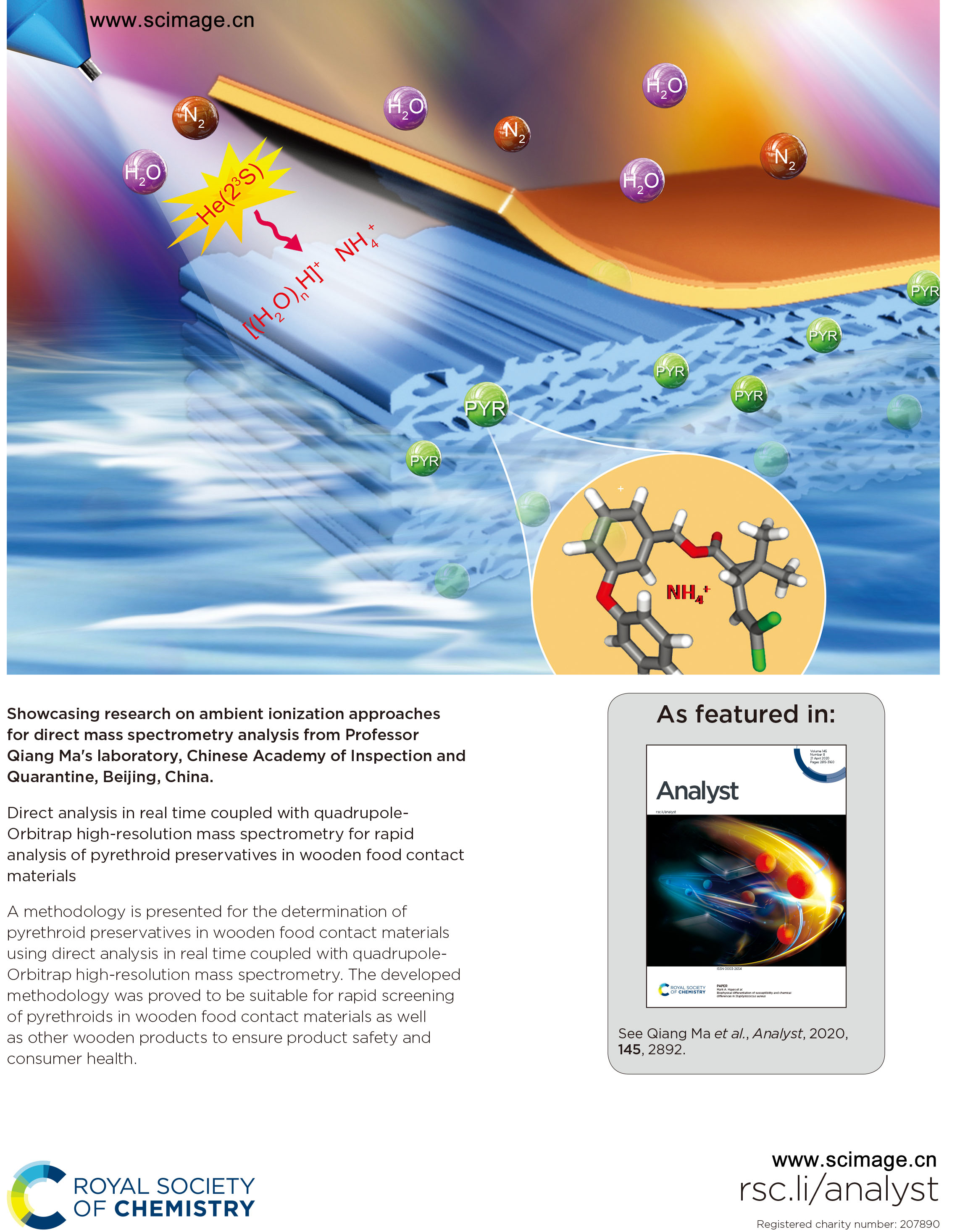 发表期刊:CrystEngComm

论文题目:Employing rhodium tripod stars for ultraviolet plasmon enhanced Fabry–Perot mode lasing
论文作者:Changzong Miao, Haiying Xu, Mingming Jiang, Jiaolong Jia, Caixia Kan
发表日期:September 14, 2020
论文摘要:Plasmon-enhanced semiconductor optoelectronic devices, particularly lasers, have attracted intense interest due to their significantly improved optical quality and the presence of microresonators. In this work, Rh tripod stars (RhNTSs) with tunable plasmonic properties in the ultraviolet band were synthesized and spin-coated on the surface of a single ZnO microwire, different from the traditional sputtering method. The near-band-edge emission of the ZnO microwire was significantly enhanced due to the presence of the RhNTSs on the surface. Additionally, the bilateral smooth surface of the single ZnO microwire with rectangular-shaped cross section enabled the achievement of lateral-resonator Fabry–Perot (FP) microlasers. Thus, a special FP mode is adopted to investigate the modulation effect of RhNTS plasmons with ultraviolet response on the lasing properties of the single ZnO microwire. Upon resonant ultraviolet excitation, the deposited RhNTSs on the surface of the ZnO microwire can be utilized to improve the FP lasing performance, specifically to decrease the threshold and enhance the lasing output. The enhanced performance of the ZnO microwire originates from the localized-field enhancement induced by the RhNTSs, which can compensate for the optical loss and promote more radiative photons into the FP microresonators. These results indicate that the RhNTSs with unique ultraviolet plasmonic features can be extensively employed to enhance the optoelectronic performances of wide bandgap semiconductor materials and devices, suggesting their potential applications in ultraviolet light-emitting diodes and lasers, photodetectors and so on.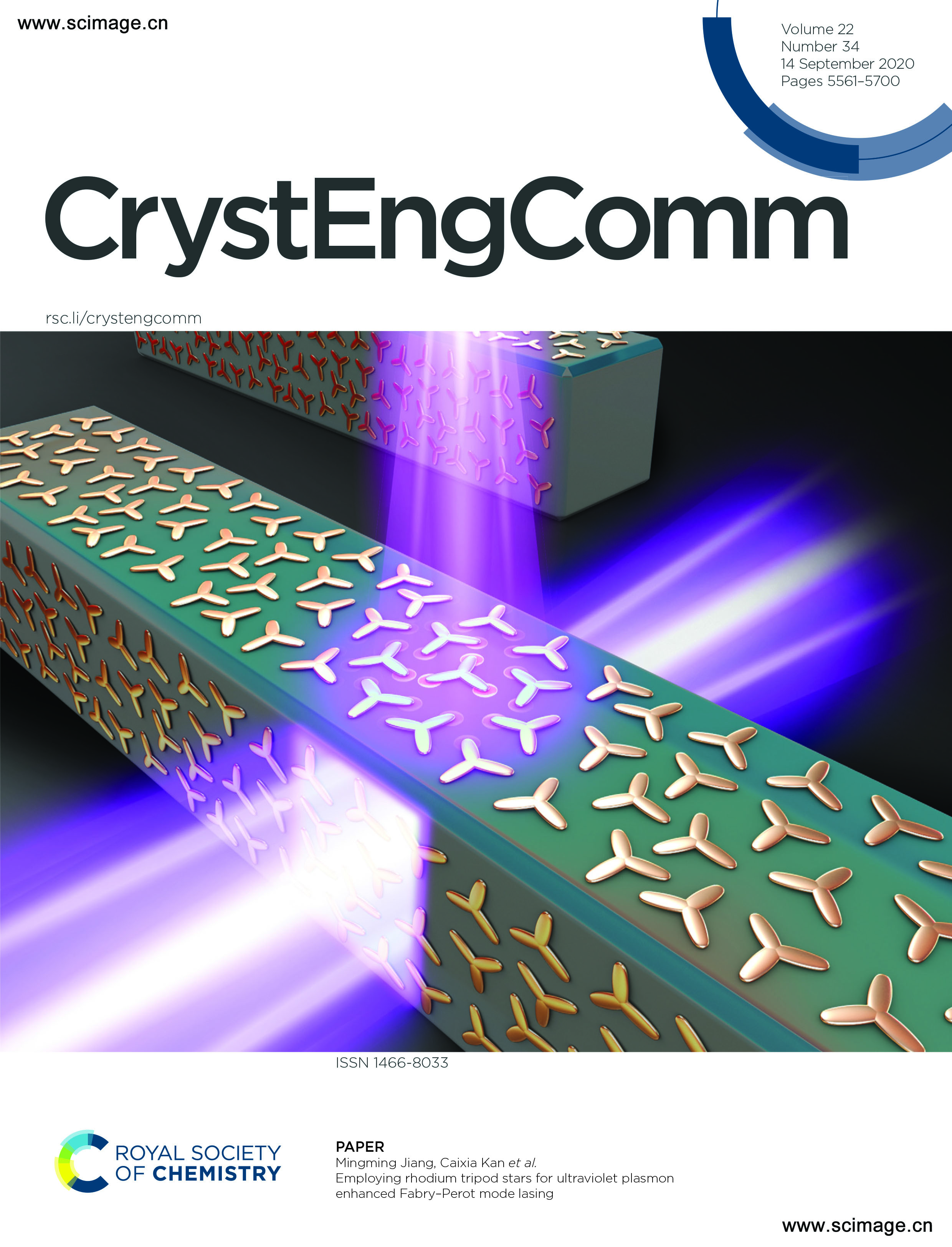 发表期刊:Chem Soc Rev

论文题目:A review on energy chemistry of fast-charging anodes
论文作者:Wenlong Cai, Yu-Xing Yao, Gao-Long Zhu, Chong Yan, Li-Li Jiang, Chuanxin He, Jia-Qi Huang, Qiang Zhang
发表日期:June 21, 2020
论文摘要:With the impetus to accelerate worldwide market adoption of electrical vehicles and afford consumer electronics with better user experience, advancing fast-charging technology is an inevitable trend. However, current high-energy lithium-ion batteries are unable to support ultrafast power input without any adverse consequences, with the capacity fade and safety concerns of the mainstream graphite-based anodes being the key technological barrier. The aim of this review is to summarise the fundamentals, challenges, and solutions to enable graphite anodes that are capable of high-rate charging. First, we explore the complicated yet intriguing graphite–electrolyte interface during intercalation based on existing theories. Second, we analyse the key dilemmas facing fast-charging graphite anodes. Finally, some promising strategies proposed during the past few years are highlighted so as to outline current trends and future perspectives in this field.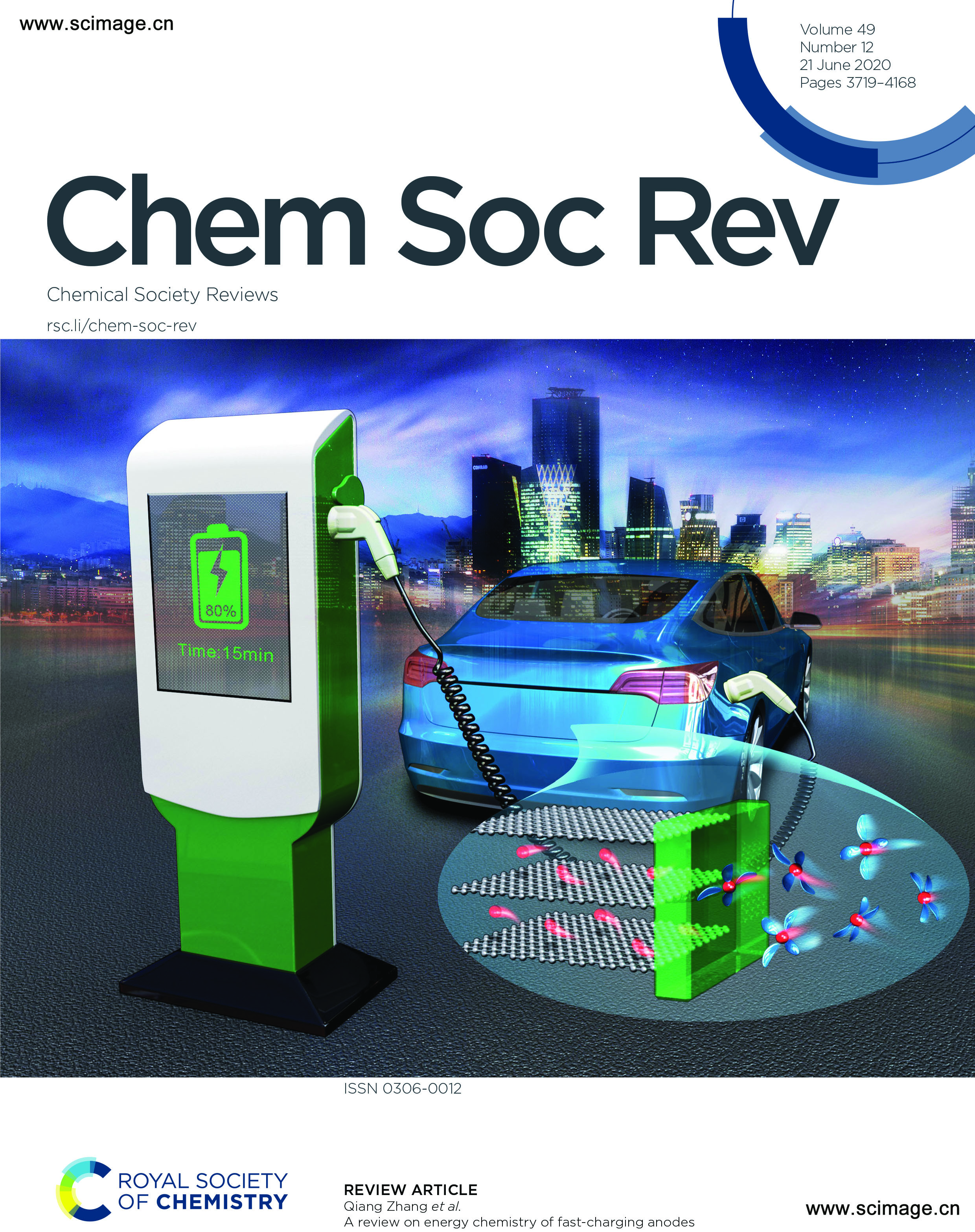 发表期刊:Lab on a Chip

论文题目:An enhanced centrifugation-assisted lateral flow immunoassay for the point-of-care detection of protein biomarkers
论文作者:Minjie Shen, Nan Li, Ying Lu, Jing Cheng, Youchun Xu
发表日期:August 07, 2020
论文摘要:Protein biomarkers are widely used for disease diagnosis, but the current detection methods utilized in centralized laboratories are mainly based on enzyme-linked immunosorbent assay (ELISA)-derived sandwich-type immunoassays such as chemiluminescent or electrochemiluminescent immunoassays, which suffer from long detection times and cumbersome instruments. For the point-of-care (POC) detection of protein biomarkers, various test strips for lateral flow immunoassay (LFIA) have been manufactured, but their detection sensitivities and capabilities for raw samples are limited. In this study, an enhanced centrifugation-assisted lateral flow immunoassay (ECLFIA) was established to rapidly detect protein biomarkers in whole blood with a higher sensitivity than LFIA. By inserting a nitrocellulose membrane into a centrifugal disc, fully automated operations, including sample preparation, active lateral flow actuation, washing, and signal amplification, which could hardly be performed in conventional LFIA, were enabled on the centrifugal platform for ECLFIA. The entire process for detecting human prostate specific antigen (PSA) in a drop of blood (20 μL) could be completed in 15 min. The limit of detection for our ECLFIA system was 0.028 ng mL−1, showing a 21.4-fold improvement compared to that of LFIA. Moreover, this system was utilized to detect PSA in 34 clinical samples. The results were compared to those measured using a commercial instrument used in the hospital, and a good correlation coefficient of 0.986 was obtained, demonstrating the practicality of this ECLFIA system. In summary, the ECLFIA system established in this study can be an efficient tool for the POC detection of protein biomarkers with comprehensive advantages in sensitivity, simplicity and speed.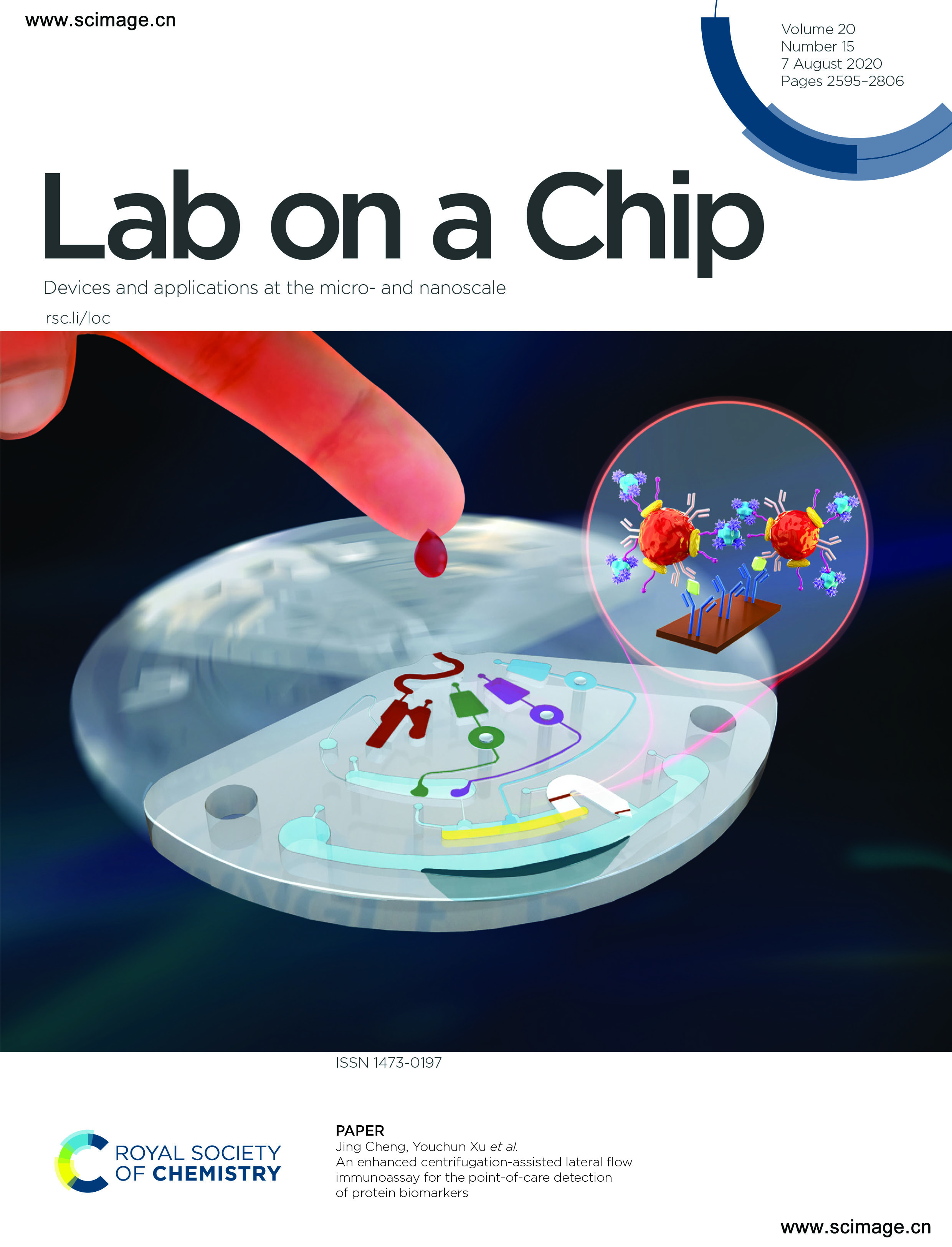 发表期刊:Materials Horizons

论文题目:Fluorescent chemo-sensors based on "dually smart" optical micro/nano-waveguides lithographically fabricated with AIE composite resins
论文作者:Meng-Dan Qian, Yun-Lu Sun, Zhi-Yong Hu, Xiao-Feng Fang, Jin-Long Zhu, Xudong Fan, Qing Liao, Chang-Feng Wu, Hong-Bo Sun
发表日期:July 01, 2020
论文摘要:Novel high-performance non-labeled fluoro-sensing micro/nano-optics require lithographically fabricable stimuli-fluorescence transductive materials well-tailored in molecular levels, towards superior processibility, stability, sensitivity, on-chip integration and portability, and real-time and in situ analysis. Here, aggregation-induced-emission fluorophores with oxetane groups (AIEoxes) and their covalently co-crosslinkable epoxy composites are customized for the fabrication of micro/nano-devices via single/multi-photon lithography. The oxetane modification increases the AIEoxe miscibility in the epoxy matrix (doping ratio up to 10 wt%), and consequently improves the as-formed devices' quality, stability, and fluorescence intensity and sensitivity. The multi-color-AIEoxe polymeric micro/nano-devices allow fluorescence-resonance-energy-transfer among AIEoxes, which enables sensitive and specifically spectral detection of VOCs. With the micro/nano-waveguide configuration, solvent-responsive AIE fluorescence and evanescent-field/refractive-index sensing enhance the AIE-fluorescent detection of trace organic solvents in aqueous solutions (detection limit, ~0.004% v/v, tetrahydrofuran/water) and their facile integration in functional micro/nano-systems like optofluidics.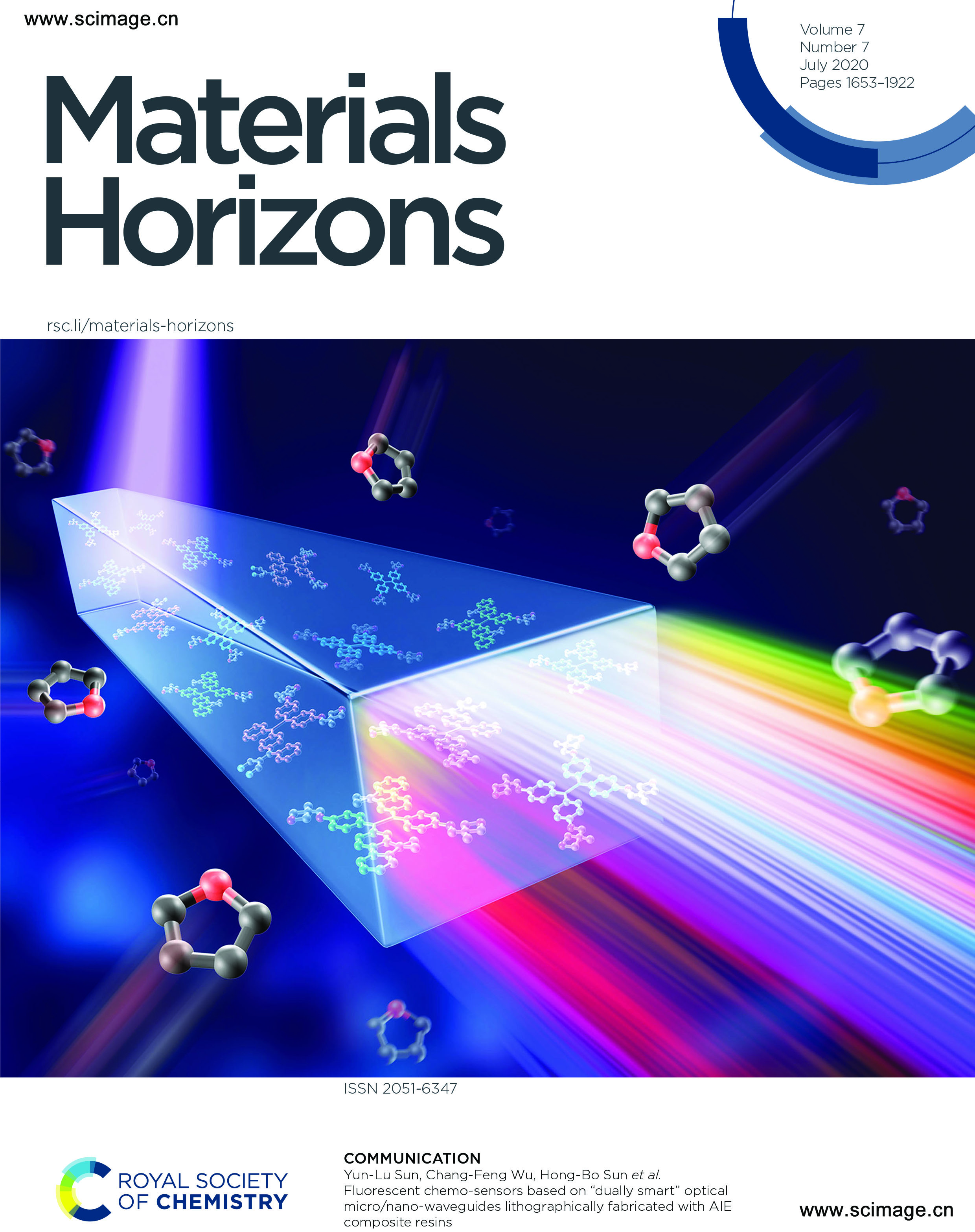 发表期刊:Journal of Materials Chemistry C

论文题目:Manipulating trap filling of persistent phosphors upon illumination by using a blue light-emitting diode
论文作者:Qingqing Gao, Chenlin Li, Yichun Liu, Jiahua Zhang, Xiao-jun Wang, Feng Liu
发表日期:June 07, 2020
论文摘要:Developing a conceptual "write"/"read" technology for optical information storage of persistent phosphors is necessary but often underestimated. Here we demonstrate a "write"/"read" approach of traps upon illumination by using a blue light-emitting diode (LED) in persistent phosphors such as LaMgGa11O19:Cr3+. Our investigation indicates that the phosphor can be charged upon high-power illumination (e.g., incident power density of 0.5 W cm−2) but discharged upon low-power illumination (e.g., 0.1 W cm−2). An appealing feature of the present approach is that the charging and discharging share the same illumination wavelength, which offers an interesting technical advantage and apparent convenience for applications. Moreover, such a manipulation technique is generally applicable for many existing phosphors.
静远嘲风(SCimage)是专注于学术研究领域的艺术创作机构,用唯美的艺术诠释科研是嘲风的目标。公司主要提供论文封面设计、论文配图设计、科研动画开发设计及科研产品深度包装等服务;主要服务对象为中国科学院,中国军事科学院,中国医学科学院,中国农业科学院,以及国内外各大高校科研机构,科技型研发企业以及从事学术研究和高等教育的研究人员。静远嘲风,创立于2007年,以多学科背景为出发点,以独到的切入点深入探索科研领域的艺术表达方式,是国内科研可视化的资深践行者与领头羊,多年来为生物学、微生物学、化学、化工、医学、环境学等研究方向完成数千幅专业作品,协助上千名科研工作者完成封面论文发表。
http://wap.sciencenet.cn/blog-575129-1259054.html
上一篇:
2020年9月嘲风作品集(一)
下一篇:
科学的颜值丨科学图像是什么样的图像