发表期刊:Advanced Functional Materials

论文题目:Electron Transport Materials: π‐Extended Spiro Core‐Based Nonfullerene Electron‐Transporting Material for High‐Performance Perovskite Solar Cells
论文作者:Zhao Hu, Guanqi Tang, Jingsheng Miao, Tianchen Fu, Tingting Li, Qidong Tai, Hong Meng, Feng Yan
发表日期:June 18, 2020
论文摘要:In article number 2001073, Hong Meng, Feng Yan, and co‐workers design, synthesize, and successfully use a non‐fullerene electron transport material based on a new spiro derivative, SPS‐4F, in perovskite solar cells, leading to high efficiency as well as good stability of the devices. This work opens a new avenue for developing new spiro‐based electron transport materials and paves a way for realizing high‐performance devices at low costs.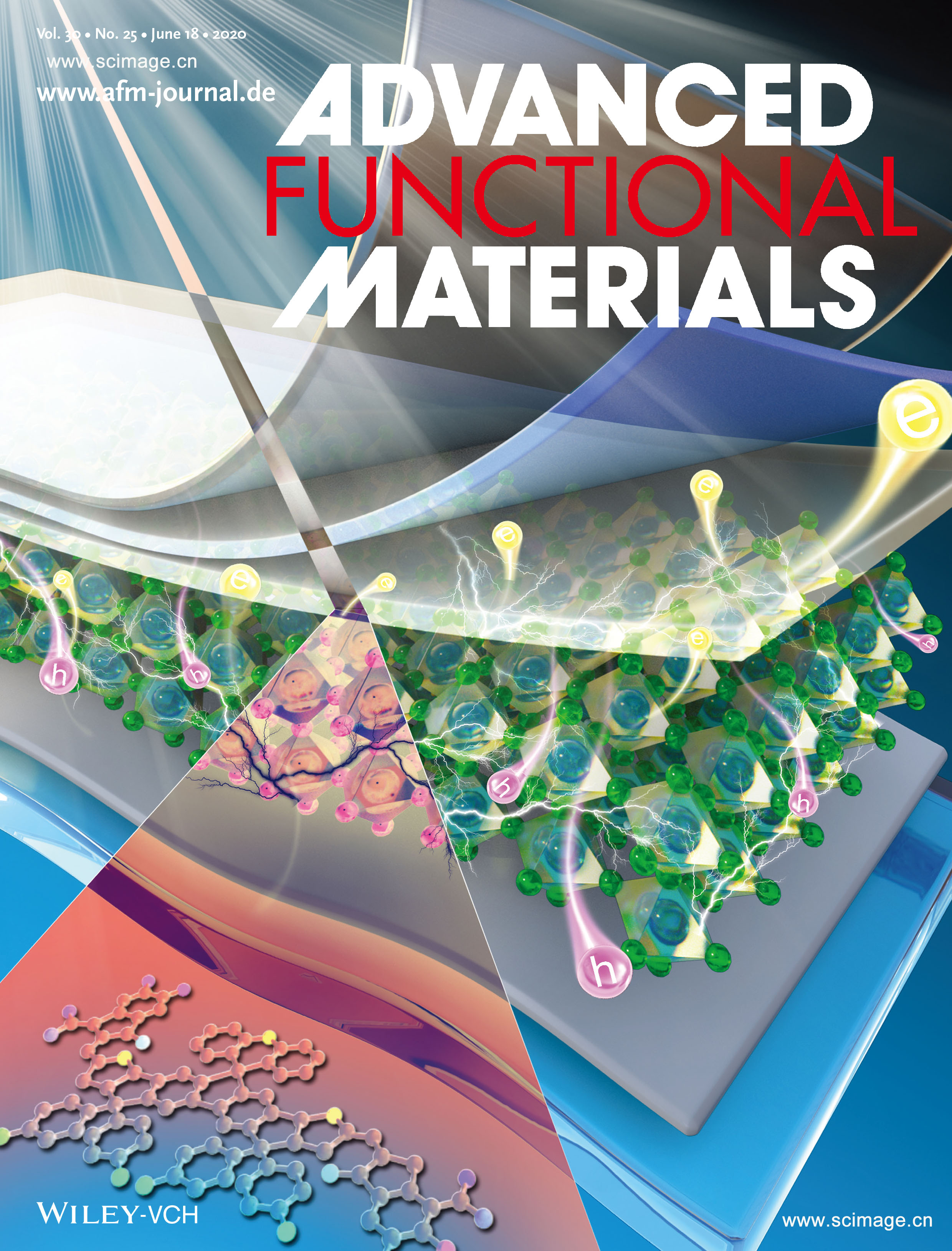 发表期刊:Accounts of chemical research

论文题目:Synergistic Modulation of Non-Precious-Metal Electrocatalysts for Advanced Water Splitting
论文作者:Wen-Jie Jiang, Tang Tang, Yun Zhang, Jin-Song Hu
发表日期:June 16, 2020
论文摘要:Hydrogen is an ideal energy carrier and plays a critical role in the future energy transition. Distinct from steam reforming, electrochemical water splitting, especially powered by renewables, has been considered as a promising technique for scalable production of high-purity hydrogen with no carbon emission. Its commercialization relies on the reduction of electricity consumption and thus hydrogen cost, calling for highly efficient and cost-effective electrocatalysts with the capability of steadily working at high hydrogen output. This requires the electrocatalysts to feature (1) highly active intrinsic sites, (2) abundant accessible active sites, (3) effective electron and mass transfer, (4) high chemical and structural durability, and (5) low-cost and scalable synthesis. It should be noted that all these requirements should be fulfilled together for a practicable electrocatalyst. Much effort has been devoted to addressing one or a few aspects, especially improving the electrocatalytic activity by electronic modulation of active sites, while few reviews have focused on the synergistic modulation of these aspects together although it is essential for advanced electrochemical water splitting.
In this Account, we will present recent innovative strategies with an emphasis on our solutions for synergistically modulating intrinsic active sites, electron transportation, mass transfer, and gas evolution, as well as mechanical and chemical durability, of non-precious-metal electrocatalysts, aiming for cost-effective and highly efficient water splitting. The following approaches for coupling these aspects are summarized for both cathodic hydrogen evolution reaction (HER) and anodic oxygen evolution reaction (OER). (1) Synergistic electronic modulations. The electronic structure of a catalytic site determines the adsorption/desorption of reactive intermediates and thus intrinsic activity. It can be tuned by heterogeneous doping, strain effect, spin polarization, etc. Coupling these effects to optimize the reaction pathways or target simultaneously the activity and stability would advance electrocatalytic performance. (2) Synergistic electronic and crystalline modulation. The crystallinity, crystalline phase, crystalline facets, crystalline defects, etc. affect both activity and stability. Coupling these effects with electronic modulation would enhance the activity together with stability. (3) Synergistic electronic and morphological modulation. It will focus on concurrently modulating electronic structure for improving the intrinsic activity and morphology for increasing accessible active sites, especially through single action or processing. The mass transfer and gas evolution properties can also be enhanced by morphological modulation to enable water splitting at large output. (4) Synergistic modulation of elementary reactions. Electrocatalytic reaction generally consists of a couple of elementary reactions. Each one may need a specific active site. Designing and combining various components targeting every elementary step on a space-limited catalyst surface will balance the intermediates and these steps for accelerating the overall reaction. (5) Integrated electrocatalyst design. Taking all these strategies together into account is necessary to integrate all above essential features into one electrocatalyst for enabling high-output water electrolysis. Beyond the progress made to date, the remaining challenges and opportunities is also discussed. With these insights, hopefully, this Account will shed light on the rational design of practical water-splitting electrocatalysts for the cost-effective and scalable production of hydrogen.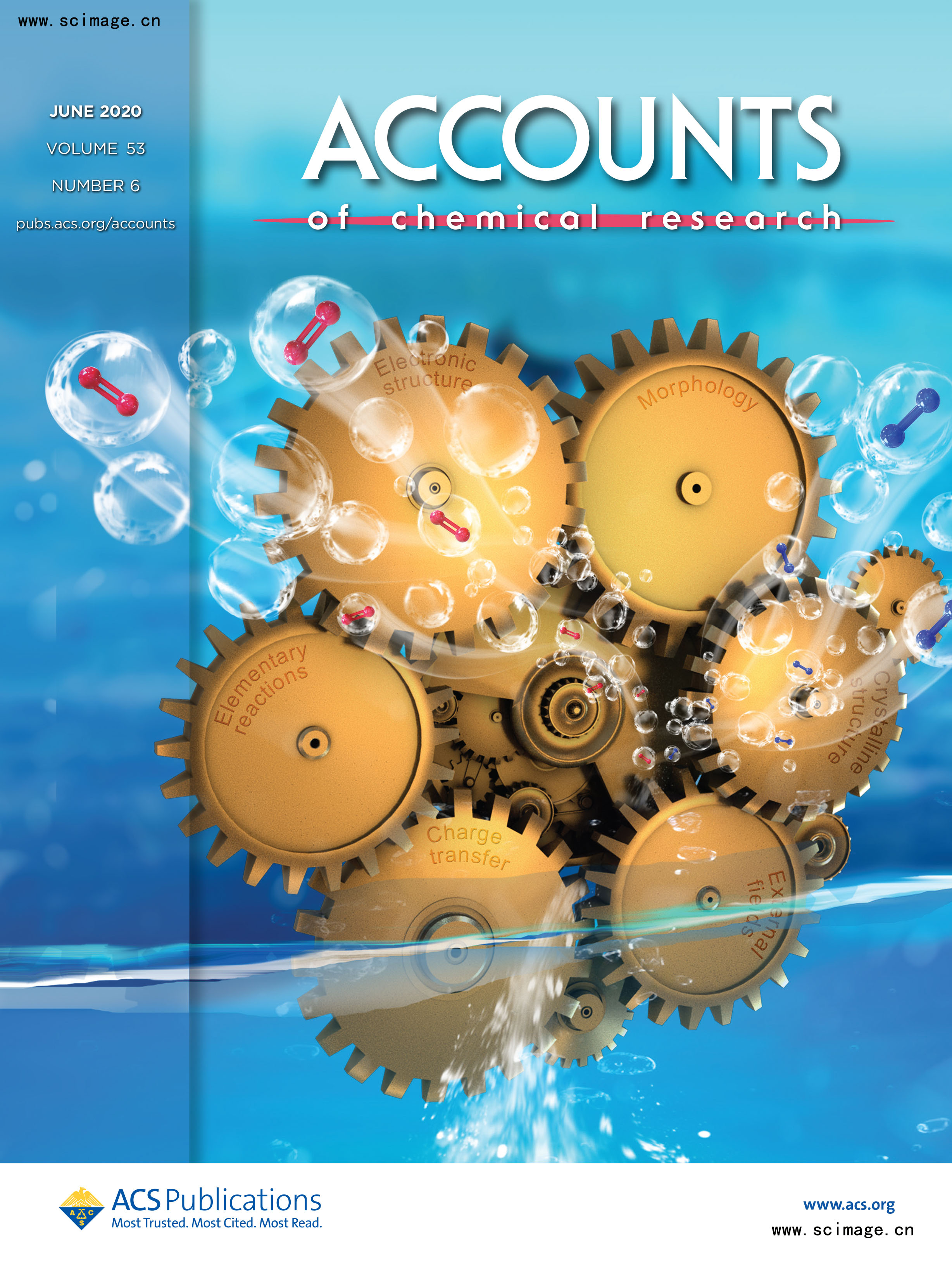 发表期刊:ACS Applied Electronic Materials

论文题目:Processes Controlling the Distribution of Vertical Organic Composition in Organic Photodetectors by Ultrasonic-Assisted Solvent Vapor Annealing
论文作者:Dayong Zhang, Dan Zhao, Zijun Wang, Junsheng Yu
发表日期:July 28, 2020​
论文摘要:Regulating the vertical composition distribution of an organic electronic donor and acceptor is an effective strategy for the fabrication of high-performance organic photodetectors (OPDs). In this study, after the one-step solution process to fabricate an active layer, an ultrasonic-assisted solvent vapor annealing method (UA-SVA) was proposed to modulate the vertical distribution of the PBDB-T:ITIC BHJ layer in an OPD device. Compared to the control device processed from SVA, the obtained OPD from UA-SVA exhibits both a decreased dark current and slightly enhanced photocurrent. As a result, the photodetectivity of the device treated by UA-SVA was more than one order of magnitude higher than that of the control counterpart in the detective spectrum ranging from 450 to 750 nm. Especially, a dramatically high photodetectivity of 2.17 × 1012 Jones at a wavelength of 688 nm has been achieved under a reverse bias of −0.5 V. To illuminate the reason for OPD performance improvement, ultraviolet–visible (UV–vis) absorption spectroscopy, space-charge-limited current (SCLC) method, atomic force microscopy (AFM), and water contact angle (WCA) measurement were performed, and the enhanced light-absorption intensity, improved charge carrier transport efficiency, and the modified interfacial contact and surface morphology of the BHJ active layer were observed.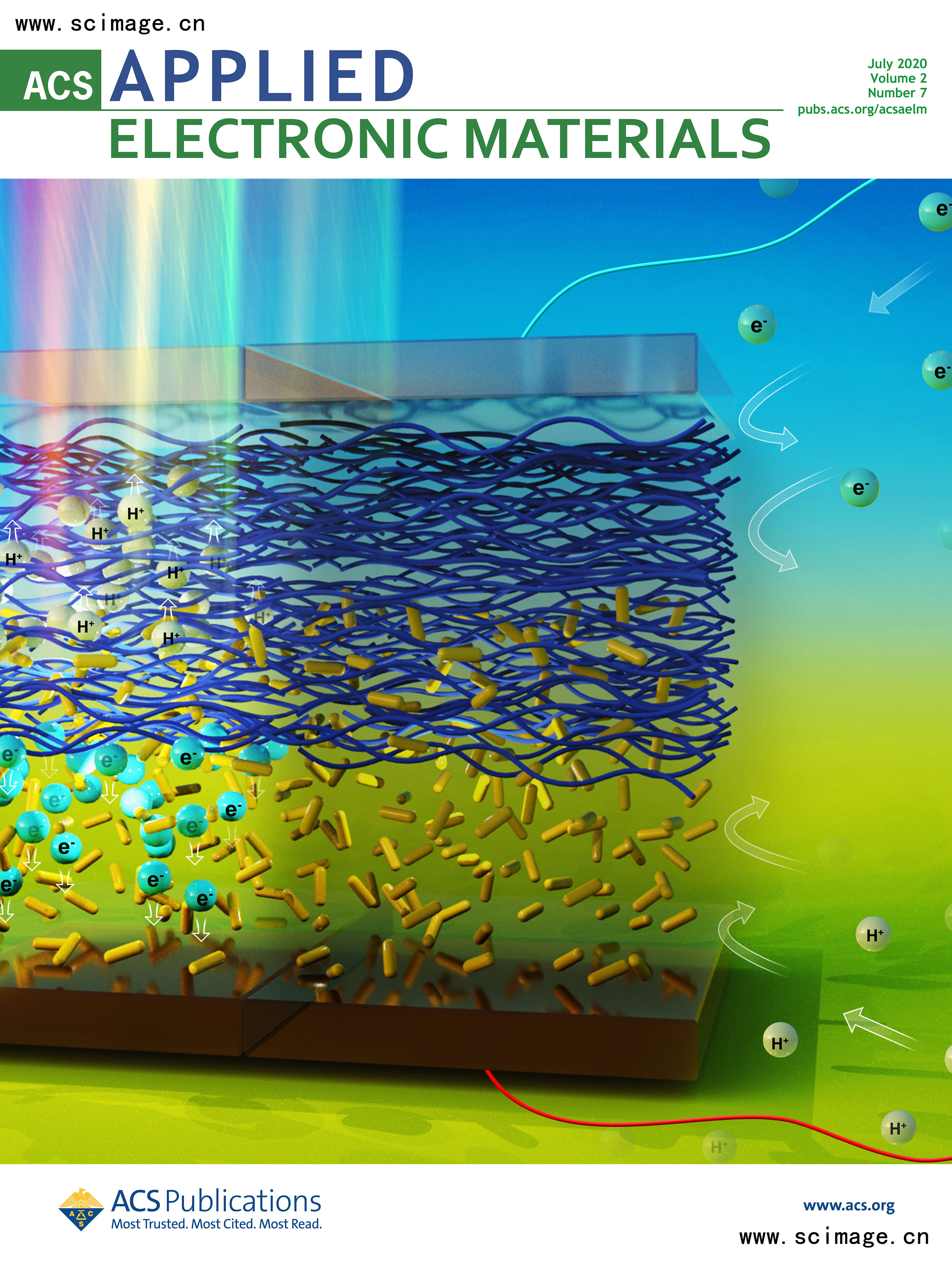 发表期刊:Small

论文题目:Silicon‐Based Anode Materials: Mechanically Reinforced Localized Structure Design to Stabilize Solid–Electrolyte Interface of the Composited Electrode of Si Nanoparticles and TiO2 Nanotubes
论文作者:Mingzheng Ge, Yuxin Tang, Oleksandr I. Malyi, Yanyan Zhang, Zhiqiang Zhu, Zhisheng Lv, Xiang Ge, Huarong Xia, Jianying Huang, Yuekun Lai, Xiaodong Chen
发表日期:July 28, 2020
论文摘要:In article number 2002094, Yuxin Tang, Yuekun Lai, Xiaodong Chen, and co‐workers report a mechanically reinforced localized structure with ultralong titania nanotubes to alleviate the mechanical strain and stabilize the solid–electrolyte interface layer for silicon‐based anode materials, delivering low electrode thickness swelling and excellent cycling performance.
发表期刊:Advanced Materials

论文题目:Thermomechanical Patterning: Thermomechanical Nanocutting of 2D Materials
论文作者:Xia Liu, Samuel Tobias Howell, Ana Conde‐Rubio, Giovanni Boero, Juergen Brugger
发表日期:August 6, 2020
论文摘要:Thermomechanical patterning of 2D materials into micro/nanostructures with a resolution down to 20 nm is reported by Jürgen Brugger and co‐workers in article number 2001232. A heated scanning nanotip performs the patterning by a combination of heat and local pressure, thereby cleaving chemical bonds of the 2D materials, in concert with the rapid sublimation of the polymer layer underneath.
发表期刊:Advanced Materials

论文题目:Hybrid Aqueous Batteries: Atomic Engineering Catalyzed MnO2 Electrolysis Kinetics for a Hybrid Aqueous Battery with High Power and Energy Density
论文作者:Dongliang Chao, Chao Ye, Fangxi Xie, Wanhai Zhou, Qinghua Zhang, Qinfen Gu, Kenneth Davey, Lin Gu, Shi‐Zhang Qiao
发表日期:June 26, 2020
论文摘要:A paradigm high‐rate and high‐voltage affordable Zn–Mn hybrid aqueous battery (HAB) is constructed by Shi‐Zhang Qiao and co‐workers (article number 2001894). The fairytale depicts a cowherd (the Mn cathode) on the ground, and the weaving girl (the Zn anode) on the moon, who are separated (by a membrane). They can only express their love by the media of H+ and OH−, which produce a streamlet and powers the moon (lamp bulb). The carrier pigeon (Ni) serves as a catalyst to speed‐up the process (reaction).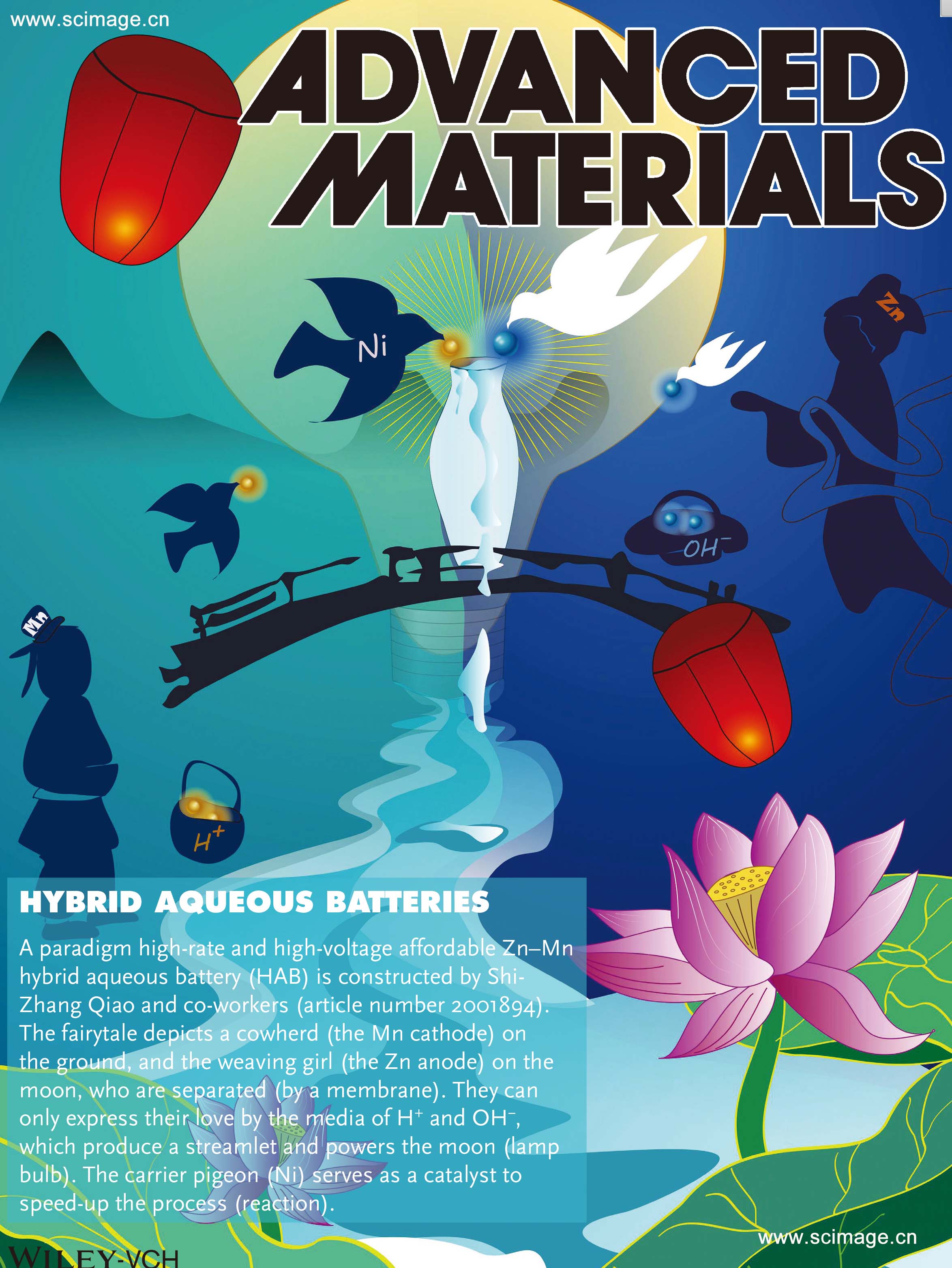 静远嘲风(SCimage)是专注于学术研究领域的艺术创作机构,用唯美的艺术诠释科研是嘲风的目标。公司主要提供论文封面设计、论文配图设计、科研动画开发设计及科研产品深度包装等服务;主要服务对象为中国科学院,中国军事科学院,中国医学科学院,中国农业科学院,以及国内外各大高校科研机构,科技型研发企业以及从事学术研究和高等教育的研究人员。静远嘲风,创立于2007年,以多学科背景为出发点,以独到的切入点深入探索科研领域的艺术表达方式,是国内科研可视化的资深践行者与领头羊,多年来为生物学、微生物学、化学、化工、医学、环境学等研究方向完成数千幅专业作品,协助上千名科研工作者完成封面论文发表。
http://wap.sciencenet.cn/blog-575129-1252440.html
上一篇:
2020年7月嘲风作品集(二)
下一篇:
2020年8月嘲风作品集(二)