发表期刊:Advanced Materials

论文题目:Surface Ligand Management Aided by a Secondary Amine Enables Increased Synthesis Yield of CsPbI3 Perovskite Quantum Dots and High Photovoltaic Performance
论文作者:Yao Wang, Jianyu Yuan, Xuliang Zhang, Xufeng Ling, Bryon W. Larson, Qian Zhao, Yingguo Yang, Yao Shi, Joseph M. Luther, Wanli Ma
发表日期:August 13, 2020
论文摘要:Emerging all‐inorganic CsPbI3 perovskite quantum dots offer colloidal synthesis and processing using industrially friendly solvents. This is desirable for solar‐cell applications and will catalyze new structures for optoelectronic devices. In article number 2000449, Jianyu Yuan, Wanli Ma, and co‐workers report the development of a new surface ligand management strategy, which improves on the state‐of‐the‐art efficiency of CsPbI3 quantum‐dot solar cells.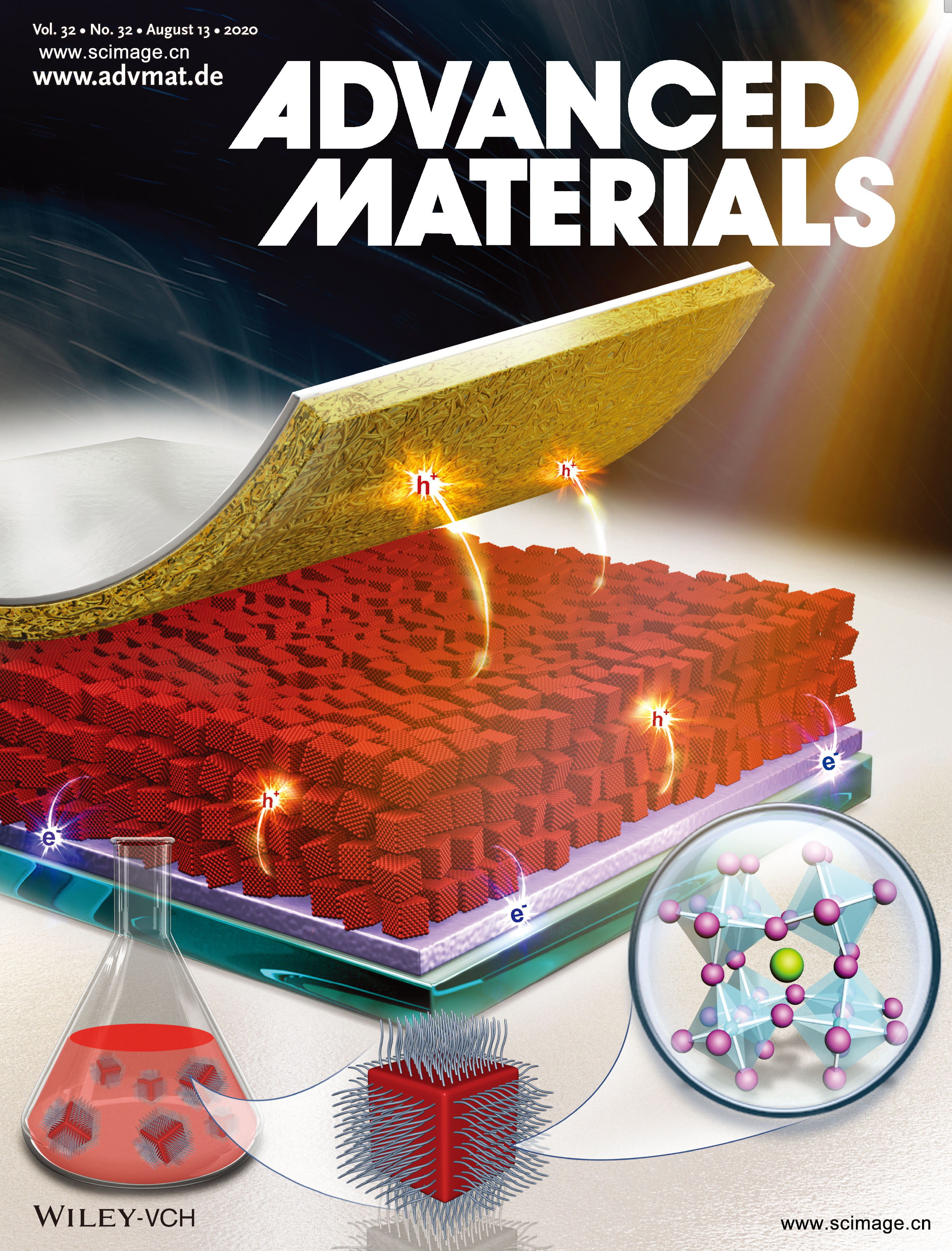 表期刊:Info Mat

论文题目:Anisotropic polaritons in van der Waals materials
论文作者:Weiliang Ma, Babar Shabbir, Qingdong Ou, Yemin Dong, Huanyang Chen, Peining Li, Xinliang Zhang, Yuerui Lu, Qiaoliang Bao
发表日期:September 2020​
论文摘要:Polaritons in two‐dimensional (2D) materials continues to garner significant attention due to their favorable ability of field‐confinement and intriguing potential for low‐loss and ultrafast optical and photonic devices. The recent experimental observation of in‐plane anisotropic dispersion in natural van der Waals materials has revealed much richer physics as compared to isotropic plasmonic materials, which provides new insight to manipulate the polaritons and manufacture flat optical devices with unprecedented controls. Herein, we give an overview of the recent progress in in‐plane anisotropic polaritons launched and visualized in the near‐field range in 2D layered van der Waals materials. Furthermore, future prospects in this promising but emerging field are featured on the basis of its peculiar applications. This review article will stimulate the scientific community to explore other hyperbolic materials and structures in order to develop optical technologies with novel functionalities and further improve the understanding of the exotic photonic phenomena.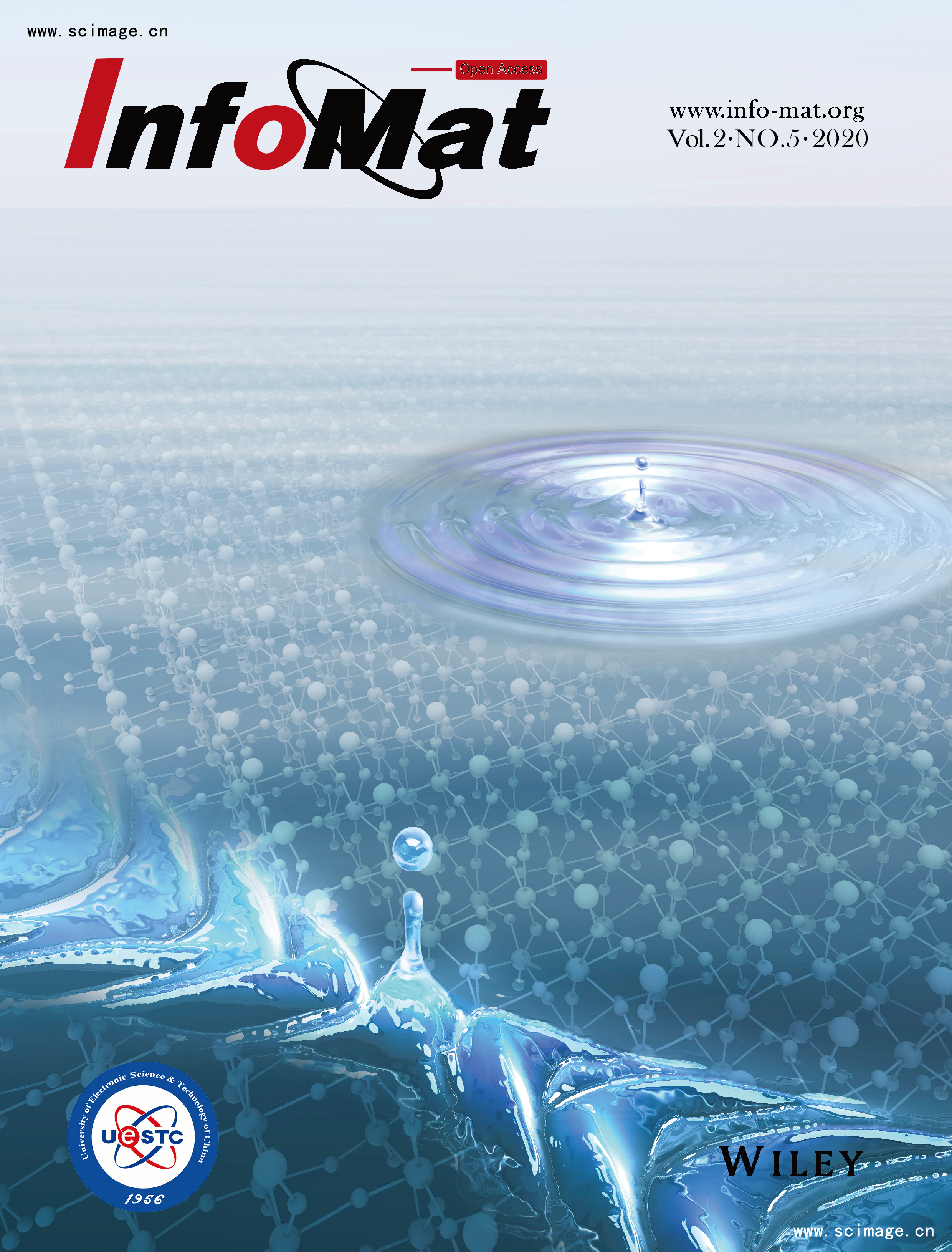 发表期刊:Info Mat
论文题目:A compact inorganic layer for robust anode protection in lithium‐sulfur batteries
论文作者:Yu‐Xing Yao, Xue‐Qiang Zhang, Bo‐Quan Li, Chong Yan, Peng‐Yu Chen, Jia‐Qi Huang, Qiang Zhang
发表日期:March 2020
论文摘要:Lithium‐sulfur (Li‐S) batteries are one of the most promising candidates for high energy density rechargeable batteries beyond current Li‐ion batteries. However, severe corrosion of Li metal anode and low Coulombic efficiency (CE) induced by the unremitting shuttle of Li polysulfides immensely hinder the practical applications of Li‐S batteries. Herein, a compact inorganic layer (CIL) formed by ex situ reactions between Li anode and ionic liquid emerged as an effective strategy to block Li polysulfides and suppress shuttle effect. A CE of 96.7% was achieved in Li‐S batteries with CIL protected Li anode in contrast to 82.4% for bare Li anode while no lithium nitrate was employed. Furthermore, the corrosion of Li during cycling was effectively inhibited. While applied to working batteries, 80.6% of the initial capacity after 100 cycles was retained in Li‐S batteries with CIL‐protected ultrathin (33 μm) Li anode compared with 58.5% for bare Li anode, further demonstrating the potential of this strategy for practical applications. This study presents a feasible interfacial regulation strategy to protect Li anode with the presence of Li polysulfides and opens avenues for Li anode protection in Li‐S batteries under practical conditions.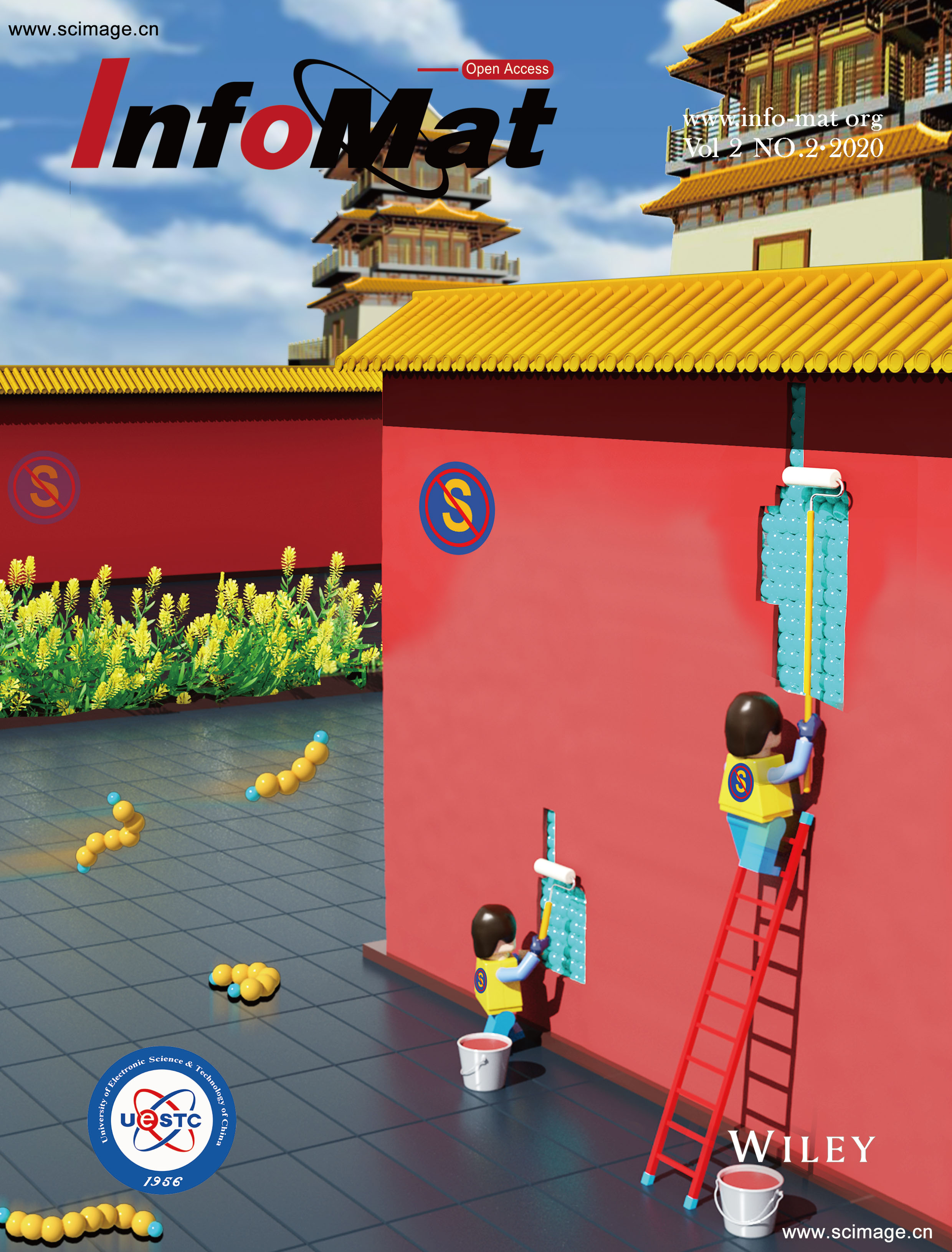 表期刊:Info Mat

论文题目:Expediting redox kinetics of sulfur species by atomic‐scale electrocatalysts in lithium–sulfur batteries
论文作者:Bo‐Quan Li, Long Kong, Chang‐Xin Zhao, Qi Jin, Xiao Chen, Hong‐Jie Peng, Jin‐Lei Qin, Jin‐Xiu Chen, Hong Yuan, Qiang Zhang, Jia‐Qi Huang
发表日期:December 2019​
论文摘要:Lithium–sulfur (Li–S) batteries have extremely high theoretical energy density that make them as promising systems toward vast practical applications. Expediting redox kinetics of sulfur species is a decisive task to break the kinetic limitation of insulating lithium sulfide/disulfide precipitation/dissolution. Herein, we proposed a porphyrin‐derived atomic electrocatalyst to exert atomic‐efficient electrocatalytic effects on polysulfide intermediates. Quantifying electrocatalytic efficiency of liquid/solid conversion through a potentiostatic intermittent titration technique measurement presents a kinetic understanding of specific phase evolutions imparted by the atomic electrocatalyst. Benefiting from atomically dispersed "lithiophilic" and "sulfiphilic" sites on conductive substrates, the finely designed atomic electrocatalyst endows Li–S cells with remarkable cycling stablity (cyclic decay rate of 0.10% in 300 cycles), excellent rate capability (1035 mAh g−1 at 2 C), and impressive areal capacity (10.9 mAh cm−2 at a sulfur loading of 11.3 mg cm−2). The present work expands atomic electrocatalysts to the Li–S chemistry, deepens kinetic understanding of sulfur species evolution, and encourages application of emerging electrocatalysis in other multielectron/multiphase reaction energy systems.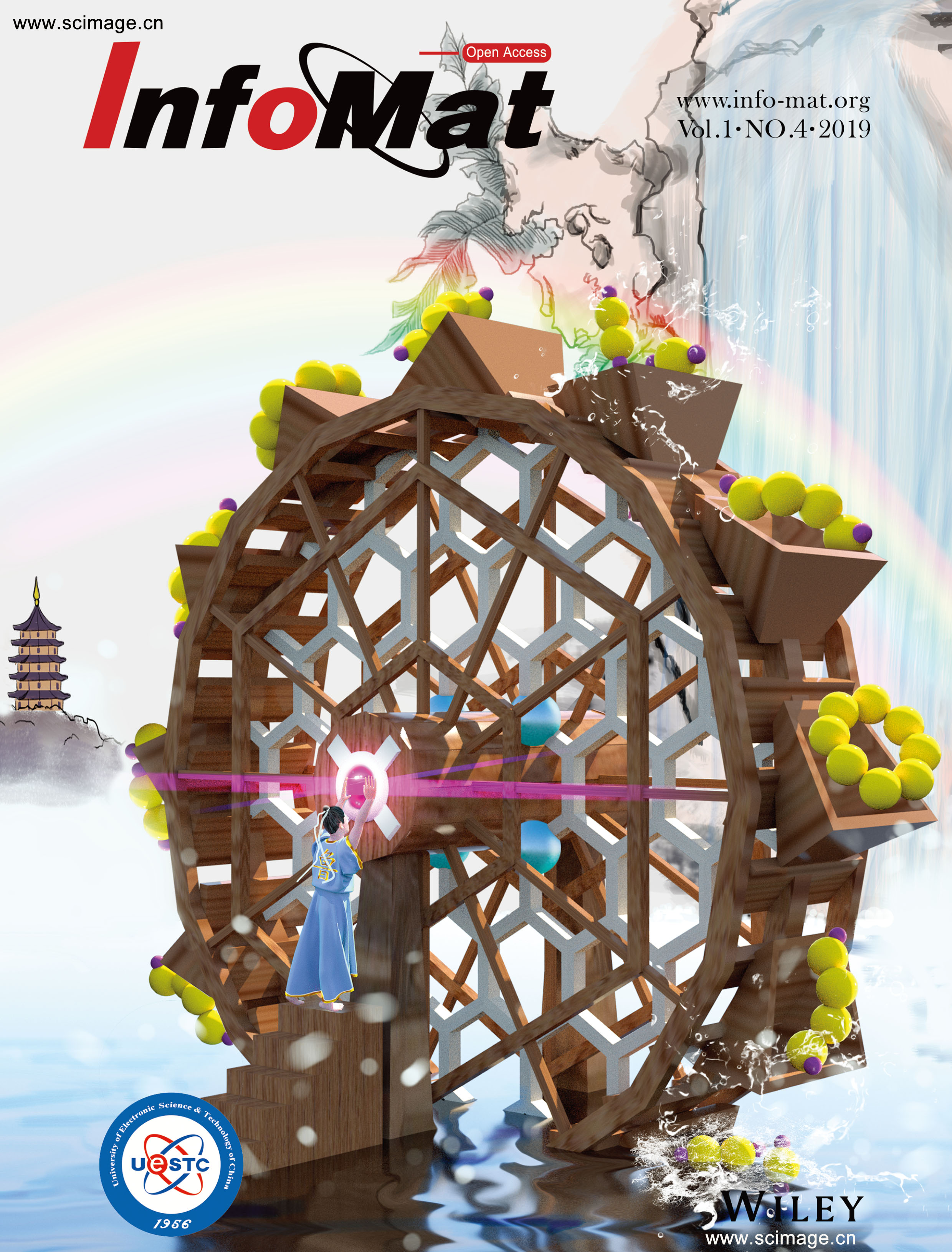 表期刊:VIEW

论文题目:Cover: (View 1/2020)
发表日期:March 2020
论文摘要:Bacteria inhibition is universally required in clinics and daily wellness. Herein, novel gold nanoreactors are designed as a multifunctional platform for the in vivo capture and inhibition of bacteria. The gold nanoreactors facilitate targeted adhesion on bacteria due to targeted surface affinity and nanoscale surface roughness. Moreover, the nanoreactors enable long‐term antibacterial effects under the laser illumination, due to the photothermal ablation mediated by gold nanoparticles. Taking this as an example, the engineering and designing of precision biomaterials allow closer clinical transitions towards personalized medicine.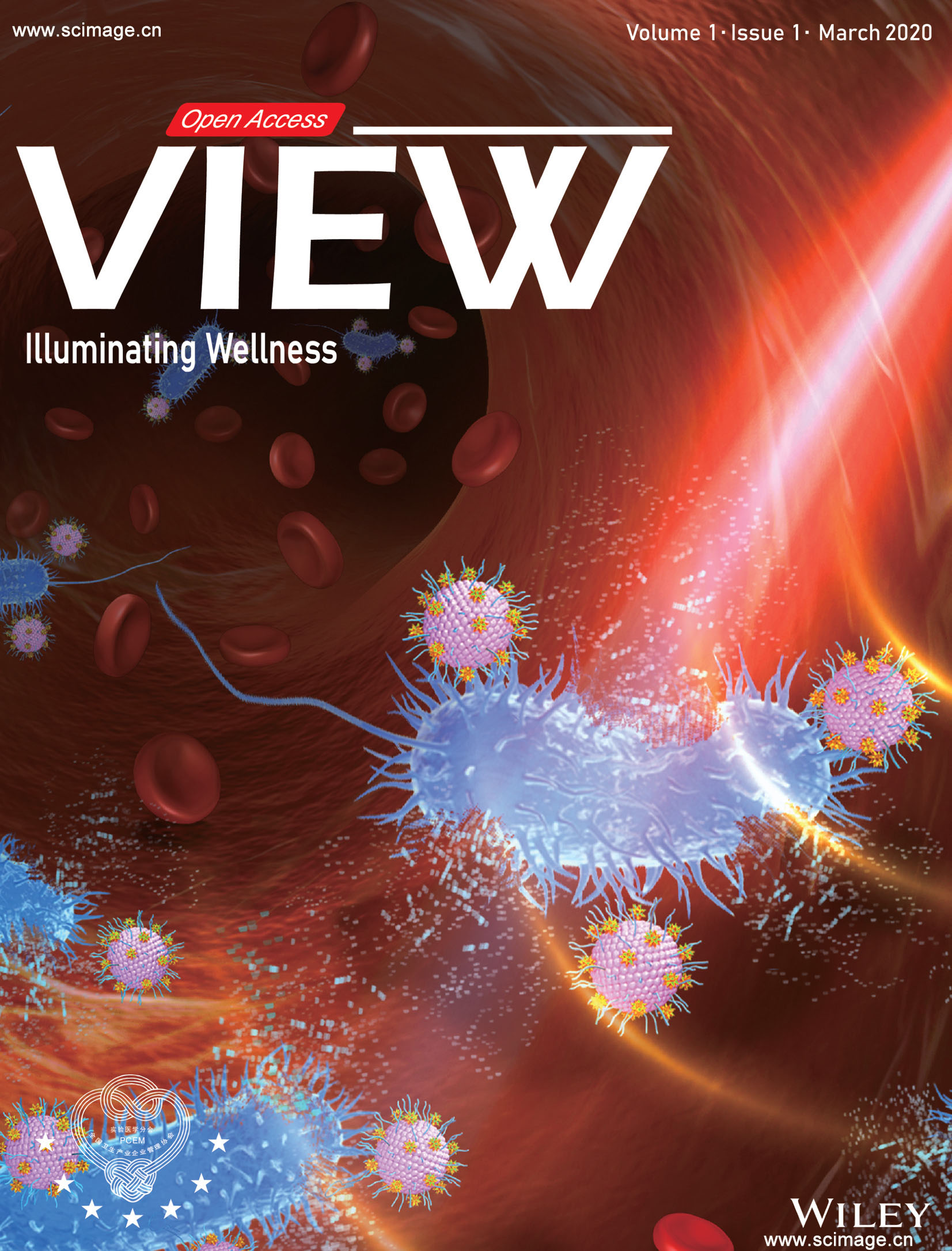 发表期刊:JACS

论文题目:Self-Assembly of Giant Mo240 Hollow Opening Dodecahedra
论文作者:Jiaomin Lin, Ning Li, Shiping Yang, Mingjie Jia, Jiang Liu, Xiao-Min Li, Lu An, Qiwei Tian, Long-Zhang Dong, Ya-Qian Lan
发表日期:August 12, 2020
论文摘要:The synthesis of hollow opening polyhedral cages has always been an attractive but challenging goal, especially with regard to inorganic polyhedral cages. Herein, we present a novel, 240-nuclearity giant polymolybdate cage prepared via hydrothermal synthesis. This cage is composed of 20 tripod-shaped [Mo6O22(SO3)]n−/[Mo6O21(SO4)]n− building blocks with three connected vertices and 30 cubane-type [Mo4O16]n− edge building blocks, featuring a rare, nearly regular pentagonal dodecahedron with a large inner cavity (diameter up to 1.8 nm) and 12 opening pentagonal windows. This is the highest nuclearity hollow opening dodecahedral cage reported to date. Importantly, this cage exhibits good stability in solution, as revealed by scanning transmission electron microscopy (STEM), TEM, UV–vis, and Raman spectra. In addition, the bulk sample of this compound exhibits an ultrahigh proton conductivity of 1.03 × 10–1 S cm–1 at 80 °C and 98% relative humidity, which is the highest among polyoxometalate-based crystalline proton conductors.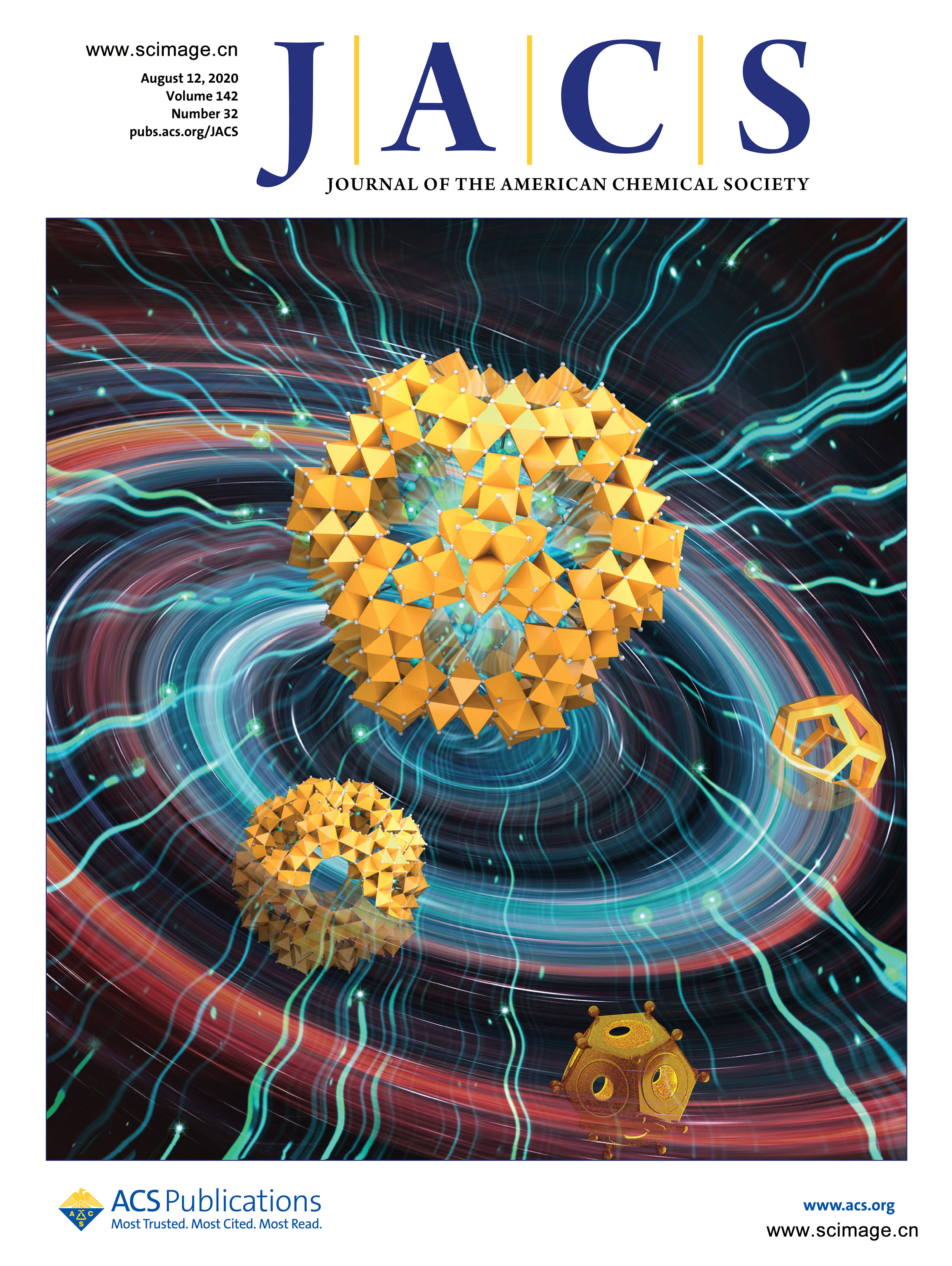 静远嘲风(SCimage)是专注于学术研究领域的艺术创作机构,用唯美的艺术诠释科研是嘲风的目标。公司主要提供论文封面设计、论文配图设计、科研动画开发设计及科研产品深度包装等服务;主要服务对象为中国科学院,中国军事科学院,中国医学科学院,中国农业科学院,以及国内外各大高校科研机构,科技型研发企业以及从事学术研究和高等教育的研究人员。静远嘲风,创立于2007年,以多学科背景为出发点,以独到的切入点深入探索科研领域的艺术表达方式,是国内科研可视化的资深践行者与领头羊,多年来为生物学、微生物学、化学、化工、医学、环境学等研究方向完成数千幅专业作品,协助上千名科研工作者完成封面论文发表。
http://wap.sciencenet.cn/blog-575129-1258770.html
上一篇:
[转载]首届中国科学艺术视觉展在宁开幕 《科学的颜值》新书展现跨界魅力
下一篇:
2020年9月嘲风作品集(二)