​发表期刊:Analytical Chemistry

论文题目:Deep Learning-Assisted Three-Dimensional Fluorescence Difference Spectroscopy for Identification and Semiquantification of Illicit Drugs in Biofluids
论文作者:Li Ju,Aihua Lyu,Hongxia Hao,Wen Shen,Hua Cui
发表日期:August 6, 2019
论文摘要:The fast identification and quantification of illicit drugs in biofluids are of great significance in clinical detection. However, existing drug detection strategies cannot fully meet clinical needs, and the on-site identification and quantification of various illicit drugs in biofluids remain a great challenge. Here, we report the development of a deep learning-assisted three-dimensional (3D) fluorescence difference spectroscopy for rapid identification and semiquantification of illicit drugs in biofluids. This strategy introduces highly fluorescent silver nanoclusters into the biofluids with illicit drugs as signal sources. The interaction between silver nanoclusters and drug molecules changed the fluorescence performance of the mixture. Deep learning methods were applied to grasp the subtle fingerprint information from the 3D fluorescence difference spectra to identify and semiquantify various illicit drugs in biofluids, including codeine, 4,5-methylene-dioxy amphetamine, 3,4-methylene dioxy methamphetamine, meperidine, and methcathinone. This approach can achieve a high prediction accuracy rate of 88.07% and a broad detection range from 2 μg/mL to 100 mg/mL. It opens up a new way for the detection of small molecules with or without fluorescence in complicated matrixes.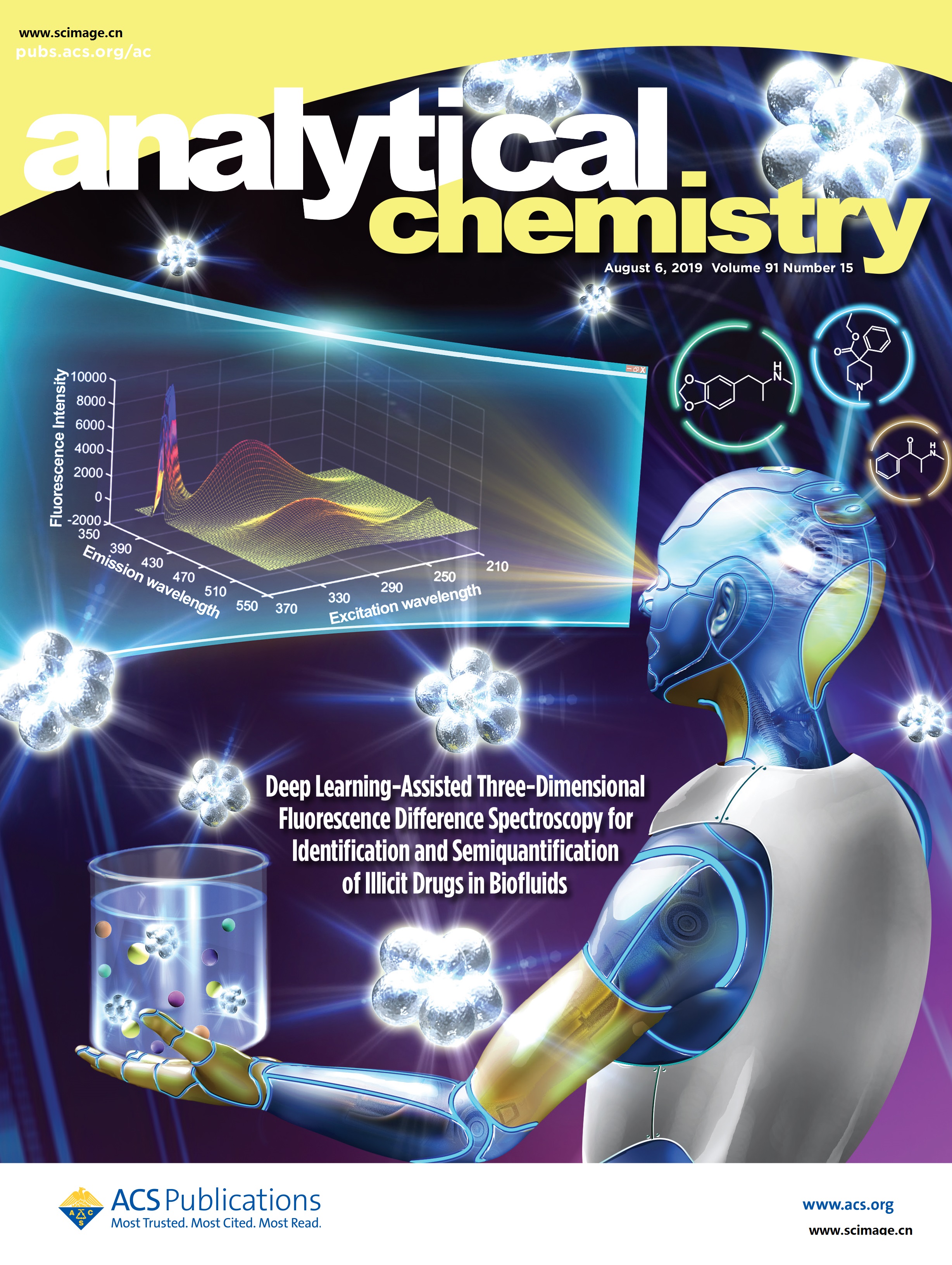 发表期刊:Theranostics

论文题目:MMP-2-Controlled Transforming Micelles for Heterogeneic Targeting and Programmable Cancer Therapy
论文作者:Zihua Wang, Yuehua Wang, Xiangqian Jia, Qiuju Han, Yixia Qian, Qian Li, Junfeng Xiang, Qian Wang, Zhiyuan Hu, Weizhi Wang
发表日期:March, 2019
论文摘要:Herein, through the active-peptide-functionalization, we developed a nanoscale micelles system (named HEKM) which consists of tumor microenvironment-regulated shape-changing with specific recognition abilities for enhanced cellular targeting, internalization and therapy of heterogeneic tumors. As a result, HEKMs could recognize and bind the tumor heterogeneity marker EGFR-HER2 complex, which led to an enhanced tumor targeting effect. In particular, HEKMs could self-assemble into nanorods under normal physiological conditions while transform into nanospheres in the tumor extracellular microenvironment by a sensitive response to matrix metalloproteinase-2 (MMP-2). The nanorods could prolong the blood circulation time while the nanospheres could accelerate tissue penetration in tumors. In vivo dual-modal targeted imaging was realized by FRET-fluorophore conjugation and gadolinium loading in HEKMs. Tumor cell apoptosis was achieved by proapoptotic element integration. The in vitro and in vivo studies both demonstrated that these rationally designed, shape-changing and targeting micelles could achieve maximized drug efficacy and minimum side effects.
发表期刊:JACS
论文题目:Highly Efficient and Selective Generation of Ammonia and Hydrogen on a Graphdiyne-Based Catalyst
论文作者:LanHui,YuruiXue, HuidiYu, YuxinLiu, YanFang, ChengyuXing, Bolong Huang, YuliangLi
发表日期:July 10, 2019
论文摘要:The emergence of zerovalent atom catalysts has been highly attractive for catalytic science. For many years, scientists have explored the stability of zerovalent atom catalysts and demonstrated their unique properties. Here, we describe an atom catalyst (AC) with atomically dispersed zerovalent molybdenum atoms on graphdiyne (Mo0/GDY) with a high mass content of Mo atoms (up to 7.5 wt %) that was synthesized via a facile and scalable process. The catalyst shows both excellent selectivity and activity in the electrochemical reduction of nitrogen and in the hydrogen evolution reaction in aqueous solutions at room temperature and pressure. It is noted that this catalyst is the first bifunctional AC for highly efficient and selective ammonia and hydrogen generation. The catalytic process of our catalyst is well understood, the structure is defined, and the performance is excellent, providing a solid foundation for the generation and application of the new generation of catalysts.
发表期刊:Advanced Functional Materials
论文题目:Cancer Immunotherapy: Designing Bioinspired 2D MoSe2 Nanosheet for Efficient Photothermal‐Triggered Cancer Immunotherapy with Reprogramming Tumor‐Associated Macrophages
论文作者:Lizhen He, Tianqi Nie, Xiaojun Xia, Ting Liu, Yanyu Huang, Xiaojuan Wang, Tianfeng Chen
发表日期:July 25, 2019
论文摘要:In article number 1901240, Tianfeng Chen and co‐workers design bioinspired 2D MoSe nanosheets with high photothermal conversion efficiency to achieve efficient photothermal‐triggered cancer immunotherapy, by activating cytotoxic T lymphocytes, reprogramming tumor associated macrophages to a tumoricidal M1 phenotype, and inactivation of the PD‐1/PD‐L1 pathway to avoid immunologic escape.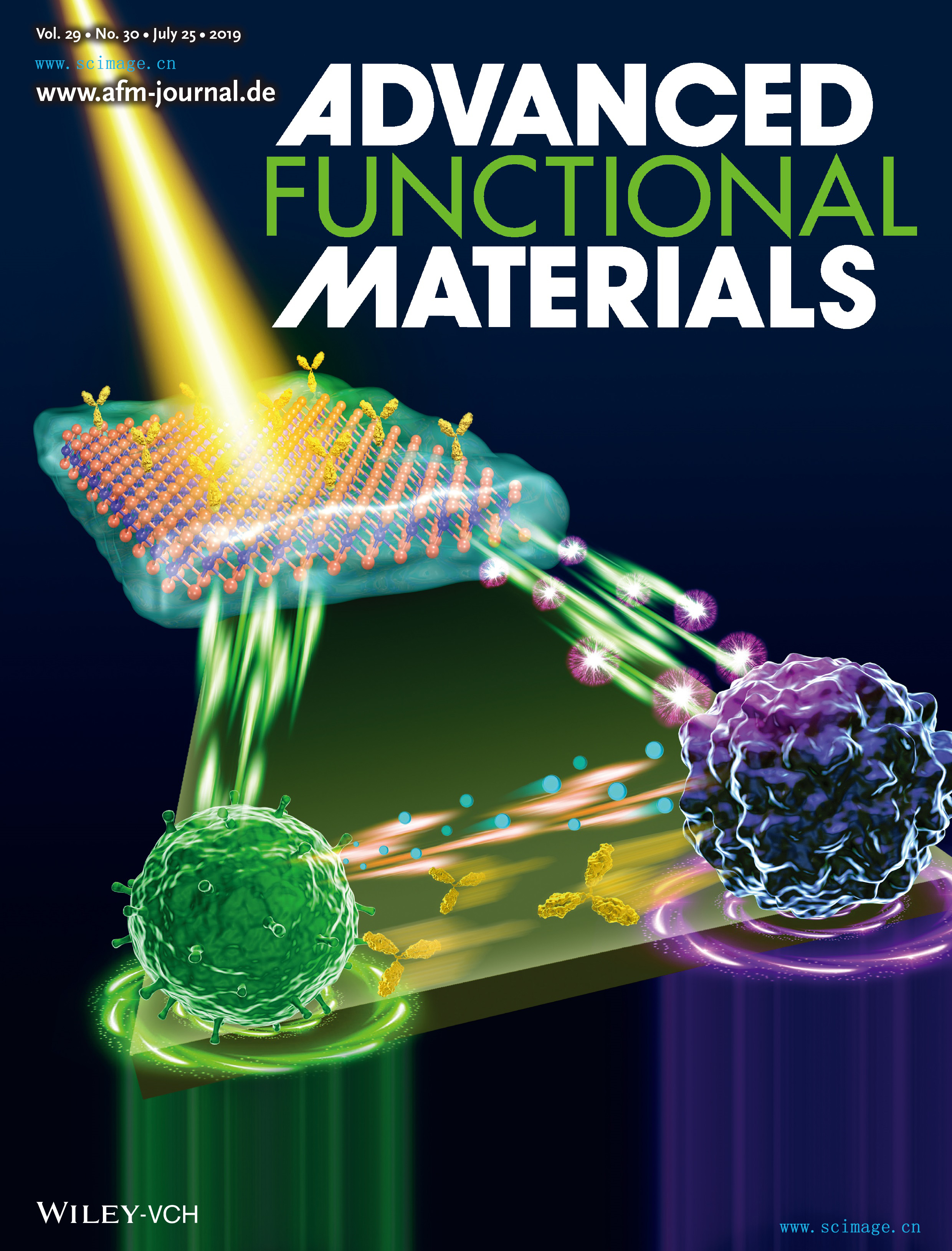 发表期刊:Advanced Intelligent Systems
论文题目:Intelligent Liquid Integrated Functional Entity: A Basic Way to Innovate Future Advanced Biomimetic Soft Robotics
论文作者:Tian-Ying Liu, Peng Qin, Jing Liu
发表日期:July , 2019
论文摘要:There exists a big gap in capabilities between modern robots and animals in nature. In article number1900017, Prof. Jing Liu and co‐workers conceived a generalized principle, termed as Intelligent Liquid Integrated Functional Entity (I‐LIFE), to innovate future biomimetic soft robots. This is based on considering that liquid is a most essential component for creatures to generate profound functions. The potentials of liquids to revolutionize robots from motion, energy, material tuning, sensing to intelligence aspects were expounded. This I‐LIFE sowed seeds for designing future ever‐advanced unconventional robots.
发表期刊:Small Methods
论文题目:Nanopore Formation via Tip‐Controlled Local Breakdown Using an Atomic Force Microscope
论文作者:Yuning Zhang, Yoichi Miyahara, Nassim Derriche, Wayne Yang, Khadija Yazda, Xavier Capaldi, Zezhou Liu, Peter Grutter, Walter Reisner
发表日期:July 10, 2019​
论文摘要:The dielectric breakdown approach for forming nanopores has greatly accelerated the pace of research in solid‐state nanopore sensing, enabling inexpensive formation of nanopores via a bench top setup. Here the potential of tip‐controlled local breakdown (TCLB) to fabricate pores 100× faster, with high scalability and nanometer positioning precision using an atomic force microscope (AFM) is demonstrated. A conductive AFM tip is brought into contact with a silicon nitride membrane positioned above an electrolyte reservoir. Application of a voltage pulse at the tip leads to the formation of a single nanoscale pore. Pores are formed precisely at the tip position with a complete suppression of multiple pore formation. In addition, the approach greatly accelerates the electric breakdown process, leading to an average pore fabrication time on the order of 10 ms, at least two orders of magnitude shorter than achieved by classic dielectric breakdown approaches. With this fast pore writing speed over 300 pores can be fabricated in half an hour on the same membrane.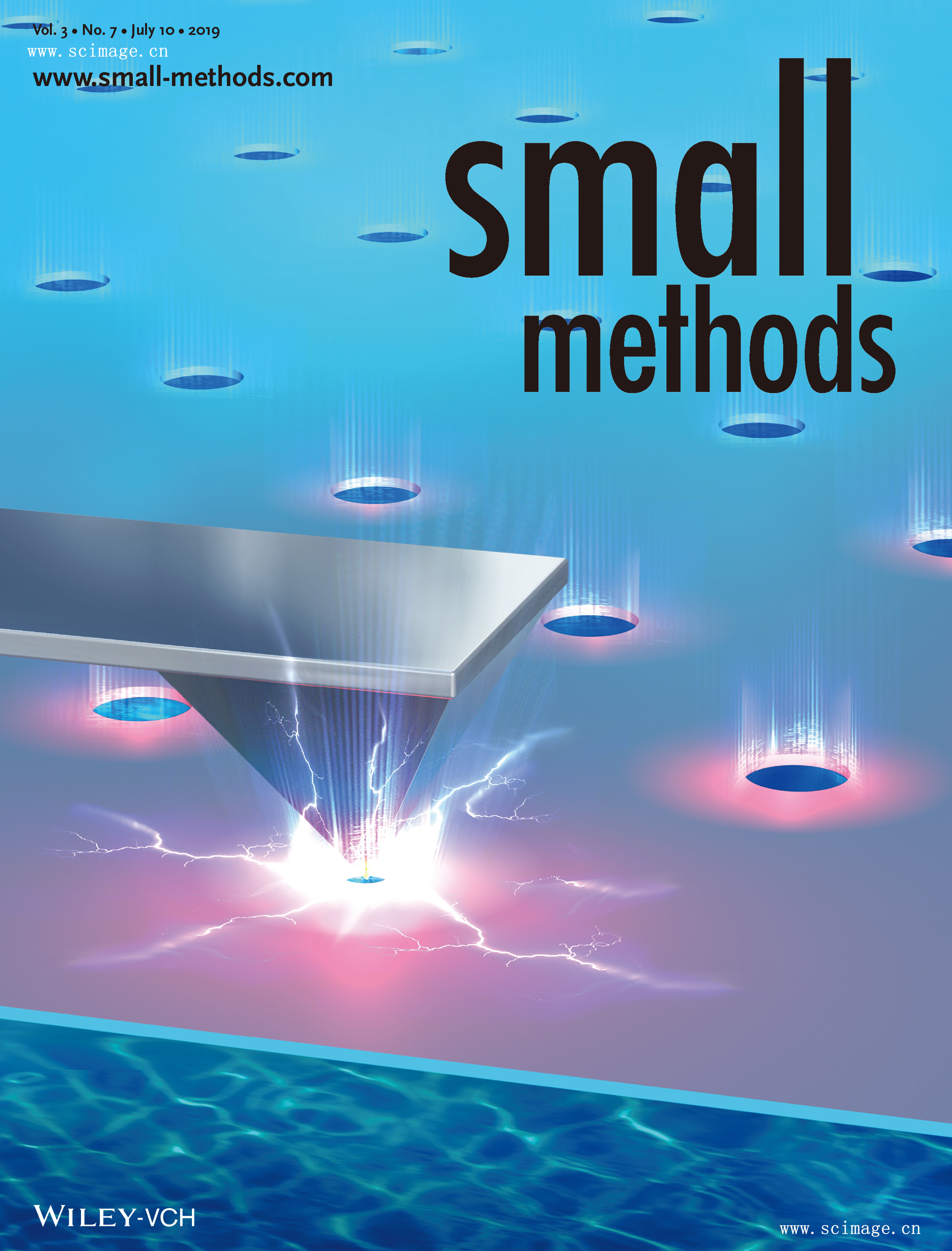 发表期刊:Advanced Materials
论文题目:Dual‐Phase Single‐Ion Pathway Interfaces for Robust Lithium Metal in Working Batteries
论文作者:Rui Xu,Ye Xiao,Rui Zhang,Xin‐Bing Cheng,Chen‐Zi Zhao,Xue‐Qiang Zhang,Chong Yan,Qiang Zhang,Jia‐Qi Huang
发表日期:May 10, 2019​
论文摘要:In article number 1808392, Jia‐Qi Huang and co‐workers develop a single‐ion‐conducting interface consisting of a dual‐layer architecture to protect lithium‐metal anodes. The artificial interface regulates a homogeneous ionic and electric field distribution and simultaneously brings a superior mechanical feature at the surface of the lithium‐metal anode, synergistically enabling a highly efficient cell performance in working lithium‐metal batteries.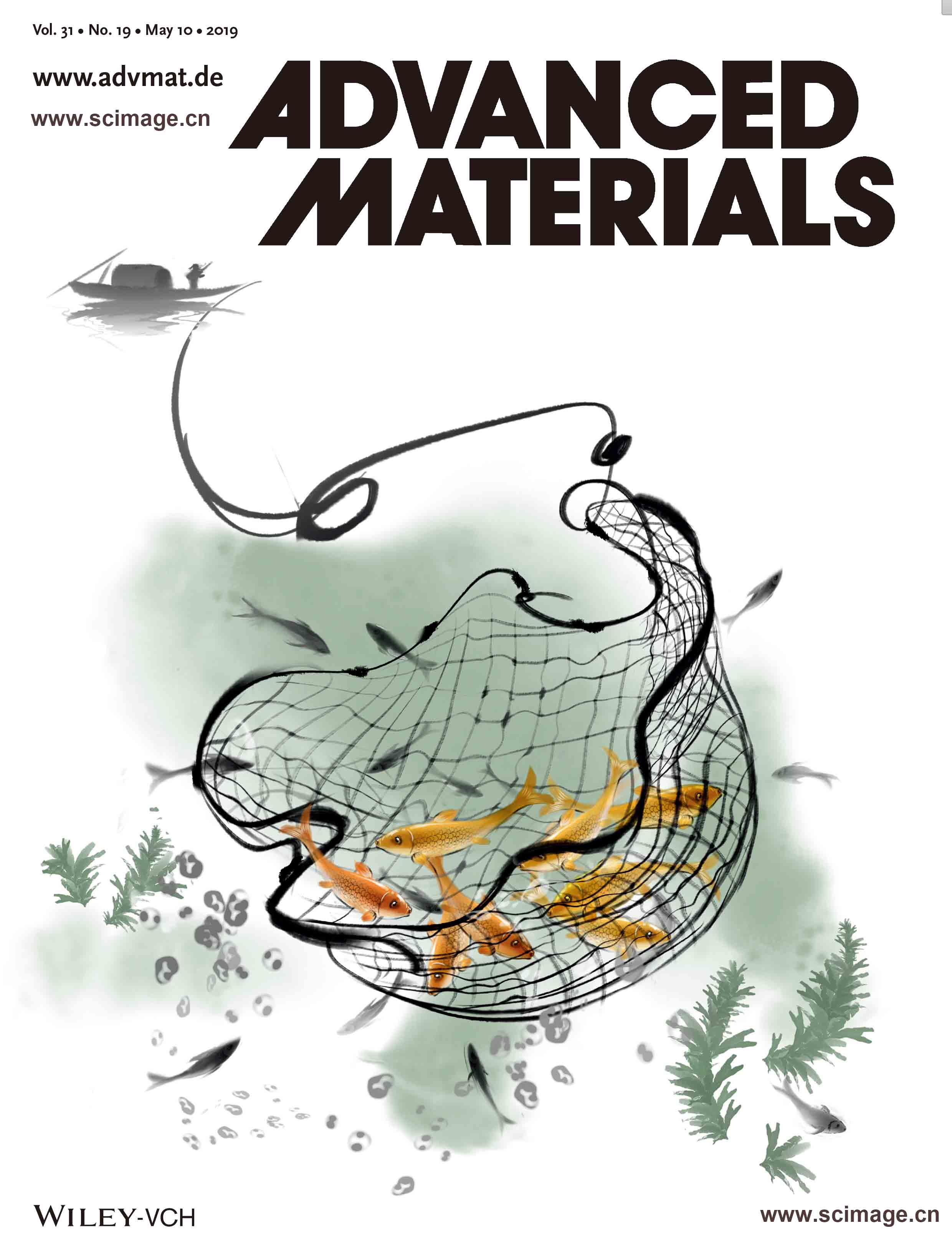 静远嘲风(SCimage)是专注于学术研究领域的艺术创作机构,用唯美的艺术诠释科研是嘲风的目标。公司主要提供论文封面设计、论文配图设计、科研动画开发设计及科研产品深度包装等服务;主要服务对象为中国科学院,中国军事科学院,中国医学科学院,中国农业科学院,以及国内外各大高校科研机构,科技型研发企业以及从事学术研究和高等教育的研究人员。静远嘲风,创立于2007年,以多学科背景为出发点,以独到的切入点深入探索科研领域的艺术表达方式,是国内科研可视化的资深践行者与领头羊,多年来为生物学、微生物学、化学、化工、医学、环境学等研究方向完成数千幅专业作品,协助上千名科研工作者完成封面论文发表。
http://wap.sciencenet.cn/blog-575129-1197456.html
上一篇:
2019年6月嘲风作品集
下一篇:
2019年8月嘲风作品集(一)