发表期刊:Advanced Functional Materials
论文题目:Actuators: Graphene‐Based Actuator with Integrated‐Sensing Function
论文作者:Luzhuo Chen, Mingcen Weng, Peidi Zhou, Feng Huang, Changhong Liu, Shoushan Fan, Wei Zhang
发表日期: 29 January 2019
论文摘要:Most of conventional actuators have only actuation functions, lacking in real‐time sensing signal feedback. In article number 1806057, Luzhuo Chen and co‐workers report a graphene‐based actuator with integrated‐sensing functions. The robot hand based on the actuator can not only manipulate an object, but also sense every actuation state. This work will open new application fields in integrated‐multifunctional devices.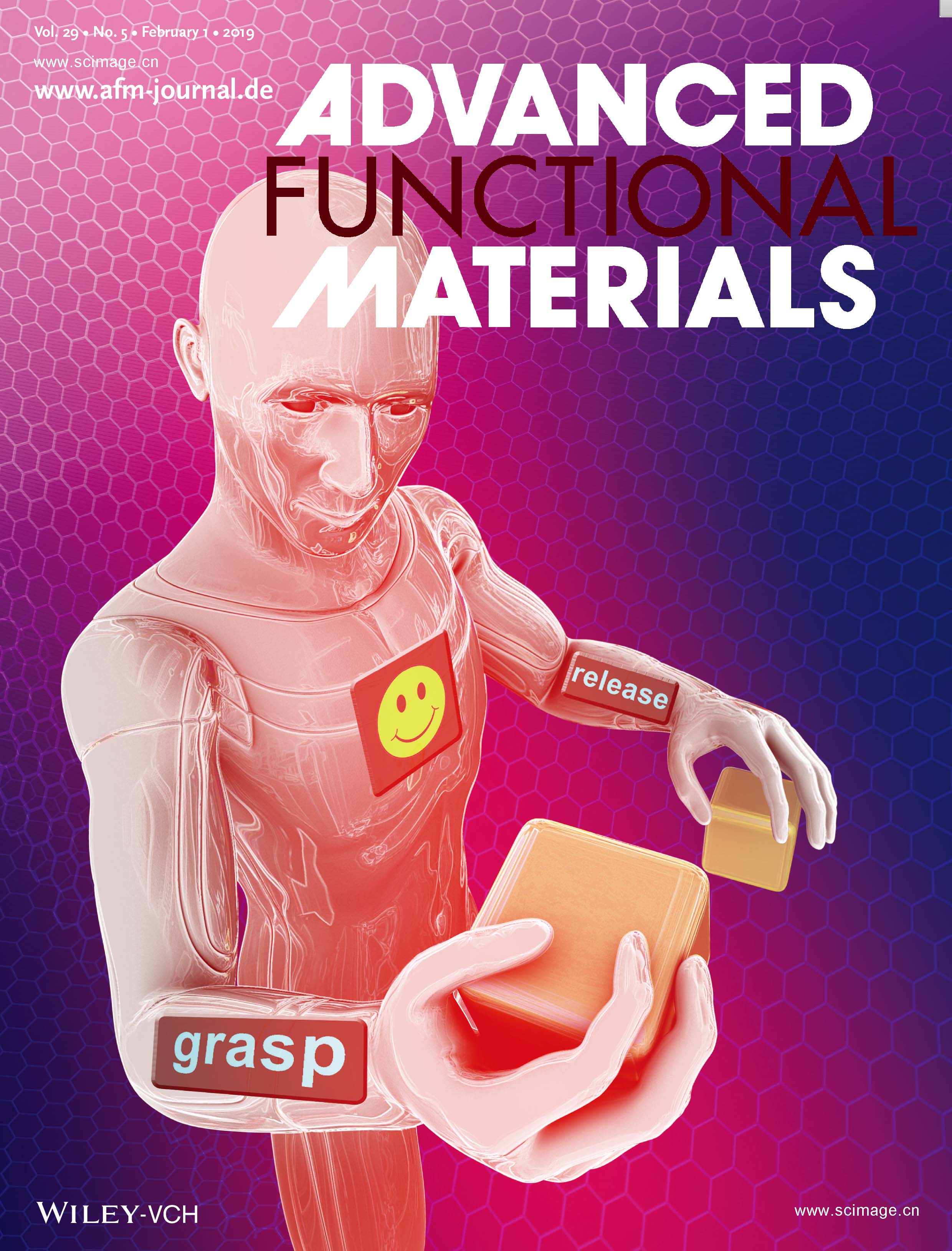 发表期刊:Advanced Energy Materials
论文题目:Lithium‐Ion Batteries: Interweaving 3D Network Binder for High‐Areal‐Capacity Si Anode through Combined Hard and Soft Polymers
论文作者:Tiefeng Liu, Qiaoling Chu, Cheng Yan, Shanqing Zhang, Zhan Lin, Jun Lu
发表日期: 17 January 2019
论文摘要:In article number 1802645, Zhan Lin, Jun Lu and co‐workers propose a universal strategy for interweaving hard and soft polymers to construct 3D network binders to enable high areal capacities with excellent cyclability in lithium‐ion batteries. Elastic modules accommodate the volume variation of Si particles while stiff modules offer mechanically strong electrode frameworks. This strategy can provide a new principle in designing robust binder for high‐energy‐density lithium‐ion batteries.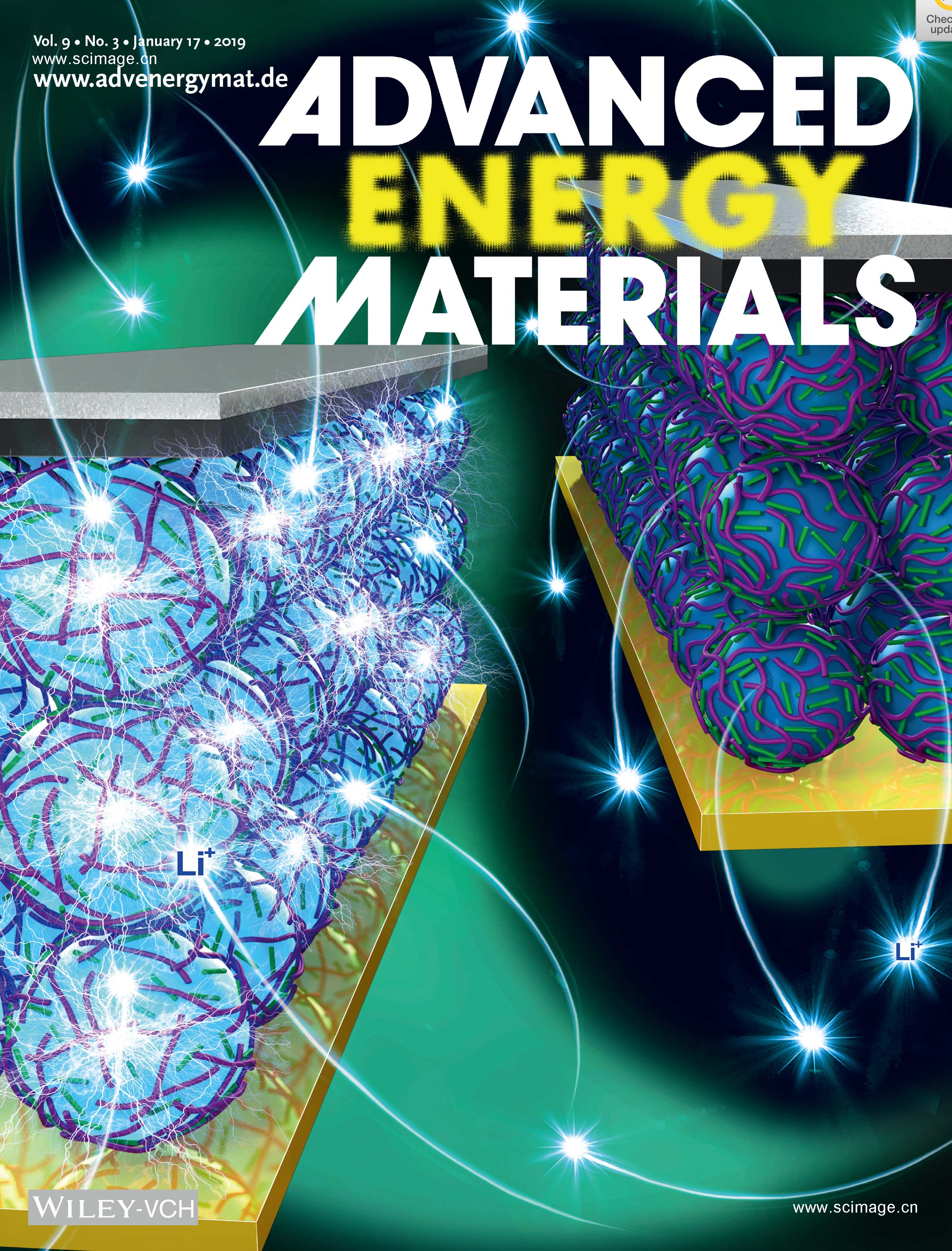 发表期刊:Advanced Materials
论文题目:Metallic Glass Nanostructures: Recent Advances in Metallic Glass Nanostructures: Synthesis Strategies and Electrocatalytic Applications
论文作者:Jinyang Li, Gustavo Doubek, Lyndsey McMillon‐Brown, André D. Taylor
发表日期:12 February 2019
论文摘要:In article number 1802120, André D. Taylor and co‐workers review the recent progress and new perspectives in the development of metallic glass nanostructures (MGNs) for electrocatalytic reactions. Besides calling upon collaborations between studies on metallic glass and amorphous alloys, insightful synthesis and design strategies for distinct electrocatalytic applications are covered, thus offering optimal guidance to design high‐performance electrocatalysts with MGNs.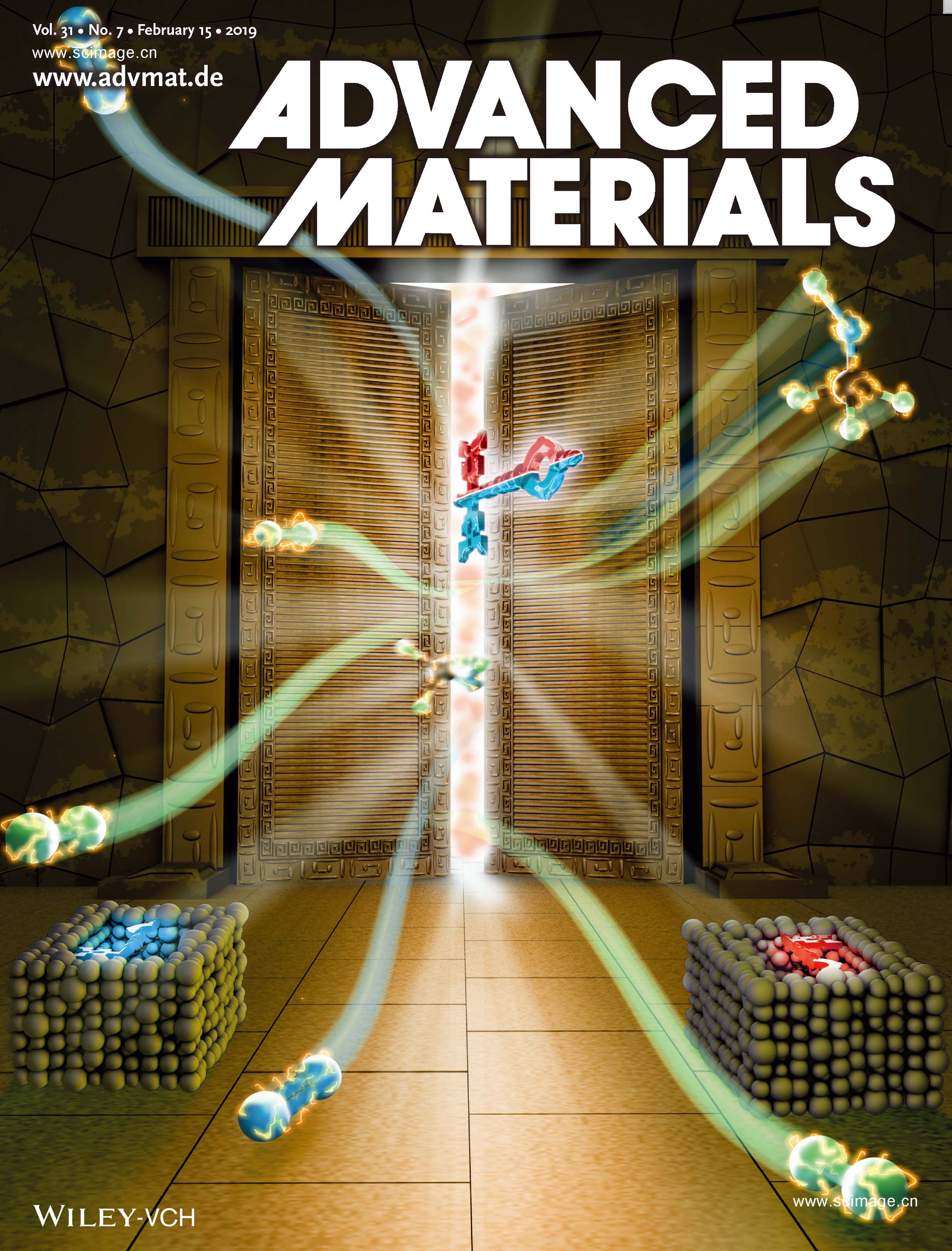 发表期刊:Small
论文题目:Drug Delivery Vectors: Neoadjuvant Chemotherapy Based on Abraxane/Human Neutrophils Cytopharmaceuticals with Radiotherapy for Gastric Cancer
论文作者:Caoyun Ju, Yajing Wen, Luping Zhang, Qianqian Wang, Lingjing Xue, Jian Shen, Can Zhang
发表日期: 01 February 2019
论文摘要:Kuafu Chasing the Sun is a famous mythology story in China. Kuafu wished to capture the sun and he never ever gave up on that goal. In article number 1804191, Can Zhang and co‐workers use human neutrophils cyto‐pharmaceuticals to chase radiation just as Kuafu runs after the sun, to achieve the collaborative treatment of gastric cancer.
发表期刊:Small
论文题目:Nanopore Sensing: Enhanced Sensitivity in Nanopore Sensing of Cancer Biomarkers in Human Blood via Click Chemistry
论文作者:Zehui Zhang, Ting Li, Yingying Sheng, Lei Liu, Hai‐Chen Wu
发表日期:11 January 2019
论文摘要:In article number 1804078, Hai‐Chen Wu and co‐workers develop a strategy for the ultrasensitive detection of cancer biomarkers based on the combination of a sandwich assay, "click" chemistry, and DNA‐assisted nanopore sensing. The limit of detection of the strategy can be as low as the femtomolar level. Furthermore, it can effectively eliminate interferences from plasma proteins and be applied in the clinical detection of cancer biomarkers.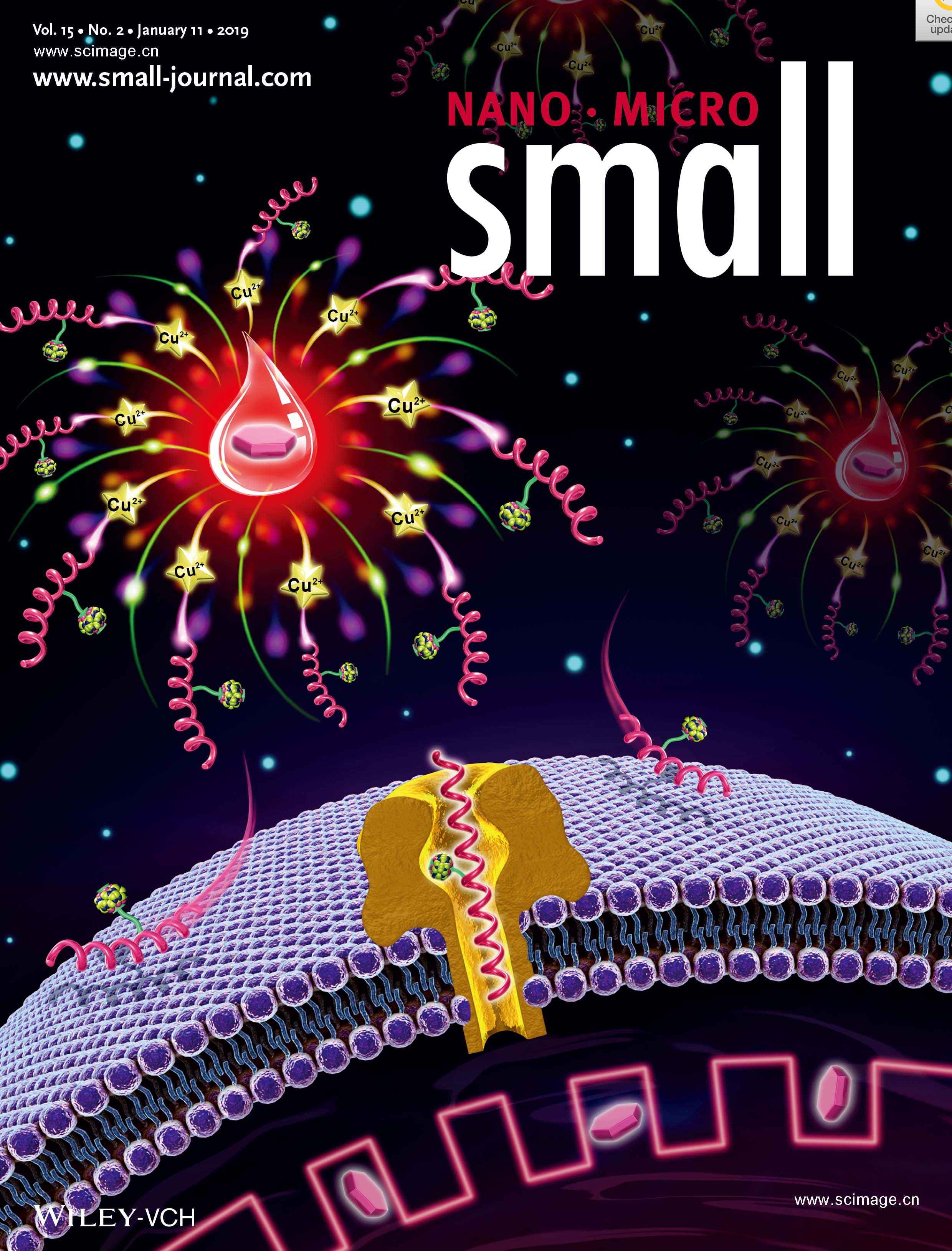 发表期刊:Nano Letters
论文题目:Nanoparticle Ligand Exchange and Its Effects at the Nanoparticle–Cell Membrane Interface
论文作者:Xinyi Wang, Xiaofeng Wang, Xuan Bai, Liang Yan, Tao Liu, Mingzhe Wang, Youtao Song, Guoqing Hu, Zhanjun Gu, Qing Miao, and Chunying Chen
发表日期:January 9, 2019
论文摘要:The nanoparticle?cell membrane interface is one of the most important interactions determining the fate of nanoparticles, which can stimulate a series of biological events. Importantly, we found that, depending on the adsorption affinity and size of ligand molecules, physisorbed ligands on the surface of NPs can be exchanged with lipid molecules. The nanoparticle ligand exchange at the nanoparticle?cell membrane interface would subsequently affect cellular uptake and responses.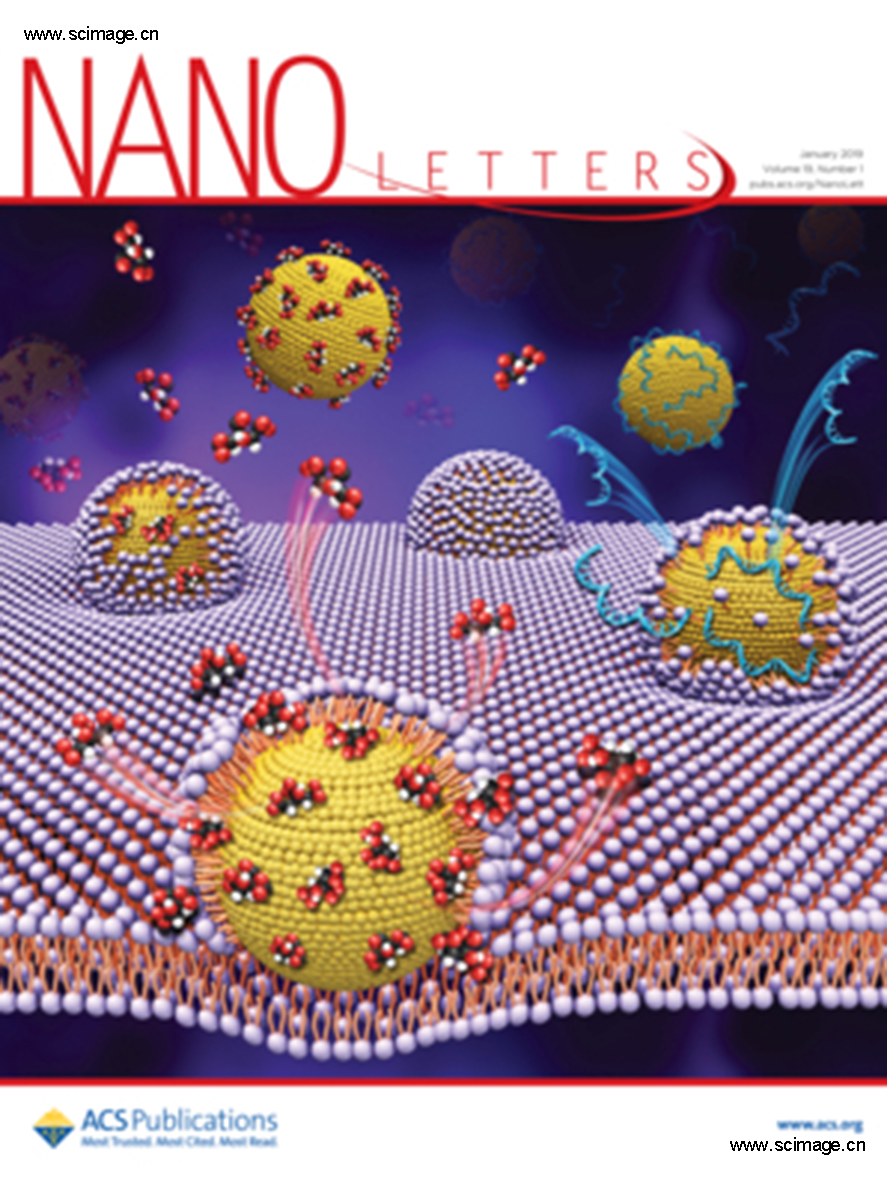 发表期刊:Langmuir
论文题目:Quantitative Criterion to Predict Cell Adhesion by Identifying Dominant Interaction between Microorganisms and Abiotic Surfaces
论文作者:Hao Yuan, Xinru Zhang, Zeyi Jiang, Xuehui Chen, and Xinxin Zhang
发表日期:March 5, 2019
论文摘要:The images show the dominant interaction in cell adhesion could be identified as either Lewis acid‒base (AB) interaction or electrostatic (EL) interaction with a proposed criterion. When dominated by AB interaction, adhesion would decrease with increasing (γ-‒mv)1/2 + (γ-‒sv)1/2. When the EL interaction was dominant, adhesion would decrease with increasing (ςm + ςs)2.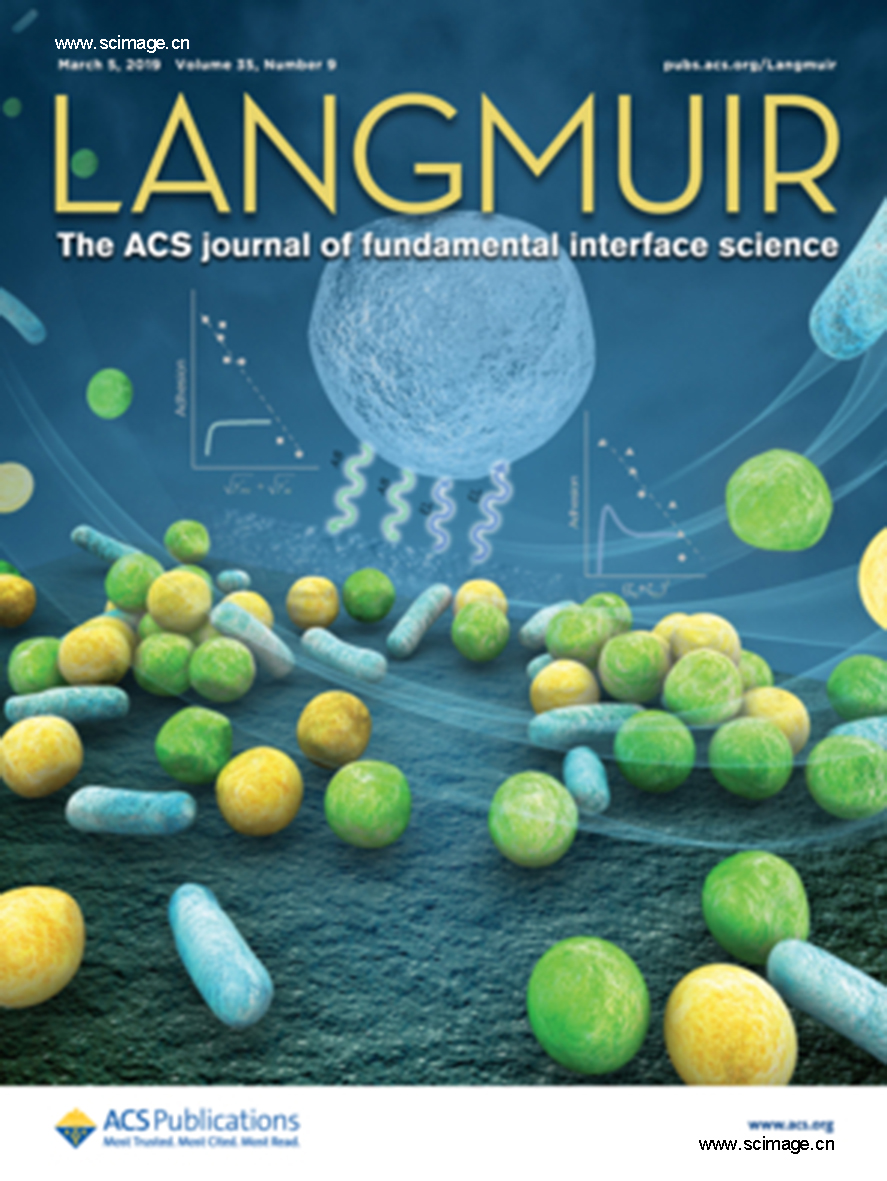 发表期刊:Nano Letters
论文题目:Nanocomposites Inhibit the Formation, Mitigate the Neurotoxicity, and Facilitate the Removal of β-Amyloid Aggregates in Alzheimer's Disease Mice
论文作者:Yu Zhao, Jinquan Cai, Zichen Liu, Yansheng Li, Chunxiong Zheng, Yadan Zheng, Qun Chen, Hongyun Chen, Feihe Ma, Yingli An, Lehui Xiao, Chuanlu Jiang, Linqi Shi, Chunsheng Kang, and Yang Liu
发表日期:February 13, 2019
论文摘要:A novel design of nanocomposites that could attenuate the Aβ-induced neuron damage, regain the capability of the endocranial microglia to phagocytose Aβ, and eventually protect hippocampal neurons against apoptosis via forming the Aβ/nanocomposite coassembled nanoclusters instead of toxic Aβ oligomers.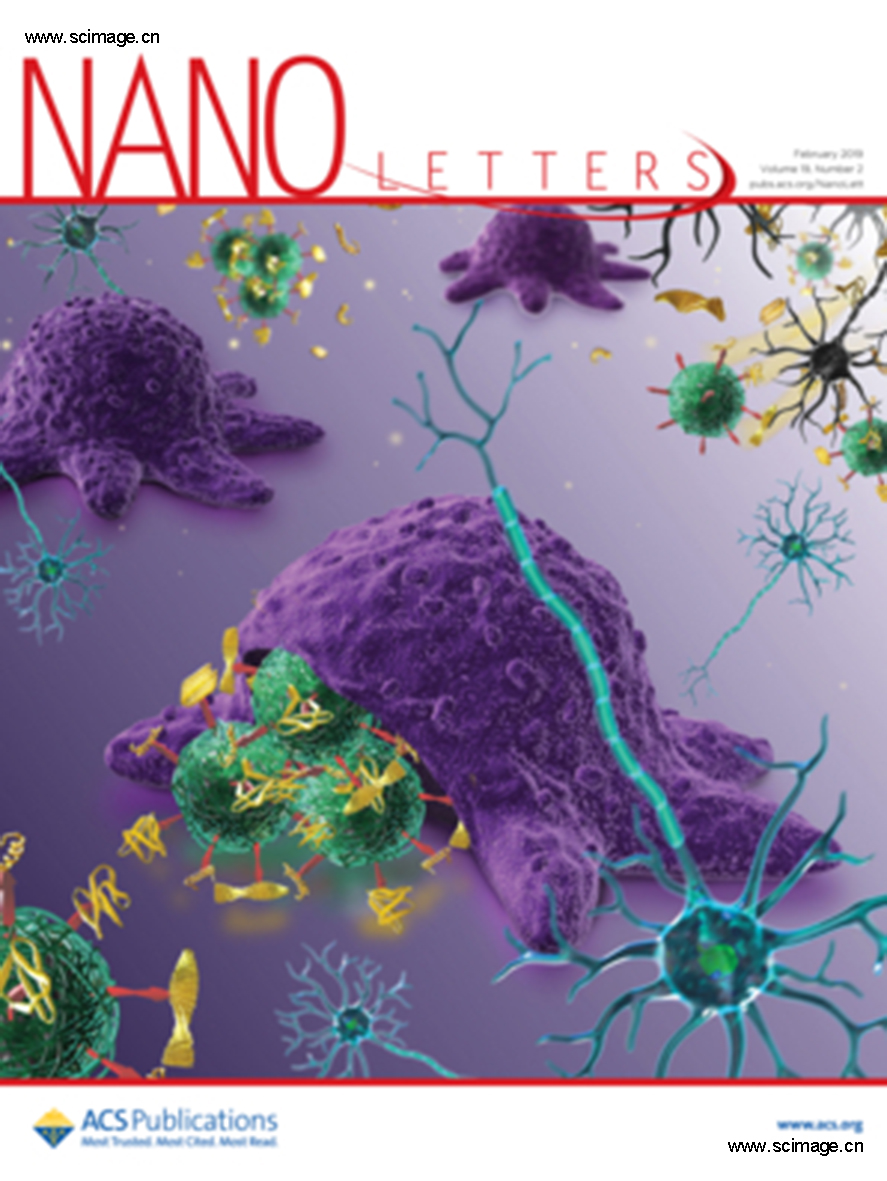 发表期刊:ACCOUNTS
论文题目:Materials, Structures, and Functions for Flexible and Stretchable Biomimetic Sensors
论文作者:Tie Li, Yue Li, and Ting Zhang
发表日期:February 19, 2019
论文摘要:In this Account, to showcase a summary of recent research advances about the flexible and stretchable biomimetic sensors, we present classes of sensing materials, microstructural architecture, and device applications covering several critical aspects of flexible and stretchable biomimetic sensor technology.
发表期刊:Materials
论文题目:Functional molecular electronic devices through environmental
论文作者:Dingkai Su, Chunhui Gu, Xuefeng Guo
发表日期:1-7(2019)
论文摘要:A single-molecule electronic device is generally formed by integrating a single molecule into nanogapped source-drain electrodes. Through environmental control, the device can be functionally modified. This figure shows a schematic of a typical single-molecular electronic device, where the response of the molecular electronic structure to an external stimulus, such as light, chemical reagent, electric field and magnetic field, can be transformed into the molecular conductance that can be recorded and visualized in real time with single-event sensitivity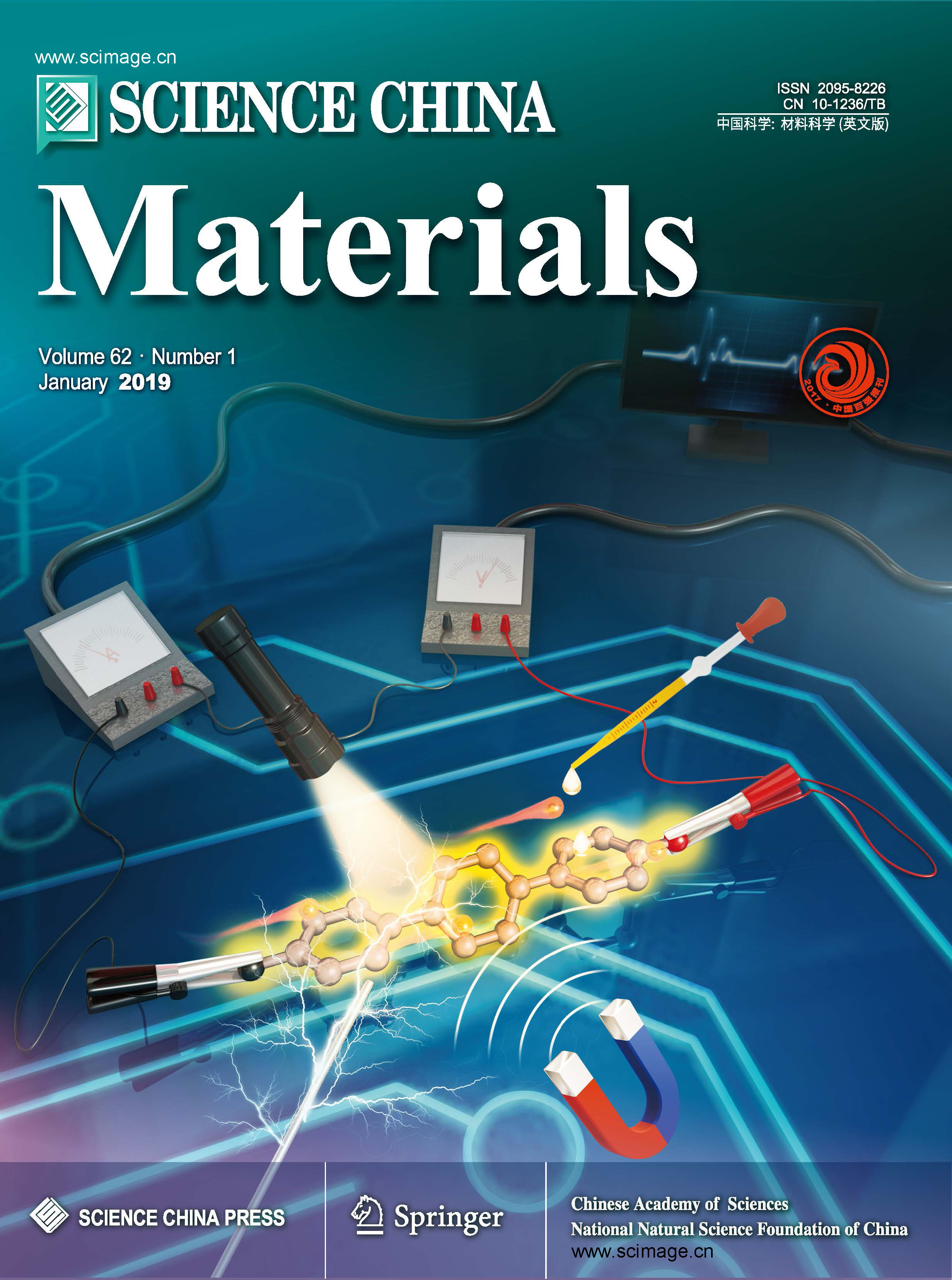 发表期刊:Materials
论文题目:Isomerization and rearrangement of boriranes: from chemical rarities to functional materials
论文作者:Soren K. Mellerup, Suning Wang
发表日期:2018
论文摘要:Nanohybrids of carbon dots (CDs)/MnO2-PEG with pH/H2O2-responsivity were synthesized via the redox reaction between the CDs and KMnO4 followed by PEGylation. The as-prepared nanohybrids exhibit synchronously enhanced fluorescence, singlet oxygen generation, and MRI signal in the tumor microenvironment, while changing to "off state" in the normal physiological environment. In vitro and in vivo analyses reveal that the low-toxic CDs/MnO2-PEG nanohybrids can be applied as pH/H2O2-driven nanotheranostics for the concurrent bimodal MR/FL imaging-guided oxygen-elevated photodynamic therapy (PDT) of cancer. This work offers a new nanotheranostic candidate for modulating the unfavorable tumor microenvironment,particularly for the tumor-targeted PDT through precise positioning and oxygen generation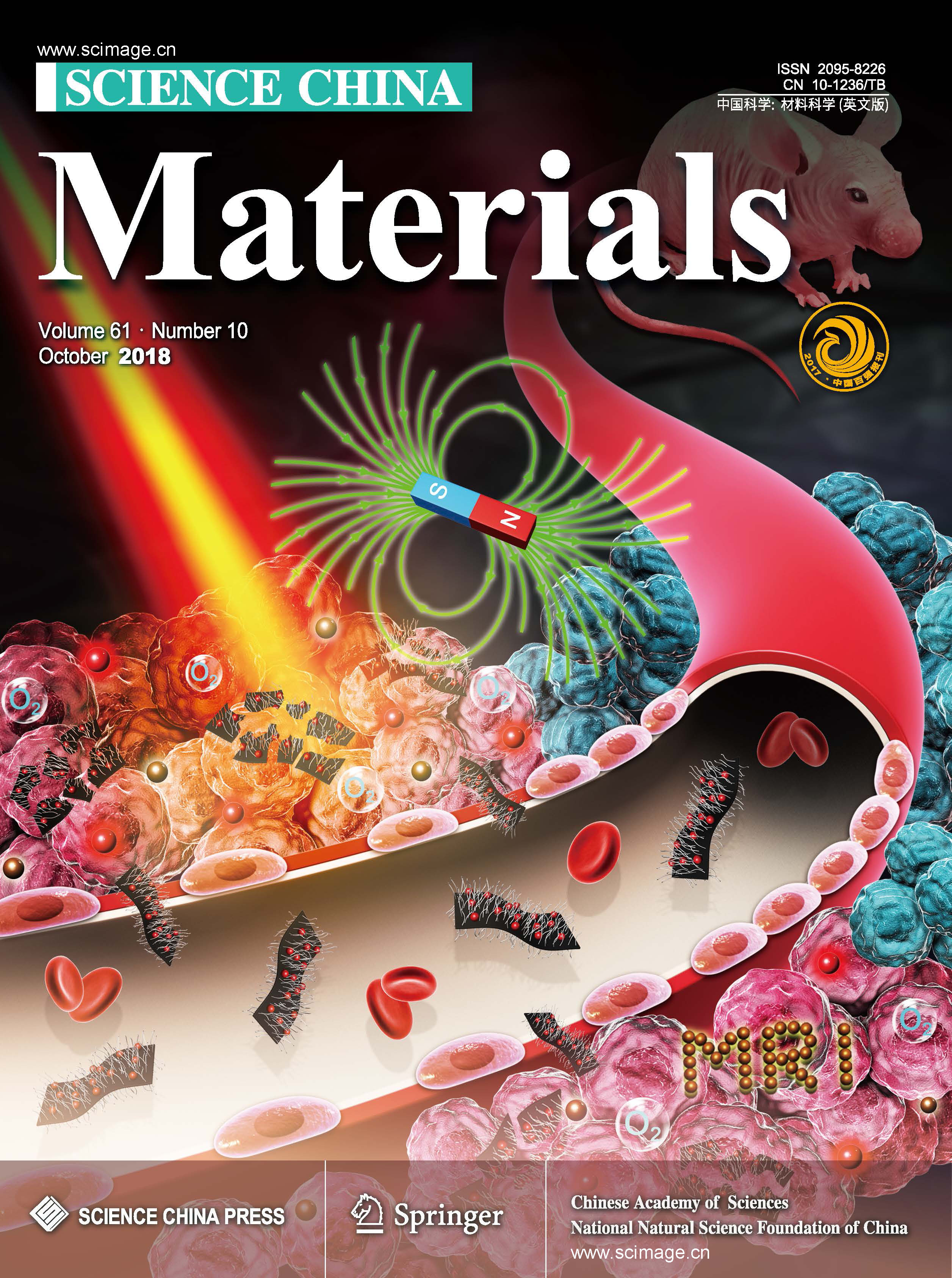 发表期刊:JACS
论文题目:Pressure-Engineered Structural and Optical Properties of Two-Dimensional (C4H9NH3)2PbI4 Perovskite Exfoliated nm-Thin Flakes
论文作者:Tingting Yin, Bo Liu, Jiaxu Yan, Yanan Fang, Minghua Chen, Wee Kiang Chong, Shaojie Jiang, Jer-Lai Kuo, Jiye Fang, Pei Liang, Shuhuai Wei, Kian Ping Loh, Tze Chien Sum, Timothy J. White, and Ze Xiang Shen
发表日期:January 23, 2019
论文摘要:High pressure is an effective tool to provide insights into structure-property correlations from the atomic level for optimizing functional properties. Here, the band gap narrowing of ~370 meV to 2.01 eV at 5.3 GPa is achieved in two-dimensional (C4H9NH3)2PbI4 perovskite thin flakes for superior solar absorbers.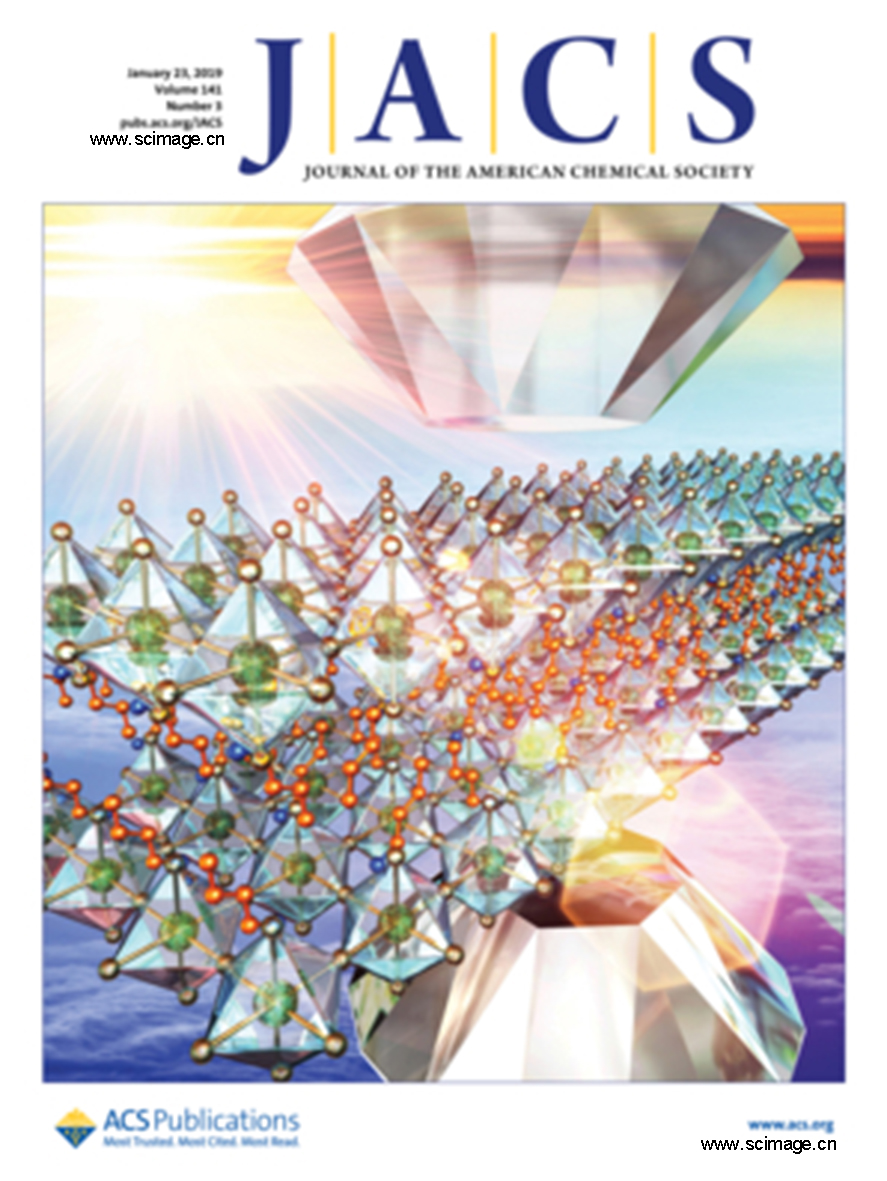 静远嘲风(SCimage)是专注于学术研究领域的艺术创作机构,用唯美的艺术诠释科研是嘲风的目标。公司主要提供论文封面设计、论文配图设计、科研动画开发设计及科研产品深度包装等服务;主要服务对象为中国科学院,中国军事科学院,中国医学科学院,中国农业科学院,以及国内外各大高校科研机构,科技型研发企业以及从事学术研究和高等教育的研究人员。静远嘲风,创立于2007年,以多学科背景为出发点,以独到的切入点深入探索科研领域的艺术表达方式,是国内科研可视化的资深践行者与领头羊,多年来为生物学、微生物学、化学、化工、医学、环境学等研究方向完成数千幅专业作品,协助上千名科研工作者完成封面论文发表。

http://wap.sciencenet.cn/blog-575129-1169051.html
上一篇:
2018年12月嘲风作品集(二)
下一篇:
2019年3月嘲风作品集