发表期刊:Chemistry of Materials

论文题目:Three-Dimensional Printable, Extremely Soft, Stretchable, and Reversible Elastomers from Molecular Architecture-Directed Assembly
论文作者:Shifeng Nian, Jinchang Zhu, Haozhe Zhang, Zihao Gong, Guillaume Freychet, Mikhail Zhernenkov, Baoxing Xu, Li-Heng Cai
发表日期:April 13, 2021
论文摘要:3D printing elastomers enables the fabrication of many technologically important structures and devices such as tissue scaffolds, sensors, actuators, and soft robots. However, conventional 3D printable elastomers are intrinsically stiff; moreover, the process of printing often requires external mechanical support and/or post-treatment. Here, we exploit the self-assembly of a responsive linear-bottlebrush-linear triblock copolymer to create stimuli-reversible, extremely soft, and stretchable elastomers and demonstrate their applicability as inks for in situ direct-write printing 3D structures without the aid of external mechanical support or post-treatment. By developing a procedure for controlled synthesis of such architecturally designed block copolymers, we create elastomers with extensibility up to 600% and Young's moduli down to ~102 Pa, 106 times softer than plastics and more than 102 times softer than all existing 3D printable elastomers. Moreover, the elastomers are thermostable and remain to be solid up to 180 °C, yet they are 100% solvent-reprocessable. Their extreme softness, stretchability, thermostability, and solvent-reprocessability bode well for future applications.
发表期刊:ACS Nano

论文题目:Monochromatic Carbon Nanotube Tangles Grown by Microfluidic Switching between Chaos and Fractals
论文作者:Zhenxing Zhu, Nan Wei, Bowen Yan, Boyuan Shen, Jun Gao, Silei Sun, Huanhuan Xie, Hao Xiong, Chenxi Zhang, Rufan Zhang, Weizhong Qian, Song Fu, Lianmao Peng, Fei Wei
发表日期:March 23, 2021
论文摘要:The nature of chaos is in that elusive flow that is an advanced order out of our vision. It is wise to take advantage of chaos after recognizing or modifying its unique fractal properties. Here, a magnetron weaving strategy was developed for producing chaotic but monochromatic carbon nanotube tangles (CNT-Ts) under Kelvin–Helmholtz instability (KHI). The self-similarity characteristic facilitated individual ultralong CNTs to manipulate their entropy-driven fractal geometry, resulting in ~104 μm2 CNT-Ts with variable curvature radius. In addition, based on the rate-selected mechanism, 85% metallic and ~100% semiconducting CNT-Ts were synthesized and separated simultaneously at different length positions. After ex situ modifying their fractal into aligned CNTs with hydrogel, these CNT-Ts delivered a current of 10 μA μm–1 in transistors with an on/off ratio >107. It has provided the third route as a paradigm of applying one-dimensional nanomaterials by switching between chaos and fractal, in parallel with that of direct synthesis and postseparation.​
发表期刊:Environmental Science & Technology

论文题目:Enzymatic Cleaning Mitigates Polysaccharide-Induced Refouling of RO Membrane: Evidence from Foulant Layer Structure and Microbial Dynamics
论文作者:Yufang Li, Han Wang, Shu Wang, Kang Xiao, Xia Huang
发表日期:April 20, 2021
论文摘要:Traditional harsh chemical cleaning-in-place (CIP) is corrosive to membranes but has limited inhibition on refouling, a tough problem for long-term operation of reverse osmosis (RO). Mild enzymatic cleaning (at pH 9) is a promising alternative but lacks long-term verification and insightful elucidation. In this study, we investigated the instantaneous efficiency, postcleaning refouling, and biological effect of enzymatic CIP (compounded with lipase, protease, and sodium dodecyl sulfate) on practical RO membranes during a 500 h multicycle operation. The enzymatic CIP had an average cleaning efficiency of 77%, which is comparable to a commercial harsh CIP benchmark (pH > 12). It mitigated refouling by shaping the biofilm into a loose and porous architecture where newly arrived organics conformed standard blocking, whereas harsh chemicals rendered a smooth and dense gel layer with quick refouling in intermediate blocking or cake filtration mode. Such structural disparities were dominated by polysaccharides according to quantitative chemical analyses. Gene sequencing and ecological network analysis further proved that the behavior of polysaccharide-related keystone species (such as Sphingomonas and Xanthomonas) significantly changed after long-term enzymatic treatment. In this regard, the mild selective pressure of enzymatic reagents can directionally regulate microbial dynamics, alter foulant layer structure via bio-organic synchronicity, mitigate refouling, and eventually improve the sustainability of RO operation.
发表期刊:Nano Letters

论文题目:Nonlinear Sensing with Whispering-Gallery Mode Microcavities: From Label-Free Detection to Spectral Fingerprinting
论文作者:Wenjing Liu, You-Ling Chen, Shui-Jing Tang, Frank Vollmer, Yun-Feng Xiao
发表日期:February 24, 2020
论文摘要:Optical microresonators have attracted intense interests in highly sensitive molecular detection and optical precision measurement in the past decades. In particular, the combination of a high quality factor with a small mode volume significantly enhances the nonlinear light–matter interaction in whispering-gallery mode (WGM) microresonators, which greatly boost nonlinear optical sensing applications. Nonlinear WGM microsensors not only allow for label-free detection of molecules with an ultrahigh sensitivity but also support new functionalities in sensing such as the specific spectral fingerprinting of molecules with frequency conversion involved. Here, we review the mechanisms, sensing modalities, and recent progresses of nonlinear optical sensors along with a brief outlook on the possible future research directions of this rapidly advancing field.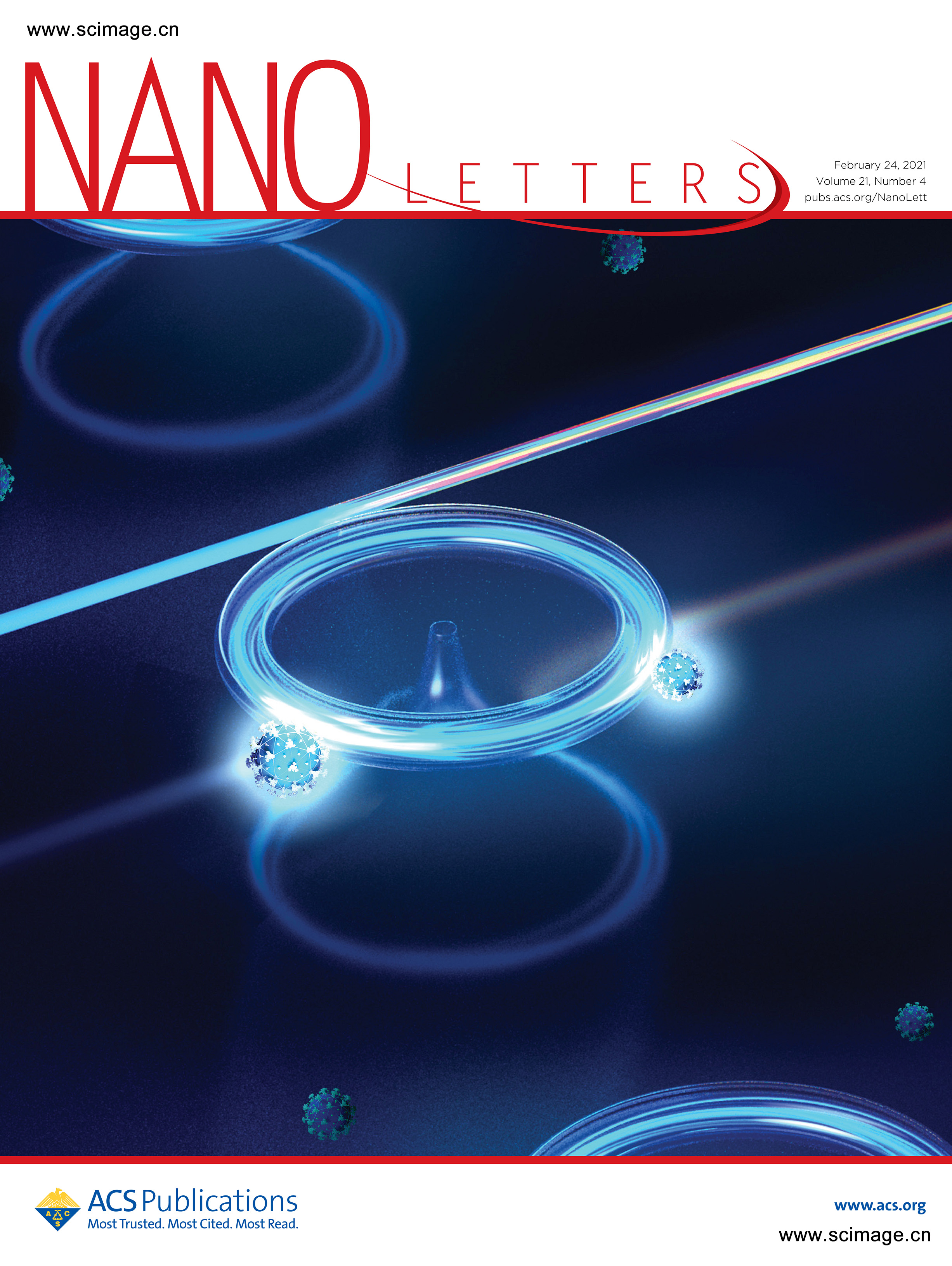 发表期刊:Advanced Materials

论文题目:Silicon Anodes: Recent Advances in Silicon‐Based Electrodes: From Fundamental Research toward Practical Applications
论文作者:Mingzheng Ge, Chunyan Cao, Gill M. Biesold, Christopher D. Sewell, Shu‐Meng Hao, Jianying Huang, Wei Zhang, Yuekun Lai, Zhiqun Lin
发表日期:April 22, 2021
论文摘要:In article number 2004577, Jianying Huang, Yuekun Lai, Zhiqun Lin, and co‐workers review silicon anodes for next‐generation energy‐storage devices and outline some potential solutions to solve the critical challenges regarding the huge volume changes, unstable solid‐electrolyte‐interface growth, safety issues, etc, for their practical applications in electric vehicles/hybrid electric vehicles.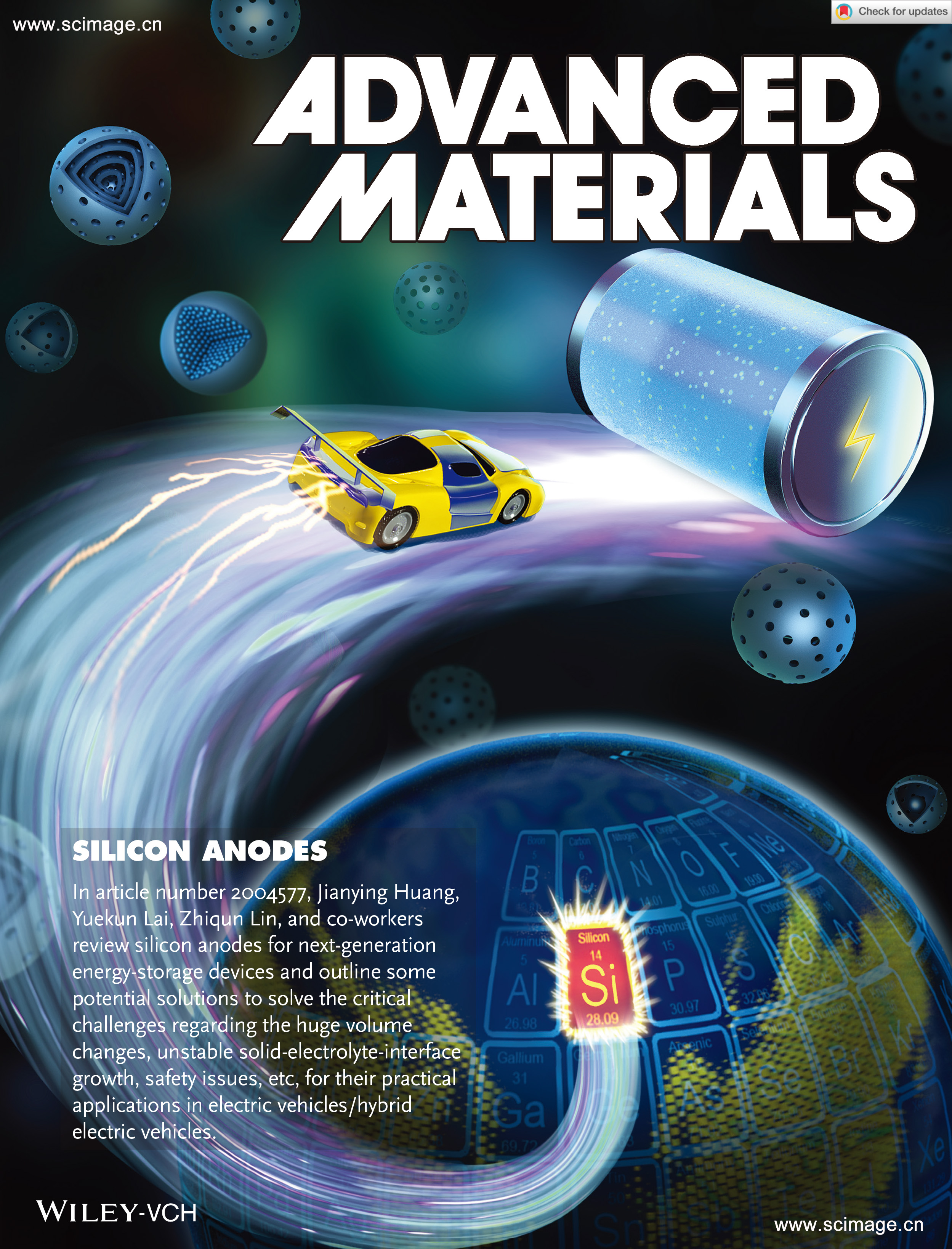 静远嘲风(SCimage)是专注于学术研究领域的艺术创作机构,用唯美的艺术诠释科研是嘲风的目标。公司主要提供论文封面设计、论文配图设计、科研动画开发设计及科研产品深度包装等服务;主要服务对象为中国科学院,中国军事科学院,中国医学科学院,中国农业科学院,以及国内外各大高校科研机构,科技型研发企业以及从事学术研究和高等教育的研究人员。静远嘲风,创立于2007年,以多学科背景为出发点,以独到的切入点深入探索科研领域的艺术表达方式,是国内科研可视化的资深践行者与领头羊,多年来为生物学、微生物学、化学、化工、医学、环境学等研究方向完成数千幅专业作品,协助上千名科研工作者完成封面论文发表。
http://wap.sciencenet.cn/blog-575129-1287639.html
上一篇:
2021年3月嘲风作品集(一)
下一篇:
2021年4月嘲风作品集(一)