发表期刊:Advanced Functional Materials

论文题目:Microneedle Patch Delivery of Capsaicin‐Containing α‐Lactalbumin Nanomicelles to Adipocytes Achieves Potent Anti‐Obesity Effects
论文作者:Cheng Bao, Zekun Li, Shuang Liang, Yulin Hu, Xiaoyu Wang, Bing Fang, Pengjie Wang, Shanan Chen, Yuan Li
发表日期:February 19, 2021
论文摘要:The development of a minimally invasive therapy for local targeting of adipose tissues could represent an attractive approach for treating obesity. Here, the development and successful application of a nanomedicine that uses α‐lactalbumin (α‐lac) nanomicelles (M) to encapsulate the known anti‐obesity agent capsaicin (Cap), which is delivered directly to adipose tissue via a microneedle patch (MP), is reported. Testing with a 3T3‐L1 adipocyte model shows that M (Cap) reduces lipid droplet content by regulating adipogenesis and improving mitochondrial biogenesis. The MP enables efficient M (Cap) penetration into abdominal subcutaneous adipose tissue, and M (Cap) can be endocytosed by white adipocytes. Experiments using a high fat diet‐induced obese mice model shows that MP‐delivered M (Cap) confers dramatic weight loss and adipose tissue browning, and follow‐up mechanistic investigations indicate (among other impacts) activated energy metabolism, increased mitochondrial biogenesis, and the induction of well‐known adipocyte browning markers. The study supports that MP‐M (Cap) treatment, which could be developed as a self‐administered therapy based on skin attachment for around 30 min, has a promising future as a non‐invasive approach for treating obesity.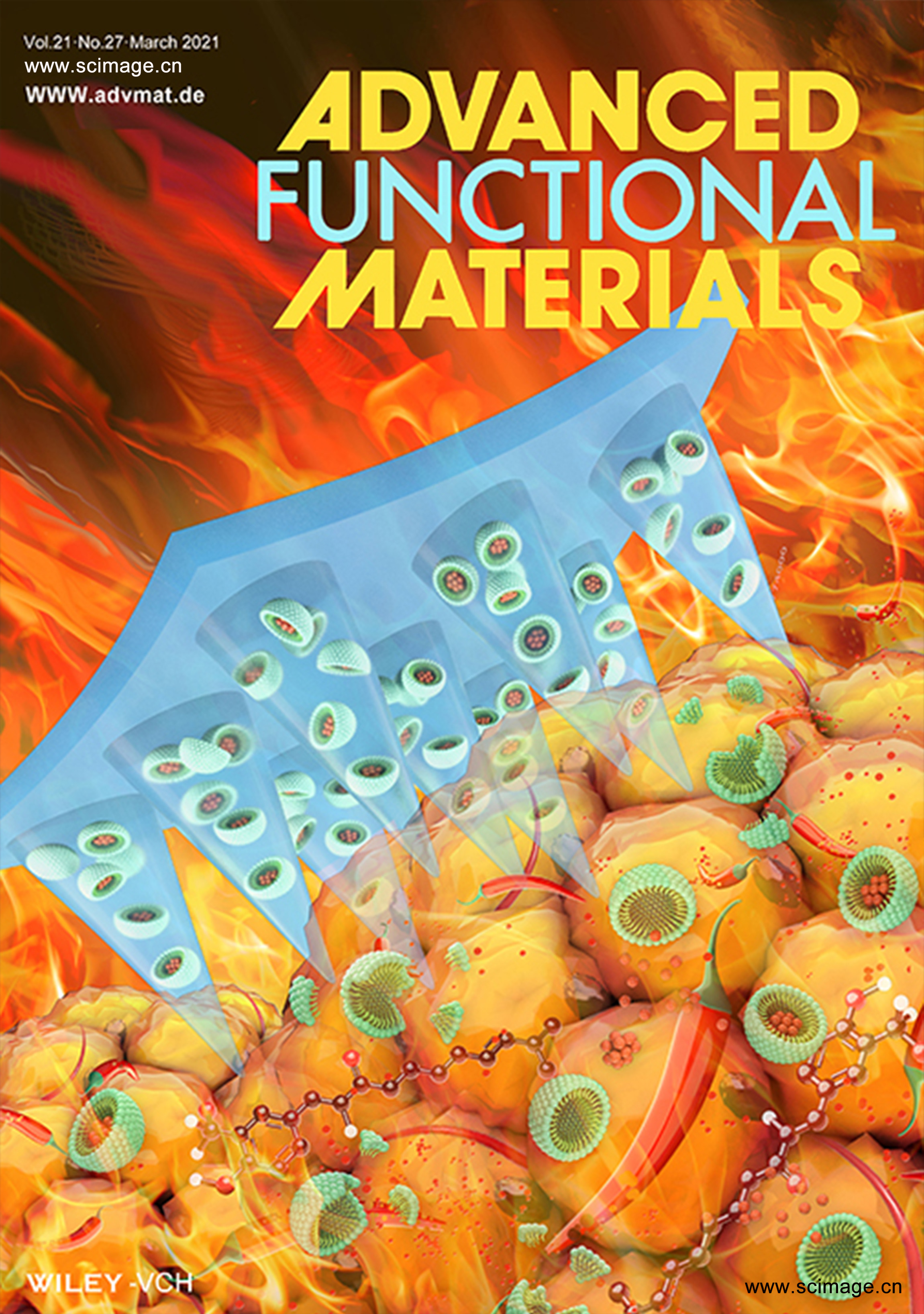 发表期刊:Angewandte Chemie

论文题目:Identifying the Critical Anion–Cation Coordination to Regulate the Electric Double Layer for an Efficient Lithium‐Metal Anode Interface
论文作者:Rui Xu, Xin Shen, Xia‐Xia Ma, Chong Yan, Xue‐Qiang Zhang, Xiang Chen, Jun‐Fan Ding, Jia‐Qi Huang
发表日期:February 19, 2021
论文摘要:An electric double layer is formed prior to the solid electrolyte interphase (SEI) on reactive metal electrodes. In their Research Article on page 4215, Jia‐Qi Huang and co‐workers identify the critical role of the electric double layer chemistry and structure in governing the competitive reactions during SEI formation. The results provide guidance for targeted interface design to generate a stable working lithium anode interface.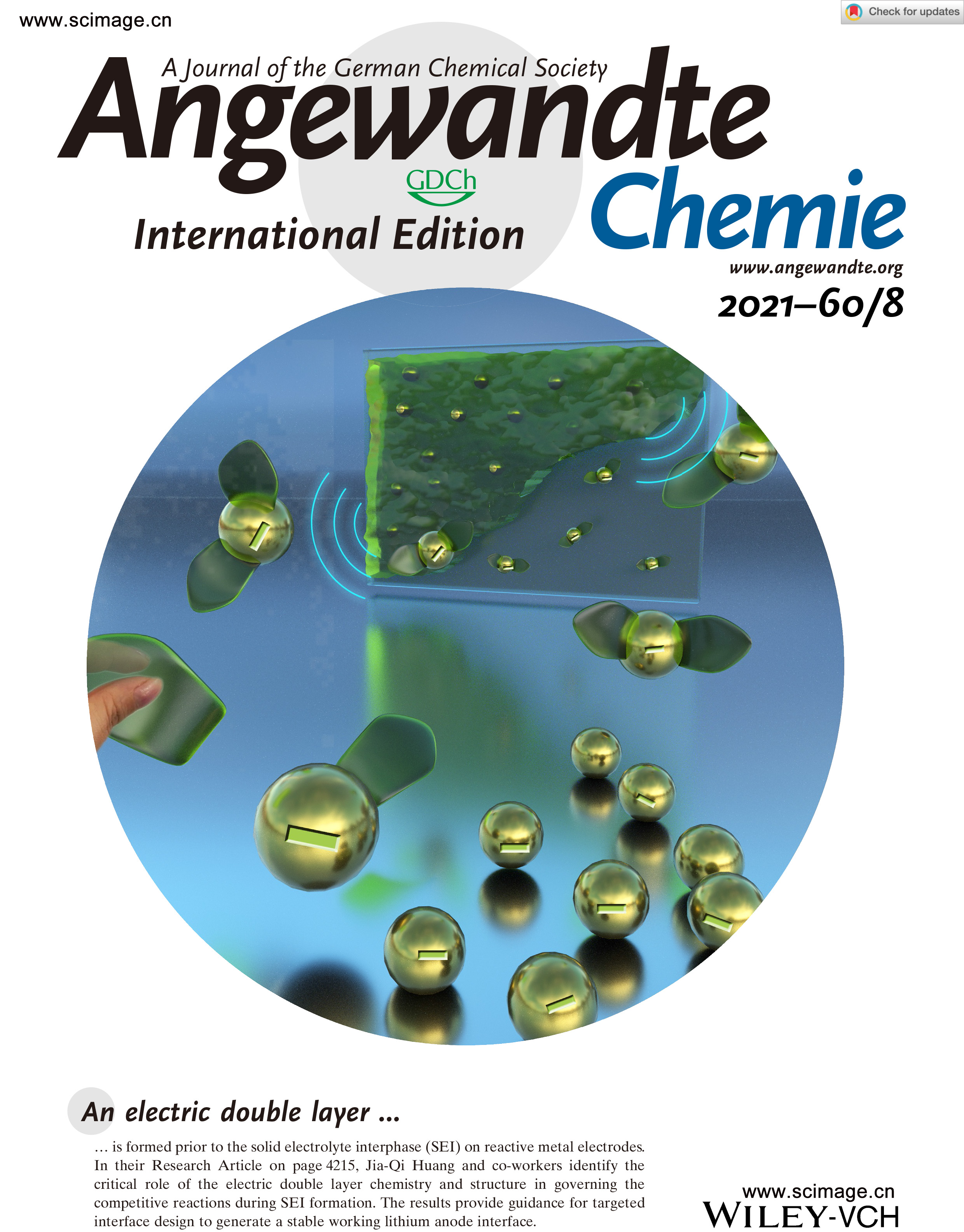 发表期刊:Angewandte Chemie

论文题目:Frontispiece: Regulating Interfacial Chemistry in Lithium‐Ion Batteries by a Weakly Solvating Electrolyte
论文作者:Yu‐Xing Yao, Xiang Chen, Chong Yan, Xue‐Qiang Zhang, Wen‐Long Cai, Jia‐Qi Huang, Qiang Zhang
发表日期:February 19, 2021
论文摘要:Batteries By formulating electrolyte with a non‐polar solvent, ion pairs and aggregates prevail under normal concentrations and give rise to anion‐derived interphases on graphite electrodes with superior electrochemical performances. This concept is demonstrated by Qiang Zhang et al. in their Research Article on page 4090.
发表期刊:LANGMUIR

论文题目:Versatile Direct Writing of Aerogel-Based Sol–Gel Inks
论文作者:Jianming Yang, Hongqiang Wang, Bin Zhou, Jun Shen, Zhihua Zhang, Ai Du
发表日期:February 16, 2021
论文摘要:Direct ink writing (DIW) of aerogels has great potential in designing novel three-dimensional (3D) multifunctional materials with hierarchical structures ranging from the nanoscale to the macroscopic scale. In this paper, pure aerogels composed of inorganics, strongly cross-linking organics, and weakly cross-linking organics were directly written via the precise control of the gelation degree without using any additives. The rheological properties of a resorcinol–formaldehyde aerogel-based sol–gel ink (marked as RA ink) were measured at different reaction times to determine the suitable printable range (G′LVR: several 103 Pa) that ensures its good print fidelity. In addition, the rheological evolution of the RA ink during the sol–gel process and under different shear stresses was studied. The correlation of relevant parameters was established according to the Hagen–Poiseuille model. Other typical aerogel-based sol–gel inks including a silica aerogel-based sol–gel ink (SA ink) and a polyimide aerogel-based sol–gel ink (PA ink) for DIW were also demonstrated. Finally, water evaporation experiments were carried out using a 3D-printed carbonized resorcinol–formaldehyde aerogel (CA) to further exhibit the potential applications of this novel technology in solar steam generation. The evaporation rate (1.57 kg m–2 h–1) and efficiency (88.38%) of 3D-printed CA were higher than those of bulk CA (1.21 kg m–2 h–1 and 69.82%). This paper systematically studies the control of DIW parameters for aerogel-based sol–gel inks and shows a potential application in high-efficiency 3D-printed evaporators.
发表期刊:LANGMUIR

论文题目:Study of Specific Receptor Binding Mode Suggests a Possible Enzymatic Disinfectant for SARS-CoV-2
论文作者:Yufei Cao, Jun Ge
发表日期:February 9, 2021
论文摘要:The outbreak of the coronavirus disease 2019 (COVID-19) caused by SARS-CoV-2 has spread globally. SARS-CoV-2 enters human cells by utilizing the receptor-binding domain (RBD) of an envelope homotrimeric spike (S) glycoprotein to interact with the cellular receptor angiotensin-converting enzyme 2 (ACE2). We thoroughly studied the differences between the two RBDs of SARS-CoV and SARS-CoV-2 when they bind with ACE2 through molecular dynamics simulations. The peculiarities of the SARS-CoV-2 RBD are obvious in several aspects such as fluctuation of the binding interface, distribution of binding free energy on residues of the receptor-binding motifs, and the dissociation process. Based on these peculiarities of SARS-CoV-2 revealed by simulations, we proposed a strategy of destroying the RBD of SARS-CoV-2 by employing enzymatic digestion. This unique strategy is promising for developing a skin-friendly, nontoxic, and convenient disinfectant to protect people from infection by SARS-CoV-2.
静远嘲风(SCimage)是专注于学术研究领域的艺术创作机构,用唯美的艺术诠释科研是嘲风的目标。公司主要提供论文封面设计、论文配图设计、科研动画开发设计及科研产品深度包装等服务;主要服务对象为中国科学院,中国军事科学院,中国医学科学院,中国农业科学院,以及国内外各大高校科研机构,科技型研发企业以及从事学术研究和高等教育的研究人员。静远嘲风,创立于2007年,以多学科背景为出发点,以独到的切入点深入探索科研领域的艺术表达方式,是国内科研可视化的资深践行者与领头羊,多年来为生物学、微生物学、化学、化工、医学、环境学等研究方向完成数千幅专业作品,协助上千名科研工作者完成封面论文发表。
http://wap.sciencenet.cn/blog-575129-1281930.html
上一篇:
2021年1月嘲风作品集(一)
下一篇:
2021年2月嘲风作品集(二)