发表期刊:ACS SENSORS

论文题目:Natural Perspiration Sampling and in Situ Electrochemical Analysis with Hydrogel Micropatches for User-Identifiable and Wireless Chemo/Biosensing
论文作者:Shuyu Lin, Bo Wang, Yichao Zhao, Ryan Shih, Xuanbing Cheng, Wenzhuo Yu, Hannaneh Hojaiji, Haisong Lin, Claire Hoffman, Diana Ly, Jiawei Tan, Yu Chen, Dino Di Carlo, Carlos Milla, Sam Emaminejad
发表日期:January 24, 2020
论文摘要:Recent advances in microelectronics, microfluidics, and electrochemical sensing platforms have enabled the development of an emerging class of fully integrated personal health monitoring devices that exploit sweat to noninvasively access biomarker information. Despite such advances, effective sweat sampling remains a significant challenge for reliable biomarker analysis, with many existing methods requiring active stimulation (e.g., iontophoresis, exercise, heat). Natural perspiration offers a suitable alternative as sweat can be collected with minimal effort on the part of the user. To leverage this phenomenon, we devised a thin hydrogel micropatch (THMP), which simultaneously serves as an interface for sweat sampling and a medium for electrochemical sensing. To characterize the performance of the THMP, caffeine and lactate were selected as two representative target molecules. We demonstrated the suitability of the sampling method to track metabolic patterns, as well as to render sample-to-answer biomarker data for personal monitoring (through coupling with an electrochemical sensing system). To inform its potential application, this biomarker sampling and sensing system is incorporated within a distributed terminal-based sensing network, which uniquely capitalizes on the fingertip as a site for simultaneous biomarker data sampling and user identification.
发表期刊:Environmental Science&Technology
论文题目:Nanoplastics Promote Microcystin Synthesis and Release from Cyanobacterial Microcystis aeruginosa
论文作者:Li-Juan Feng, Xiao-Dong Sun, Fan-Ping Zhu, Yue Feng, Jian-Lu Duan, Fu Xiao, Xiang-Yu Li, Yi Shi, Qian Wang, Jia-Wen Sun, Xiao-Yu Liu, Jia-Qi Liu, Lin-Lin Zhou, Shu-Guang Wang, Zhaojun Ding, Huiyu Tian, Tamara Susan Galloway, Xian-Zheng Yuan
发表日期:March 17, 2020
论文摘要:Although the fate of nanoplastics (<100 nm) in freshwater systems is increasingly well studied, much less is known about its potential threats to cyanobacterial blooms, the ultimate phenomenon of eutrophication occurrence worldwide. Previous studies have evaluated the consequences of nanoplastics increasing the membrane permeability of microbes, however, there is no direct evidence for interactions between nanoplastics and microcystin; intracellular hepatotoxins are produced by some genera of cyanobacteria. Here, we show that the amino-modified polystyrene nanoplastics (PS-NH2) promote microcystin synthesis and release from Microcystis aeruginosa, a dominant species causing cyanobacterial blooms, even without the change of coloration. We demonstrate that PS-NH2 inhibits photosystem II efficiency, reduces organic substance synthesis, and induces oxidative stress, enhancing the synthesis of microcystin. Furthermore, PS-NH2 promotes the extracellular release of microcystin from M. aeruginosa via transporter protein upregulation and impaired cell membrane integrity. Our findings propose that the presence of nanoplastics in freshwater ecosystems might enhance the threat of eutrophication to aquatic ecology and human health.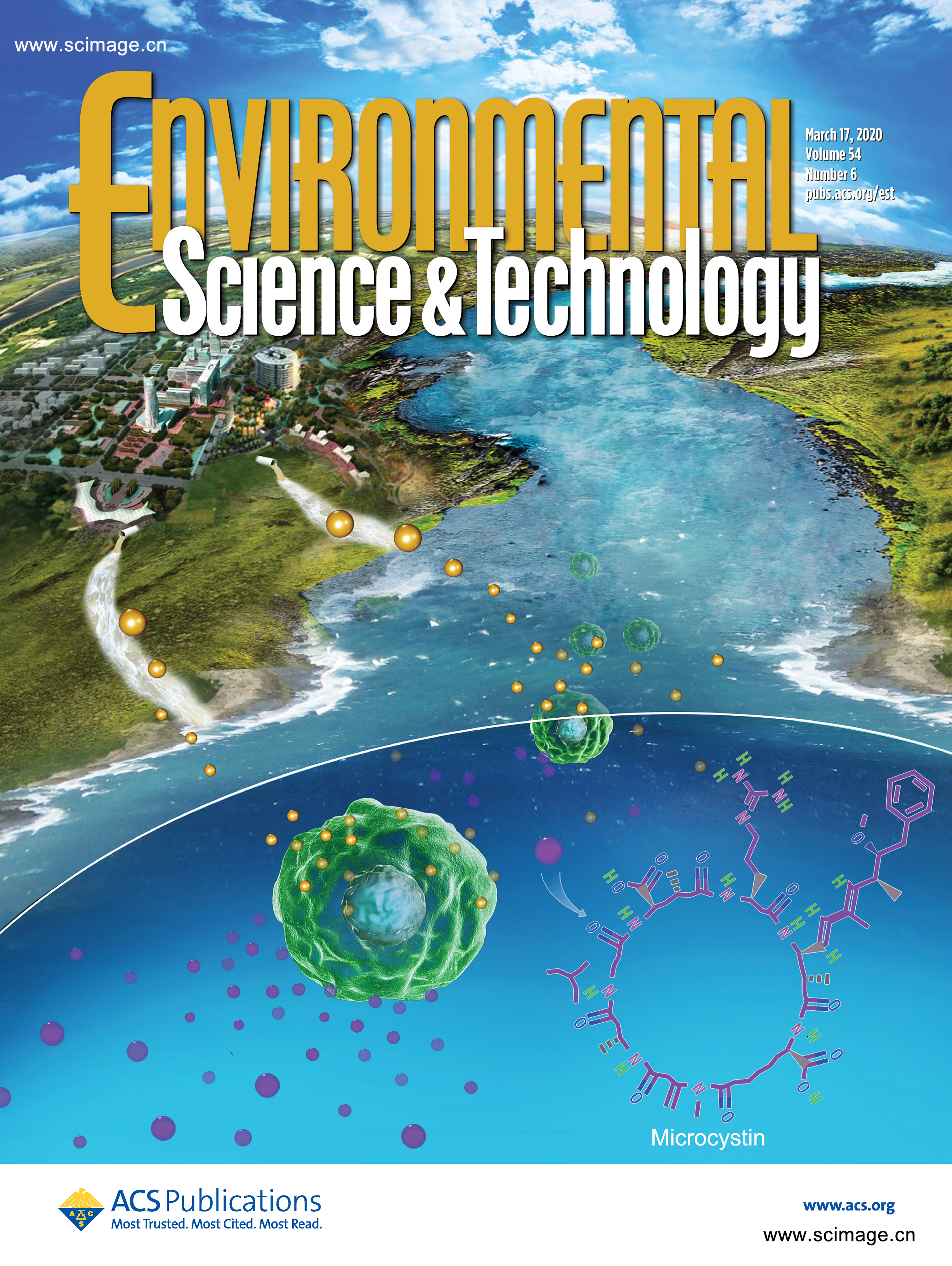 发表期刊:Advanced Functional Materials

论文题目:Direct Carbon Fuel Cells: Dual 3D Ceramic Textile Electrodes: Fast Kinetics for Carbon Oxidation Reaction and Oxygen Reduction Reaction in Direct Carbon Fuel Cells at Reduced Temperatures
论文作者:Wenjuan Bian, Wei Wu, Christopher J. Orme, Hanping Ding, Meng Zhou, Dong Ding
发表日期:May 11, 2020
论文摘要:In article number 1910096, Wei Wu, Meng Zhou, Dong Ding, and co‐workers report a direct carbon fuel cell (DCFC) with dual‐3D ceramic textile (3DCT) electrodes operating at 600 °C and below. The dual 3DCT electrodes enable efficient mass and charge transfer to accelerate electrochemical reaction kinetics in both the anode and cathode, leading to superior DCFC performance at reduced temperatures.
发表期刊:Advanced Materials Technologies

论文题目:X‐Ray Detectors: Sensitive and Fast Direct Conversion X‐Ray Detectors Based on Single‐Crystalline HgI2 Photoconductor and ZnO Nanowire Vacuum Diode
论文作者:Zhipeng Zhang, Zhaojun Zhang, Wei Zheng, Kai Wang, Huanjun Chen, Shaozhi Deng, Feng Huang, Jun Chen
发表日期:May 2020
论文摘要:In article number 1901108, Feng Huang, Jun Chen, and co‐workers design a direct conversion X‐ray detector based on a HgI2 crystal and a ZnO nanowire vacuum diode to overcome the current runaway effect at high operating electric field and improve the detection sensitivity. The detector shows a sensitivity of 6.8 × 103 μCGyair−1 cm−2 and a response time of 0.24 ms. The proposed X‐ray detector is promising for the application of low dose X‐ray detection.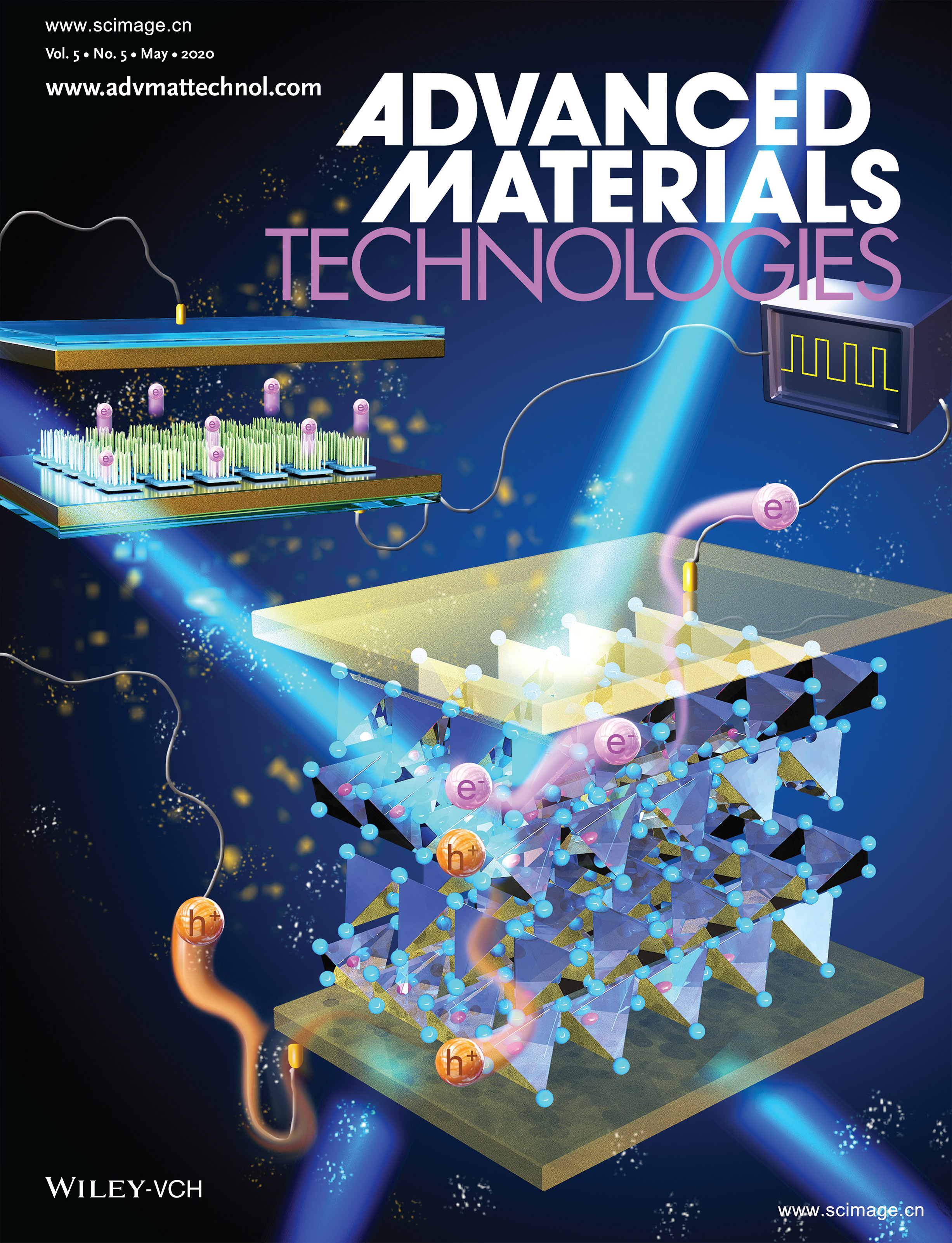 发表期刊:Angewandte Chemie

论文题目:A Diffusion‐‐Reaction Competition Mechanism to Tailor Lithium Deposition for Lithium‐Metal Batteries
论文作者:Xiao‐Ru Chen, Yu‐Xing Yao, Chong Yan, Rui Zhang, Xin‐Bing Cheng, Qiang Zhang
发表日期:May 11, 2020
论文摘要:The deposition morphology of the lithium metal anode impacts the lifespan of lithium batteries. In their Communication on page 7743, Q. Zhang and co‐workers propose a diffusion–reaction competition mechanism. Depending on the rate‐determining step of lithium deposition, different lithium deposition scenarios can be achieved: While the diffusion‐controlled process tends to favor dendritic lithium deposition, the reaction‐controlled process leads to spherical lithium deposition.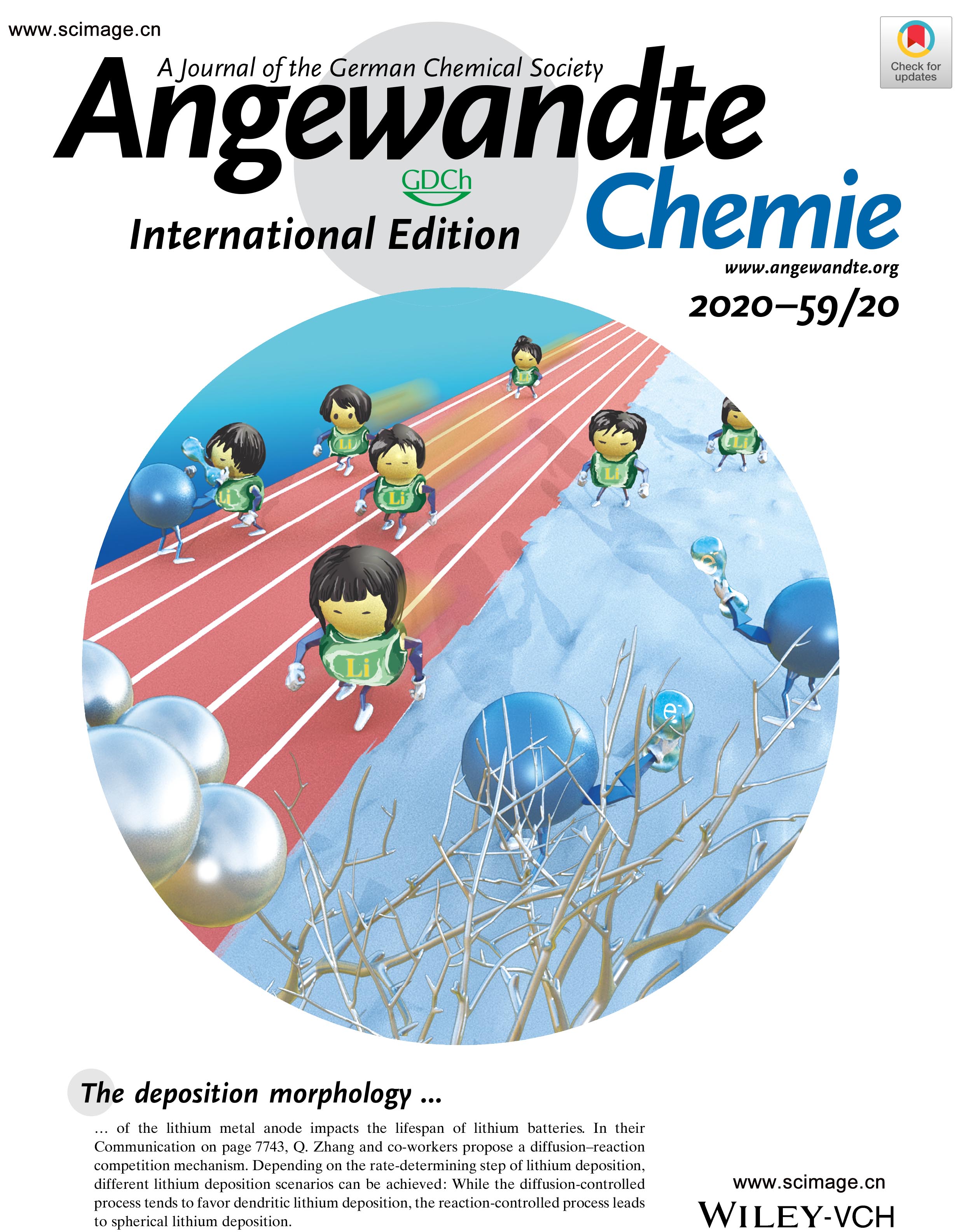 发表期刊:Angewandte Chemie

论文题目:Electrochemical Phase Evolution of Metal‐Based Pre‐Catalysts for High‐Rate Polysulfide Conversion
论文作者:Meng Zhao, Hong‐Jie Peng, Bo‐Quan Li, Xiao Chen, Jin Xie, Xinyan Liu, Qiang Zhang, Jia‐Qi Huang
发表日期:June 2, 2020
论文摘要:The in situ evolution of electrocatalysts is of paramount importance in defining catalytic reactions. In their Research Article on page 9011, J.‐Q. Huang and co‐workers reveal the electrochemical phase evolution of metal‐based pre‐catalysts in working Li–S batteries that enables stable operation of high‐rate and electrolyte‐starved Li–S batteries. The general concept of electrochemically induced sulfurization is verified by thermodynamic energetics for most low‐valence metal compounds, which reshapes the understanding of polysulfide electrocatalysis.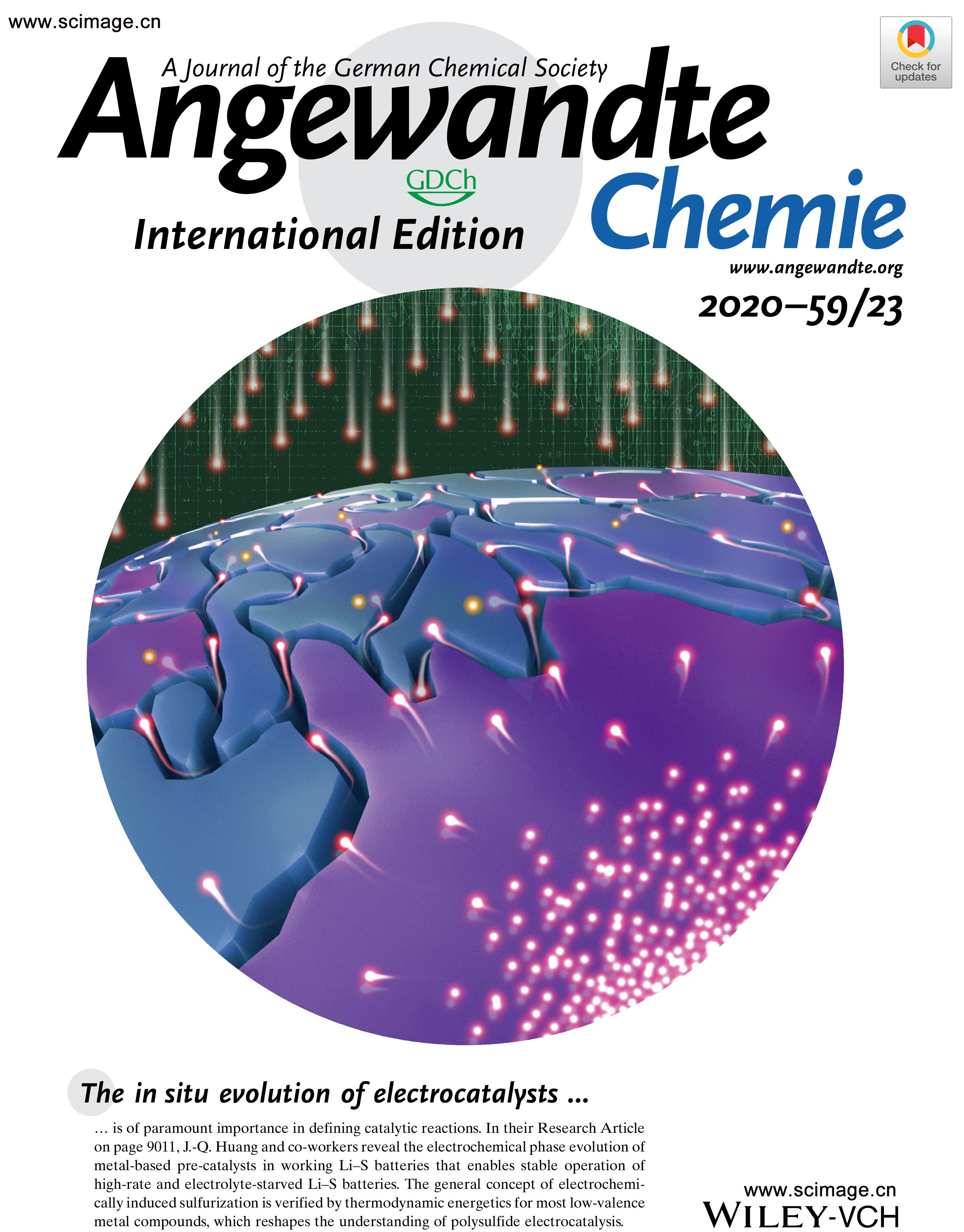 静远嘲风(SCimage)是专注于学术研究领域的艺术创作机构,用唯美的艺术诠释科研是嘲风的目标。公司主要提供论文封面设计、论文配图设计、科研动画开发设计及科研产品深度包装等服务;主要服务对象为中国科学院,中国军事科学院,中国医学科学院,中国农业科学院,以及国内外各大高校科研机构,科技型研发企业以及从事学术研究和高等教育的研究人员。静远嘲风,创立于2007年,以多学科背景为出发点,以独到的切入点深入探索科研领域的艺术表达方式,是国内科研可视化的资深践行者与领头羊,多年来为生物学、微生物学、化学、化工、医学、环境学等研究方向完成数千幅专业作品,协助上千名科研工作者完成封面论文发表。

http://wap.sciencenet.cn/blog-575129-1244221.html
上一篇:
2020年5月嘲风作品集(二)
下一篇:
2020年6月嘲风作品集(二)