催化新期刊Chem Catalysis
https://www.cell.com/chem-catalysis/home

Editor-in-Chief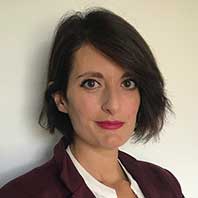 Ilaria Cianchetta, PhD
Ilaria Cianchetta received her degree in physics in 2006 from the University of Rome La Sapienza. She completed her master's degree in materials science in 2009 and was awarded her PhD in chemistry in 2013 after completing and defending her thesis, entitled "Fluorescent diamonds and nanodiamonds: from synthesis to characterization." She moved to the US in 2013 to take up a postdoctoral fellowship at the Getty Conservation Institute, which she completed in 2015. She moved to Cell Press in 2016 to become Chem's first scientific editor, covering physical chemistry. She was promoted to associate editor in 2019 and in March 2020 was promoted to the inaugural Chem Catalysis as editor-in-chief.
Ilaria Cianchetta于2006年获得罗马大学物理学学位,于2009年取得材料科学硕士学位,在2013年完成题为"
Fluorescent diamonds and nanodiamonds: from synthesis to characterization
"的论文并进行答辩后,取得化学博士学位。2013年,她来到美国,在盖蒂保护研究所攻读博士后,于2015年完成学业。2016年,Ilaria加入Cell Press,成为
Chem
的第一位科学编辑,负责物理化学领域。她于2019年成为Associate Editor,并于2020年3月成为
Chem Catalysis
首任主编。
Aims and Scope

Chem Catalysis is a monthly journal publishing innovative and insightful research on fundamental and applied catalysis,providing a platform for researchers across chemistry, chemical engineering, and related fields to disseminate and promote their work. The journal is a premier resource for scientists, researchers, and engineers in both academia and industry, bridging the multidisciplinary aspects and scales of the field. Chem Catalysis publishes experimental and theoretical studies in all fields of catalysis—heterogeneous catalysis, homogeneous catalysis, and biocatalysis—that report transformative methods, tools, and technologies that are of value to all communities. We give particular emphasis to reports that significantly advance our understanding of existing systems, expand the current knowledge with novel catalysts, and connect fundamental catalysis insights to the real world for the benefit of society.
Catalysis is a key technology for improving the efficiency and sustainability of the production of chemicals and is central to advancing research in renewable energy, healthcare, and environmental science. We therefore ask authors to categorize their research into at least one of the following five Sustainable Development Goals identified by the United Nations:
Good health and well-being (SDG 3)

Affordable and clean energy (SDG 7)

Clean water and sanitation (SDG 6)

Climate action (SDG 13)

Industry, innovation, and infrastructure (SDG 9)
Chem Catalysis publishes full-length research articles, reviews, topical perspectives, methods papers, and other editorial content of general interest to the broader catalysis community.
我们的目标
Chem Catalysis是一本月刊,出版关于基础催化和应用催化领域具有创新性和洞察力的研究,为化学、化学工程和相关领域的研究人员提供一个传播和推广其研究工作的平台。Chem Catalysis出版催化所有领域的实验和理论研究,包括多相催化、均相催化和生物催化,报道对所有研究社群均有价值的变革性方法、工具和技术。Chem Catalysis特别关注那些能够显著提高我们对现有体系的理解,用新型催化剂扩展现有知识,并将基础催化见解与实际应用相结合以造福社会的研究。
催化是提高化学品生产效率和可持续性的一项关键技术,也是推进可再生能源、医疗保健和环境科学研究的核心。因此,Chem Catalysis要求作者将他们的研究至少归入联合国确定的下列五个可持续发展目标(SGD)中的一个:
l 健康福祉(SDG 3)
l 清洁能源(SGD7)
l 清洁饮水(SGD6)
l 气候变化(SGD13)
l 工业创新(SGD9)
Chem作为Cell Press细胞出版社旗下第一本物质科学期刊,在以研究论文为主的化学领域期刊里名列前茅,曾在2018年被授予"物质科学与数学领域PROSE大奖"(庆祝Chem创刊五周年)。如今,Cell Press物质科学期刊又增添了一名新成员——Chem Catalysis。

Chem Catalysis是Chem第一本聚焦某一领域的子刊,发表在基础和应用催化领域具有创新性、洞察力的研究。Chem Catalysis旨在将来自学术界和工业领域多个学科的研究人员聚集在一起,增进我们对现有催化系统的理解,发展新型催化剂以扩展当前的知识,并将基本催化见解与现实世界连接起来,造福社会。
转载本文请联系原作者获取授权,同时请注明本文来自戴启广科学网博客。
链接地址:http://wap.sciencenet.cn/blog-3913-1256376.html?mobile=1
收藏
推荐到博客首页