因了解湖泊水文学发展史需要,搜索与了解了湖泊学(湖沼学)发展史的一些文献,顺便介绍一下。

一、《陆水学史》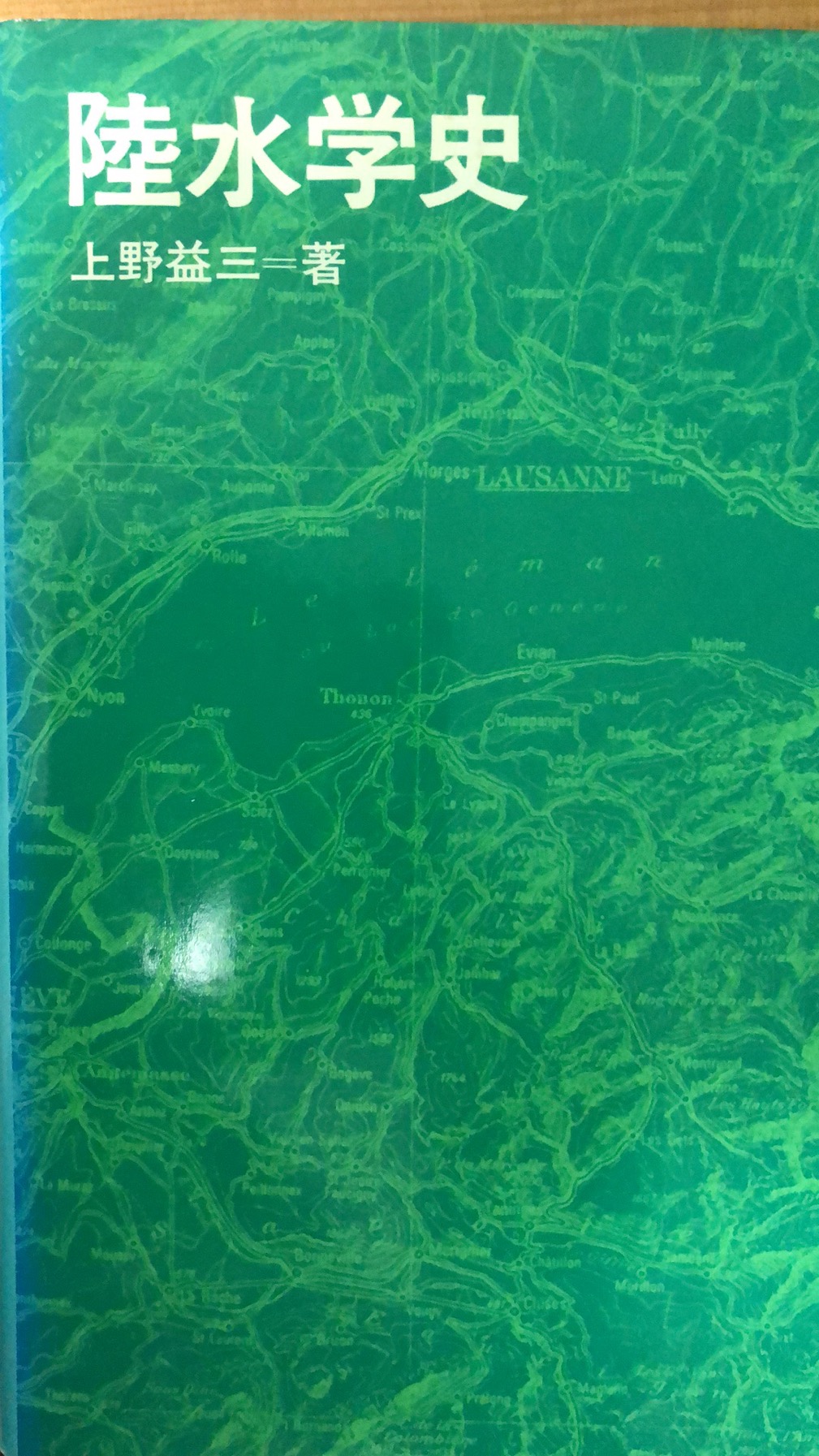 二、https://baike.baidu.com/item/%E6%B9%96%E6%B2%BC%E5%AD%A6
湖沼学是一门有关湖沼研究的科学,即湖沼学是指对湖沼、河川、地下水等陆地水的物理、化学和生物现象进行研究的学科。
P.S.Welch把湖沼学看作是生态学的一个分支学科,限于对陆地水中的生物生产及其各影响因素的研究。
因为湖沼学是限于陆地水的研究,且内陆咸水湖与近海的半咸水湖也都包括在内,所以湖沼学也可以称为陆水学。
发展简史
1901年,Francois Alphonse Forel(弗朗索瓦·阿方斯·福勒尔,1841~1912)出版了湖沼学的第一本专著,宣告了这门学科的诞生。Forel是瑞士洛桑大学的生理学教授。这本著作是在Forel于1869年出版的《深水湖底栖动物》一书的基础上写成的,收集了他对13内瓦湖30多年的研究成果和他本人及其他学者对其他湖泊的测定数据,还包括他的3卷日内瓦湖湖沼学专论(1892~1904年出版)的综合分析。在3卷日内瓦湖湖沼学专论中,前两卷介绍该湖的地质学、物理学和化学;第三卷介绍该湖的生物学。Forel不但是湖沼学的创始人和命名人,还是早的生态学家。Forel认识到生物、气候、水文、地质和理化环境之间存在着密切关系。
与美国的Stephen Alfred Forbes(斯蒂芬·福布斯,1887)一样,Forel认为湖泊是一个综合单位或生态系统。更早些时候(1840~1850年),并非科学工作者的Thoreau在对瓦尔登湖进行了多年的观察之后,也得出相似的结论。但是,Forel并不是第一个从事现今称为湖沼学研究的人。他把湖沼学定义为"湖泊的海洋学",承认海洋科学的居先发展对湖沼学的影响。18世纪末期和19世纪早期的湖沼学研究聚焦于湖泊和河流的物理学特征上。但是在Forel(1869)出版日内瓦湖底栖动物专著的同时,许多有关湖泊生物的论文也相继问世。
三、 https://www.tandfonline.com/doi/abs/10.1080/05384680.1974.11923880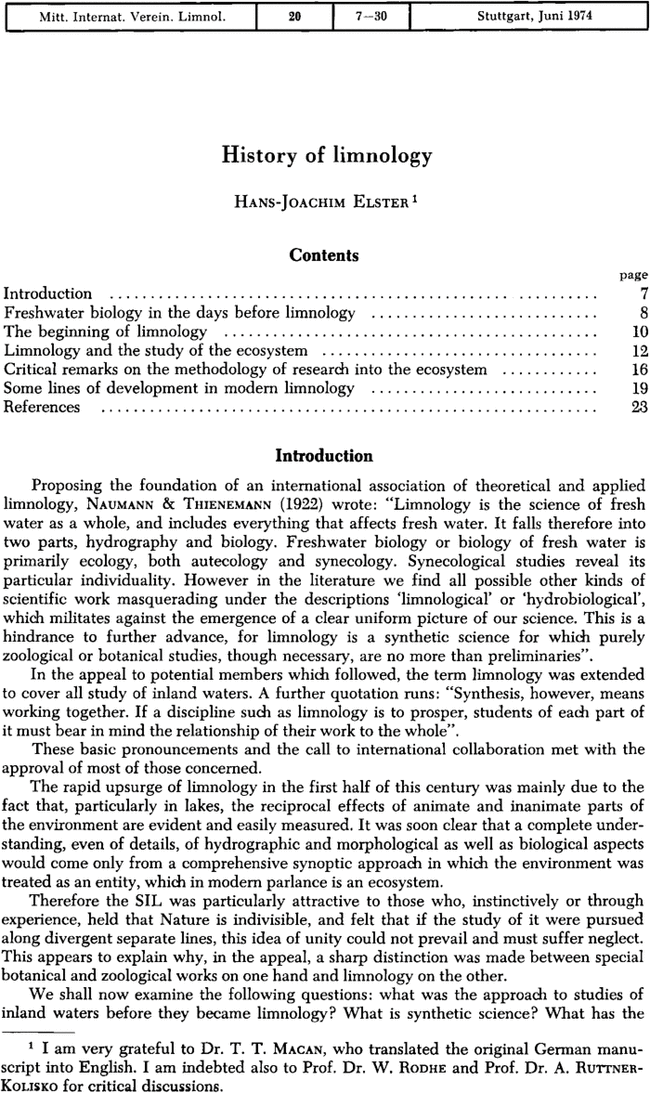 四、https://www.jstage.jst.go.jp/article/rikusui1931/13/Special/13_Special_1/_pdf

五、https://esajournals.onlinelibrary.wiley.com/doi/pdf/10.1890/0012-9623-95.2.33
六、https://www.researchgate.net/publication/242483061_A_SHORT_HISTORY_OF_EIGHTY_YEARS_OF_LIMNOLOGY_IN_SPAIN

A SHORT HISTORY OF EIGHTY YEARS OF LIMNOLOGY IN SPAIN

七、https://lter.limnology.wisc.edu/data/document_archive
The CFL Document Archive is in Steenbock Library (UW Archives & Records Management), 550 Babcock Dr., University of Wisconsin-Madison.
The Archive contains:
documentation of the history of limnology in Wisconsin at the University of Wisconsin-Madison from the late 1800s to the present.

materials on the limnologists from Edward. A. Birge and Chancey Juday, to A. D. Hasler, and to John J. Magnuson, James F. Kitchell, and present faculty and staff.

materials and data from graduate students over the years.

major research programs such as the North Temperate Lakes Long-Term Ecological Research Program and Network, the Trophic Cascade, Little Rock Lake Experimental Acidification, and research on Lake Mendota and the Madison Lakes.

the formation of the Center for Limnology, and facilities at the Center's field laboratories on Lake Mendota in Madison and Trout Lake in Northern Wisconsin.

additional materials, including (not a comprehensive list):...
八、https://limnology.wisc.edu/about-cfl/history-of-limnology/
WATCH VIEWS AND SOUNDS FROM OUR HISTORY: CENTER FOR LIMNOLOGY ARCHIVES WITH JOHN MAGNUSON
UW-Madison is known as the birthplace of limnology in North America. Edward Birge and Chancey Juday were the pioneers of the field and Arthur Hasler continued the tradition by moving the CFL in new directions.
Edward A. Birge (1851-1950) was hired as zoologist at UW-Madison in 1875 and was joined by Chancey Juday in 1908. Over a 40 year period, Birge and Juday tackled a wide range of research questions emphasizing the descriptive and comparative study of north-temperate lakes. Though the death of Juday in 1944 left the program in decline, Arthur D. Hasler, a former student of Juday, returned to UW-Madison in 1937. Upon Hasler's retirement in 1978, the limnology program included several leaders of the field – John Magnuson, Jim Kitchell, Stanley Dodson, and eventually Steve Carpenter. While continuing Hasler's tradition of fish studies, this group also expanded into long-term ecological research, climate change, ecosystem ecology, modeling, and regional and global perspectives on freshwaters.
The University, being only about 25 years old and 500 students, had no research program to speak of and no facilities to do it in. Besides teaching courses in several areas including zoology, botany, human anatomy and bacteriology, Birge played a major role in creating a research program for zoology and physiology. He was also one of the first to use research and individual laboratory work as a method of teaching.
Birge's interest had little to do with limnology, however, until he accidentally came across a part written by France in 1894 discussing zooplankton migration in Lake Balaton in Hungary. Birge wondered if the zooplankton in Lake Mendota followed similar patterns and soon began to design equipment to study it. Thus, the adventure of Limnology at the University of Wisconsin began.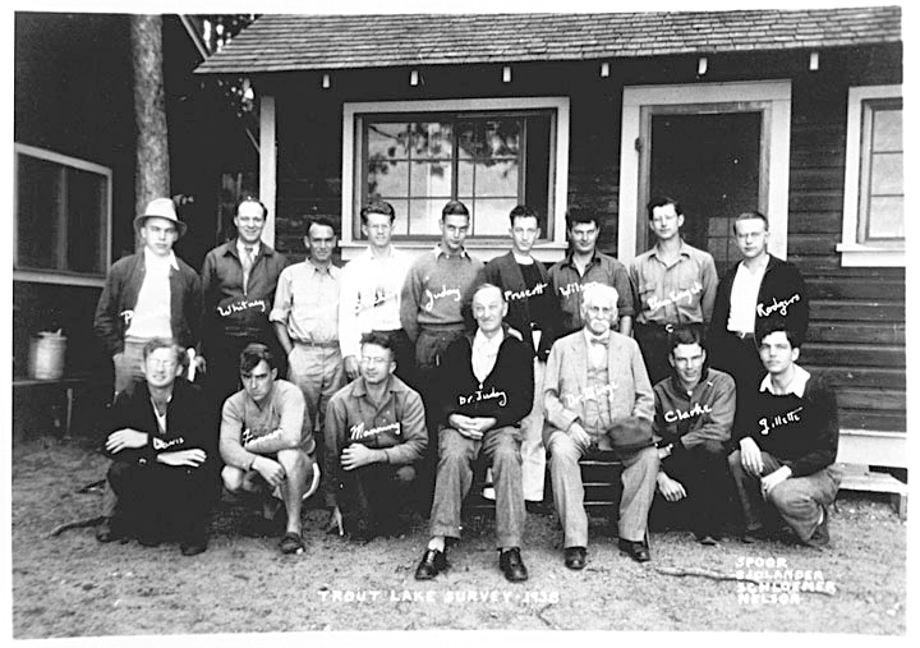 Trout Lake Survey – 1938 including Dr Birge and Dr Juday
Chancey Juday (1871-1944) joined Birge as a half-time lecturer in the Department of Zoology in 1908 after working for the newly created Wisconsin Geological and Natural History Survey for several years. In 1909, he began teaching the first courses on limnology and plankton organisms. He also produced the first graduate students in limnology at the University.
After Juday's arrival in the area, Birge and Juday began to work together as a team, initially concentrating their research on the Madison lakes, especially Mendota. Most of their early research was in dissolved gases in Wisconsin lakes. Their first joint publication was is 1908 and that was just the beginning. Over time they would be responsible for coauthoring over 1500 pages.
They were both field researchers, skeptical of laboratory experiments, hated "desk produced" papers and collected huge amounts of data, believing that if they collected enough data, it would speak for itself. They also knew that collaboration was the key to studying lakes. It was not unheard of to have up to 50 researchers from many different backgrounds, such as chemists, biologists, geologists and meteorologists involved in one publication.
九、https://www.researchgate.net/publication/258118936_Limnology_in_Sicily_A_history_of_fresh_waters_surrounded_by_the_sea
Limnology in Sicily: A history of fresh waters surrounded by the sea
十、https://link.springer.com/article/10.1007/BF00016229

A Historical resumé of indian limnology
十一、
十二、http://blog.sciencenet.cn/blog-350729-1246889.html
日本水文及湖泊学界20世纪30年代对陆水学、湖沼学与水文学字面认知的分歧
http://wap.sciencenet.cn/blog-350729-1256008.html
上一篇:
水文同道人,欢聚科学网——水文前辈葛维亚先生赠书多所水利院校及机构有感
下一篇:
黄万里先生博士论文的水文"瞬时过程线"探讨——陈昌春与葛维亚先生的对话